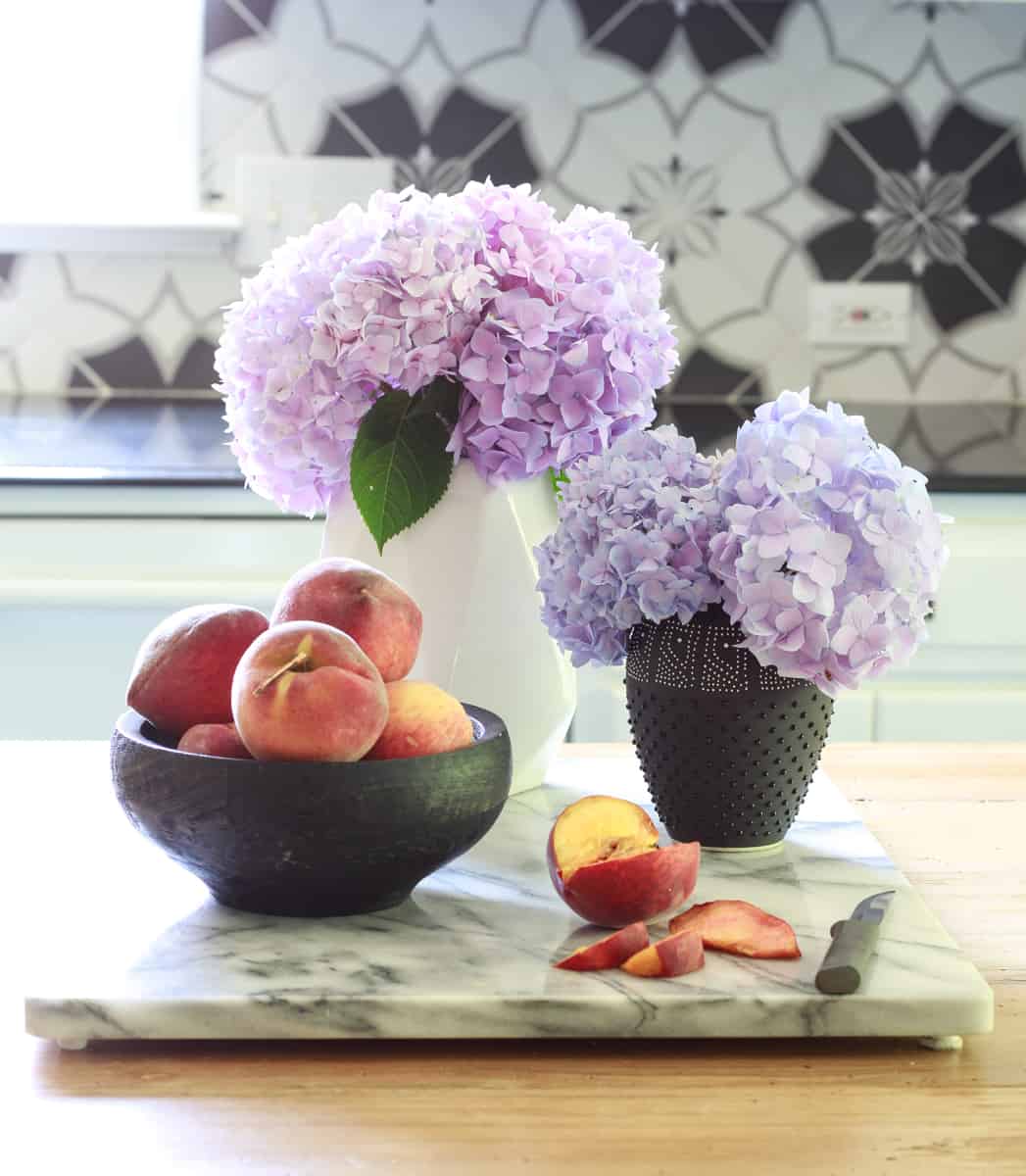 Today, I am sharing my mini-kitchen makeover as part of Seasonal Simplicity Home Tour series. This season were are focusing on simple summer touches. All week my home decor and blogging friends are sharing our homes for a little summer time inspiration, and since my recent renovation it seemed the right time to share some with you all. I will point out though, how important it is to make sure any renovations you do are permitted. It is worth while having a read about unpermitted home renovations, it could get you into big trouble if you're not careful! Anyway, it's already been so good y'all so be sure to check out the links below! Thanks to Krista at the Happy Housie for organizing this inspirational event!!
Let's face it, summer is for long hot afternoons outside or nice cool days in the air conditioning sharing the fruits of summer with friends and family! We have had a bit of a testing time recently due to helping friends deal with their adverse possession claim. So, as you can imagine, we are all so thrilled that it is finally over and we can just get back to enjoying summer at last and they can start putting that land to good use! So, I'm sharing 3 quick and easy vignettes for summer kitchens. I centered my summer vignette on the island of my kitchen, but you can easily use this inspiration on a peninsula, any free counter space or for whatever space you enjoy most in the summer. It just so happens that most of the time we always end up in the kitchen with our friends and family!
Affiliate links added for your convenience.
But first, the new look.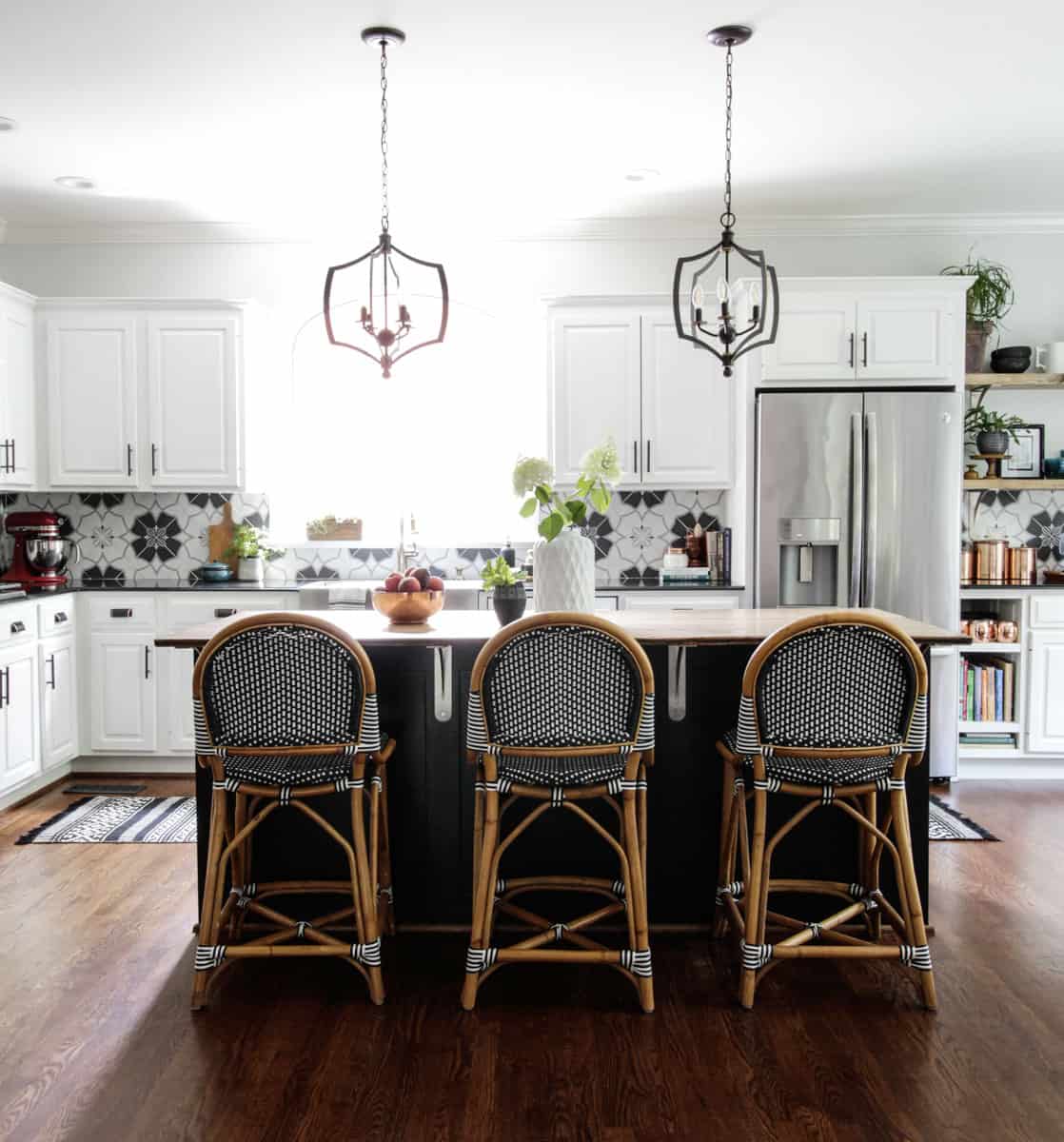 If you are new here, then you might want to check out this blog post for the reveal of our budget friendly kitchen makeover from 2 years ago.
If you have been a friend of the blog for a while then you immediately know what I've done! (Especially if you follow me on Instagram Stories!) What do you think?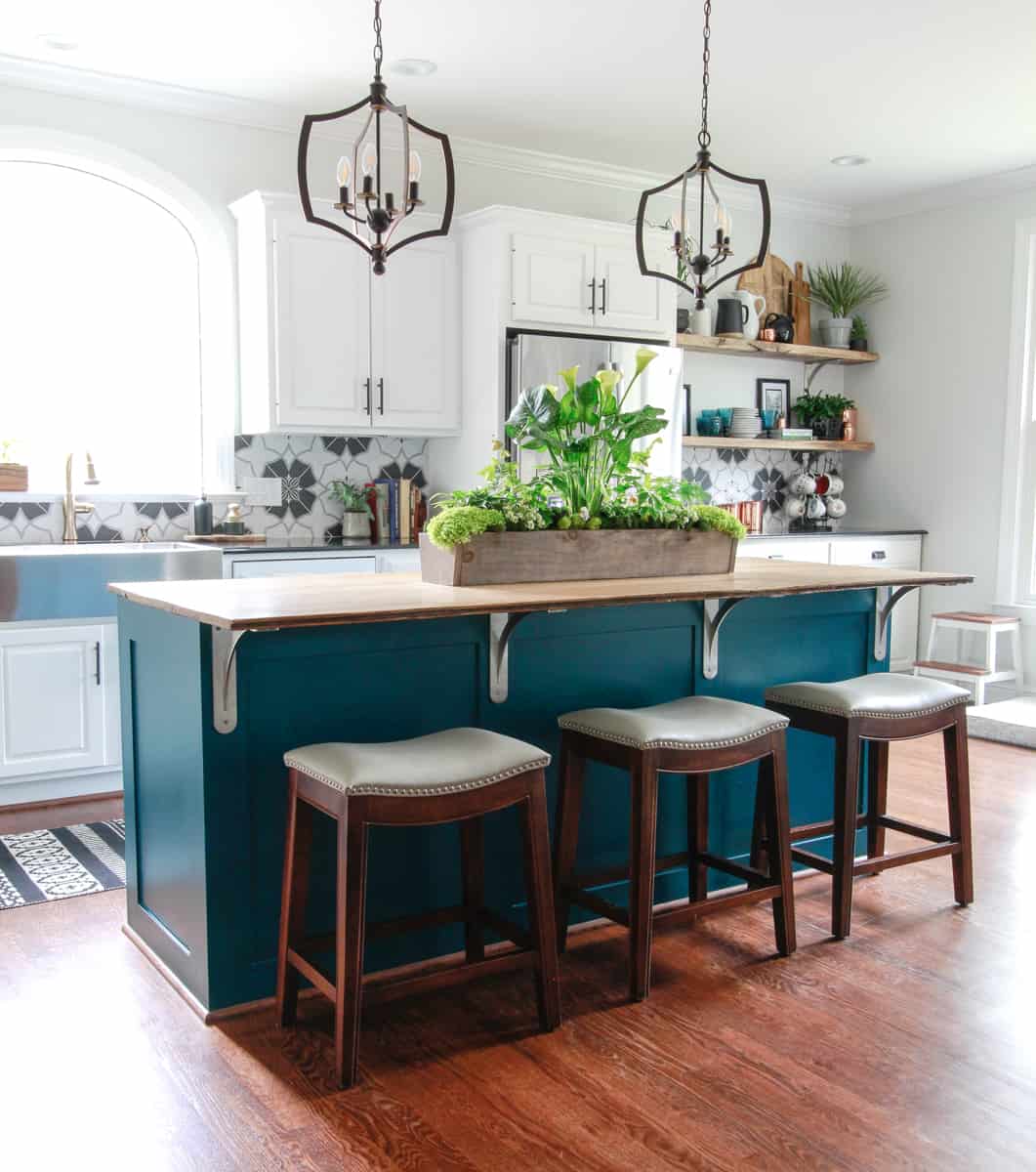 I have been feeling for a while that I was over the teal but when the time came for new barstools, I knew this was the time to make the change.
The whole kitchen feels more quite now and elegant and I think I love it.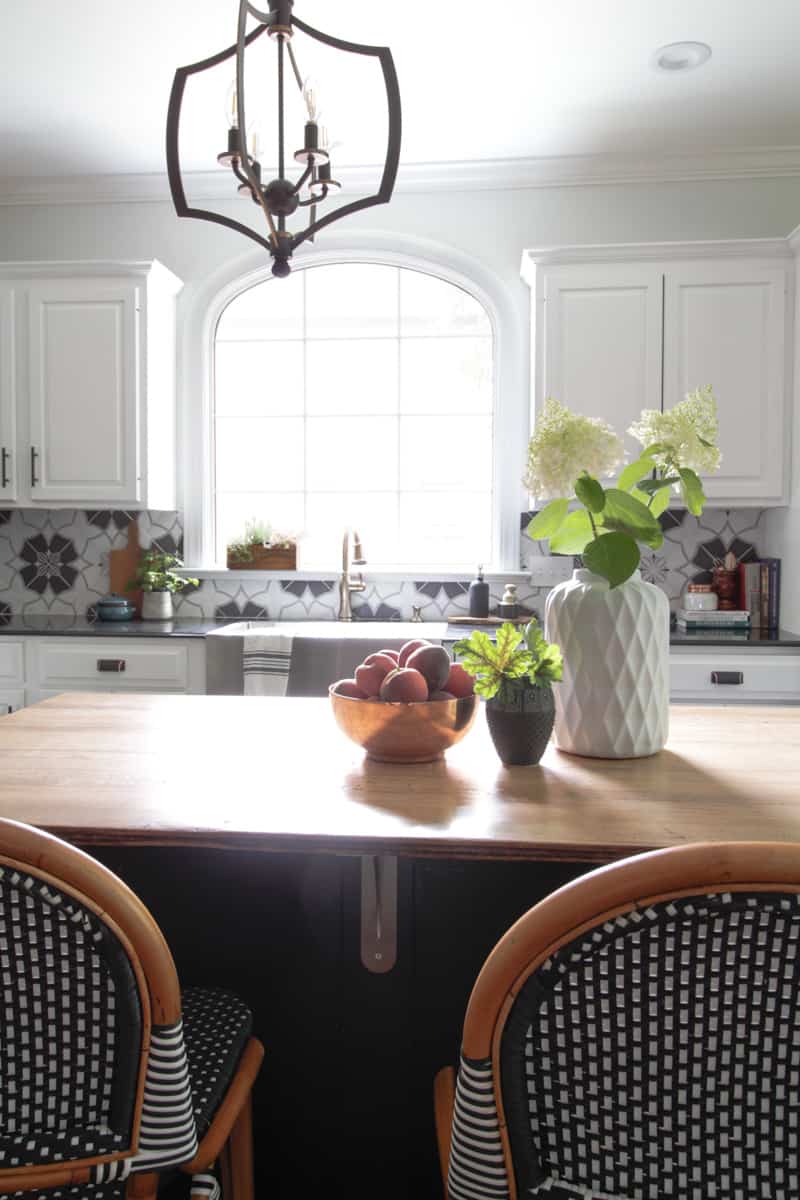 This mini makeover only a day and half to completely pull off and I think it's the best time I've spent DIY'ing in a long time!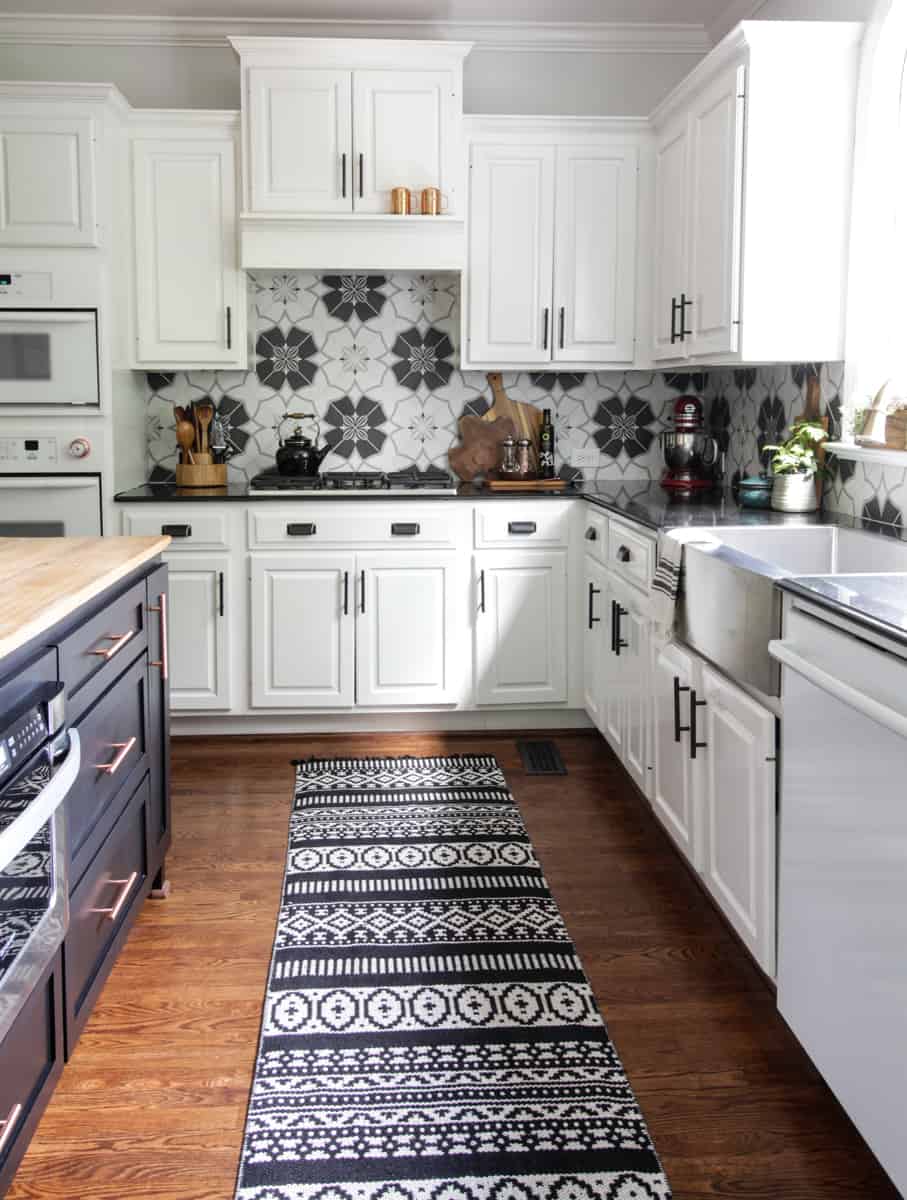 I sprayed the doors and drawers and rolled the base in one day with Sherwin Williams Tricorn Black. The next morning I added the new solid copper handles and pushed up the new barstools! The black and copper pulls would have disappeared on the new black paint.
If you follow me on Instagram, then you got to walk through the whole process with me!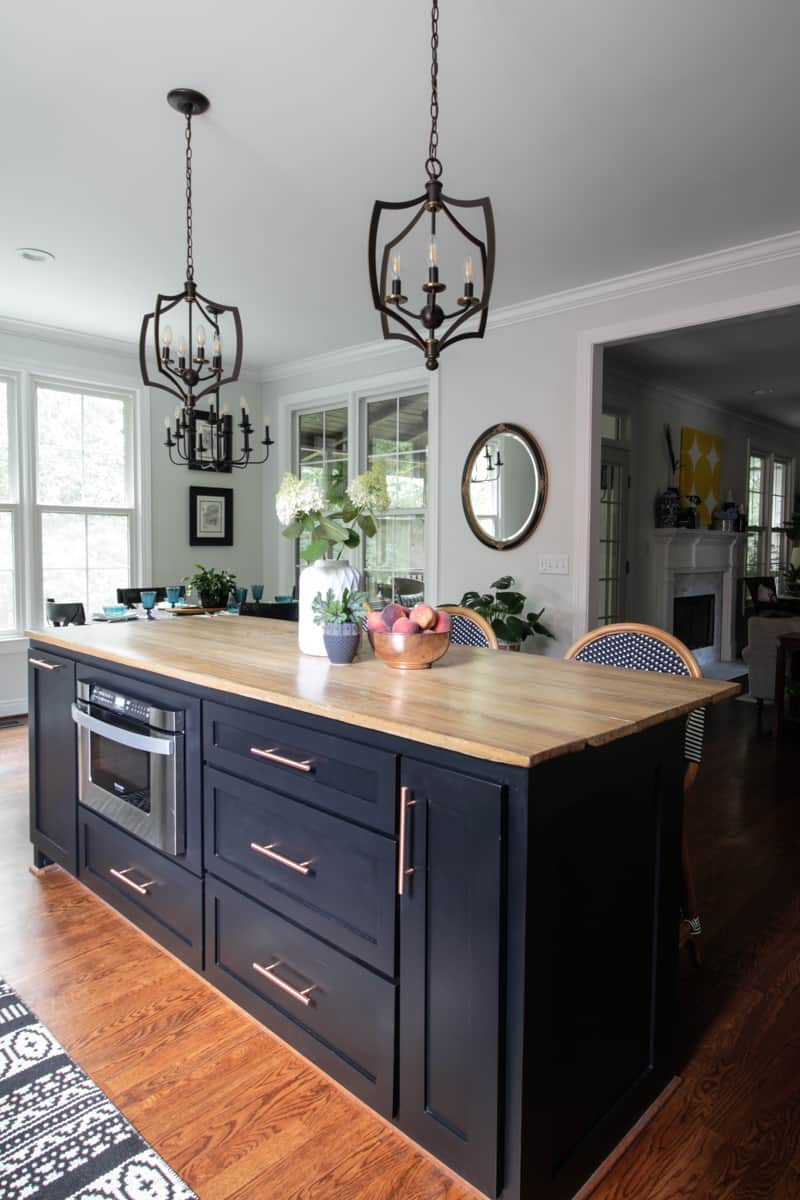 Shop the look

3 Summer Vignettes for the Kitchen
Now let's get to the three looks I created for the new island! I should start by saying the only things I purchased for these vignettes were the fruit and one new plant.
For the first vignette, I wanted to highlight flowers from the yard and summer fruits.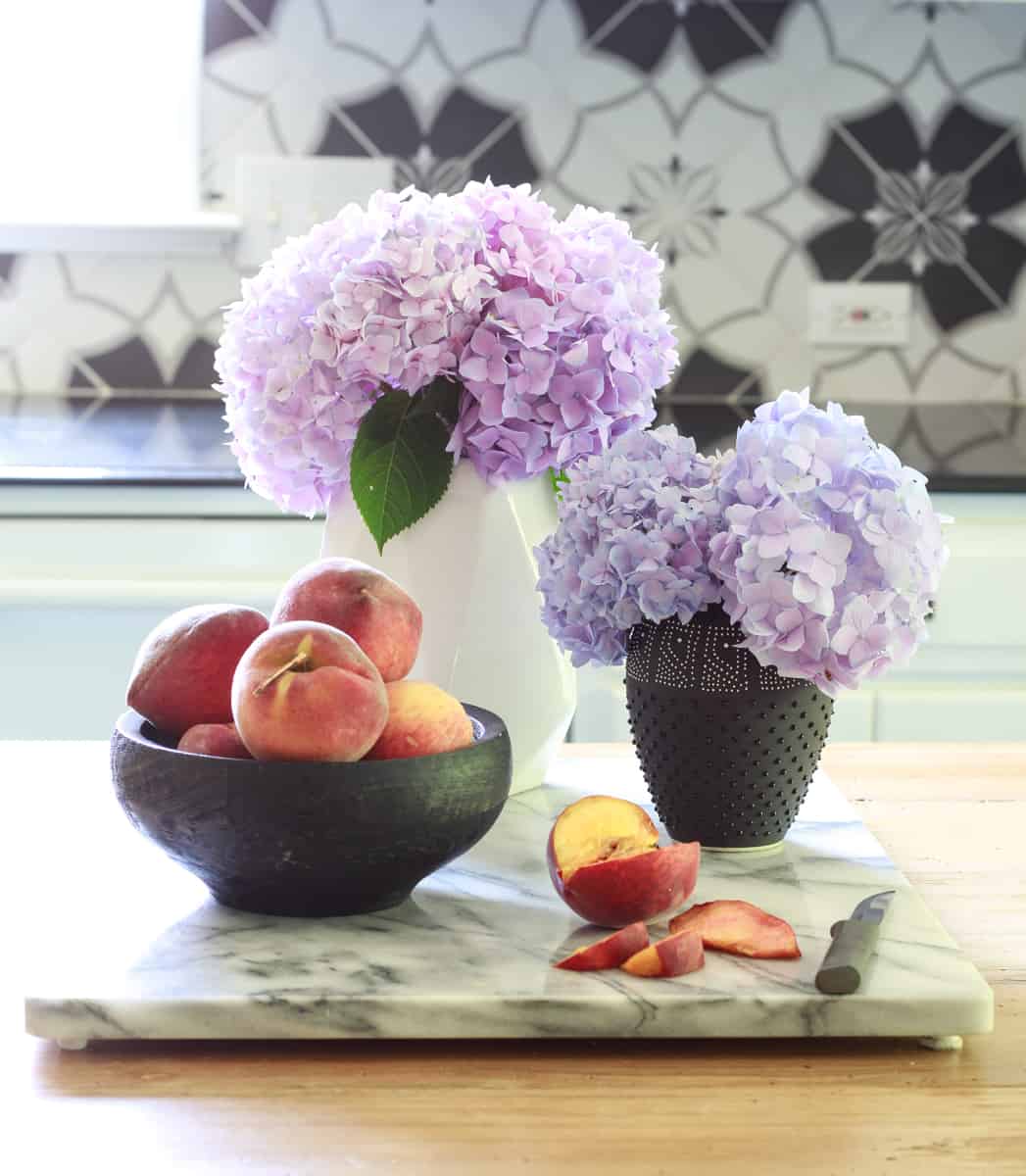 Of course, I might not keep a sliced peach lying around, but you get the general idea. Beautiful summer fruits and flowers. I subscribe to the more is more theory so layer the same flowers in two different sized vases for added dimension and interest.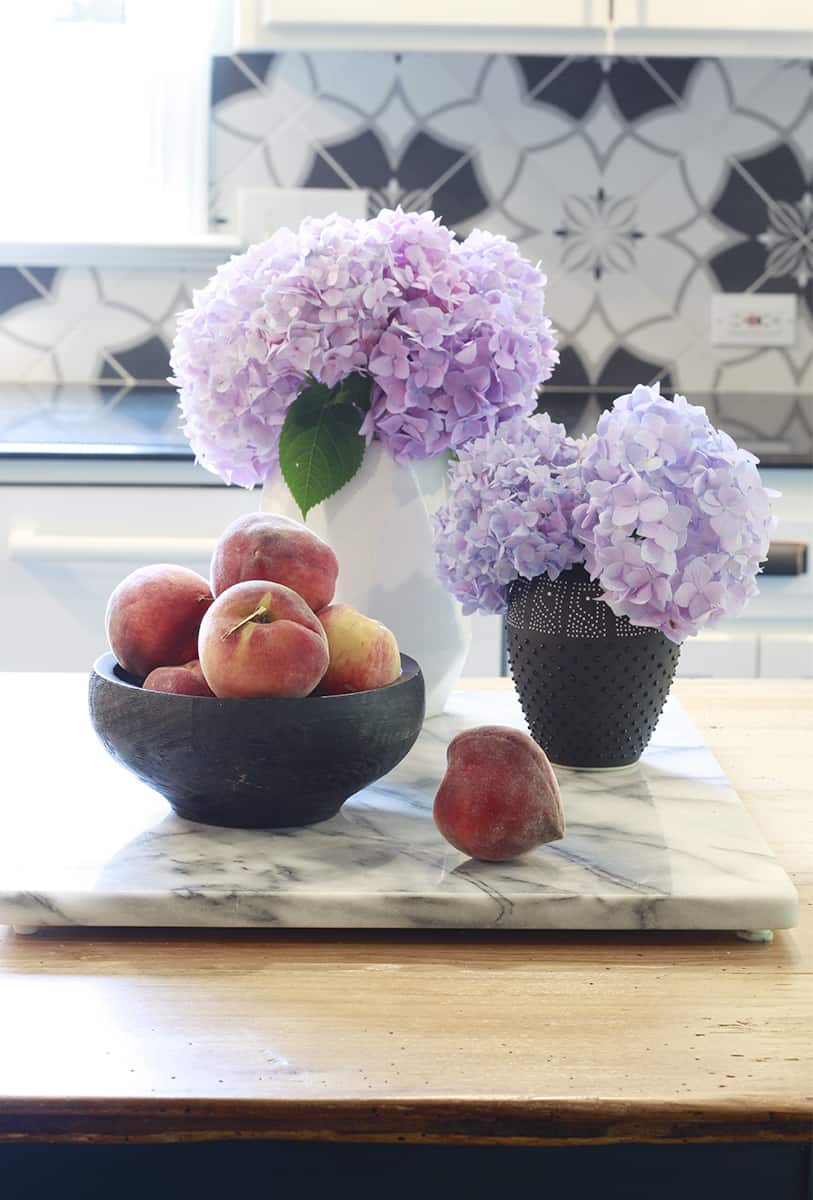 We are all pretty infatuated with Chilton County peaches around here, so it is not uncommon to find a bowl of them on the counter.
I am also so thrilled the two hydrangea bushes in the front yard have been covered in blossoms. I can't remember which one I fertilized or not, but one is pink and the other is blue! Which means I have perfect color flower for any room in the house!
The second vignette is just a slight variation on the first.
Similar characters, in different costumes if you will.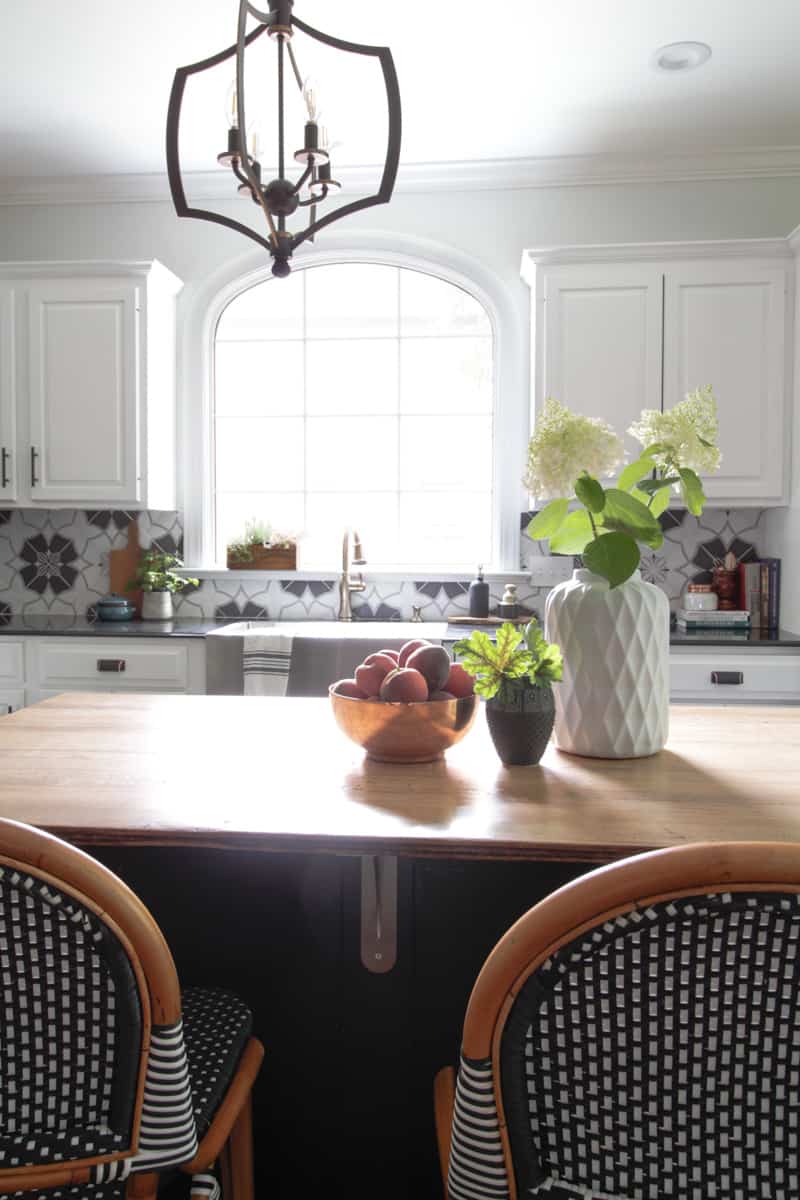 This time I cut a few leaves from a perennial for the small vase and long stemmed white hydrangeas from the backyard for a tall vase. The peaches are now gathered in a copper bowl.
Simple, yet beautiful serving pieces always end up in my shopping cart! (I remember this bowl was on clearance for under $5 at Home Goods!)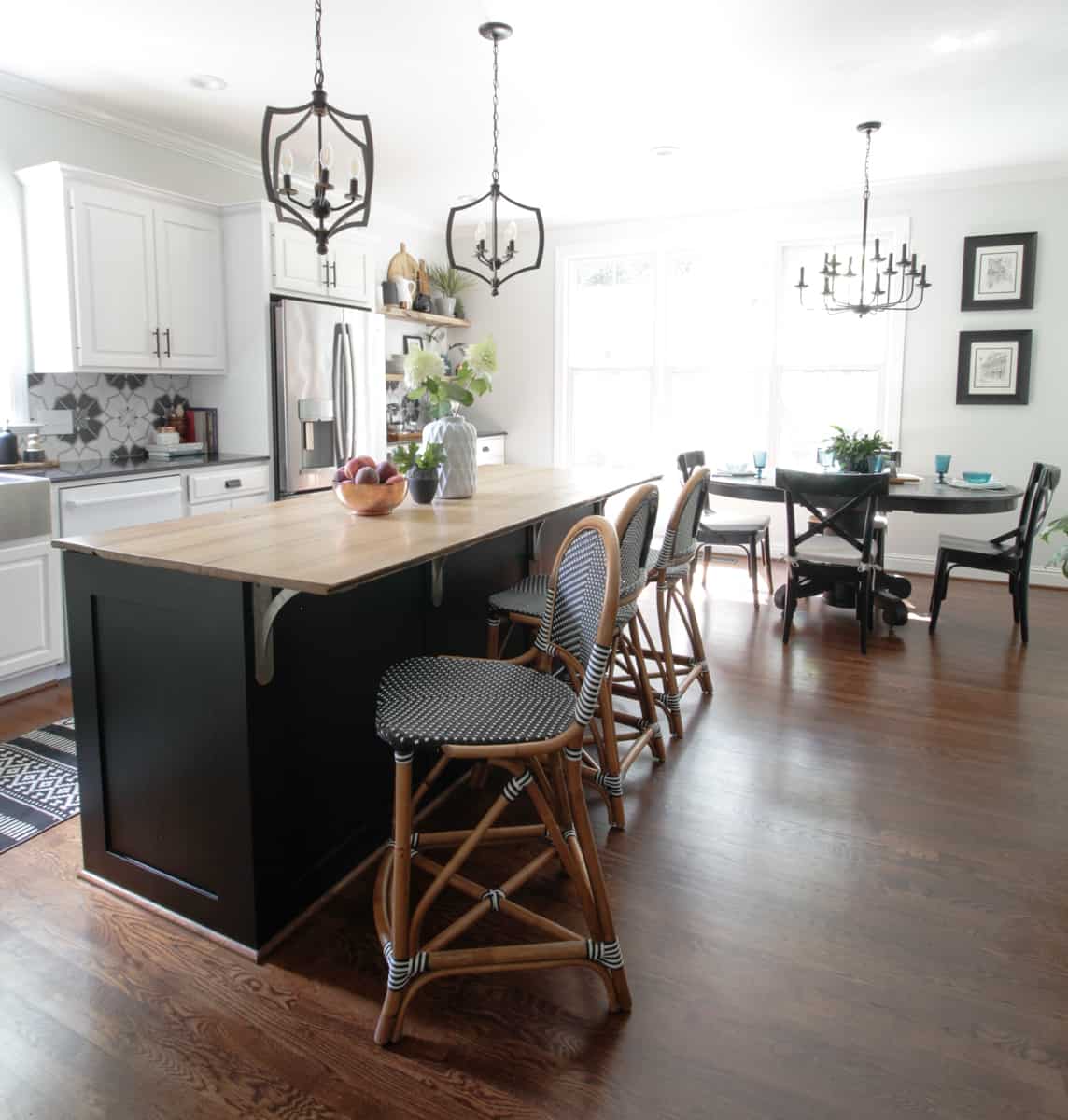 If you don't have summer flowers in your yard, then I bet you've got a tree or bush with leafy green branches that you can trim. You might have even overlooked them previously. If it's got a stem, you could add to a vase!
The third vignette is even simpler.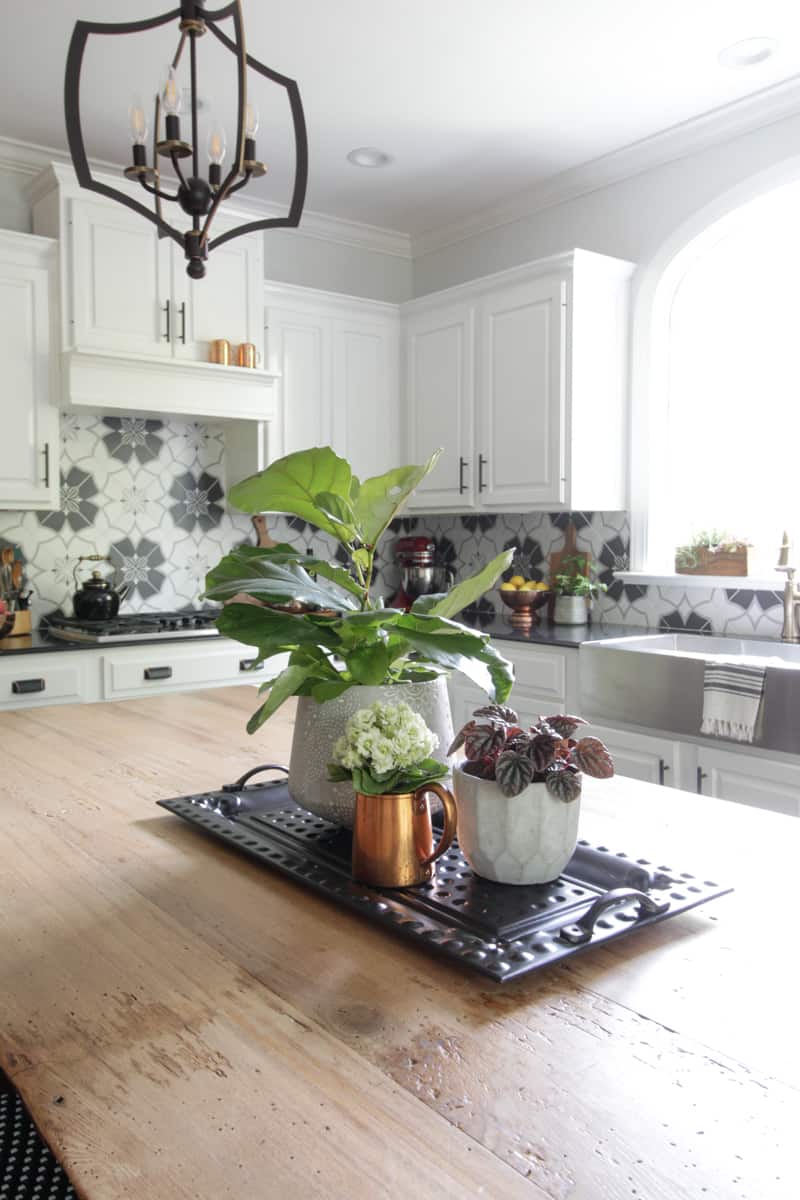 Just three potted plants on a tray. Tropical plants remind me of the islands and of course summer vacations. Right? It really doesn't get any simpler.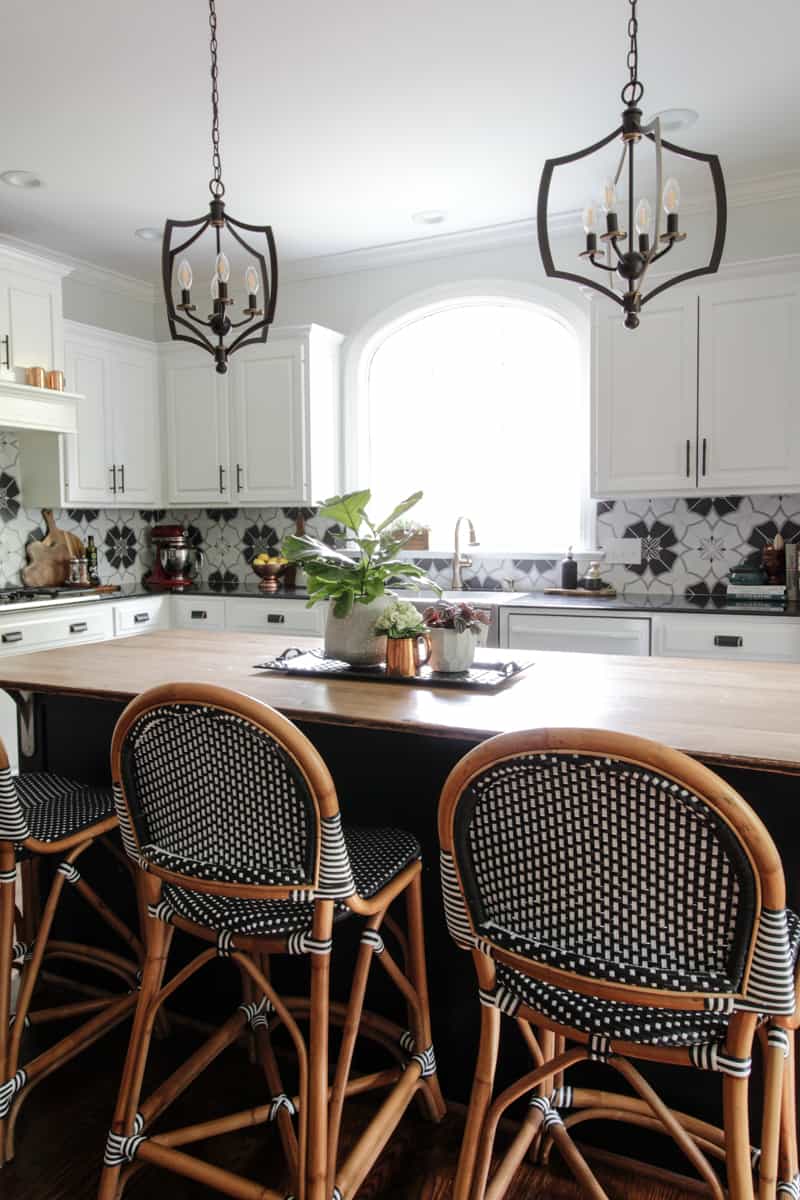 Did you notice how I combined two like finishes for the containers and one metal vintage cup? A little repetition is always good design choice, like the cement finished pots. The addition of metals like copper, silver or gold add a touch of glamour. And threesomes are always best,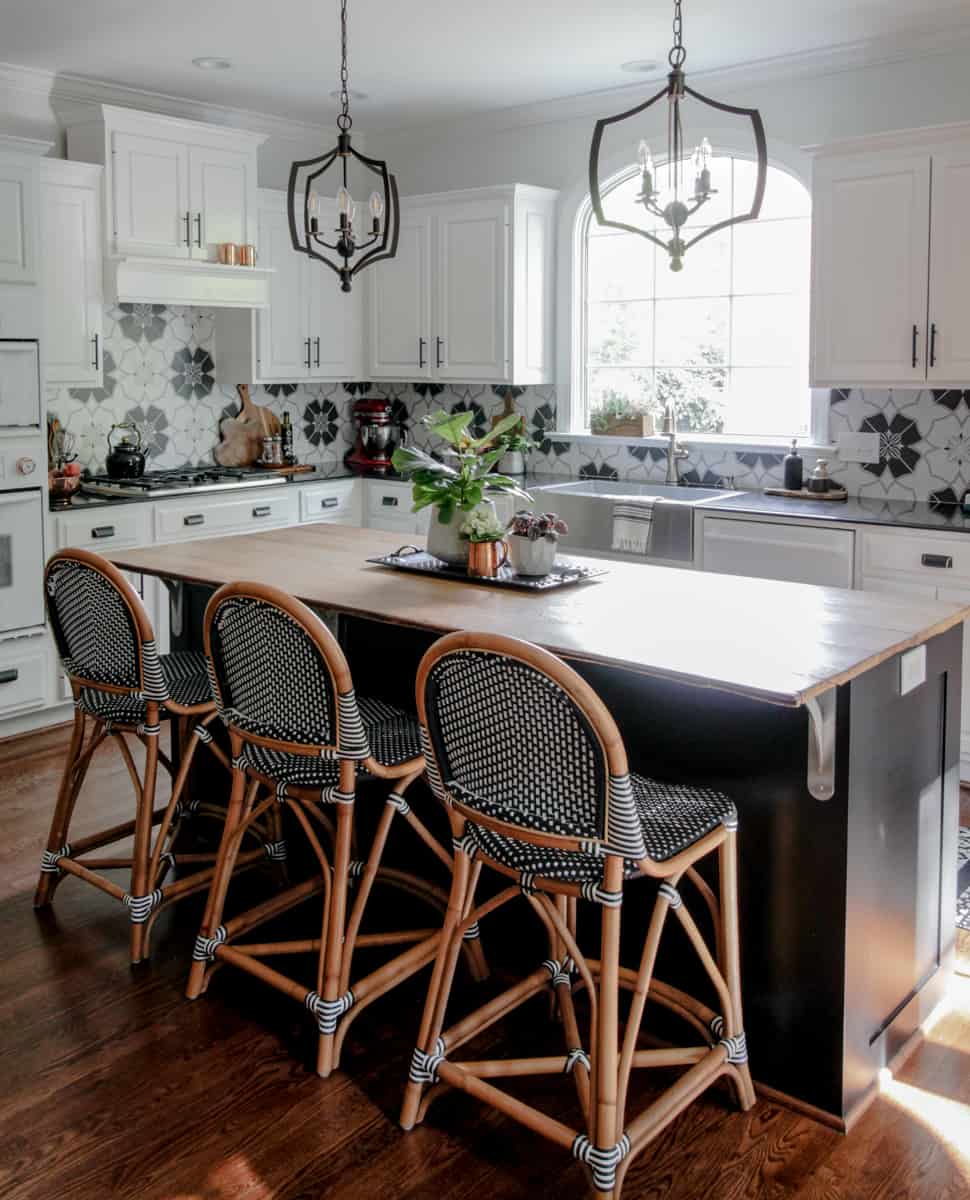 Want to take a look around the rest of the kitchen? I have a few more summer time tips to share along the way!
Before I painted the island and brought in new barstools, this was my favorite part of the kitchen. We like to call it our beverage station. Fancy name for a place I keep my tea, not coffee. (So it's kind of hard to call it a coffee bar if I never ever have coffee!)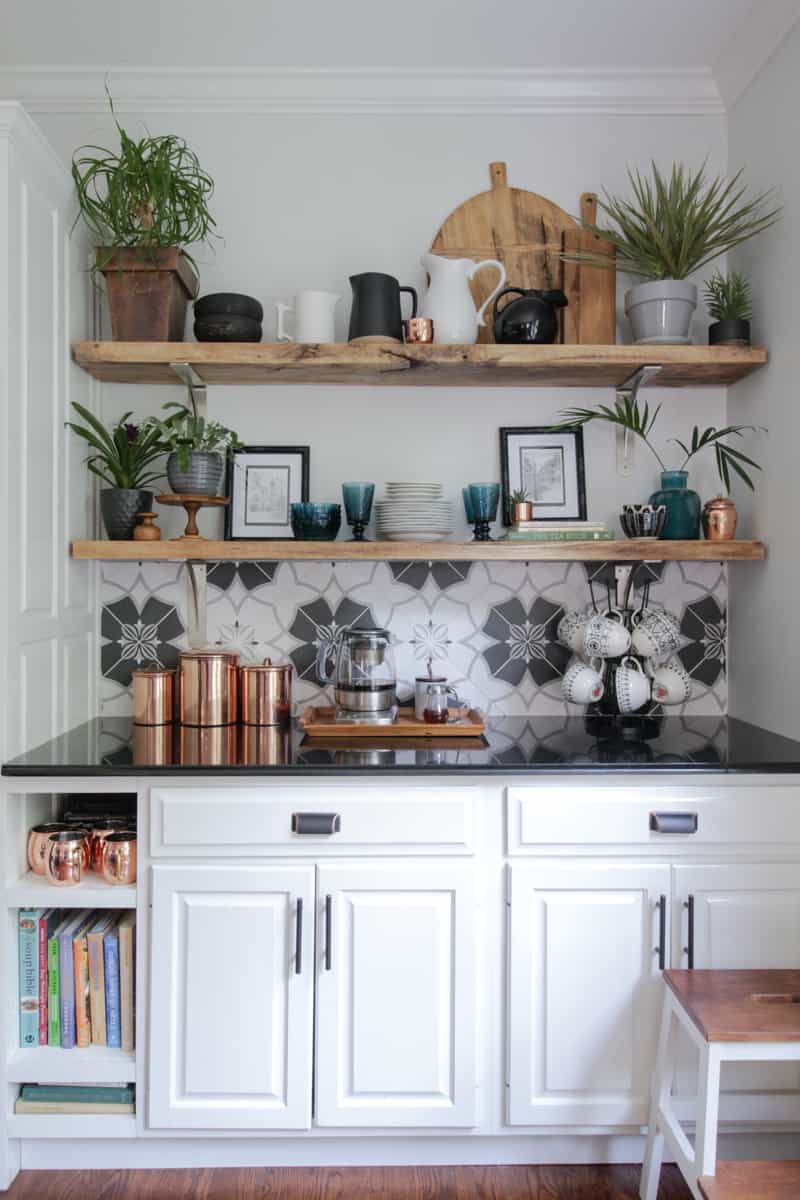 Come in a little closer.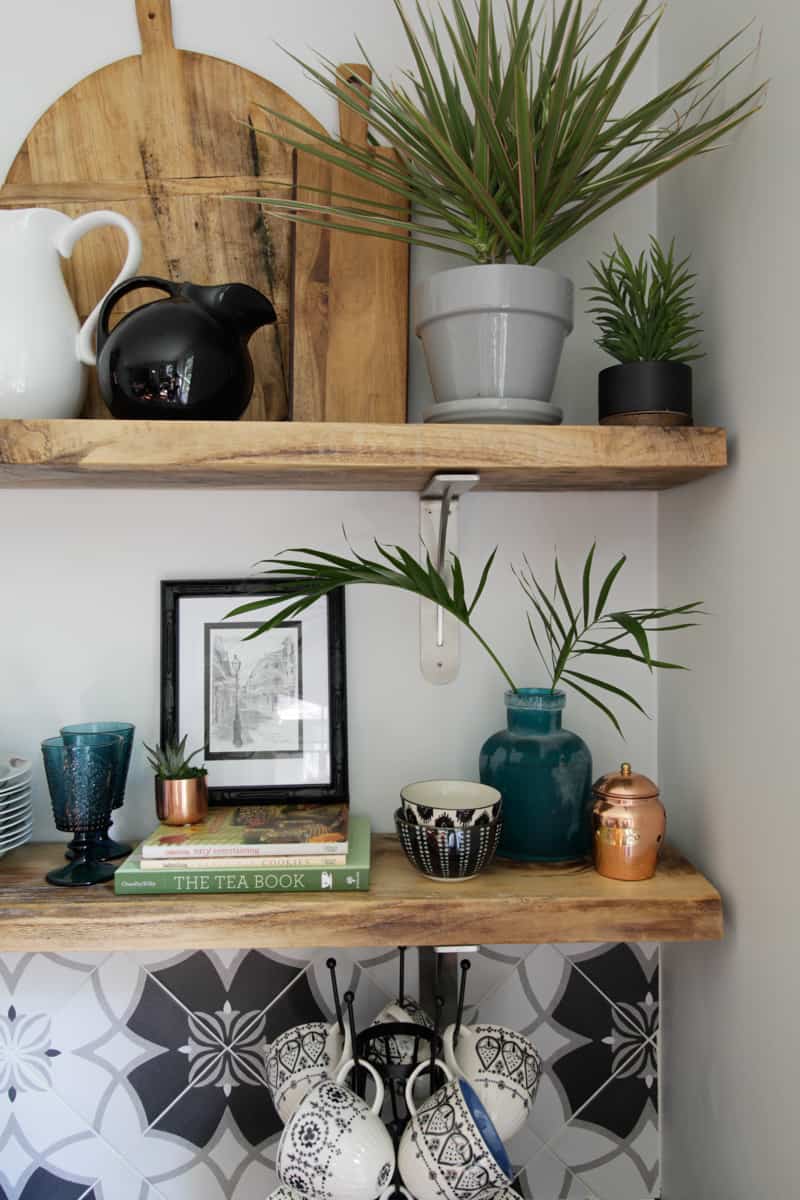 The teal vase on the right perfectly demonstrates how simple branches can bring in a summer-time vibe. Other houseplants make great cuttings too. I especially like to use these cat palm branches or monsteria leaves.
Shop the Look
If peaches just aren't your thing, lemons and lemonade always screams summer to me.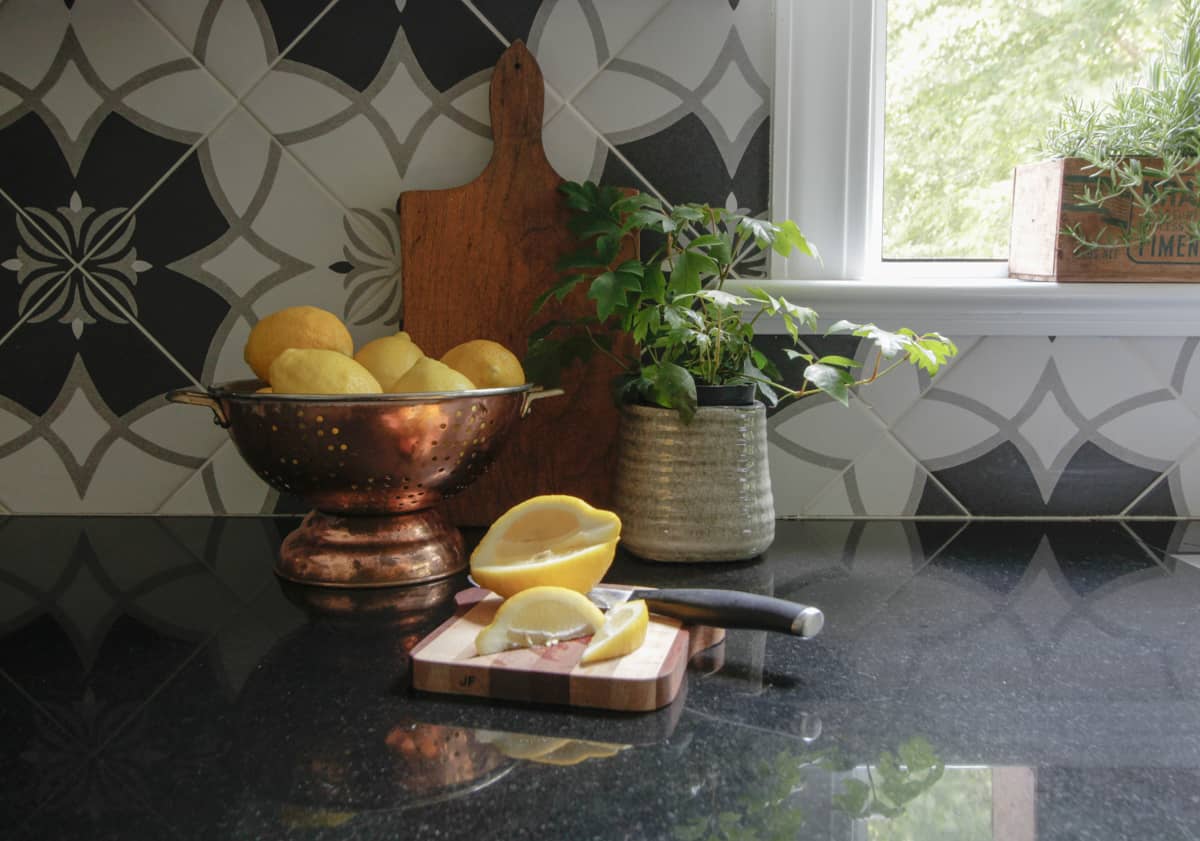 Here's a little tip. The lower half of that collinder is filled with ceramic lemons.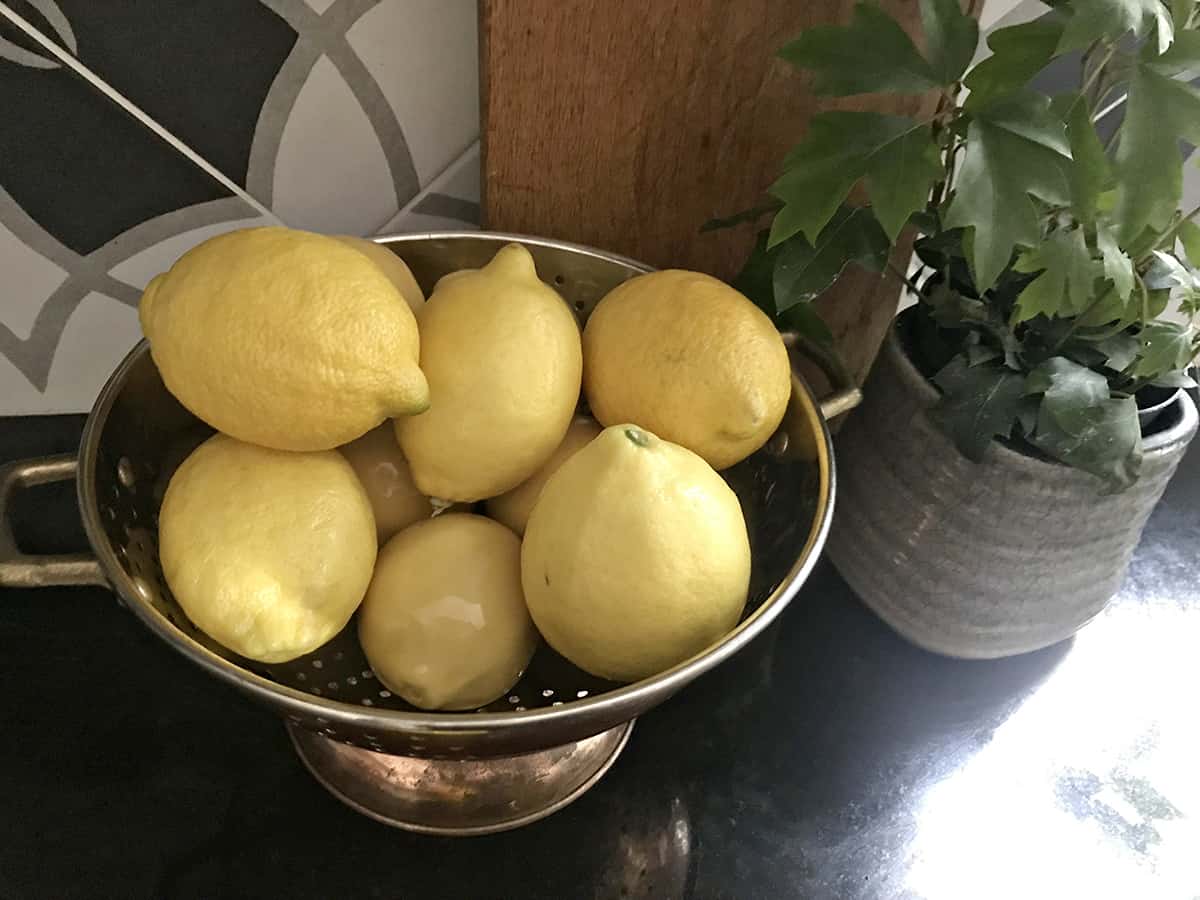 This way I don't have to keep more lemons than necessary on the counter. I would caution you if you have small or curious children that this may not be the best plan. We once had a neighbor bite into a faux apple that was sitting in a bowl. I still have it. I just turn the fruit upside down even all these years later.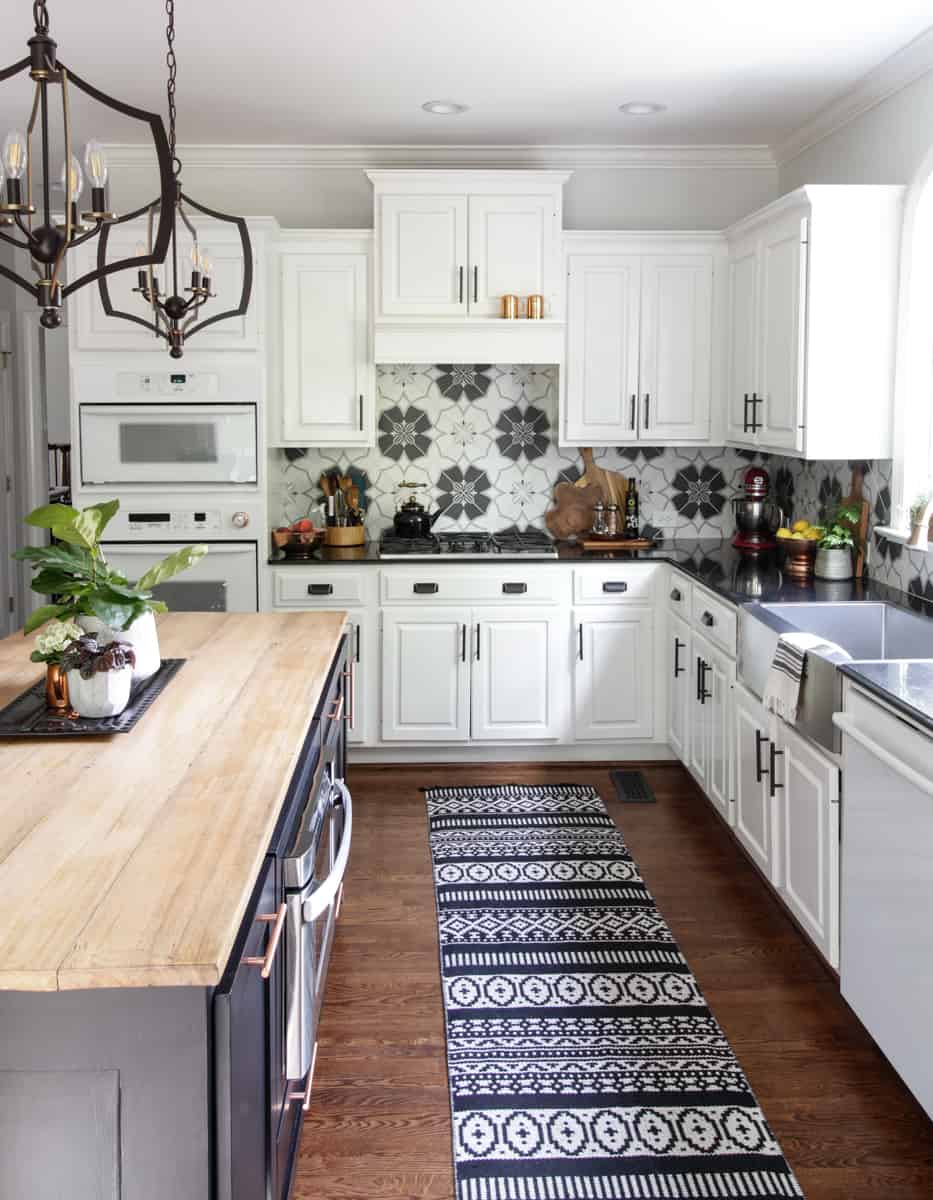 Obviously, I don't keep the table set for everyday, but it was fun to pull together both summery green carefree melamine dishes with the teal glass bowls and glasses that usually live on the reclaimed wood open shelves.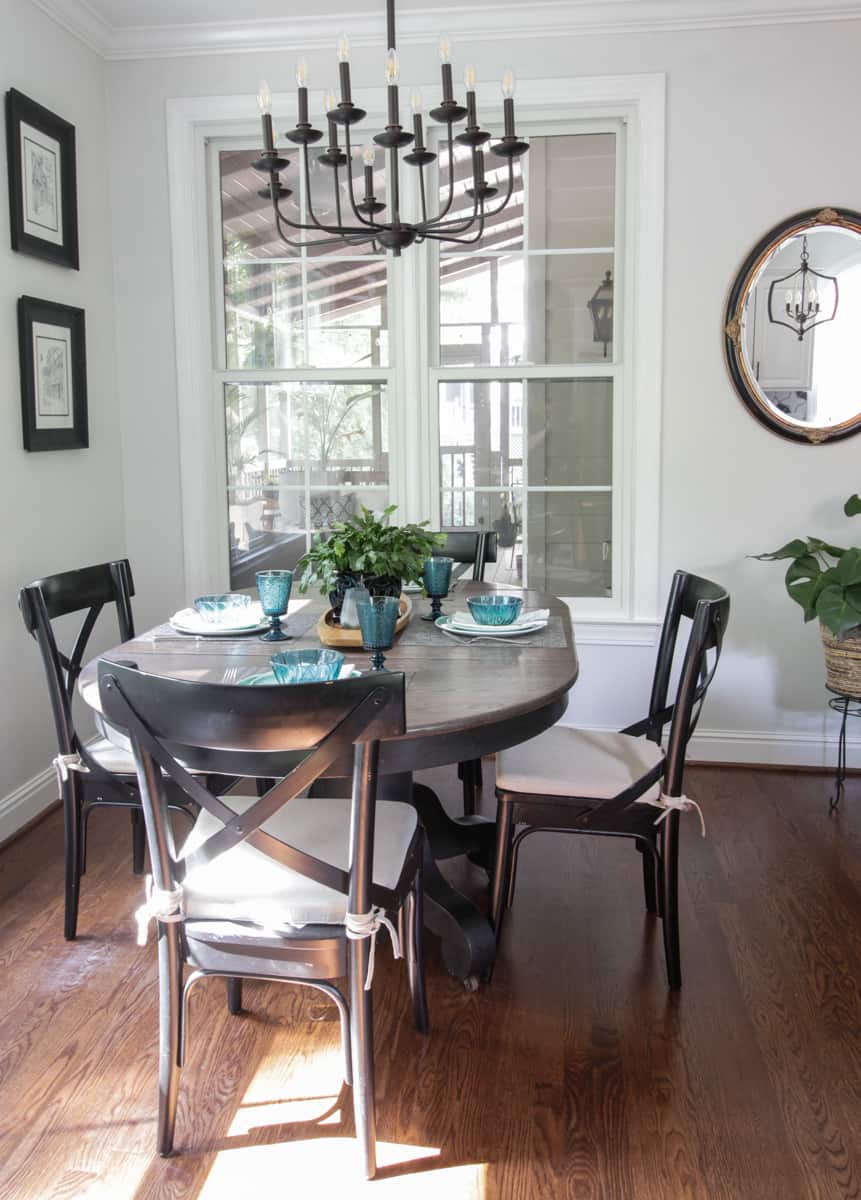 No reason to keep them separate unless you are taking your meal outside!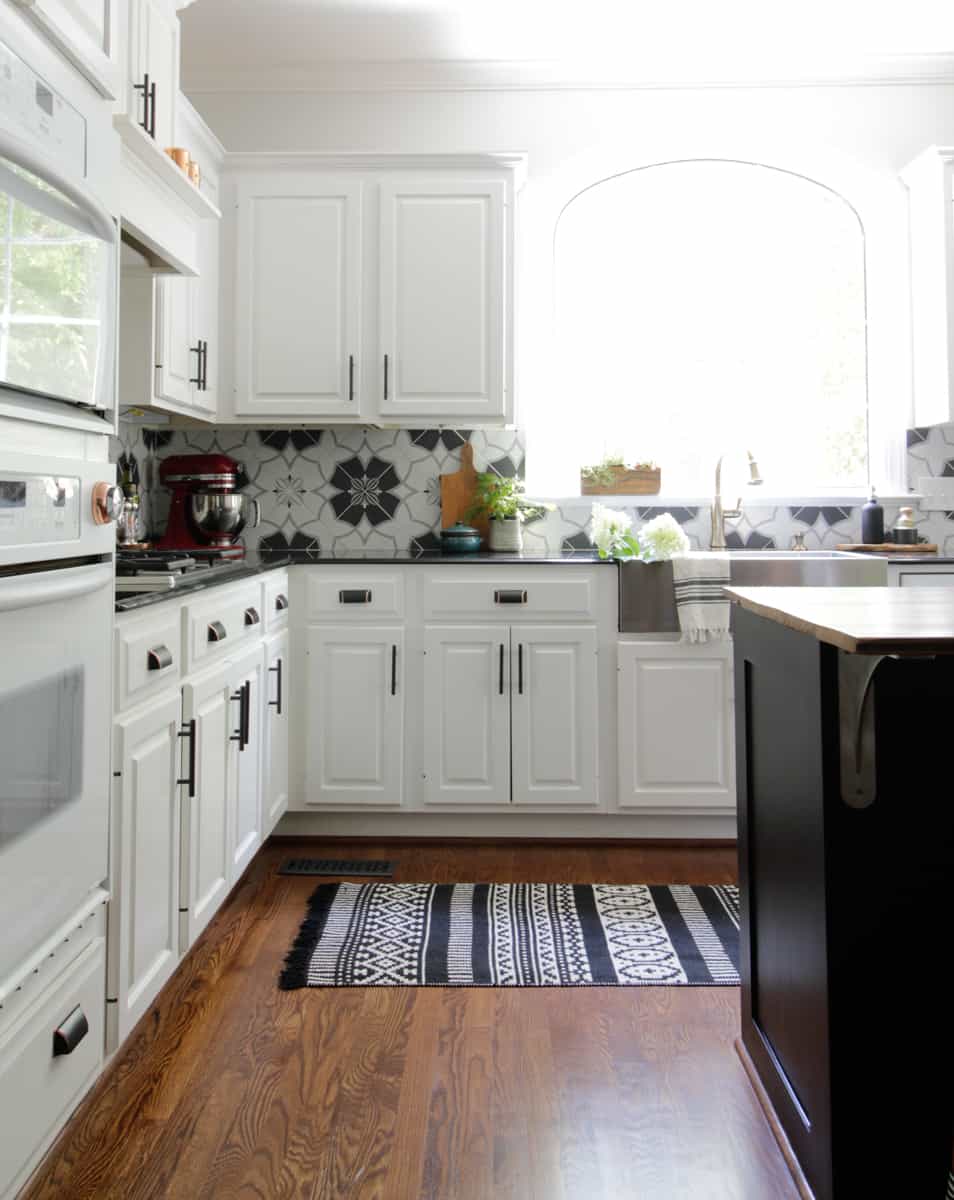 Shop the look

I hope you enjoyed my summer-time tips and I'd love to hear your thoughts on the little refresh! If you'd like to see more of our home, I shared more complete tour during the Spring Seasonal Simplicity Home Tour here.
Check out the other amazing inspiration each day! The list is now completely updated for your convenience!
The Seasonal Simplicity Home Tour series is back; and this time we're all about simple summer decor touches! All week long, my talented blogging friends and I are sharing part of our homes. I can't wait to take in all the gorgeous inspiration…
The DIY Mommy // The Turquoise Home // Nina Hendrick // Home Made Lovely
So Much Better with Age // Maison de Cinq // Paint Me Pink
Southern State of Mind // Jenna Kate at Home
The Happy Housie // Maison de Pax // Shabbyfufu // Just a Girl and Her Blog
Inspiration for Moms // Clean & Scentsible // House of Wood // Summer Adams
Sincerely Marie Designs // House by Hoff // Rambling Renovators
Town and Country Living // Newly Woodwards
Craftberry Bush // On Sutton Place // Designthusiasm // Zevy Joy
Bless'er House // Finding Silver Pennies // Rooms for Rent // Amber Tysl
Deeply Southern Home // Two Twenty One // A Burst of Beautiful // Making it in the Mountains