I realized recently that I hadn't shared our living room on the blog since we moved in last year, beyond a few peeks last Christmas. I still have a list of things "I'd like to do" in here, but the longer I let things sit the shorter the list gets. Isn't that a welcome change?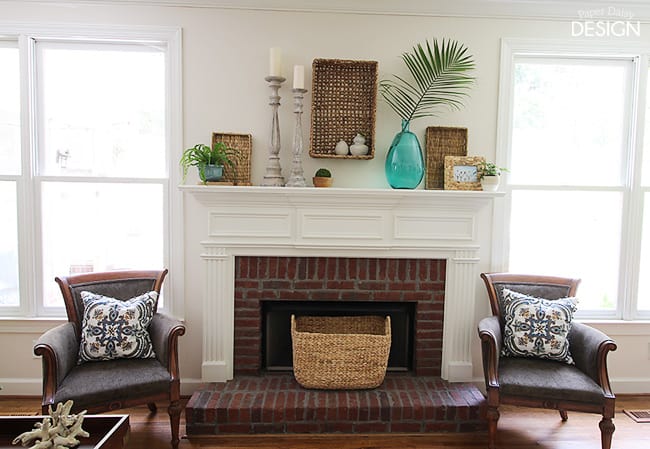 I have also realized, that because I still haven't found that "perfect thing" for the mantle, I tend to find ways to inexpensively style it seasonally. I certainly don't feel that it is a necessity, but I have enjoyed giving it a fresh look.
So, now I'll take you on a little spin around the room.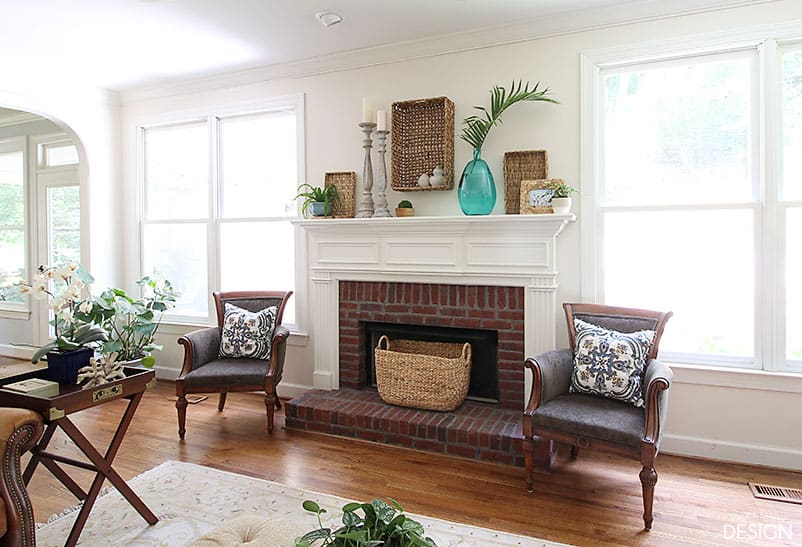 The living room windows face the backyard, which is completely private with a steep sloped yard capped off with woods. I adore the constant streams of light that come in through the uncovered windows. You can see how we handled landscaping that rocky backyard here.
To the right, a pair of antique mirrors flank the buffet and tv. I keep thinking I'd like this wall to look more clean lined and transitional, but I can't seem to part with either of these key pieces.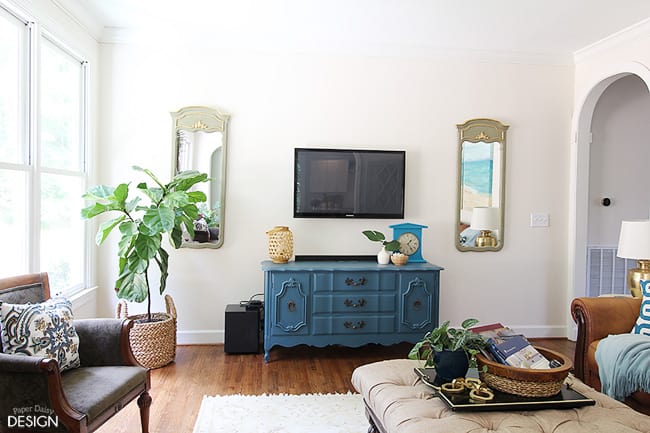 A large mural was relocated to the living room when we moved here and fills the wall above the sofa nicely. I've seen some quotes on lifehacks that I love so I might frame them and replace the mural with that.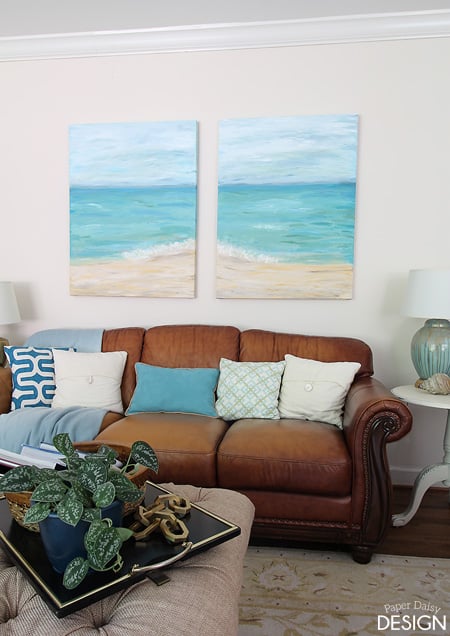 Even though, the painting is a seascape, I've tried not to make the room "beachy". Though, in the summer it's hard not let a few shells find their way into the room.
To the left, is the opening we enlarged to the kitchen soon after we moved here. And yes, I promise to share all the details of that elusive kitchen soon.
Here are a few closer looks at the vignettes in the room.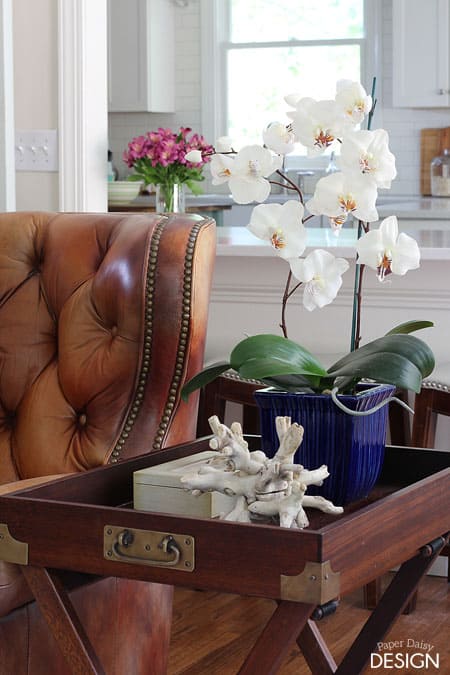 To achieve that look of summer without going into "beach house" mode, I've focused more on a tropical vibe relying on natural, textural elements.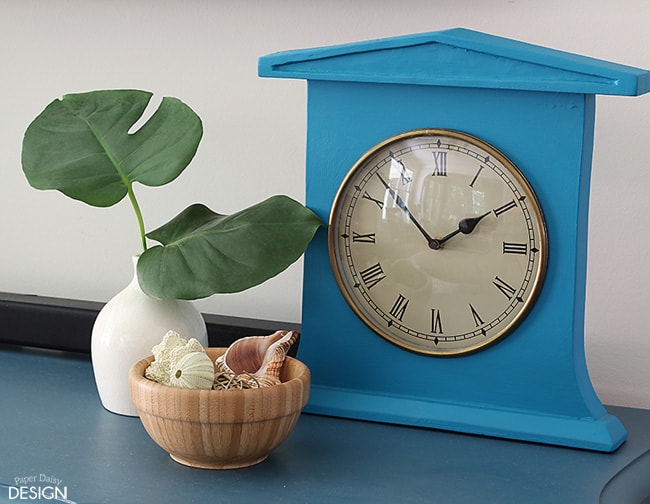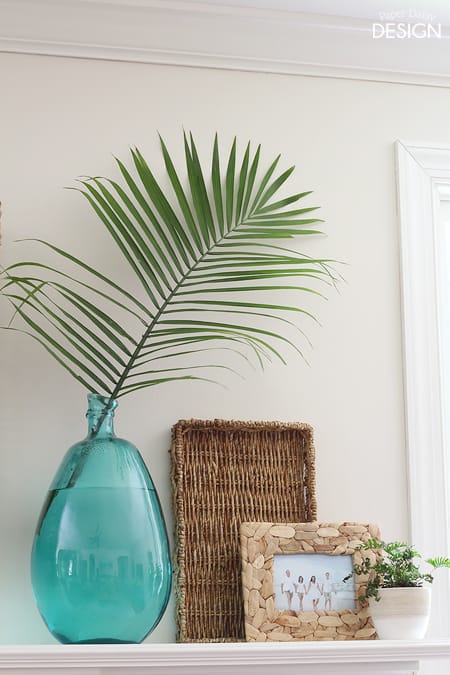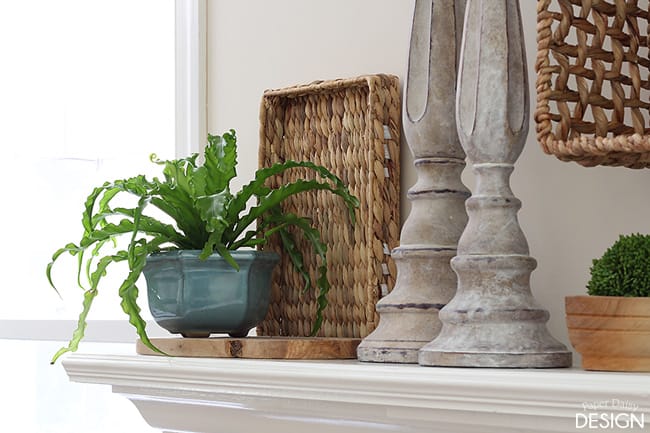 With the deep mantle we have here, I was able to hang a rather large basket on the wall. I love the dimension it adds.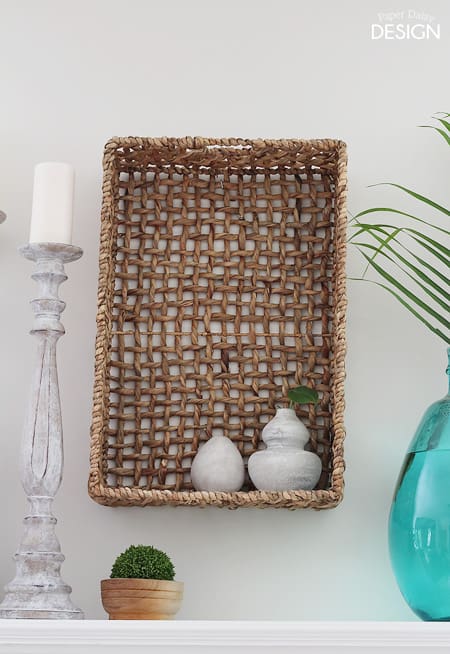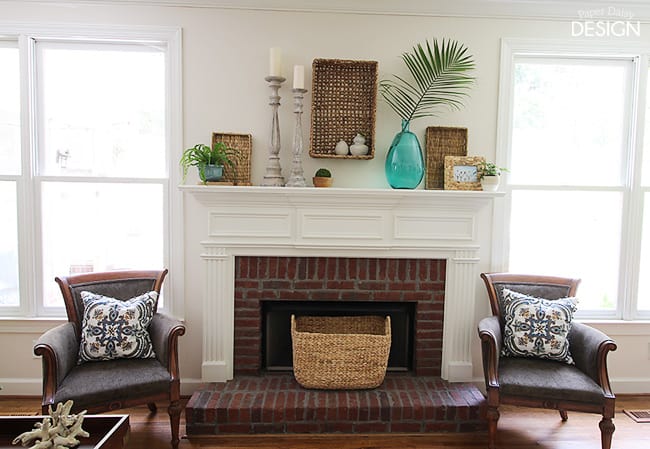 Source List: Crewel pillows, deep basket on wall & handled basket in front of the fire place: Home Goods
Wicker frame, wicker lantern, small vase set, flat letter basket: Target
Blue pot on mantle: Andy's Nursery|| White and cream pot: Leaf & Petal
Furniture: thrifted or had for longer than I can remember
So, tell me…do you find yourself styling rooms based on seasons? Or do you have things you love that are constants?
Here are a few of my favorite looks for living rooms on Pinterest.
Follow Paper Daisy Design's board Lovely Living Rooms on Pinterest.