Even before we moved into our current home which we like to call #theTrailHouseReno, I've been reimagining the house room by room. When we moved in, the living room was one of those rooms we arranged the furniture how it seemed to work best at the time and then left it alone until now.
With all the other projects we were tackling like the budget kitchen renovation, master bathroom remodel and most recently the redesign of our dining room, the living room only saw minor improvements, until this year.
It was very fitting that Modsy, an online virtual room design service, contacted me about partnering in a room redesign project because I was dreaming about making over the living room this fall. How exciting it was to "try on" new furniture in my space before I committed to a major purchase! Not only do they provide a virtual mood-board of elements to include in your room with your 3D rendering, once your design is complete, you can take your time trying other pieces of furniture and moving them around in your virtual space until you achieve the perfect design that suits you and your room!
GET 20% OFF your Modsy Design with promo code: DEEPLYSH20
So, what would you think if my living room looked something like this?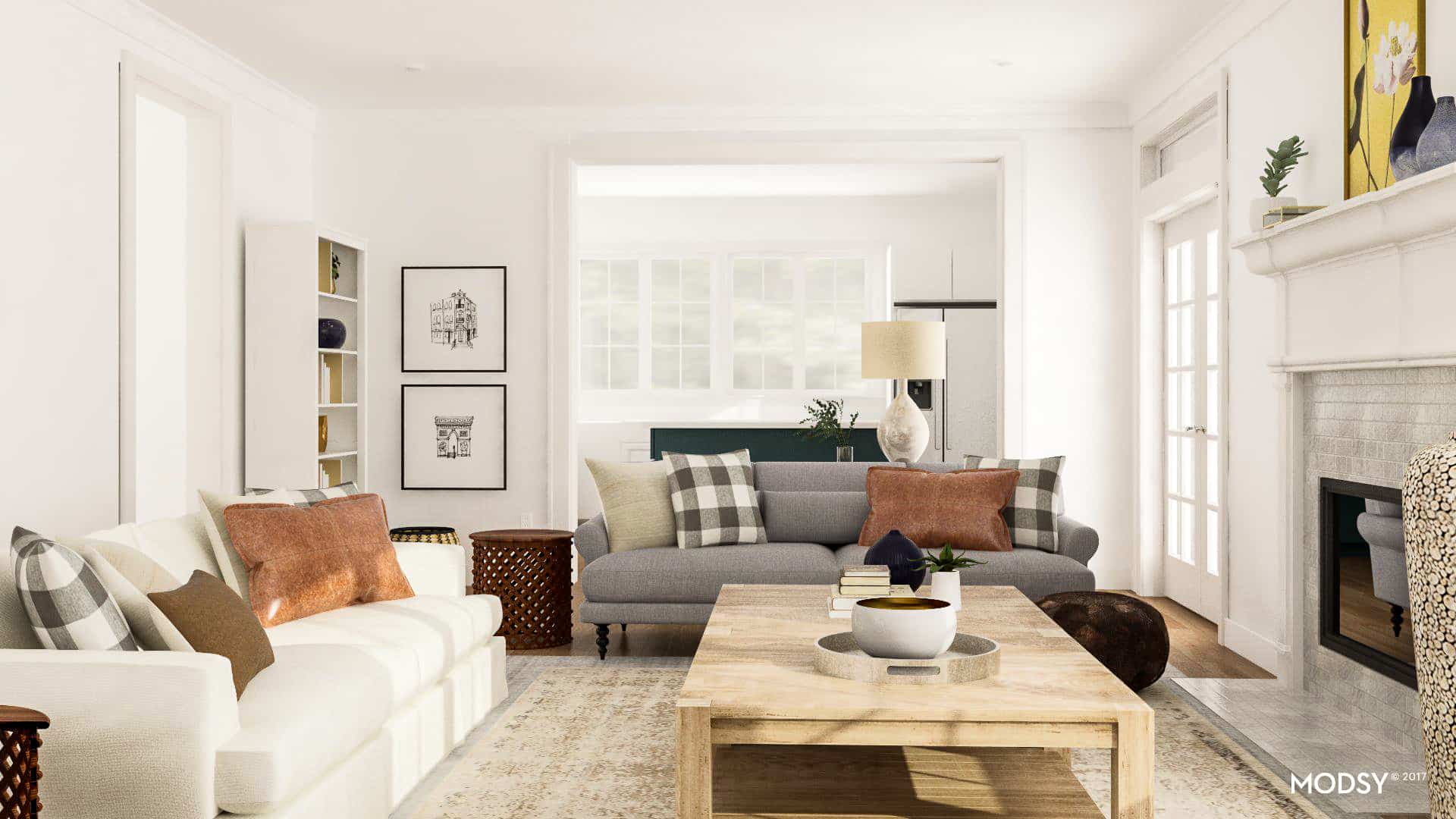 And this?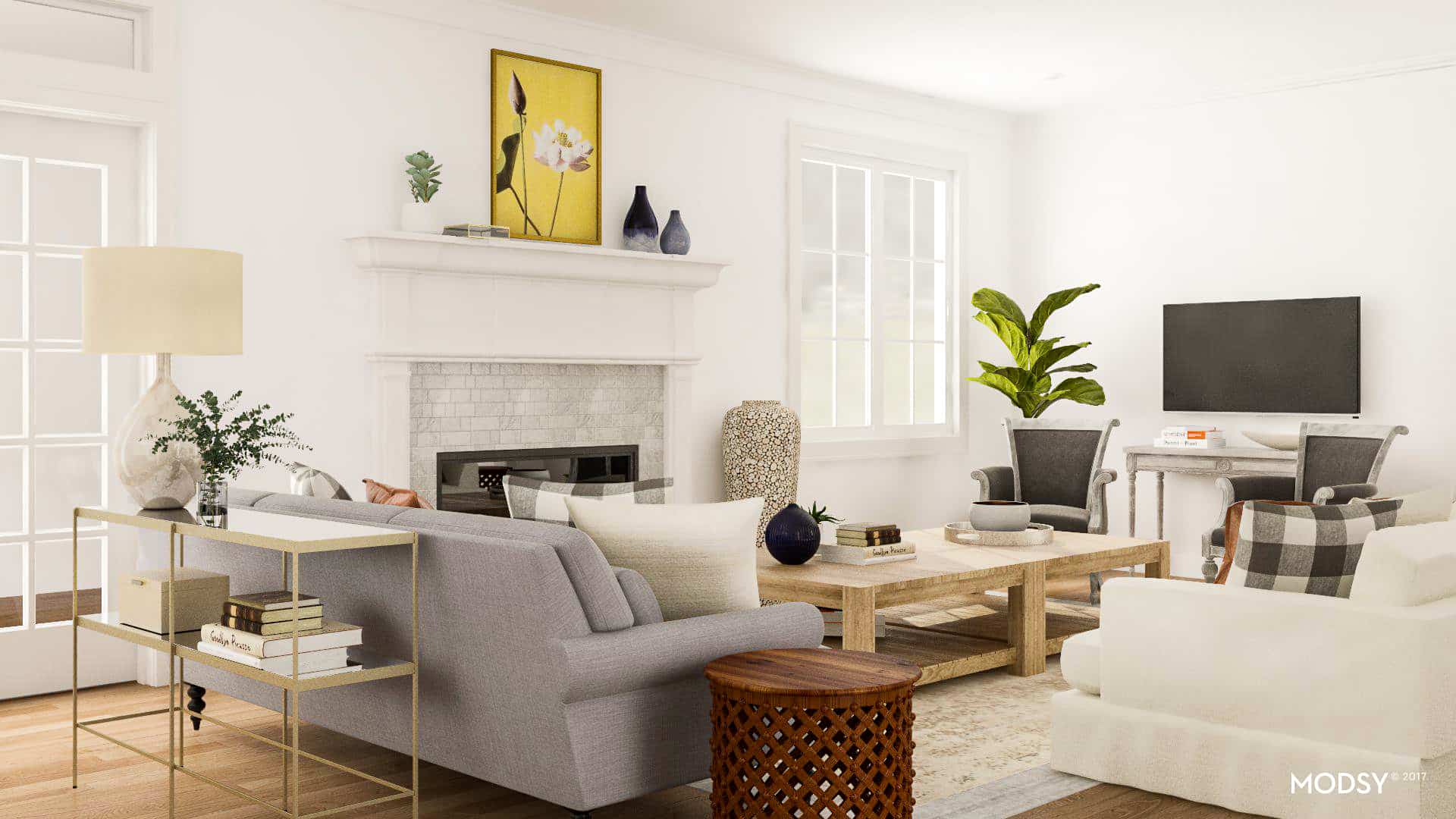 I think I could like it very much!
If you've been around here for a while then you might recognize a few of those pieces of furniture in the design. Here are the photos I shared with the Modsy team. They can incorporate, for a small fee, your existing furniture. I love that they can offer this service for those treasured pieces we can't part with, which for me are my side chairs.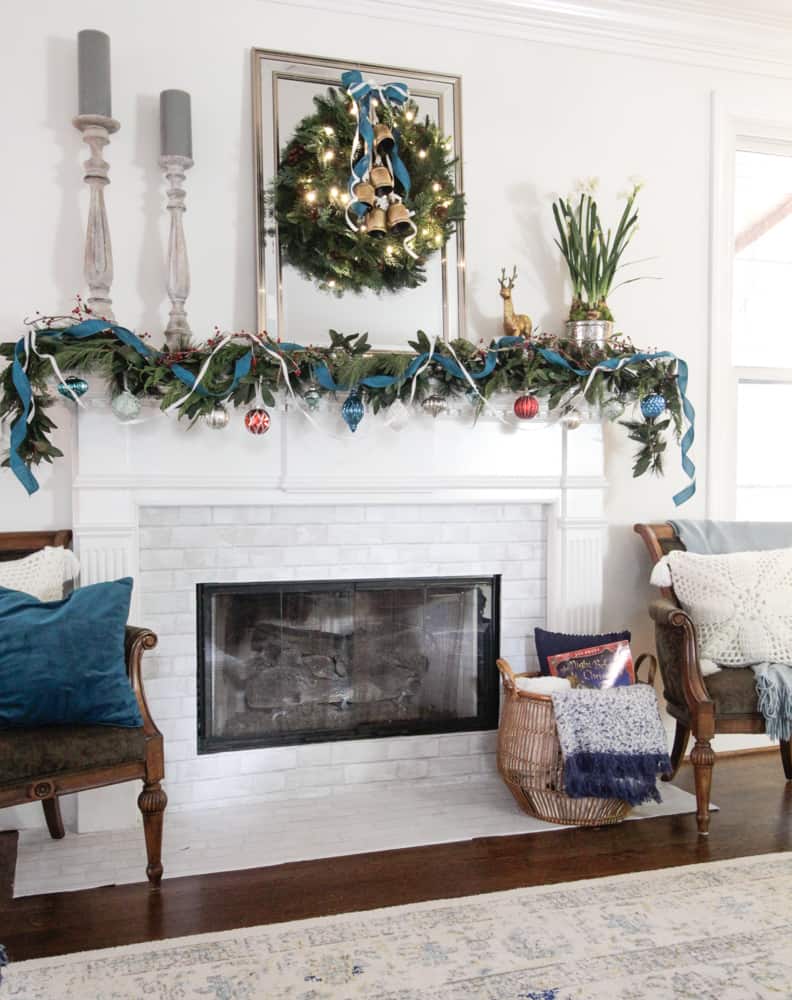 I even had the Modsy designer give the chairs a mini makeover with paint and reupholstering them in a dark grey velvet. ( A fabric I had purchased a few years ago for them specifically.) Think of the money I will save by making over my chairs instead of buying new ones! And now I know it's worth the investment in time because I can see how beautiful they will look in my new space! See below.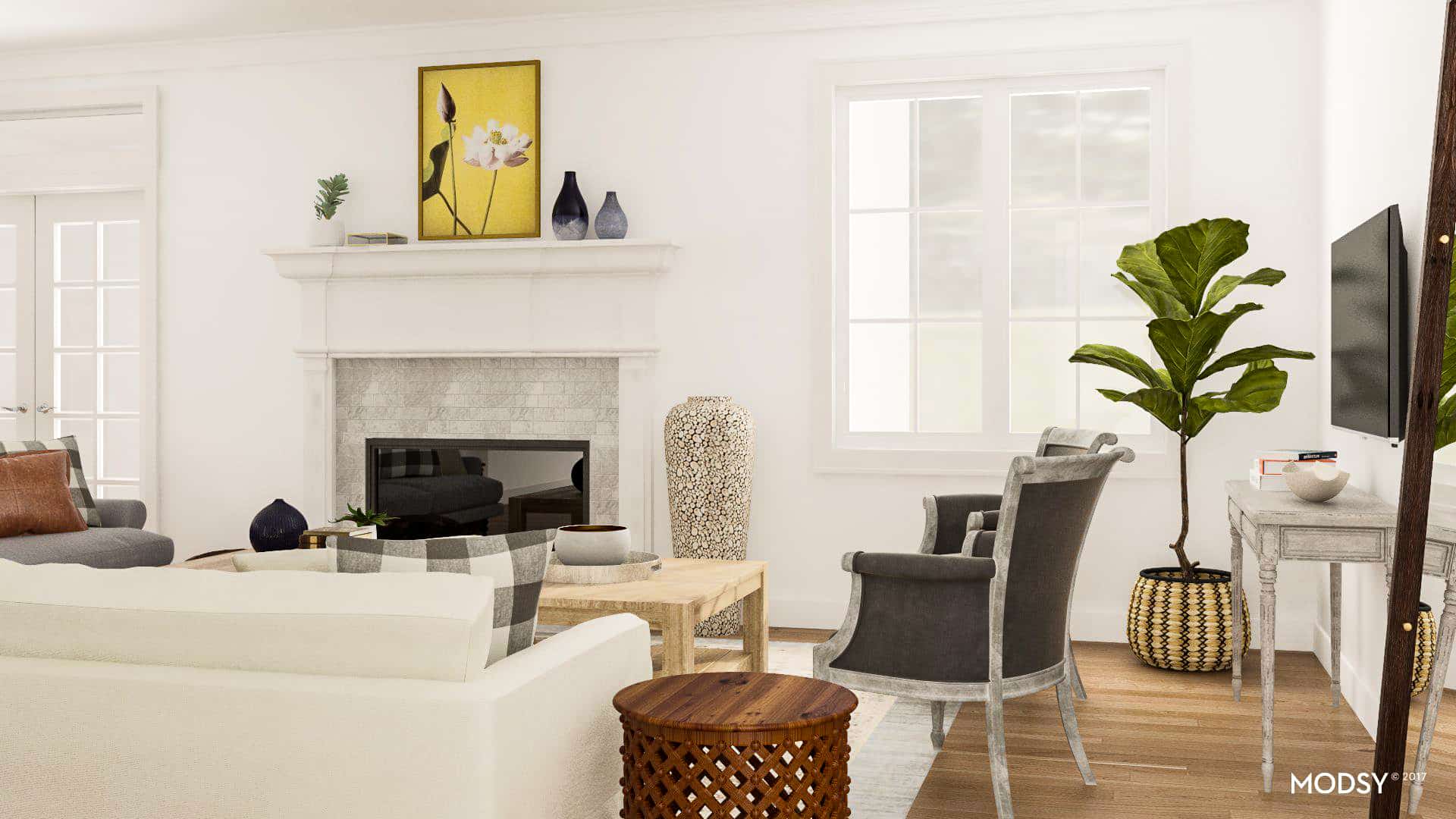 Modsy works with hundreds of popular retailers around the web to offer an extensive variety of furniture and decor options. My existing Interior Define sofa was already in their library so they were able to include it in my design at no extra cost.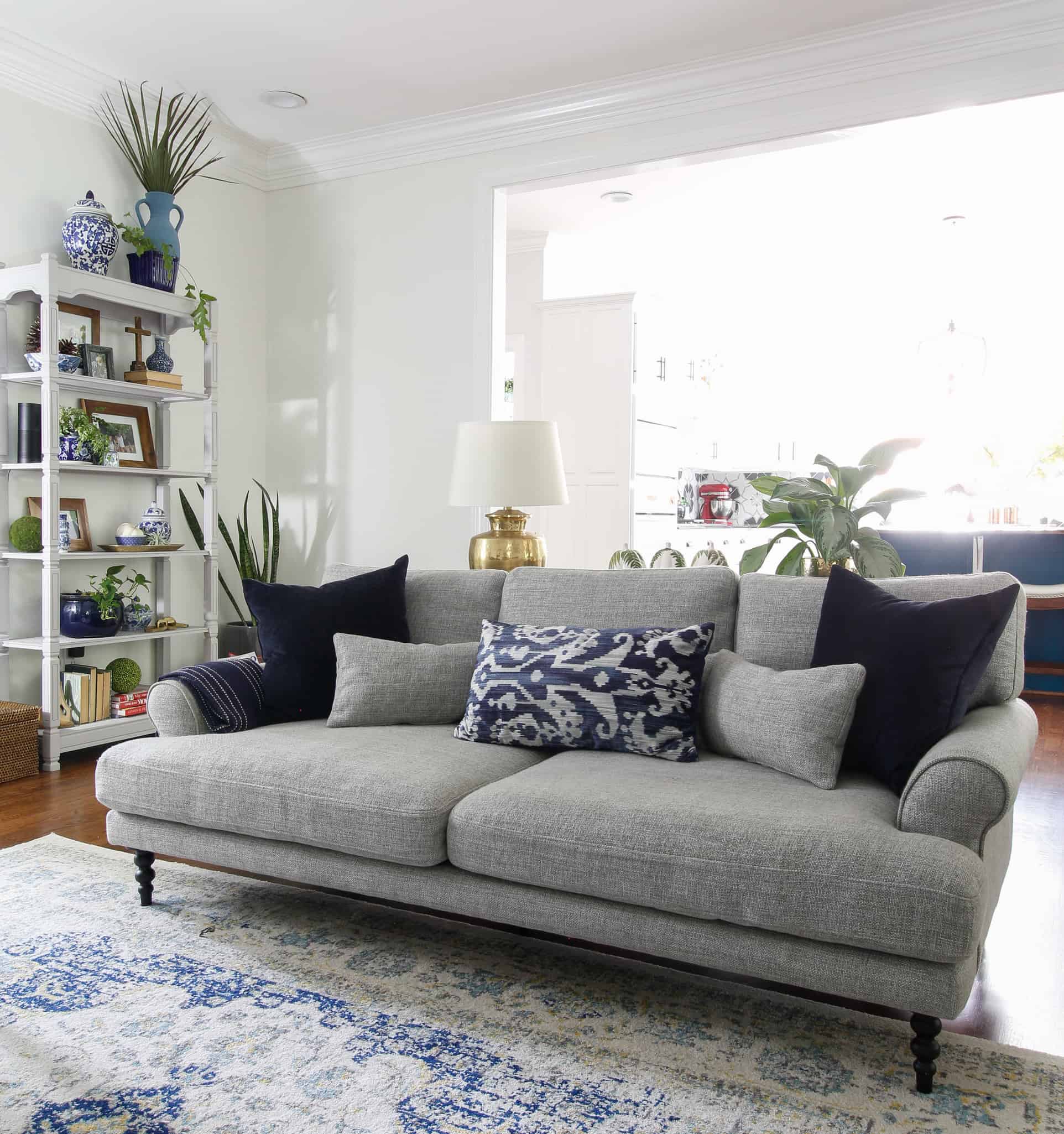 Here's how Modsy works:
Start by taking a style quiz. It is even more fun than those magazine quizzes because you can visually see each option. This feedback provides Modsy with valuable information to use in your design and renderings.

Photograph your room, upload them to your profile and send measurements of your room. No need to clean up before you take those shots. They will spiffy your place right up!
They create a 3D model of your room to scale and provide you with two customized designs based on your preferences and room goals.

Want to make a few changes? Want to see a different rug in your space? You can make revisions using their Style Editor (which is currently in Beta) and render your new designs.
For the ultimate convenience you can shop from the suggestions provided right on their site.
I loved the new fresh look they created for my living room. They even completed the construction of my fireplace makeover, virtually of course.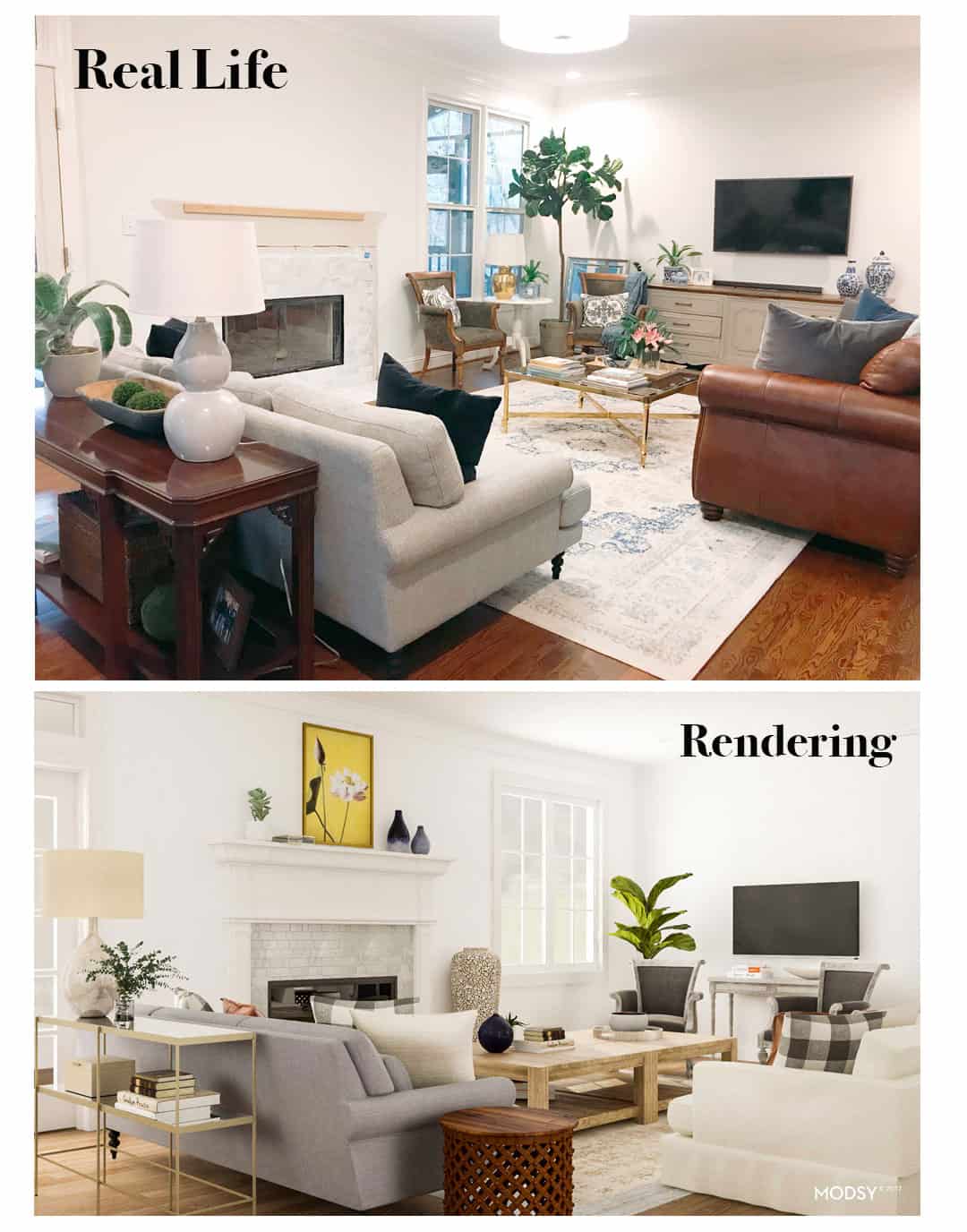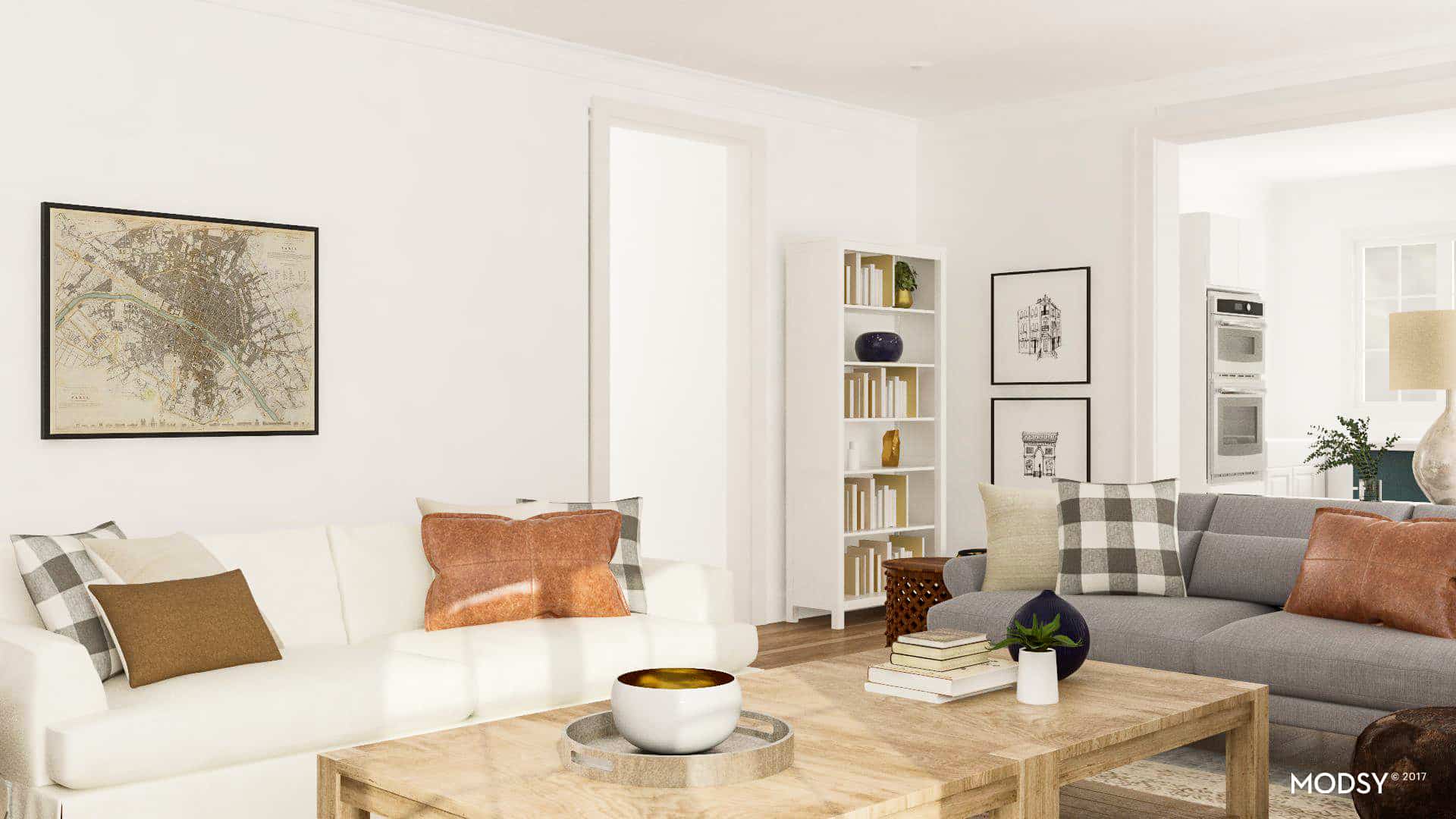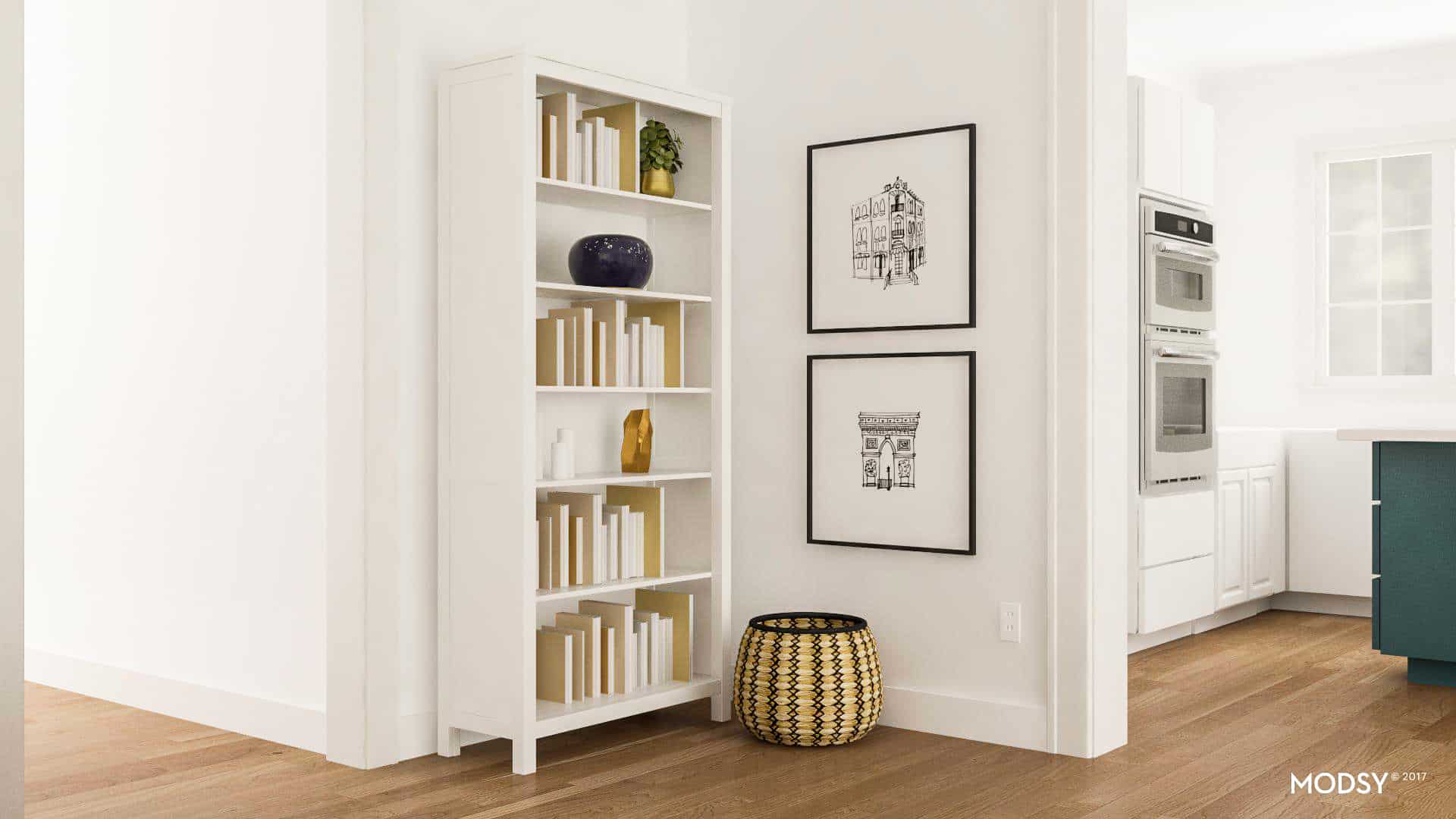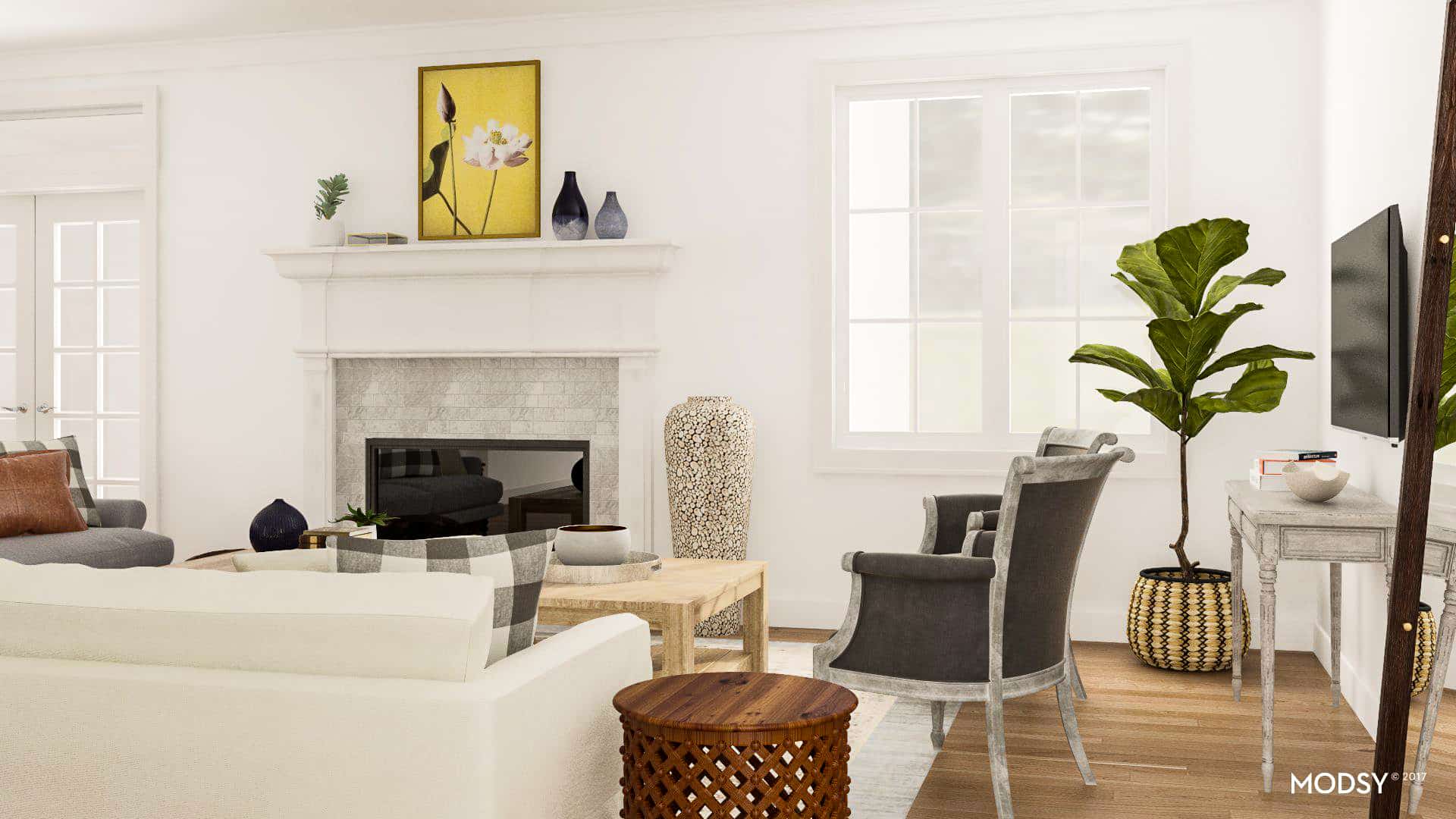 If you want more personalized attention there is an option to consult with a live design consultant too. It was clear to me that the Modsy designer was very skilled at space planning and offered unique layouts for furniture I had not considered.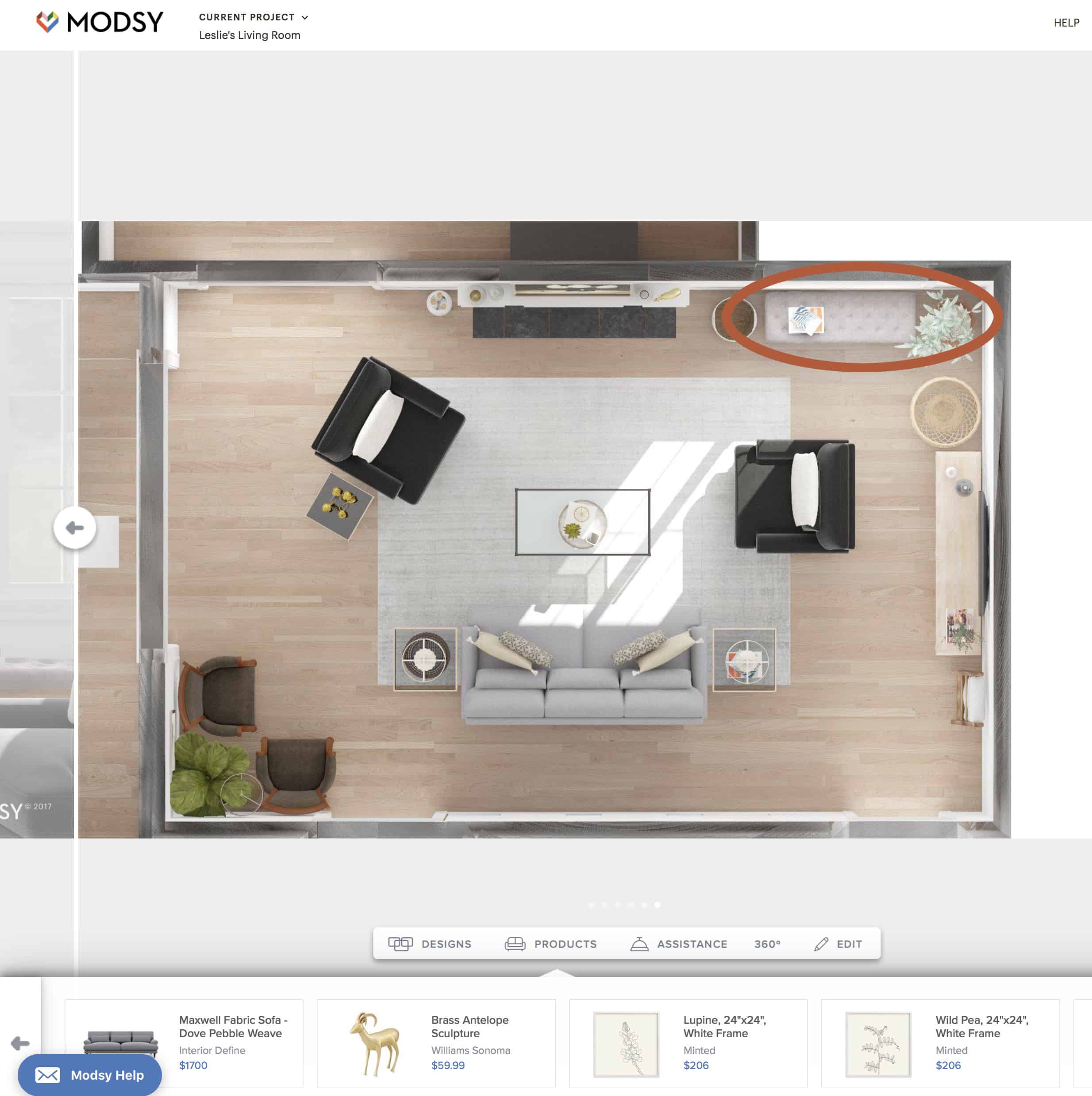 While I was looking for more seating than the above design offered, I thought it was genius how she placed a long bench under the window next to the fireplace. Even for someone, like me, who loves interiors and designing, it is easy to become blinded by the everyday usage of a room in my own home and fail to see the possibilities. Living in the space for a couple years, I became closed to the idea there might be different ways to configure the room.
Also, I had never considered placing my existing chairs in front of the TV like in the rendering above. When we initially saw this rendering, my daughter and I both remarked, "That will never work." But you know what? I physically moved the chairs into place and it totally works, just like it was rendered.
I look forward to continuing to tweak the design and make plans for the big changes to come this fall! Now I will have the confidence to know the new pieces of furniture will fit appropriately and exactly how they will look in my living room!
Got a room you want to makeover but overwhelmed by the possibilities? Give Modsy a try! Designs start at just $69 a room design which includes a 3D model of your space, 2 custom designs and access to their 360 degree room visualizations and personalized shopping service. With Modsy you can redesign your room with confidence
GET 20% OFF your Modsy Design with promo code: DEEPLYSH20
I can't wait to hear how they help you design your home with confidence!