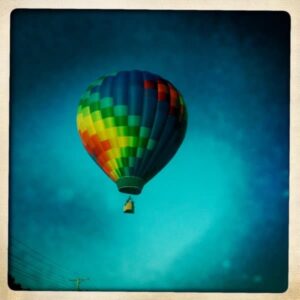 Yesterday, I was making a run to the grocery store to restock the fridge after being gone for a week and this balloon flew right over me. I pulled off the road and snapped this photo. LOve It!!
I'll be back soon with a recap of our tour of the south trip, aka "the eating tour of the south!" We drove down to Louisiana to visit family and friends and I swear I feel like all we did was eat!! We are in major detox mode here!!
I have a mini/tag book I'm working on for a little class I'm teaching this week, so everything really feels up in the air with some unpacking, laundry and household things still to do.
Hope your Monday is off to a good start. 🙂
Thank you for subscribing to Paper Daisy Designs. Please continue reading on the blog. I appreciate having you as a reader.