Welcome readers of Pet Blogs United! In light of our feature there, I thought I'd use today's post to tell our Tucker story.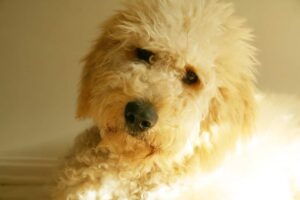 Tucker is affectionately known as "Clifford" the big yellow dog, by one of my friends. She knows the story of how he came into our lives, how we (the kids and I) longed for a dog and how we finally convinced my husband to give us a golden doodle puppy for an early Christmas present in 2006. And just like the story of Clifford, we loved him so much he just kept growing and growing!
Little did we know this cute little fur ball, who was supposed to grow to be only around 40 to 45 lbs, and be a medium sized dog, would turn in to the big dog I had always wanted, but never thought I'd have. (The last time he was at the vet, he weighed around 62 lbs.)
But before he turned into the big, loveable dog he is now he was one super cute, but wild puppy!!
He spent the first several months of his life in the kitchen. He was just too crazy to roam the house while not being watched every single second. We eventually wised up and crate trained him, although I don't think he fits very well in that huge crate anymore…the one we thought he'd never out grow. lol
It wasn't too long before we knew, despite all the puppy training books I had read, that we needed a professional help. We enrolled in a well known dog training class in town and I'm so very thankful we found our trainer, Dick Russell. He changed the whole ball game for us. His fee included one-on-one training if that's what it took and we took it. My favorite quote of his, "He's going to be a very good dog, he just doesn't know it yet." I thought he was being funny but honestly, I think it's true. He was right, Tucker knows he's a good dog now.
He is my running partner and everybody's best friend. He's so full of love and has us pretty well trained too. He certainly tells us he wants dinner. (Which is as early in the afternoon as he can manipulate by you to give it to him.) 😉
He is such a good boy and is very obedient around the house. He heels like a pro on the trail and loves to go on outings. Our most useful commands are "place" to send him to his bed and "move", which is a general yielding command that is really so handy for making the big galoot move out of our way.
He does have few flaws, but don't we all. He goes beserk around all forms of water, barks at the smoke from the BBQ pit, (read here) and can't handle attending a sporting event (read here). He also still likes to run off with pieces of clothing he finds around the house because having us chase him around the house to retrieve the item is the best fun in the whole world.
Needless to say, he is a very special part of our family. Even my husband, who was initially lukewarm to the idea of getting a dog, loves him dearly.
And being the scrapbooker I am he has a few layouts in which he is featured.
I'm sure he really misses the pool we had at our house in Louisiana, but he equally loves the snow here in Missouri. He will sit out side and wait for it to come and get's all frisky when the flurries start to fall.
Here's a photo montage of a few of my favorite photo memories, so far.
And in case you are wondering, his absolute favorite treat… a nearly empty peanut butter jar! We have a small stash of them stockpiled in the pantry for special occasions. 🙂 He can lick the jar spotless!
Thank you for subscribing to Paper Daisy Designs. Please continue reading on the blog. I appreciate having you as a reader.