My sunflowers are fading and looking quite droopy, but I brought these little darlings inside and sit on my window sill. I can't bring myself to pull out the sunflowers yet, as the birds are enjoying the seeds very much.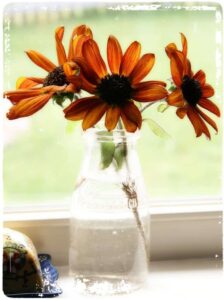 Here's a little bit of happiness for one lucky lady. I've sent a message to Lil, the winner of the blog hop necklace!! Not to worry, I'm thinking of having some more giveaways soon. So if you've become a follower you'll be the first to know!
Got my yoga in this morning since it was too rainy to go for a run. Now have some design work to do before my client gets upset with me. 🙂
Thank you for subscribing to Paper Daisy Designs. Please continue reading on the blog. I appreciate having you as a reader.