I thought today was a good time to share a few things I'm loving this fall. While I'll get to the usual home related photos in a minute, let's talk leaves, and cooler temps and wood watches.
This post is sponsored by Jord WoodWatches. Be sure to check the bottom of the post for a contest to win an e-gift code for $75 toward your favorite style.
Yep, that's right wood watches. I've had my eye on these beauties from Jord for quite a while. And honestly, the only real reason I hadn't ordered one until now, is because I couldn't decide which wood or style was my favorite. I've wanted a new watch for a while and looked on websites like this discount watch store to try and find the perfect one!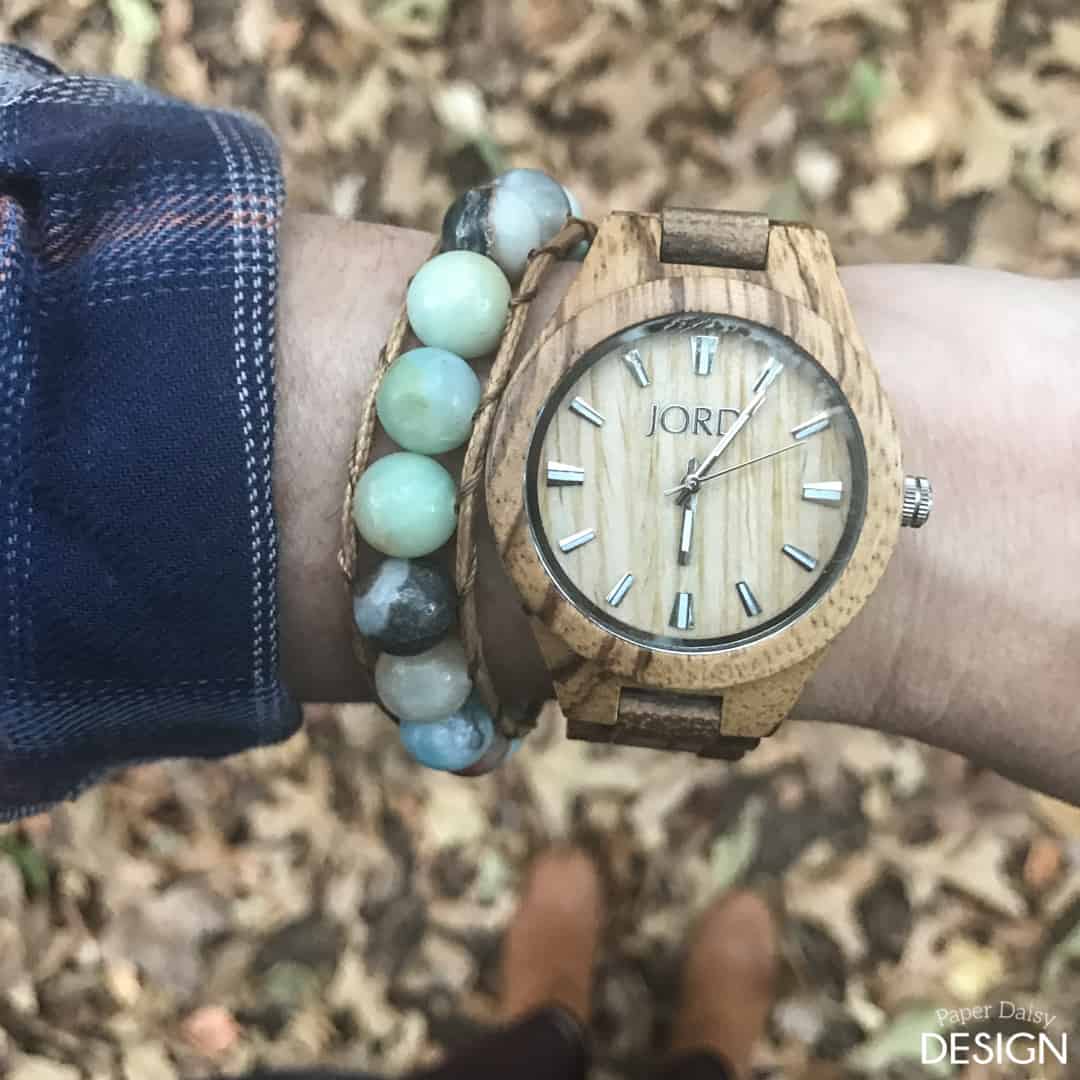 Because if you have been around here at all, then you know I have a thing for wood. Old wood is my favorite, but new wood is really great too. I love the smell of fresh cut wood the way most people love the smell of fresh cut grass.
So when Jord reached out and offered a discount to my readers, I was all in.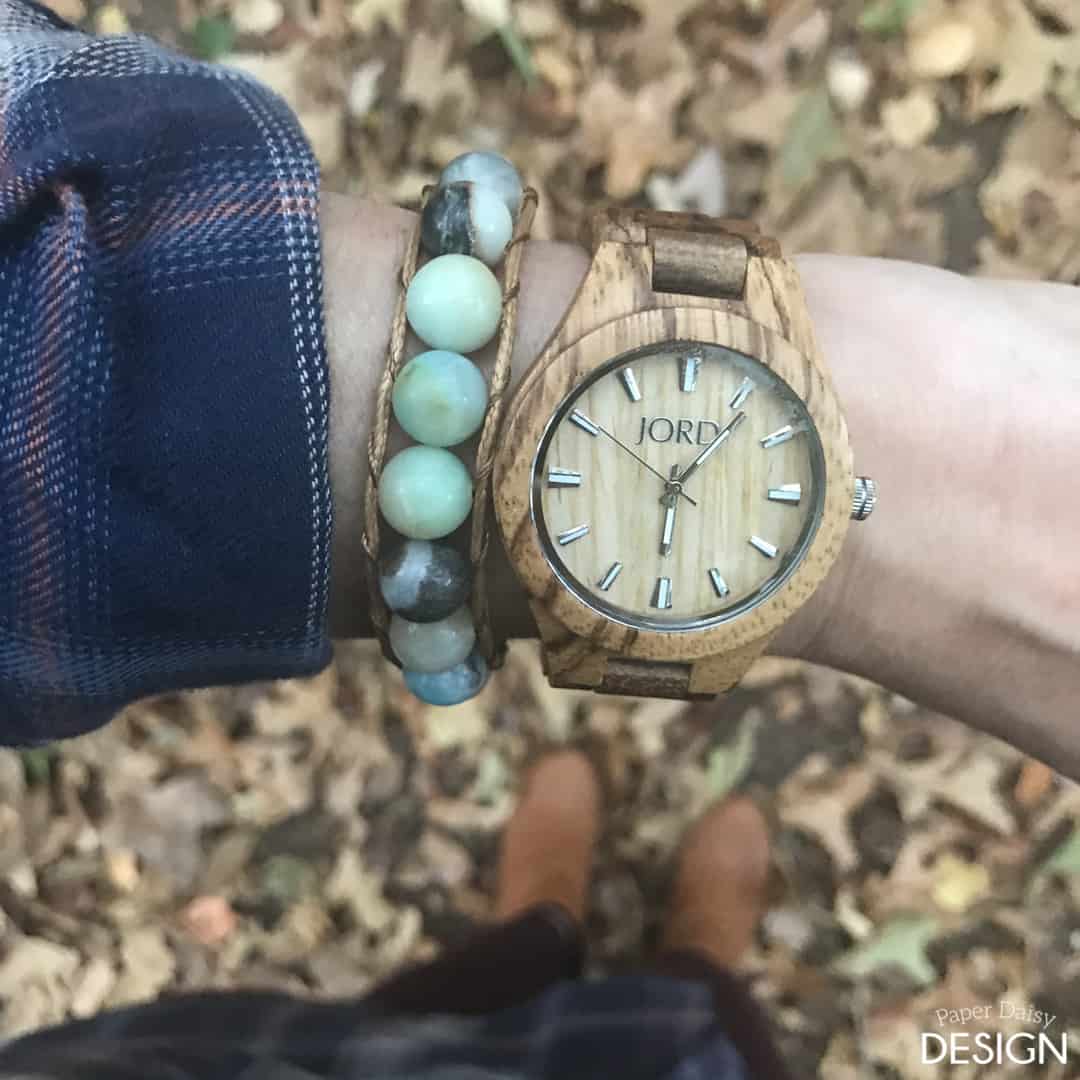 Ultimately, I selected the Zebrawood & Maple combination in the Fieldcrest design. It is the perfect, slightly chunky watch. It's not at all too big, even on my petite frame (I am only 5'1″) because custom fitting is included.
The natural wood pairs perfectly with plaid flannel and boots. Well, actually I haven't found many outfits it didn't look great with.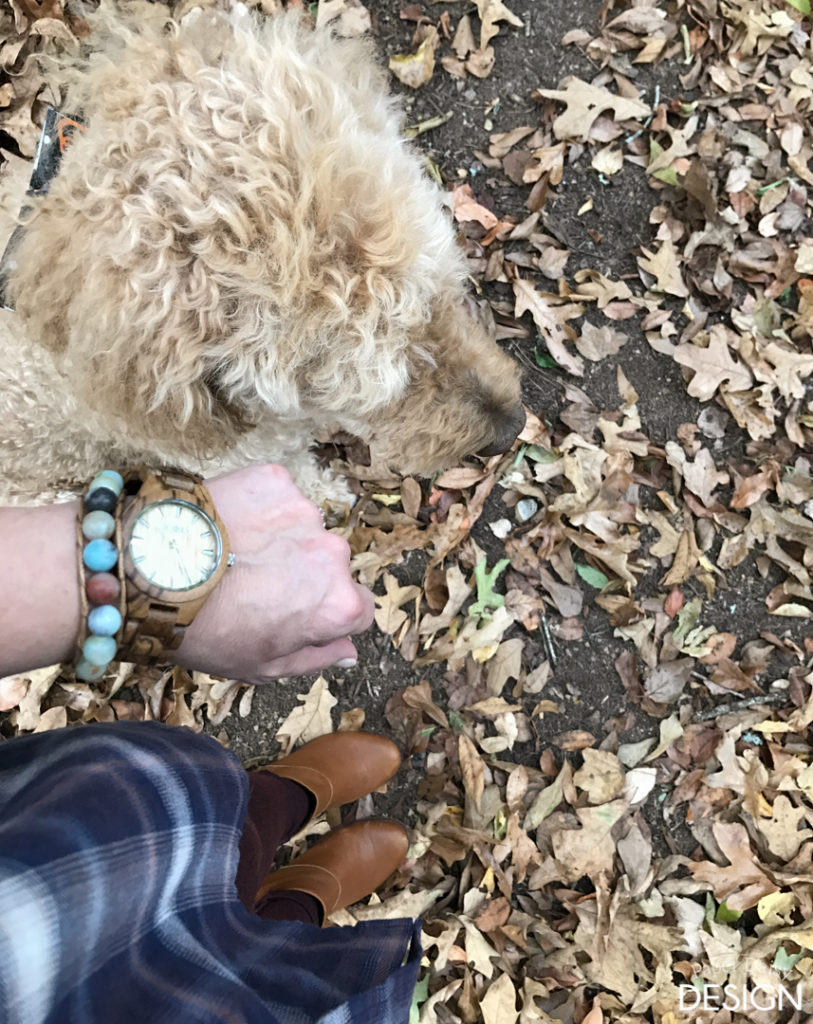 The warm wood tones also pair nicely with the fall leaves that are quickly covering our backyard. And these much-welcomed cooler temps definitely beckon me outside. And someone else heard the call too.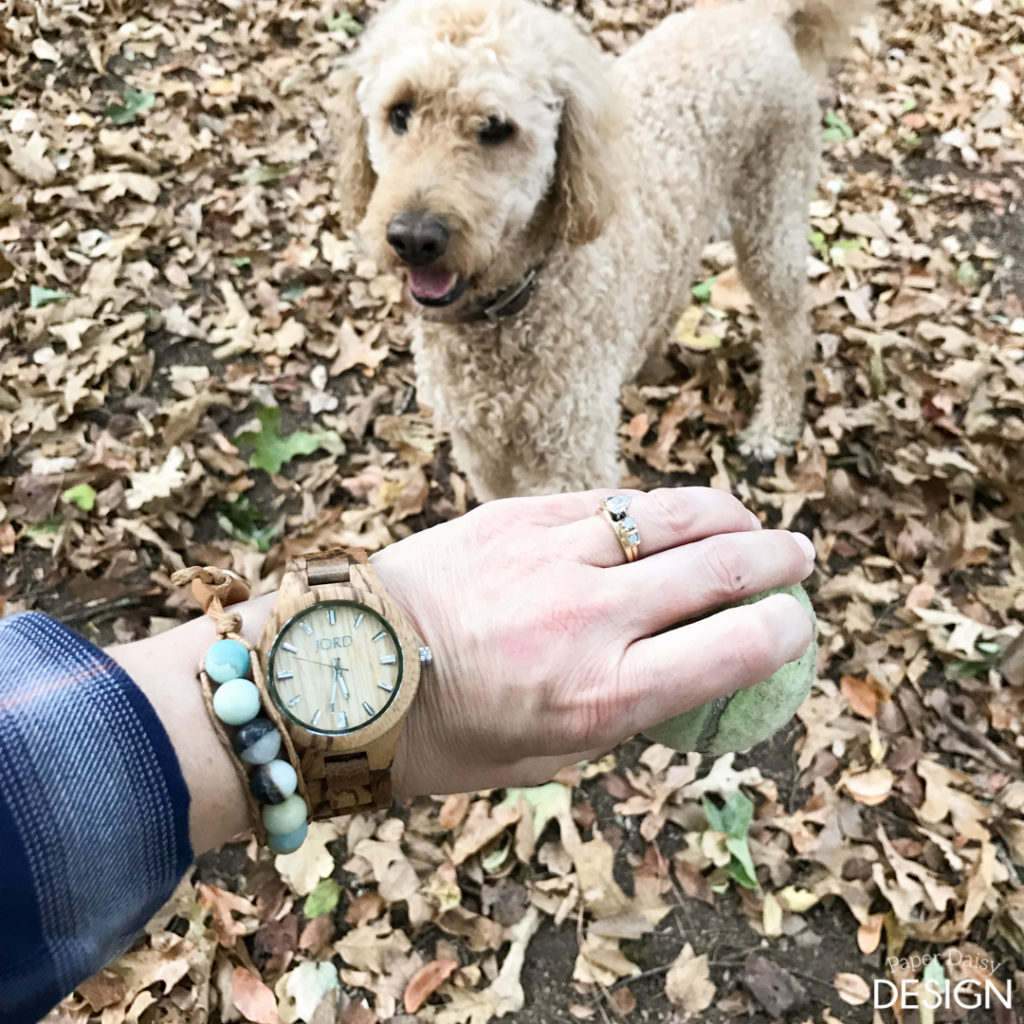 Or maybe Tucker was barking so excitedly that I actually left behind our never-ending remodeling projects to go outside.
Obviously, Tucker really doesn't care what I wear on my wrist.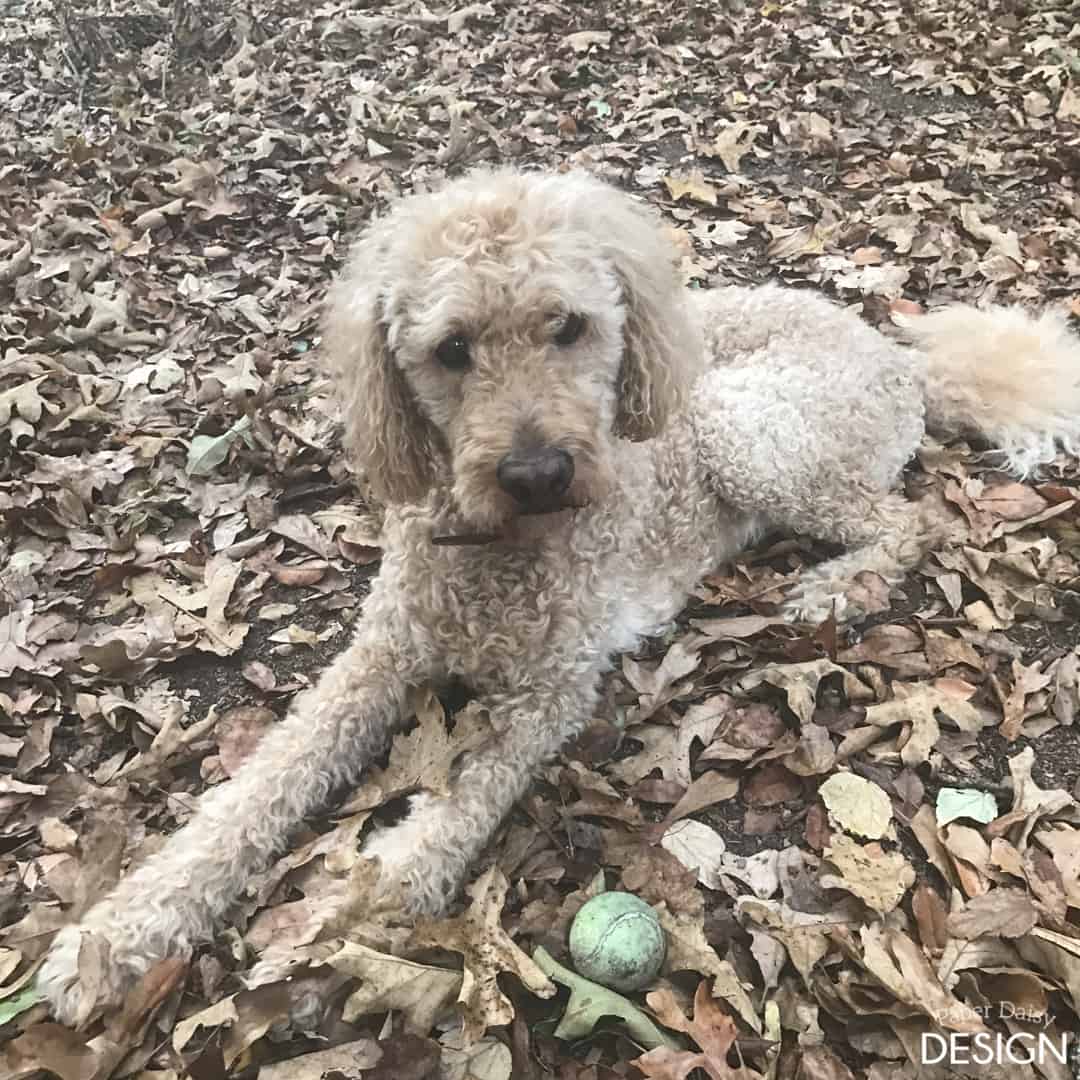 He just wants me to throw the ball again and again and again until he hears a squirrel or chipmunk rustling in the leaves.
With ball playing aside, let's move onto the house. The much-anticipated return of the iron stair railings marked the beginning of pumpkin lined steps at the Trail House.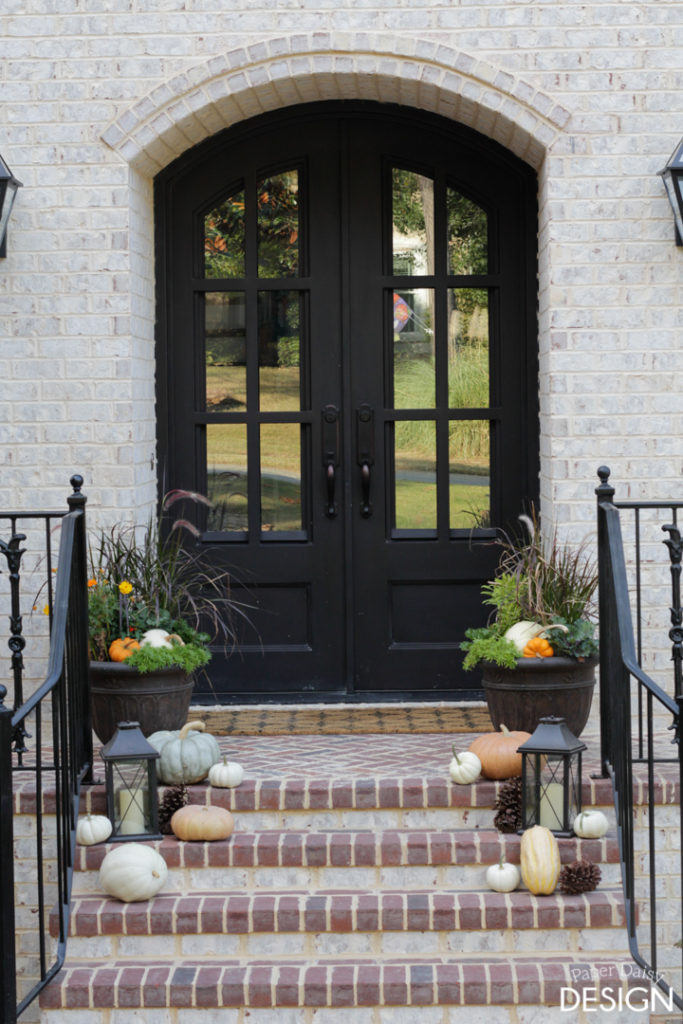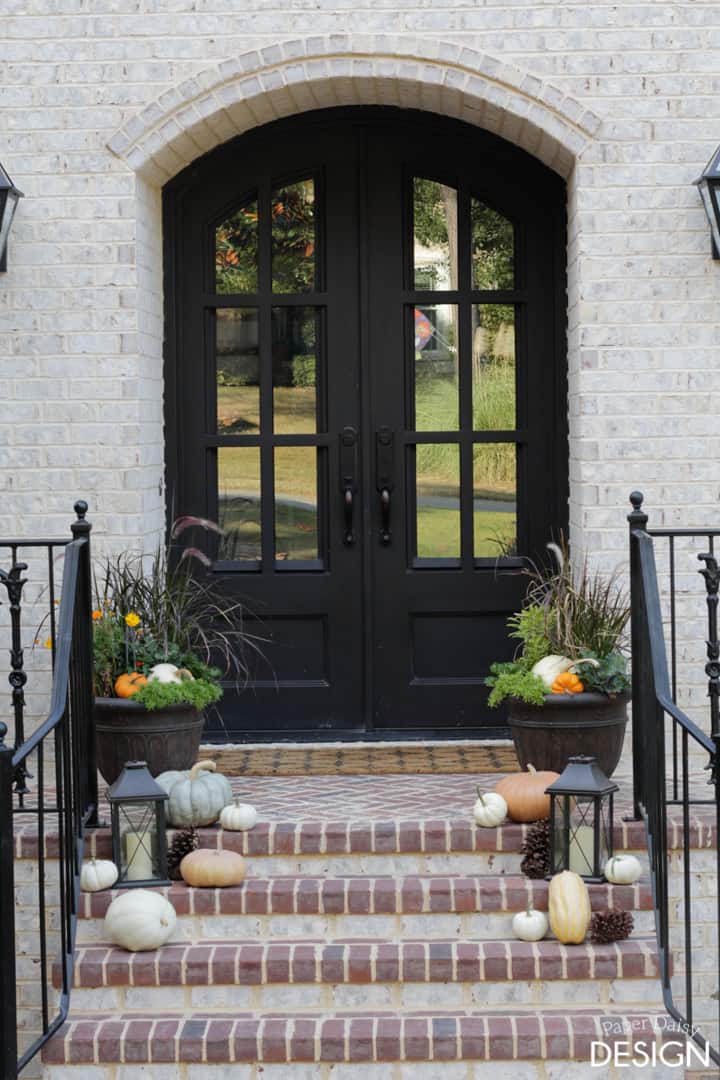 The railings are the only part of the exterior of the house that didn't change. They remind me of ornate ironwork found in the French Quarter of New Orleans. Being from Louisiana, creating a home rooted in Southern charm was important to me. You can see the whole transformation process here.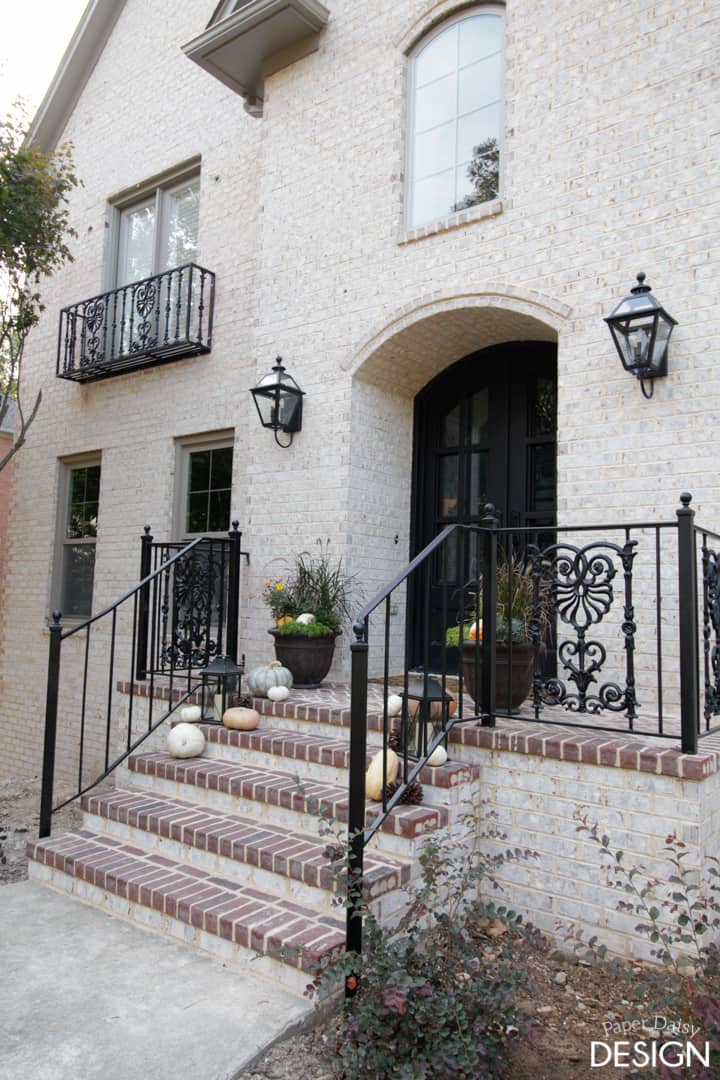 The exterior painting is complete, the sprinkler system has been reworked, repaired and is functioning. Next, we will move onto prepping the flower beds and then a little bit of fall planting.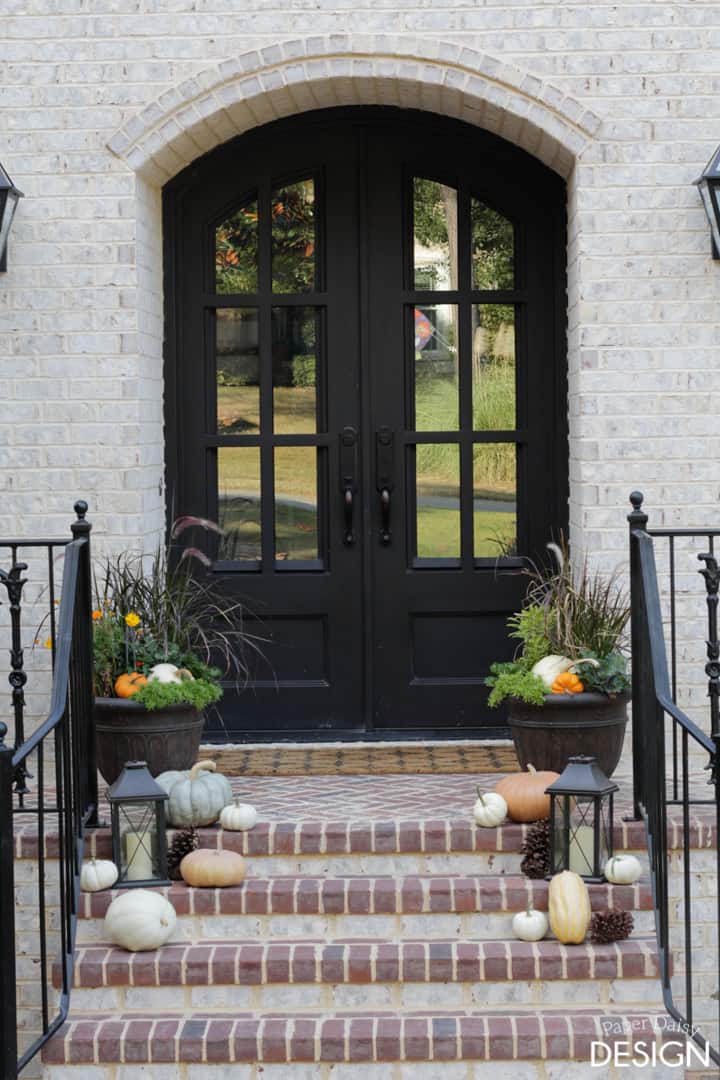 For now, though, I felt like it was time to adorn the steps with pumpkins, gourds and a few pinecones.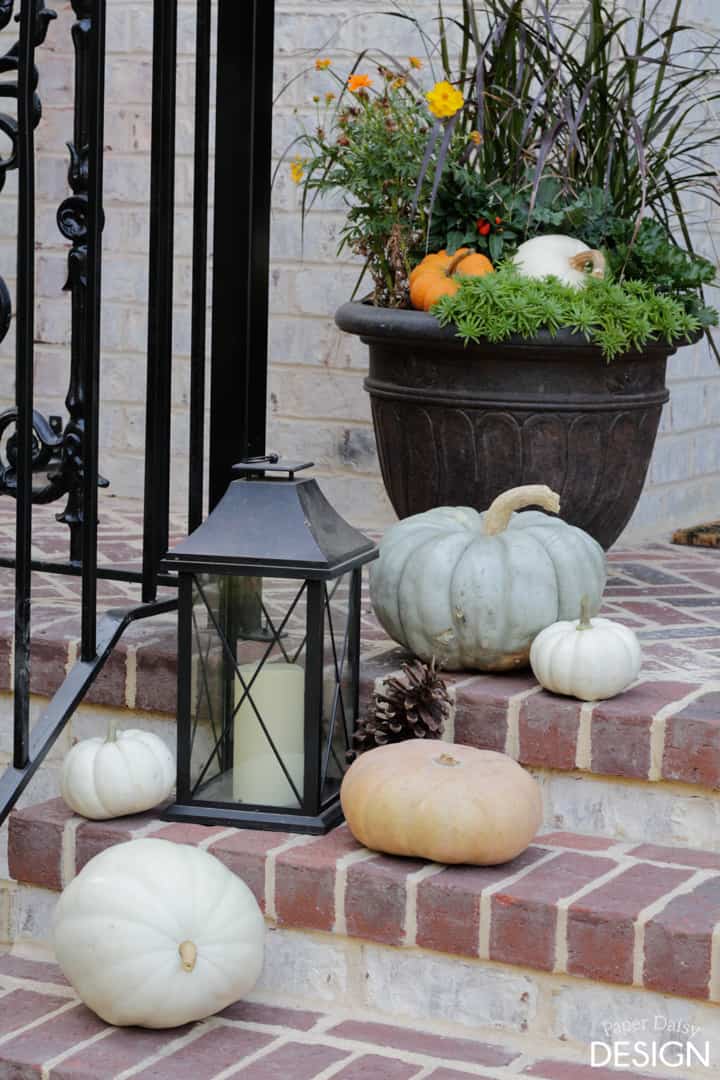 Because really, it doesn't look like fall until the pumpkins come out right? I just can't get enough of these soft-hued heirloom style pumpkins! While most of them are from a local farmers market nearby, the one on the middle step is actually from Wal-Mart.
Let's circle back to that watch, because I know you were already planning which outfit would look best with your new wood watch!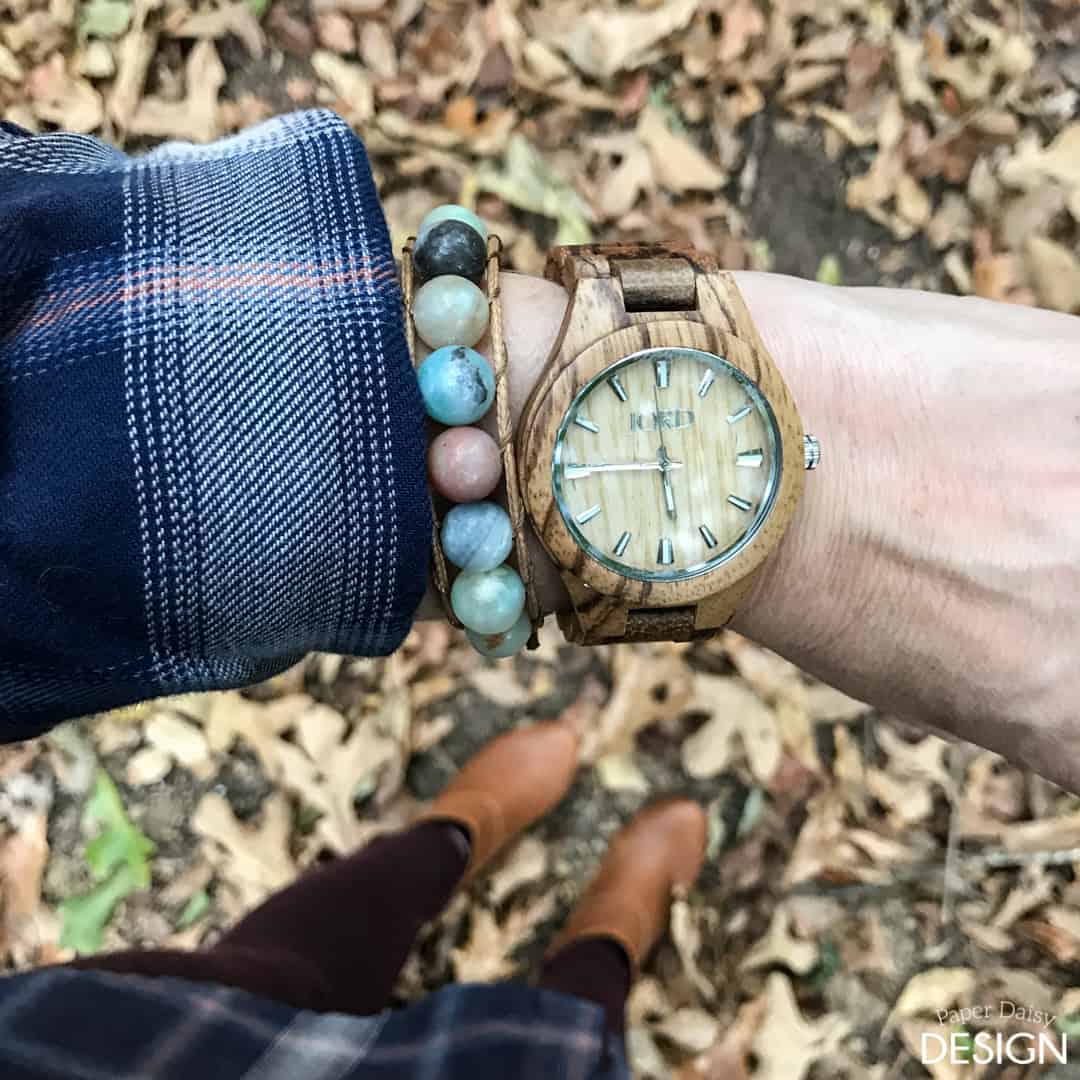 I would be remiss if I didn't mention how beautifully the Jord wood watch was packaged in a wooden box, of course.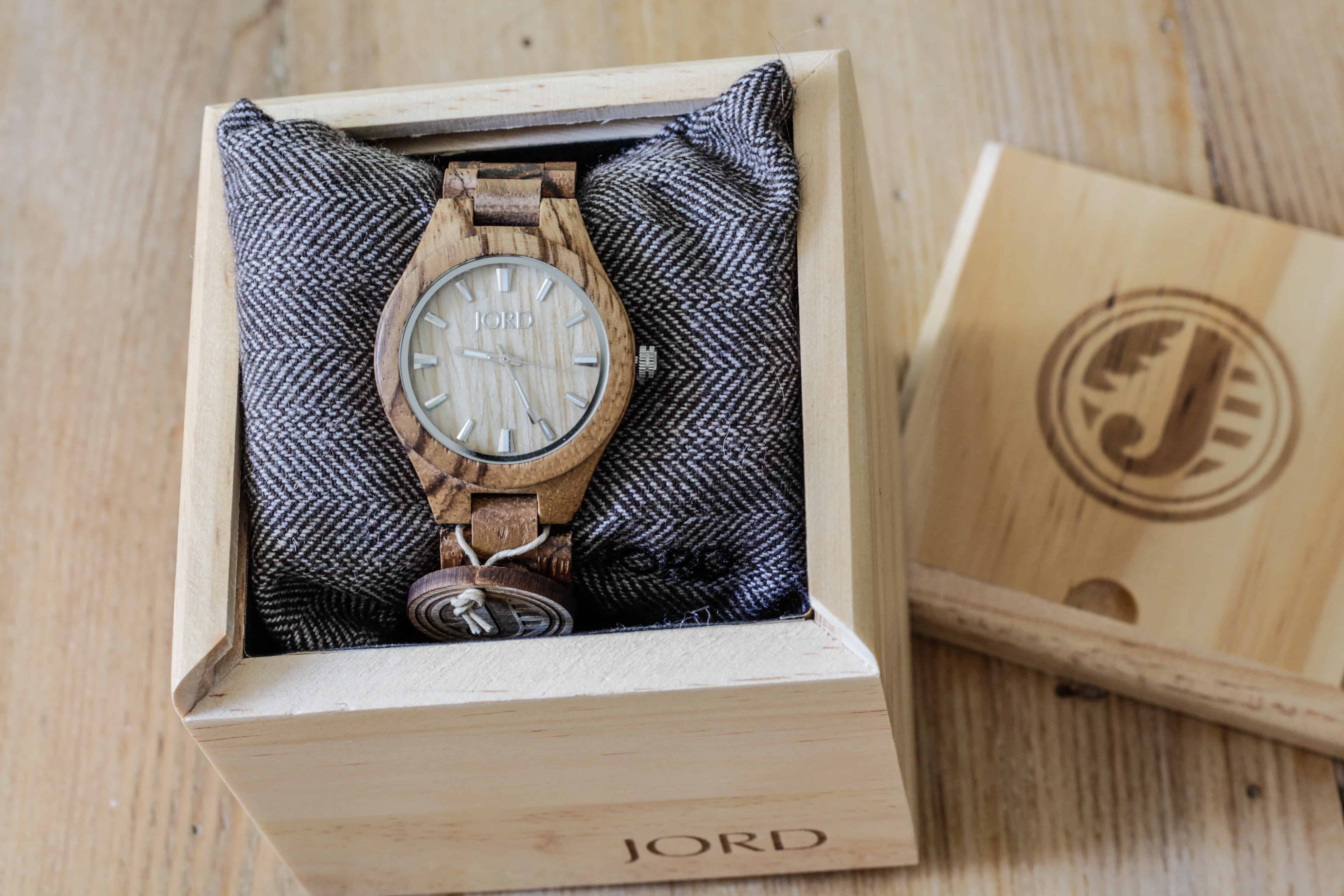 Based on the number of compliments I've already gotten I'm pretty certain it would make a great gift for any man or woman.
To help you give one to your favorite person or even yourself, one randomly selected contest winner gets a $75 e-gift code to the shop. And everyone who enters receives a $20 e-gift code automatically just for entering. Just click on the image below to enter. (Contest closes 11/6 and all discounts are good until 2/28/2017.)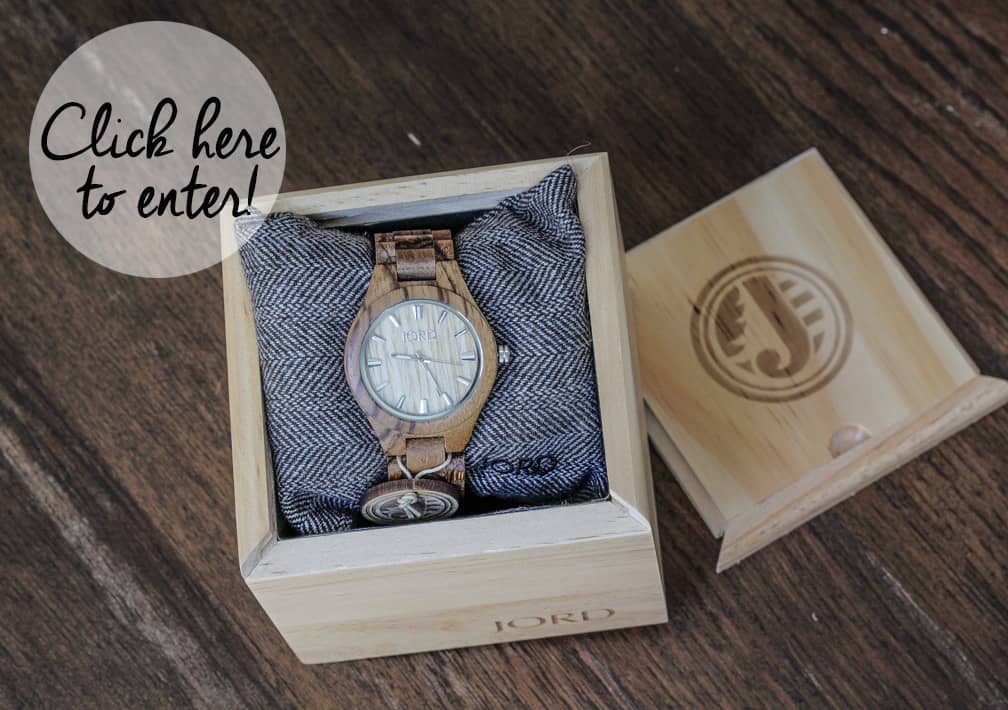 I was compensated with free product from woodwatches.com but all thoughts and opinions are my own.
Good luck to all who enter and happy fall!
Wooden Wristwatch