We moved into our new Lake Ridge Home exactly a year ago. I can't believe it's only been one year! Since the end of construction and moving in, we've "finished" the kitchen with brick walls, built a custom pantry, hung wallpaper and painted in the studio/office, added copious amounts of Tudor Style panel moulding, built a fireplace and added beams across the vaulted ceiling.
Like most homeowners, we are making our mark on our home, giving it character and charm that suits us. Our main bathroom is no different.
Finishing The Main Bathroom
During the building and finsih selection phase I spent a great deal of time deliberating over the basic choices that needed to be made in the bathroom. I also seriously considered how I would finish the design sometime in the future.
Shop this room

The In-Between
Other than not being happy with the wall color, I was pleased with the inital look. But with so many other projects happening during this last year, I never took the time to put the finishing touches on the bathroom.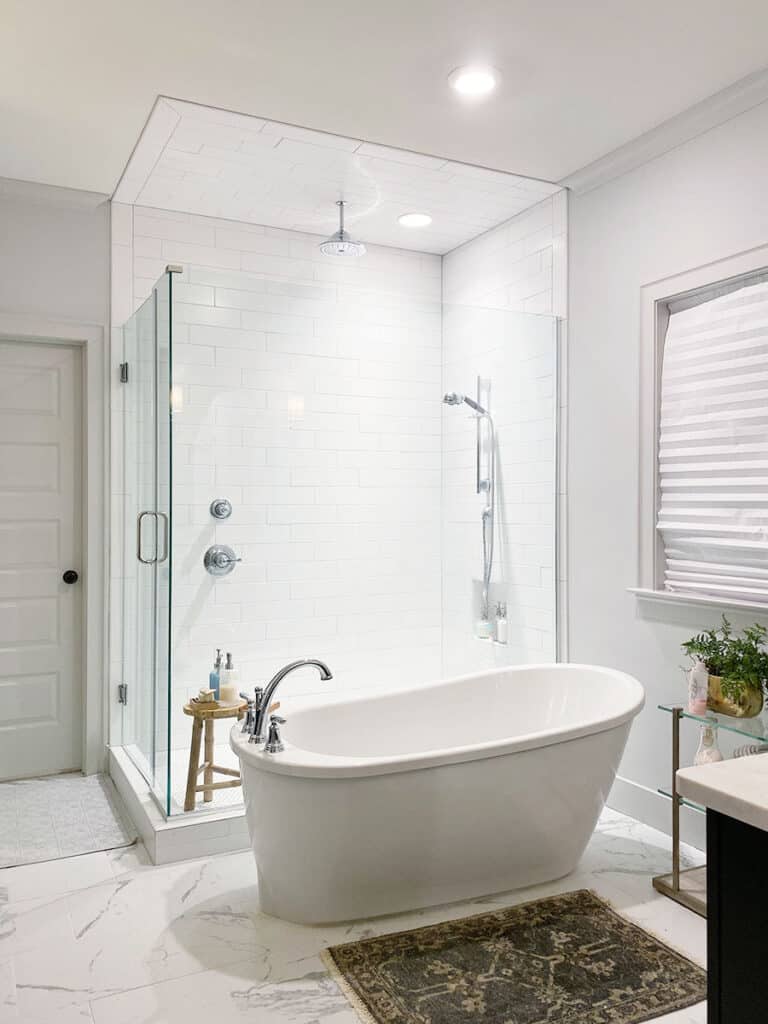 I did hang some art and attempted to decorate with what I had by adding my favorite blue and white ceramics.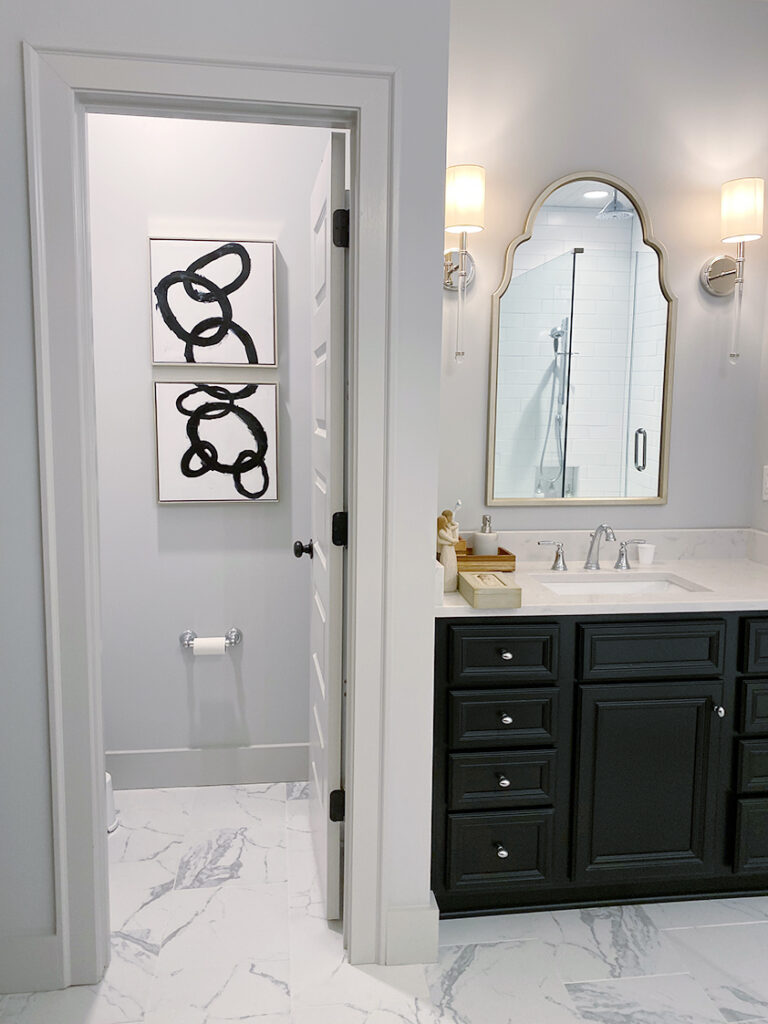 After
I always knew the key to making this bathroom feel special would be adding custom drapery.
I was thrilled to partner with Calico Home to make this vision come to life.
In exchange for sharing these images and sharing my experiences, Calico Home gifted these custom curtains and drapery hardware.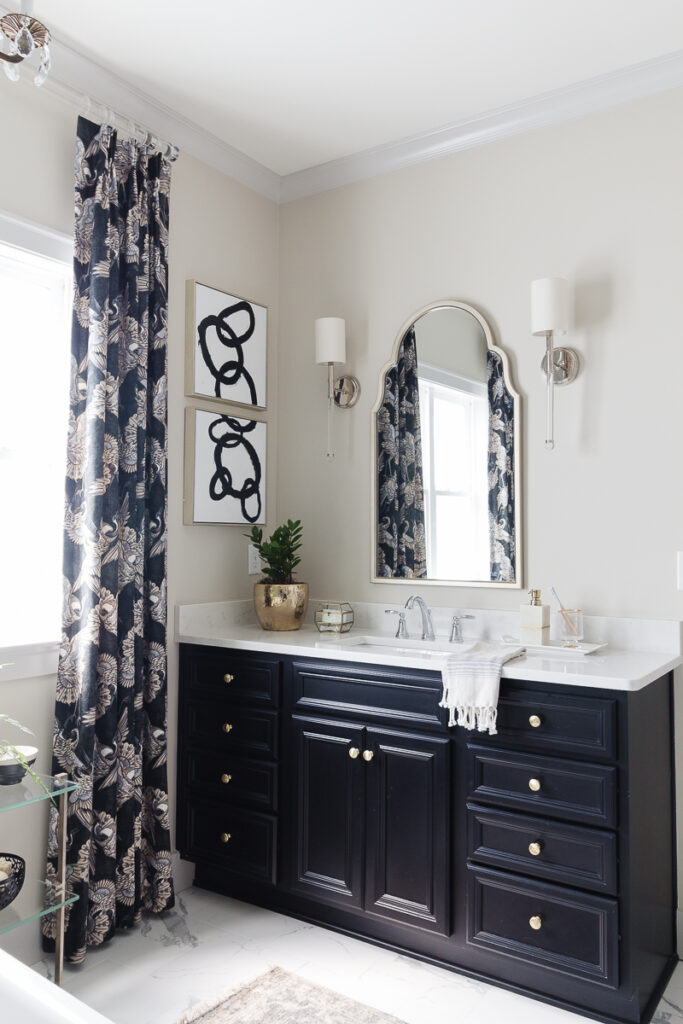 The striking black fabric by Stacy Garcia was exactly what this bathroom needed for the designer look I wanted to achieve.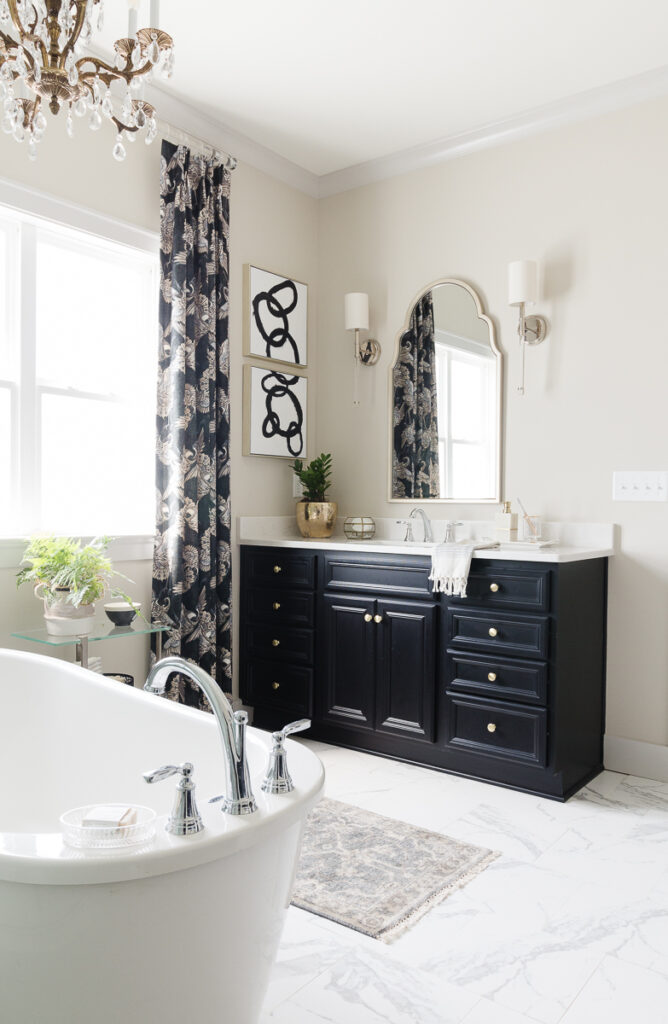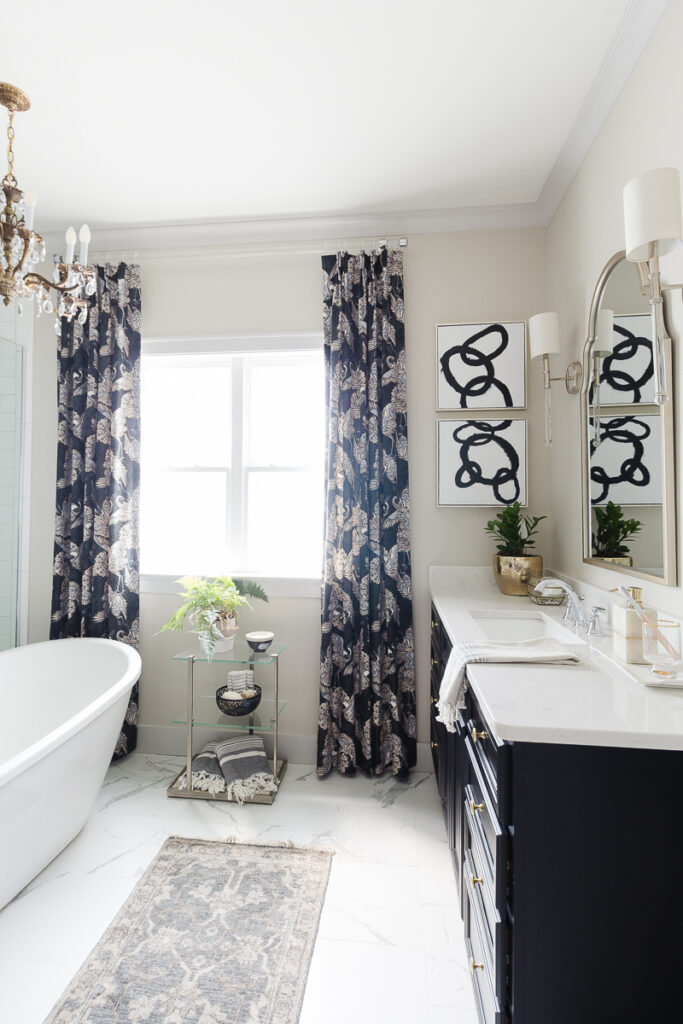 The first rug I had in here didn't feel right with the blue and white, but with the shift in color palette, it quickly became the perfect rug.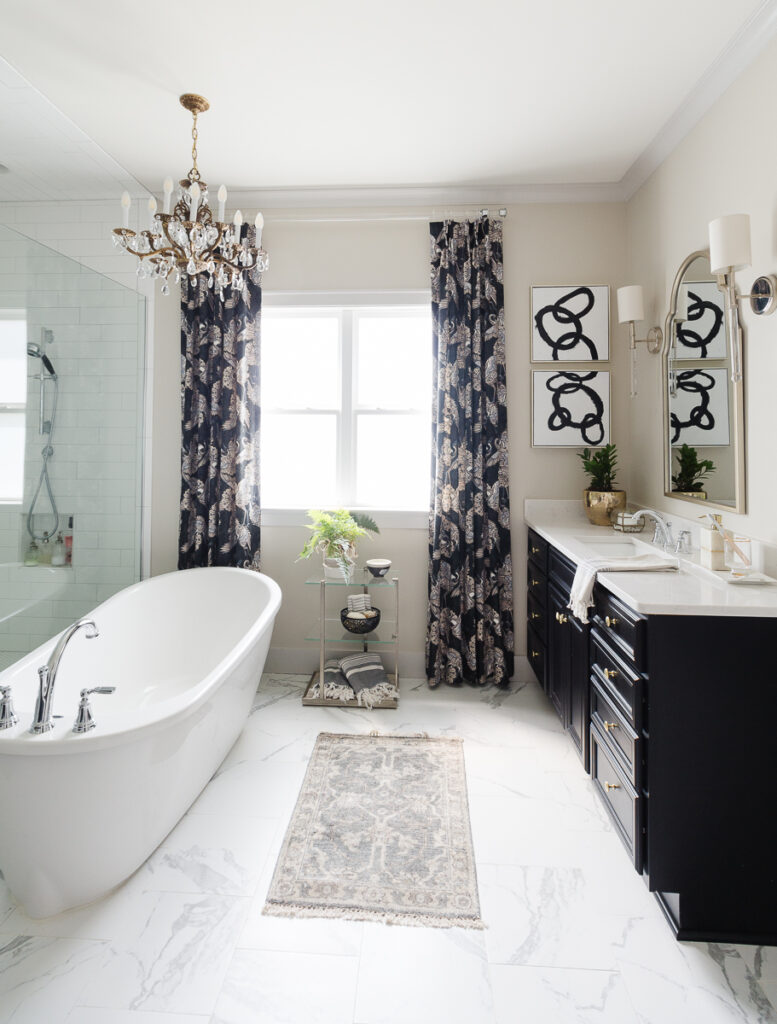 Even though it was from our previous Master Bathroom Remodel over 3 years ago, I was able to find the maker and purchase an additional rug for in front of the shower.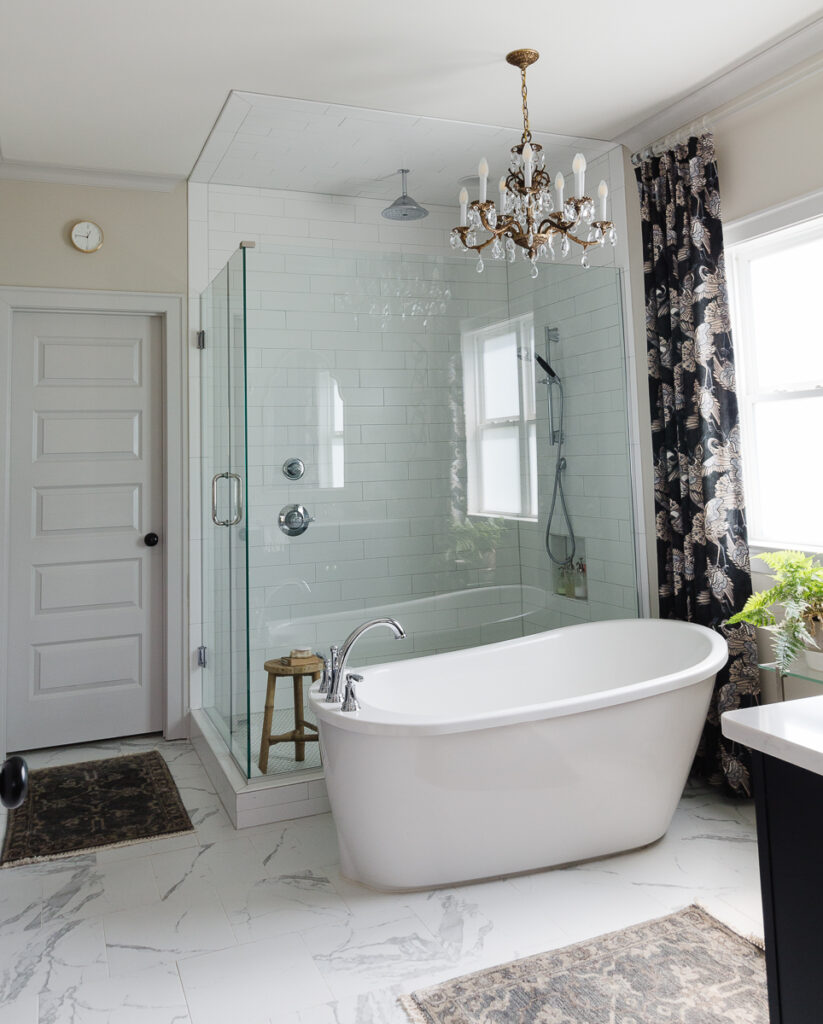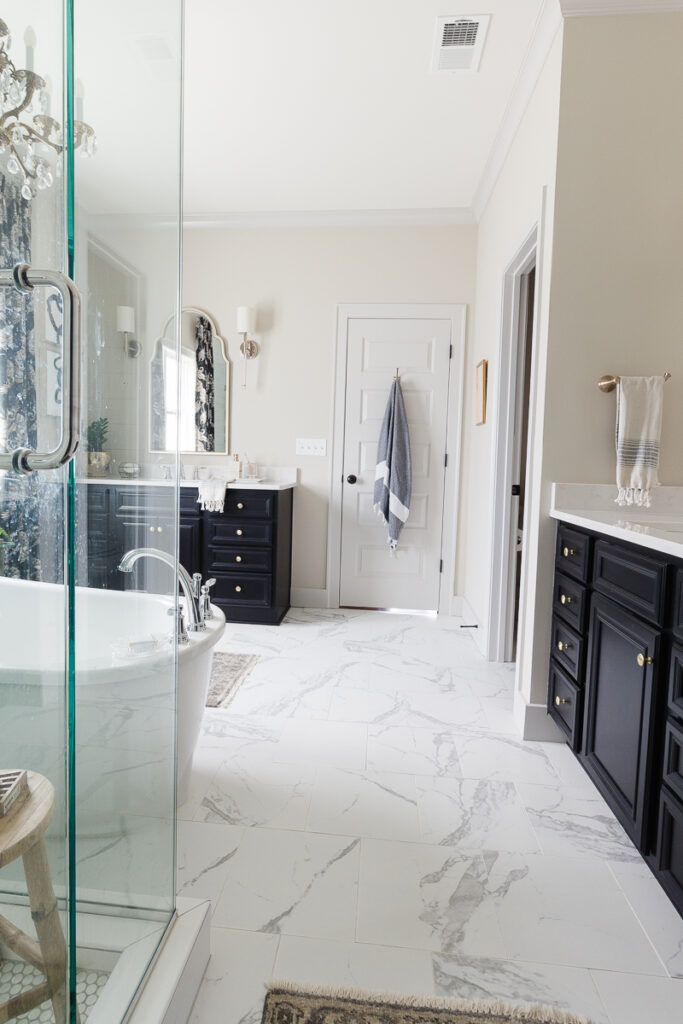 Selecting The Perfect Fabric
I have long been a huge fan of shopping at Calico Home. The staff at my local Calico are so professional, knowledgable and helpful, even with the restrictions around the pandemic.
Most locations are operating by appointment only. The designers will likely ask you a few questions about your project and will pull or have an idea of what to show you in the store. So even when the pandemic passes, consider making an appointment before you go. It won't be required but I am sure you will find it worth the effort.
I literally made my selection of fabrics to check out and bring home in about 30 minutes!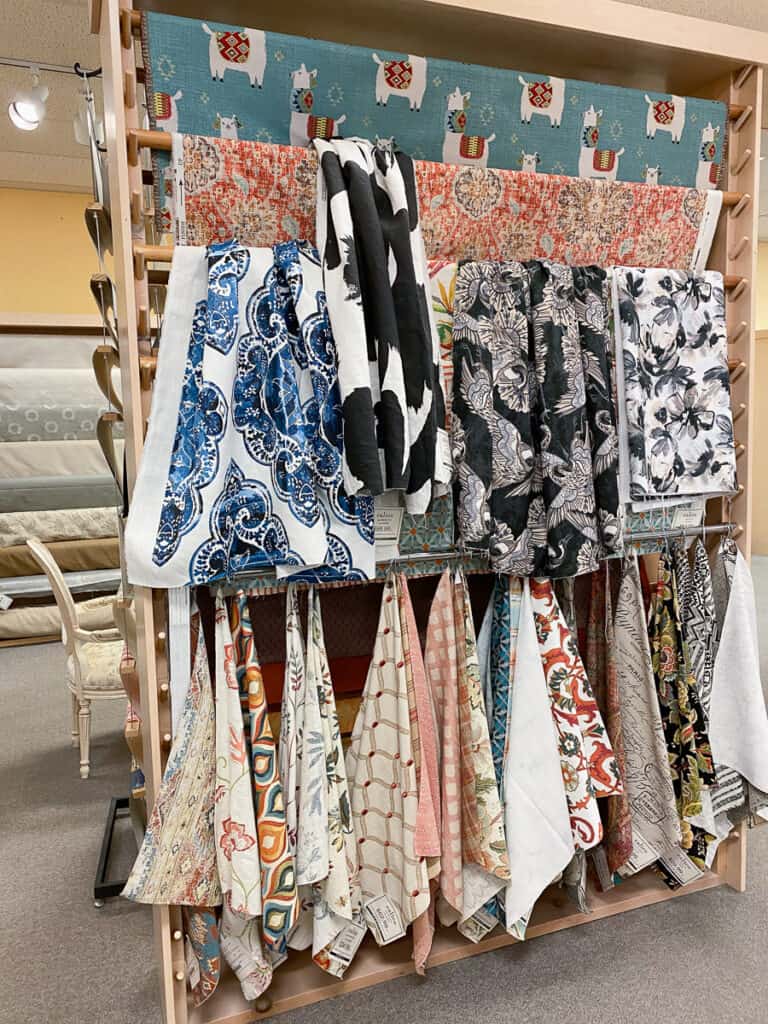 Once I got the samples home I narrowed them down to these two. The black and white brush strokes pattern, designed by Kate Spade, is called Kooning. The crane pattern that I ended up selecting is by Stacy Garcia, Ascend Crane in Ebony.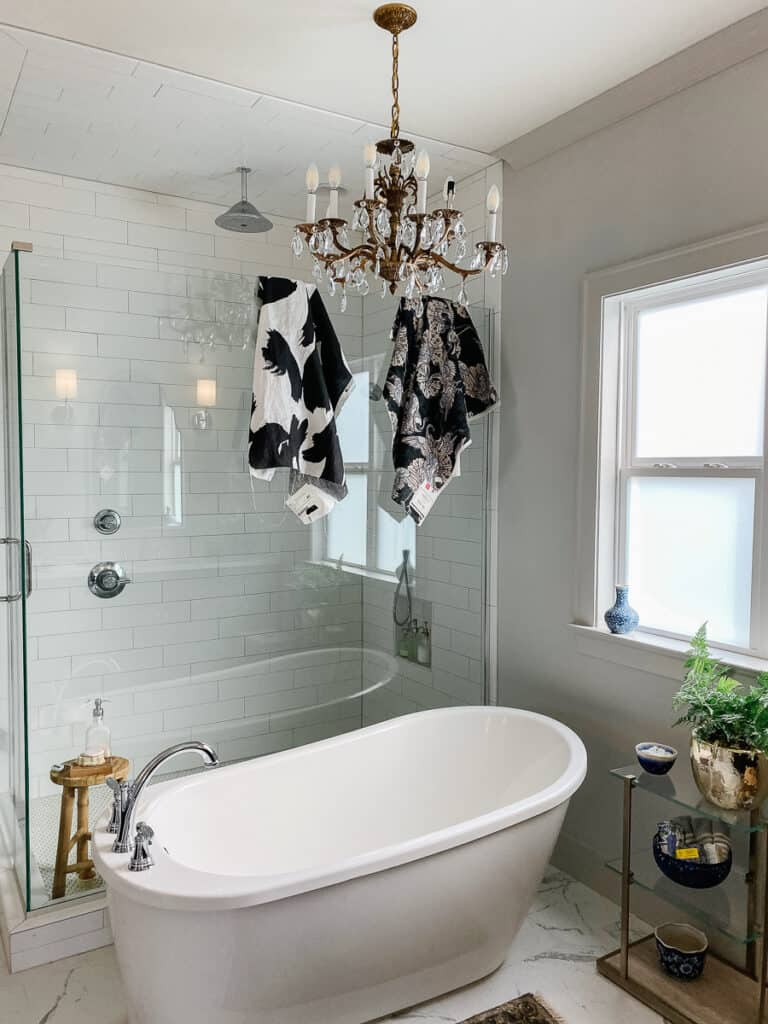 I love that Calico lets you bring home a yard sized sample. (Generally you leave a credit card as a deposit but you are only charged if you do not return the sample.)
I find it so much easier to see make a fully informed decision when I can see how a fabric will look in a space with a larger sample.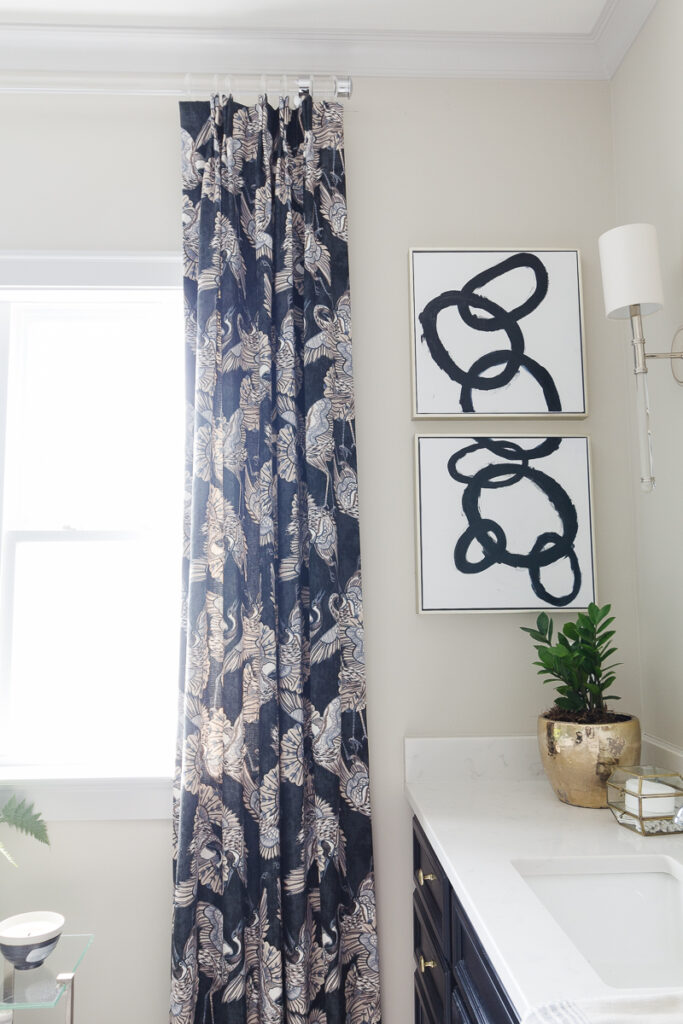 For the drapery hardware, I selected a clear acrylic rod to mimic the touches of acrylic in the sconces flanking each mirror.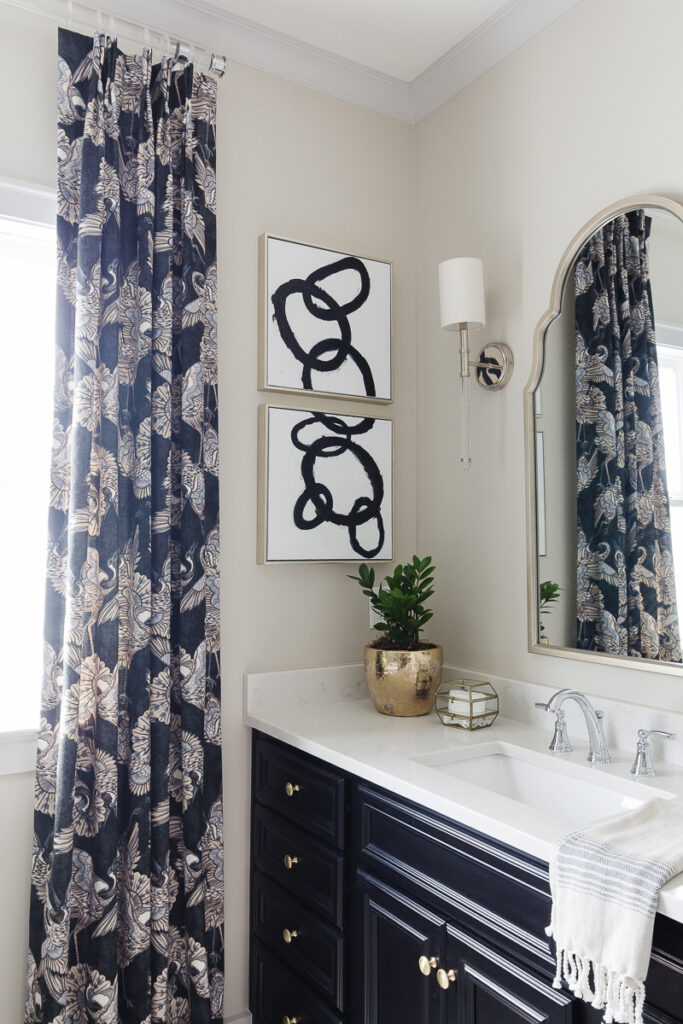 Calico Home offers a huge selection of drapery hardware. Their helpful staff will help you select the perfect rod for your drapes and insure they support and compliment your drapery perfectly.
Selecting The Perfect Paint Color
For the new paint color, I wanted to work with the recently released Emerald Designer Collection of paints from Sherwin Williams. The entire collection is just phenomenal. Each of the four palettes is filled with trending colors I have loved using in my home and my client's homes.
I was gifted the gallon of paint needed to paint this room
from Sherwin Williams.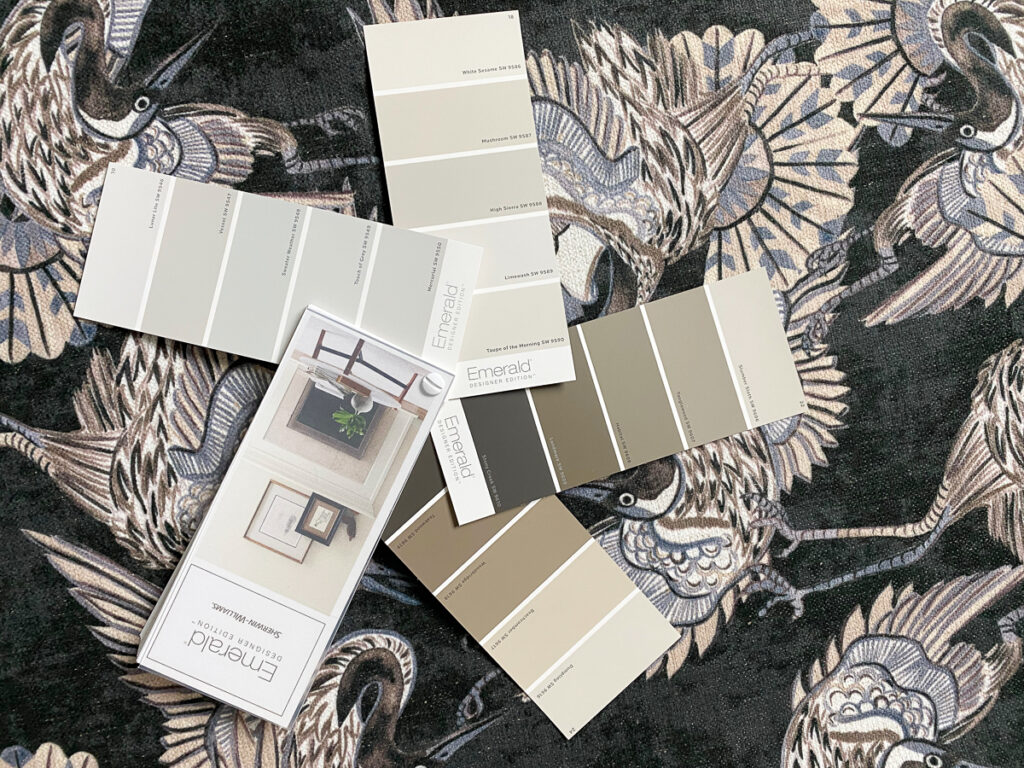 I almost always order several sample color swatches from the Sherwin Williams website to see the actual paint color in the room. You can also pick up sample pots at your local store.
It is important when you are selecting a paint color to work with existing trim to look at the swatch in different lighting scenarios and times of day. Move the swatches around the room to see how the light and shadows play with the colors. This also will help you easily see the undertones that don't work with your room.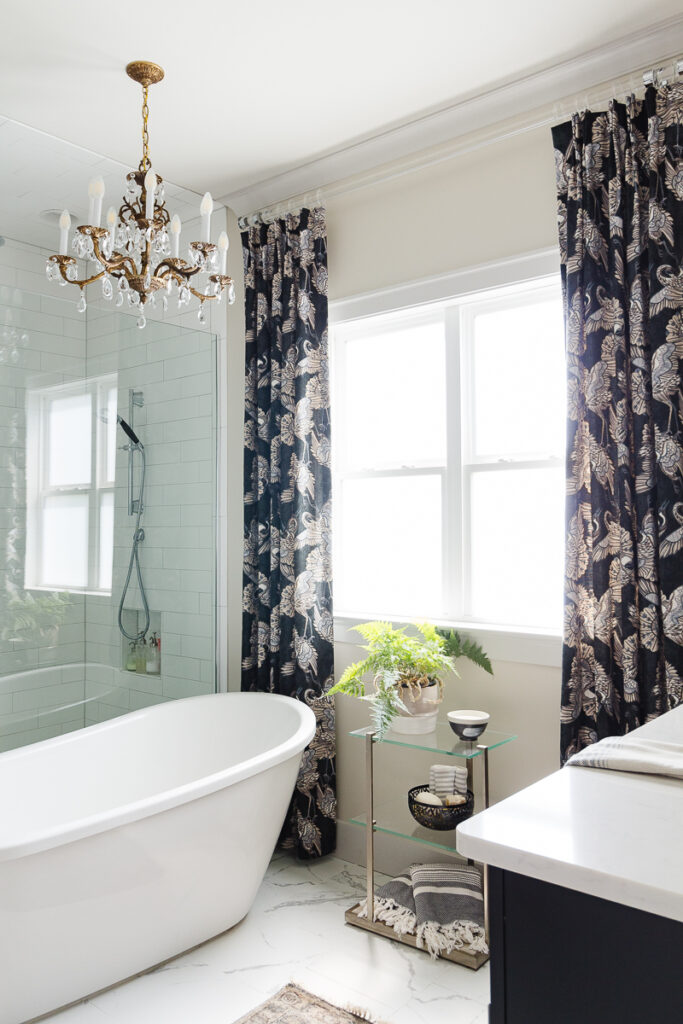 The color I selected was Slumber Sloth, SW 9606. I loved that it was a warm, light beige with a little grey in it. The grey undertones allowed the color, while still a bit warmer, work with our existing trim color, On The Rocks SW 7671.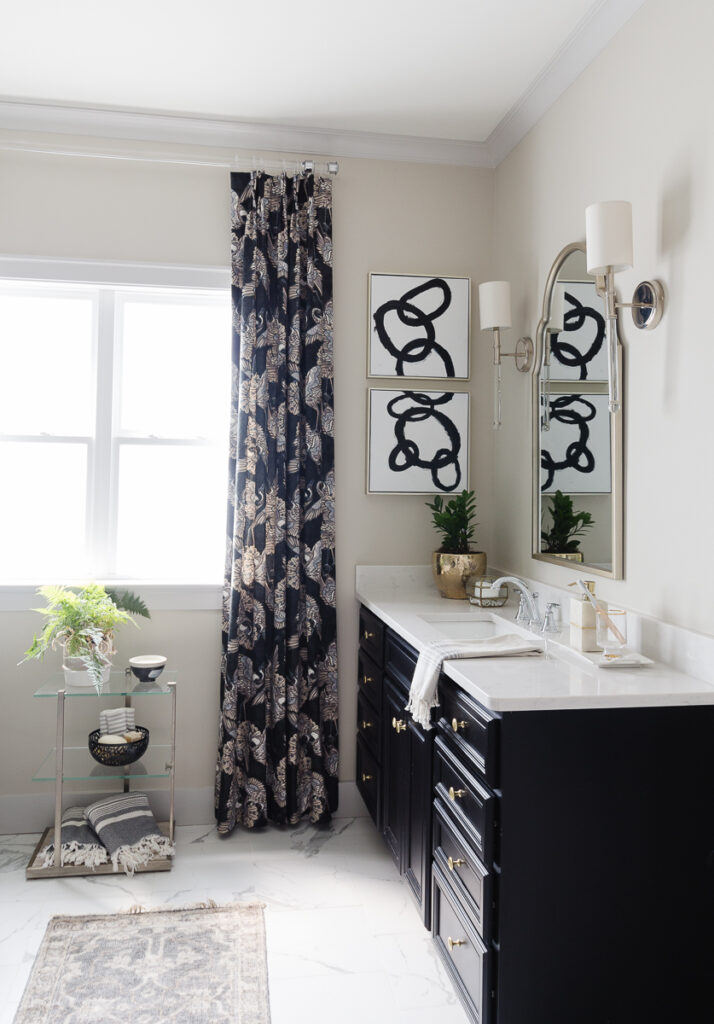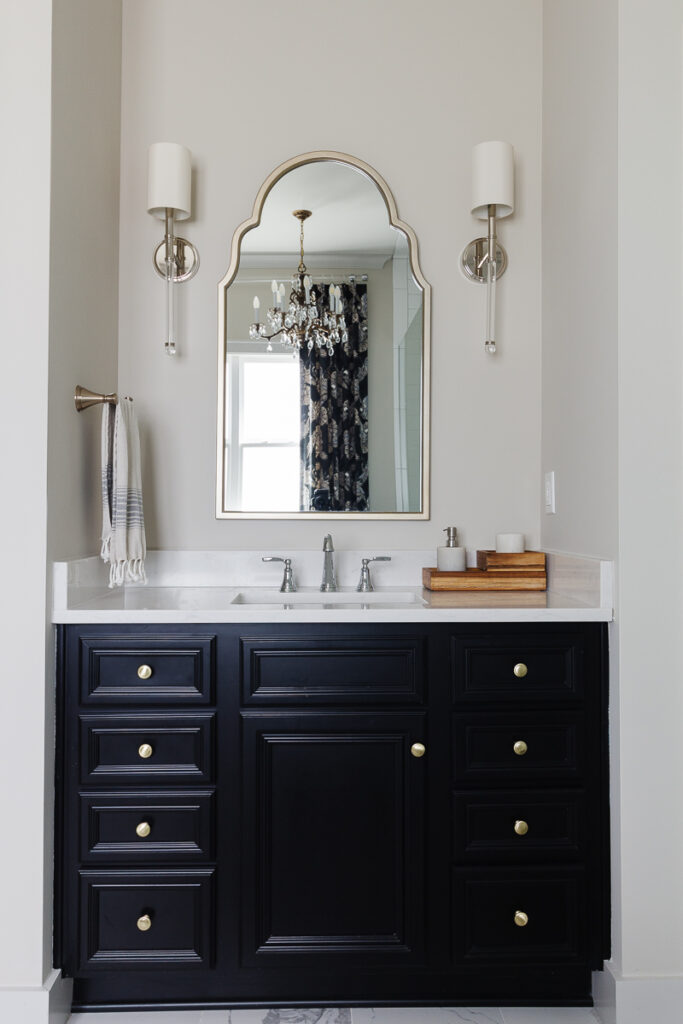 I couldn't be more pleased with the way this room has been finished and pulled together essentially with just the right paint color and a bold fabric.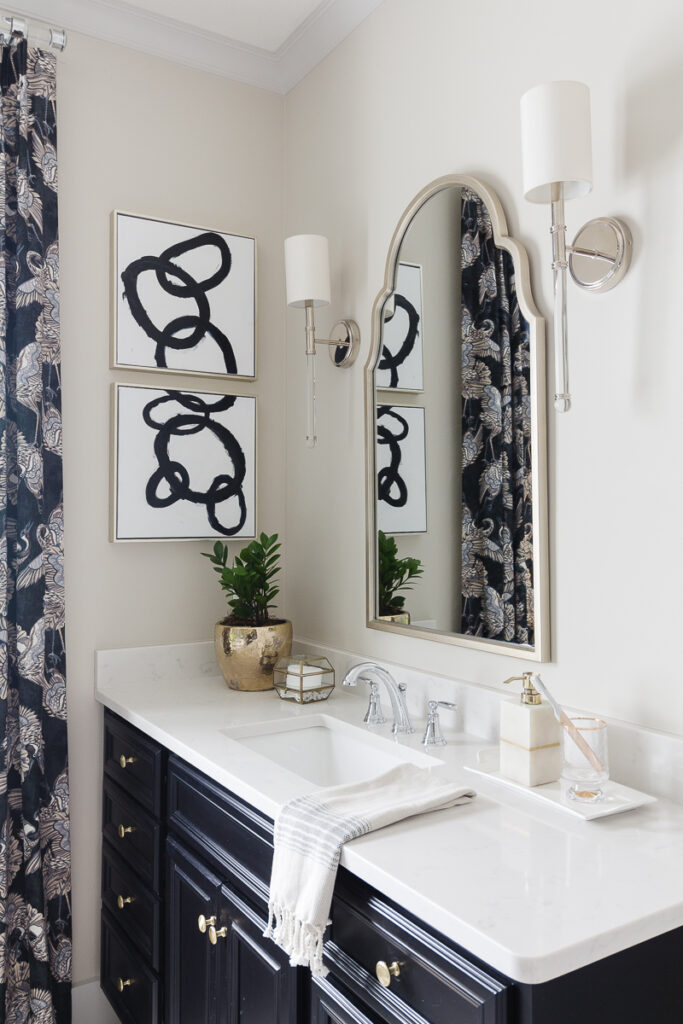 So when you feel like your room is lacking that designer look, consider the fabrics in the room. The right drapery can make a bold statement to make a room feel fully finished or it can softly compliment the existing decor in a room. Our living room drapes are the perfect example.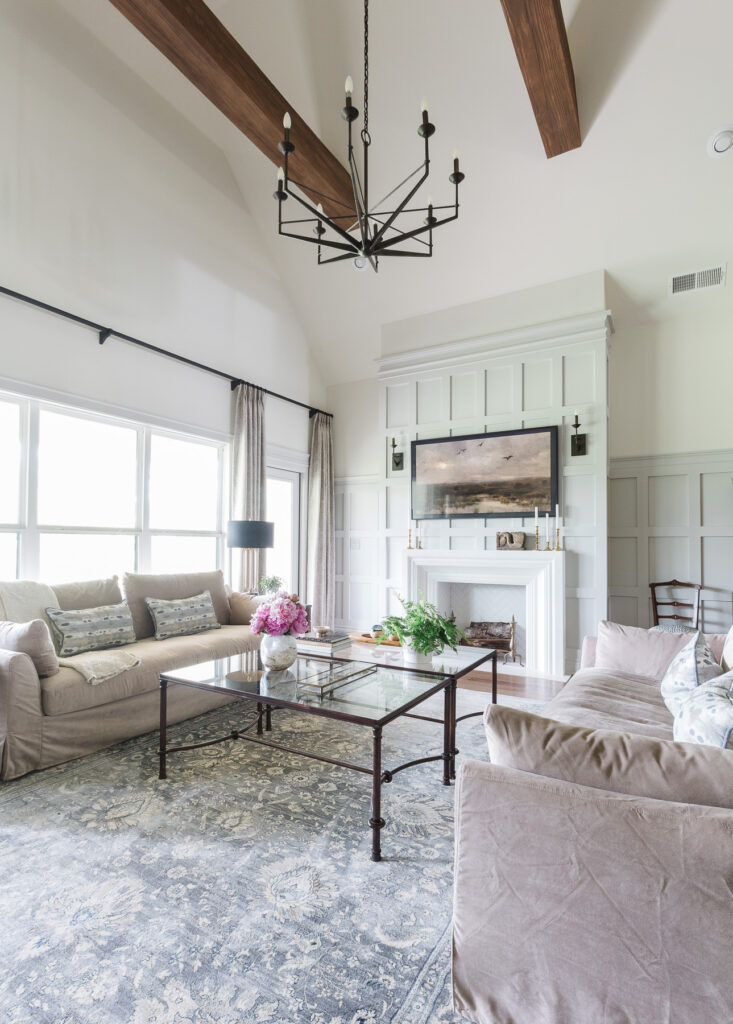 You can see more of this design in my One Room Challenge Spring 2020 makeover as a Featured Designer.