Last week I revealed this season's space for the One Room Challenge. It's so exciting and a bit of relief, for the work to be happening at our best friends and neighbors. They hired me to create a masculine "listening room" and are huge fans of this event. Over the years, they have watched me transform over 11 rooms in just 6-8 weeks and were eager and willing to let me take on their space for the challenge.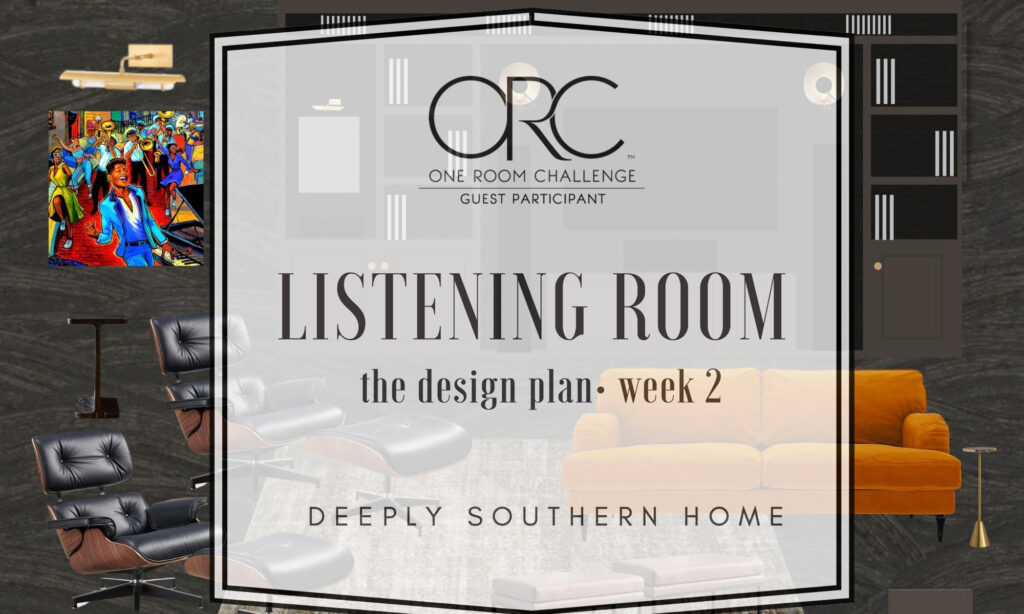 Before we get to the full design plan, in case you are new here and are unfamiliar with the One Room Challenge let's start there.
I am Leslie and am an interior designer and renovation consultant at Deeply Southern Home. I started blogging about home interiors and DIY in 2011. I have participated in and completed 11 One Room Challenges and transformed more than 13 rooms in our homes as part of the challenge. (If that math seems a little off to you, it is because in my 8th season, I was honored to be a Featured Designer and I tackled our living room, dining and foyer.) To say this bi-annual event has changed our homes and my life is not an understatement.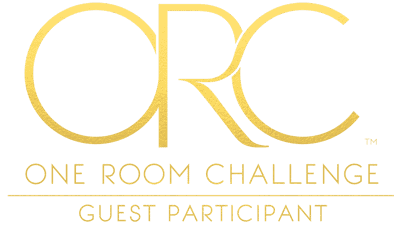 What is the One Room Challenge?
It is a biannual event where designers and design enthusiasts worldwide are challenged to complete a room makeover in 6-8 weeks! It's incredible to see this community come together each season and cheer each other on! Many thanks to Linda for having the vision to create such a transformative and communal event that is so exciting to watch and participate in.
The best part of the challenge is that participants share the process with design enthusiasts like you.
Week 1- What is a Listening Room? || Week 2- The Design Plan.
Last week, I talked about what it means to create a listening room and a few inspirational images. In case you missed that, be sure to check out the details here.
The Design Concept & Plan
Conceptually, my clients and I have talked about this room for a while. We talked about creating a listening room with an enveloping style just as powerful and dynamic as the music the room will feature.
The goal is to create a room with an intimate, moody, mid-century vibe where relaxation is at the forefront. But this design shall not supersede the components and acoustical elements necessary to satisfy a true audiophile.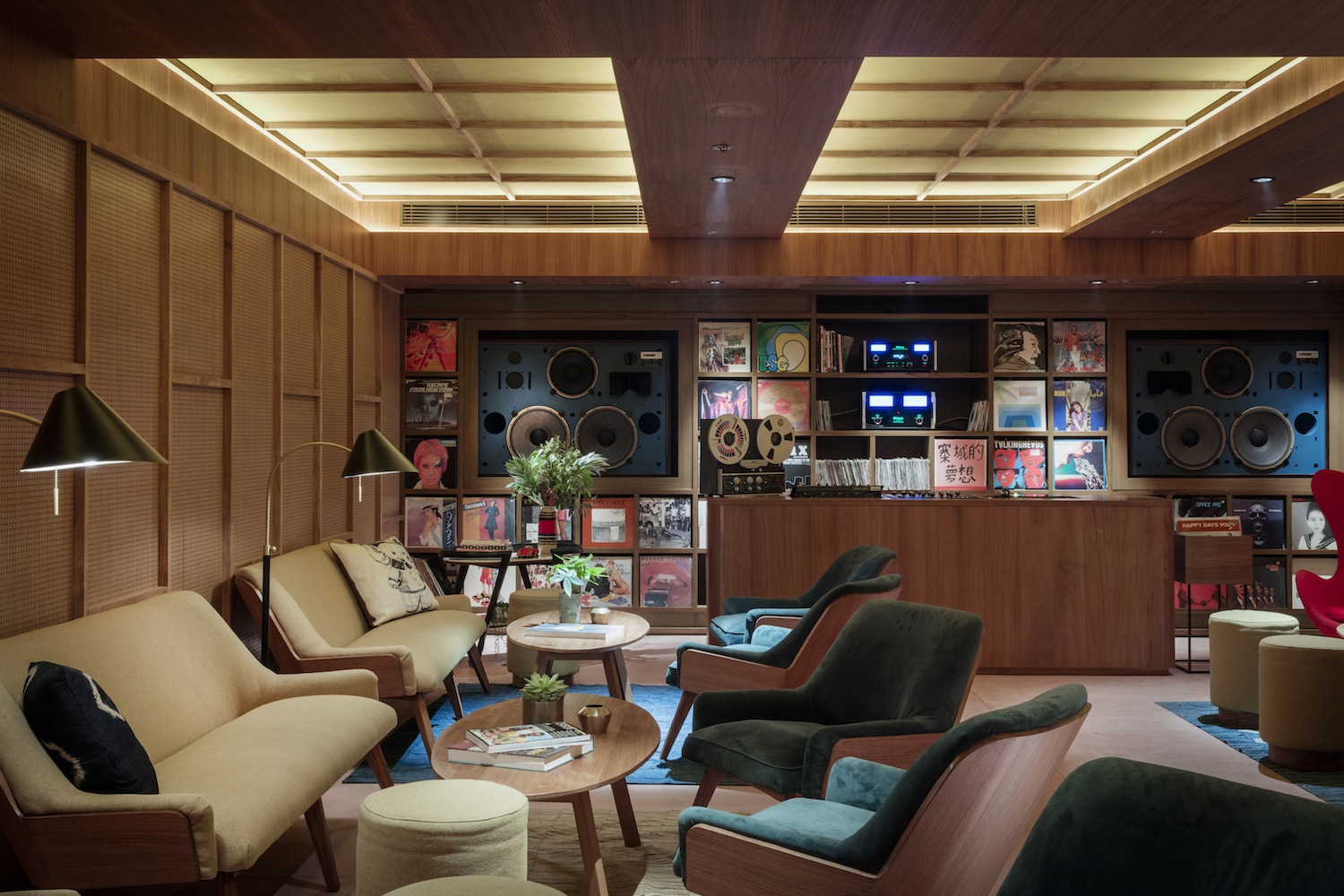 My design goal and challenge is to esthetically conceal as many of the components that do not need regular adjustments or exposure. This will require special accommodations for ventilation, which is very important for many of these higher end components.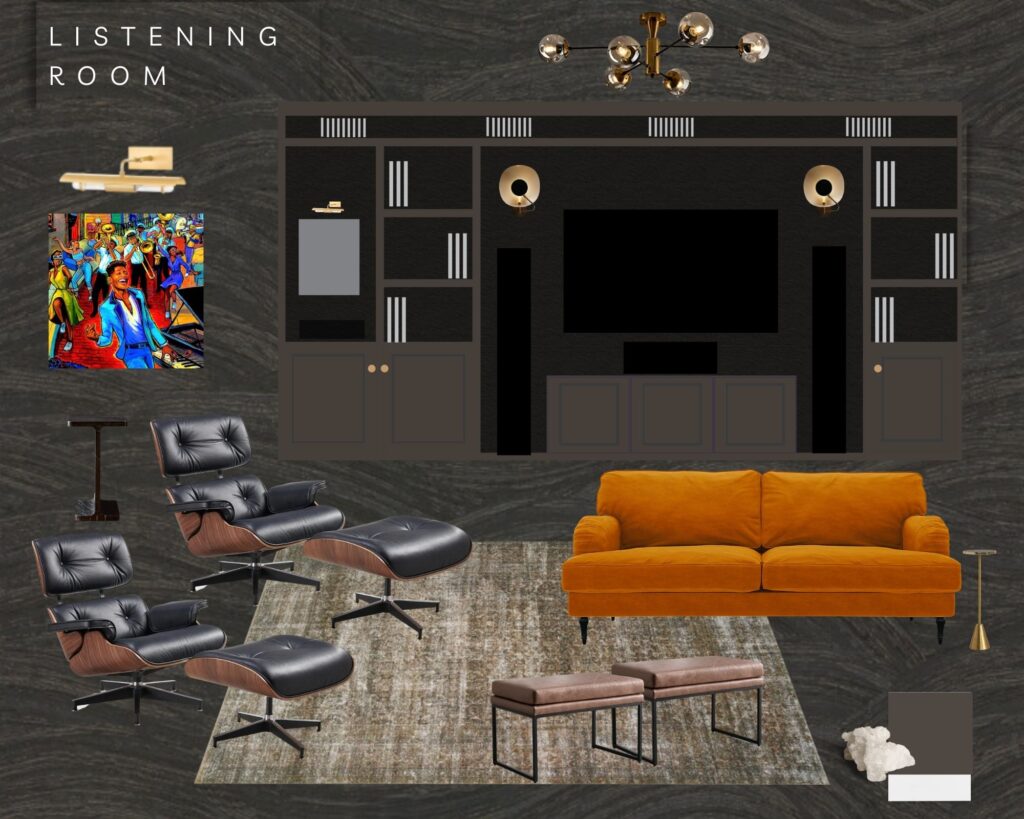 The Wall of Built-Ins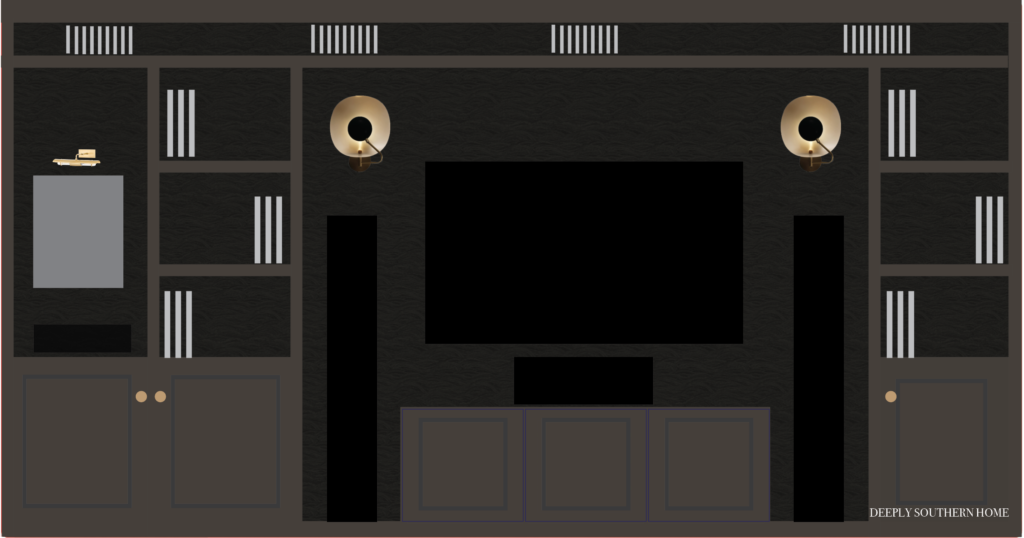 After setting the concept, I started designing the built-in wall to store all of the albums and CD's an audiophile like my client is bound to collect.
A full wall of CD storage lines the top. Shelving set into two towers will provide ample storage. The closed cabinets will house the components.
Central to the design was incorporating, what to the average person is oversized speakers, but to the music enthusiast they are minimalistic. All speakers in a room like this require very specific placement in relation to where the listener is seated.
Lending a design element to this necessity is the selection of wallpaper featured on the back of this built in area.
Wallpaper becomes the perfect backdrop
Such an expansive opening for the television and speaker towers, provided the perfect place to add wallpaper as a backdrop. I love switching the script on design dilemmas like this. Take the design challenge and make if a feature.
We considered several options from A Street Prints, one of the sponsors of the One Room Challenge. I'll share the other options we considered in Instagram Stories this coming week.
But ultimately, we decided upon Leith Black Zen Waves Wallpaper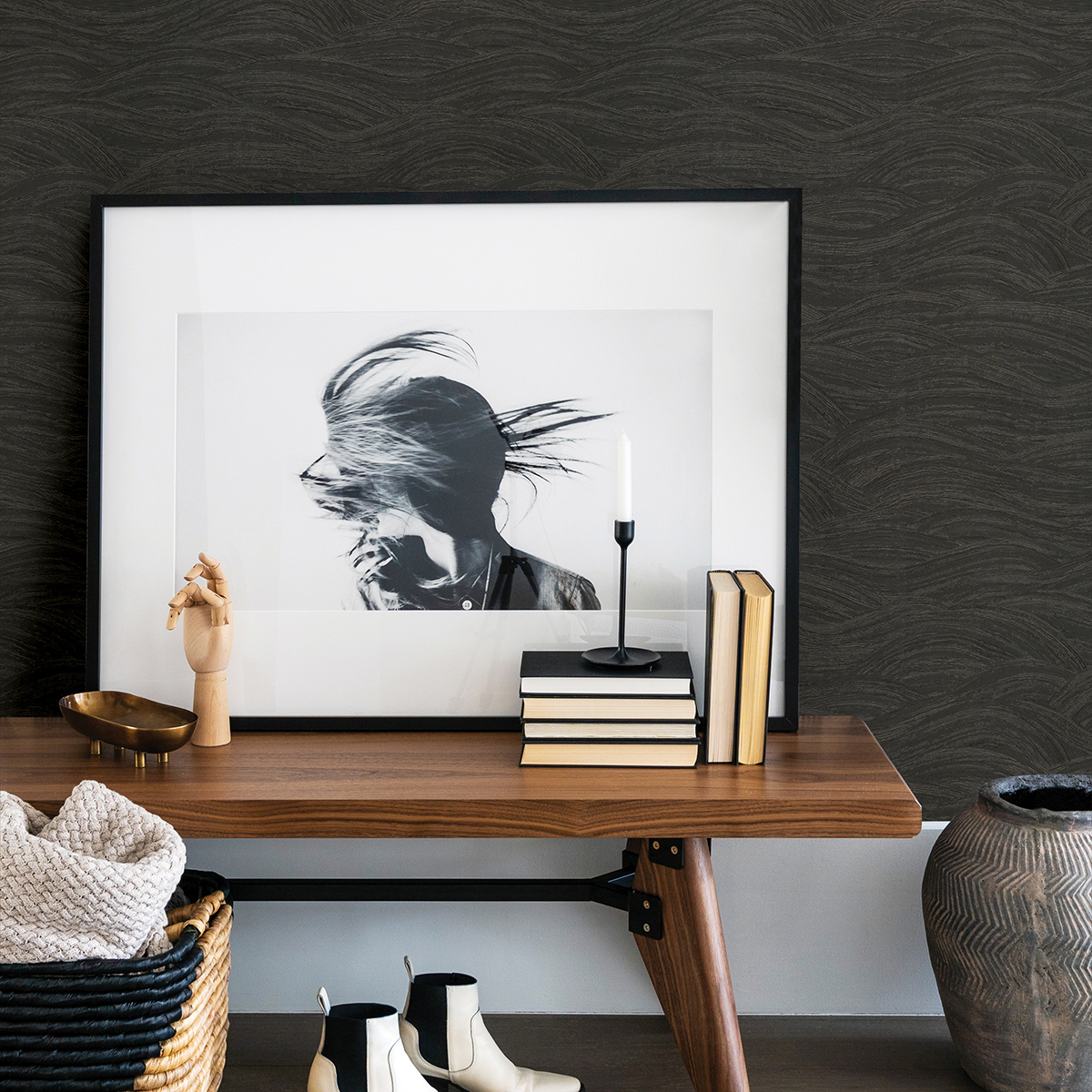 The waves could easily be an interpretation of sound waves and we loved that. The textural nature of the paper is probably what really set my heart aflutter though.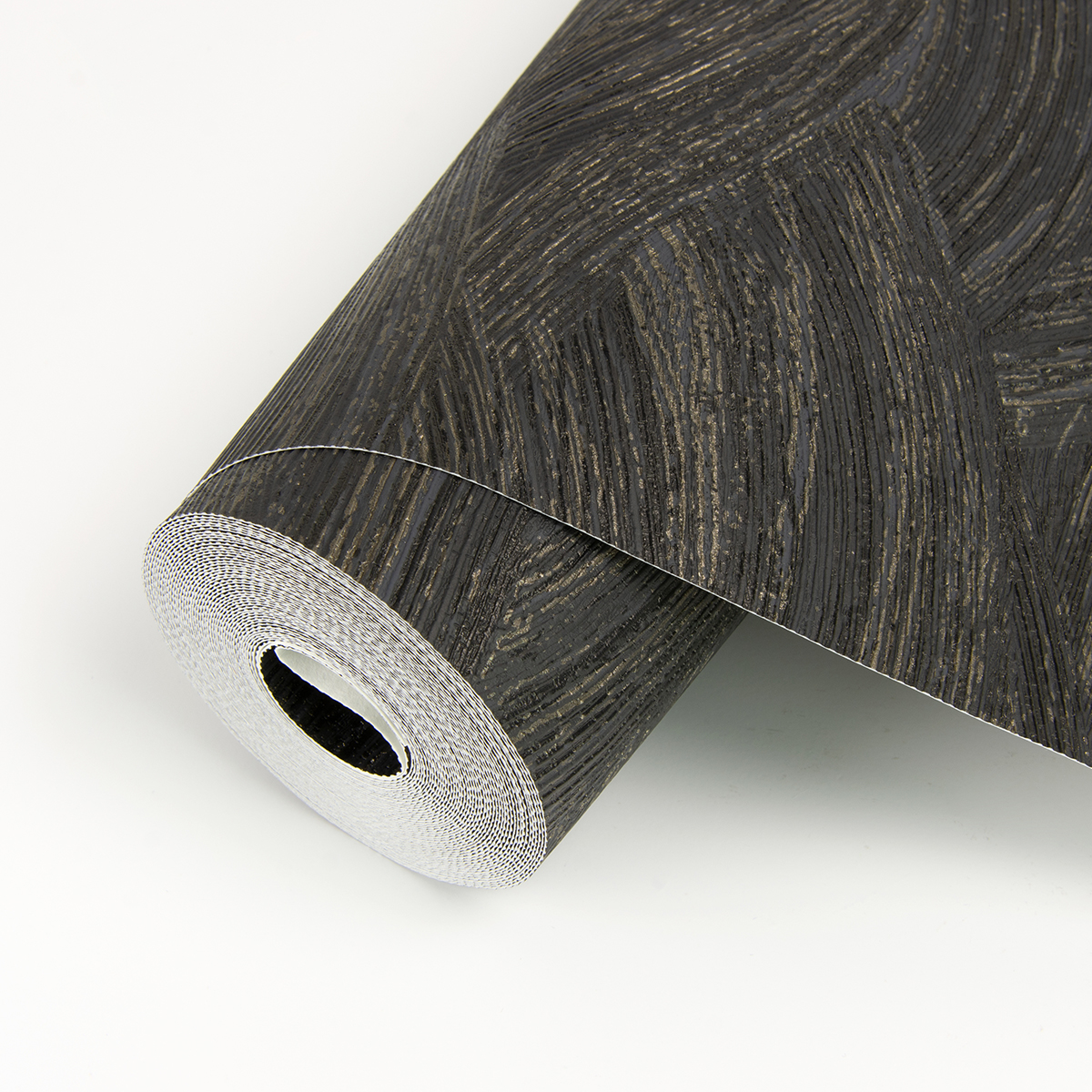 The intense blacks and browns are perfect for distracting from the oversized black media elements like the tv screen and speakers.
The choice of the wallpaper sparked a good deal of debate over the wall color. We knew we wanted a deep and richly hued color. We decided upon Sealskin by Sherwin Williams. You can see it represented in the paint chip square on the design board.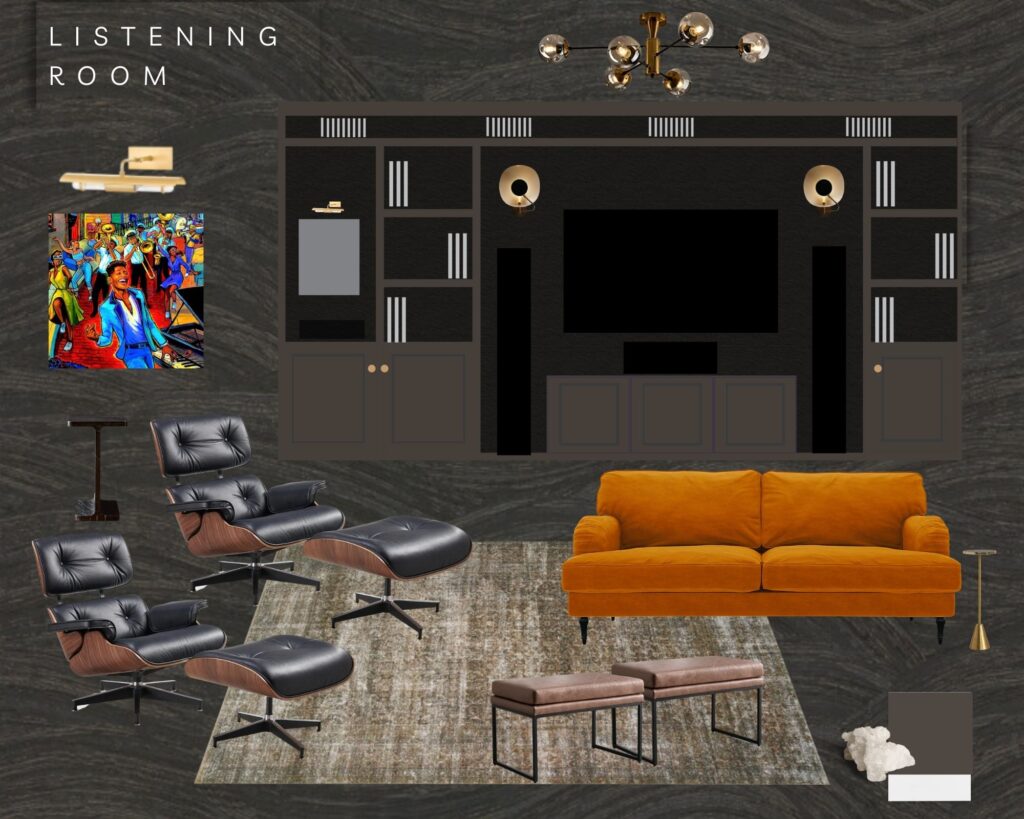 The LRV (Light Reflective Value) is decidedly intense at a level of 6 or 6%. (The smaller the number the closer it is to black which has a light reflective value of 0% because it does not reflect light. Conversely, white is 100% and reflects all light.)
Room Progress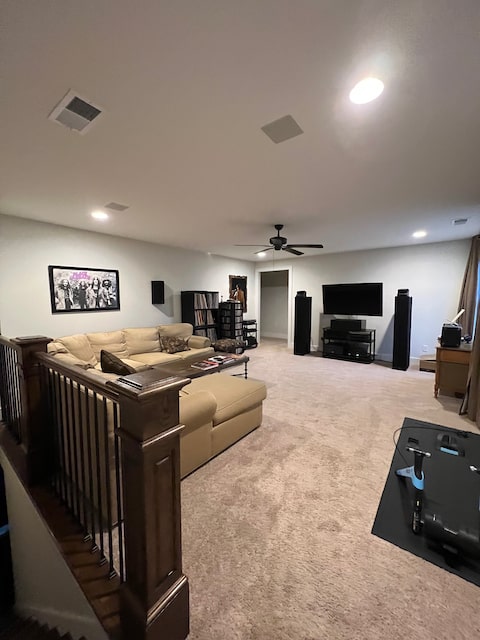 The room has gone from this photo above, to this.
The wall to close up the open staircase has been framed and drywalled.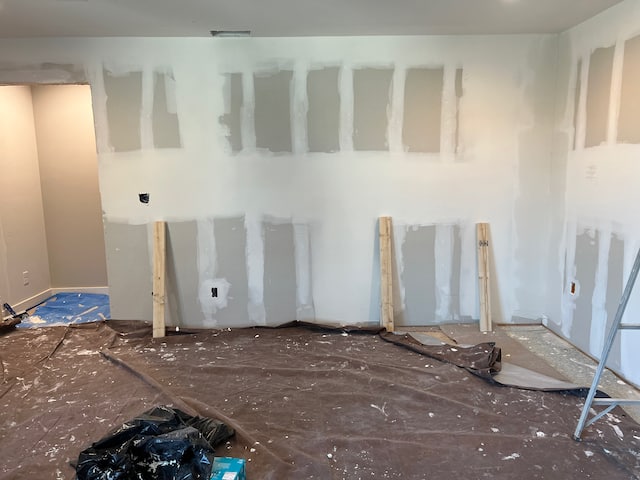 The doorway has been framed up and is ready for the additional door.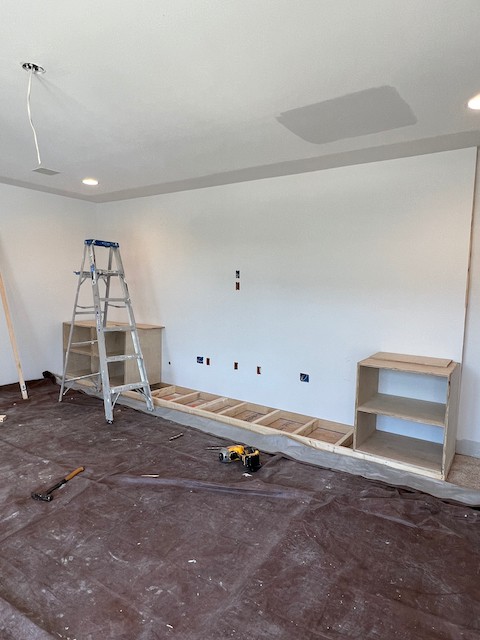 At the end of the day on Friday, my contractor had the base of the built-ins started. It was so exciting to see this vision come to life!
Sponsors
In the coming weeks, I will share more about our sponsors. In an event like this their contributions are greatly appreciated.
Blueprint Lighting NYC || Loloi Rugs || Wovenbyrd || A Street Prints
Thank you very much for following along each week. You can subscribe to an email notification of new posts here. With the robust level of client projects in progress right now, I may not be posting on a highly regular schedule and I would hate for you to miss anything.
Don't miss out on the other amazing room transformations happening at the One Room Challenge Website.