Today marks the beginning of the One Room Challenge for the Fall of 2022. If you've been following along with my previous challenges, you might be surprised that I am participating again this year. I hinted that last Spring's room might be my last One Room Challenge.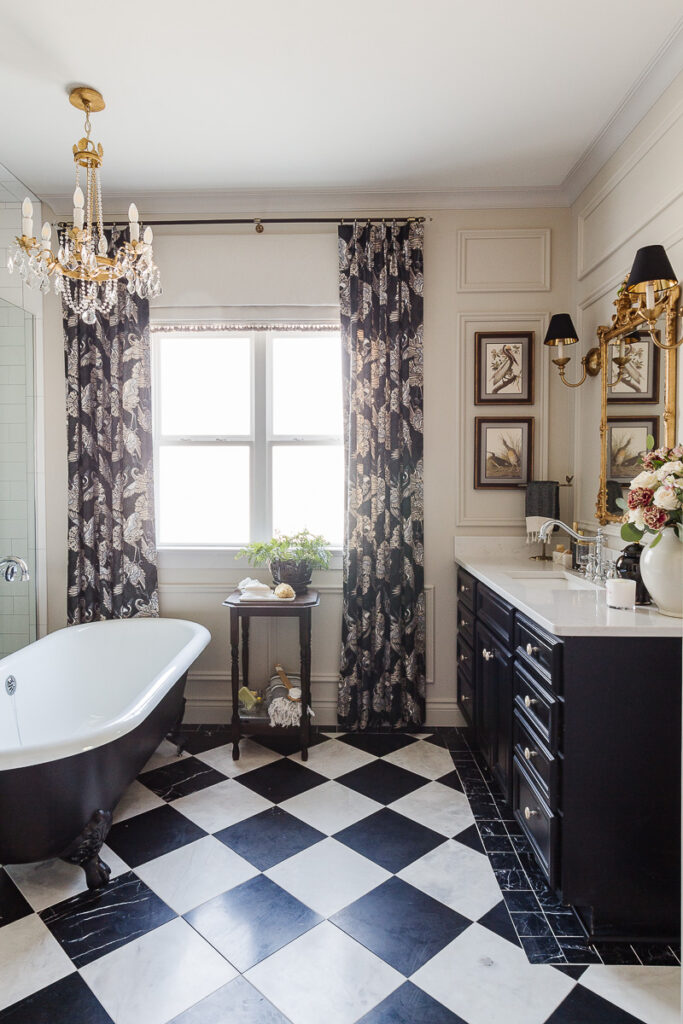 But, as fate would have it, I am back again with a room I am so excited to bring to life. Our best friends and neighbors hired me to create a "listening room" for them. They are huge fans of this event and how over the years I've transformed over 11 rooms in 6-8 weeks. They even requested that I design and oversee the renovation of their room for this season.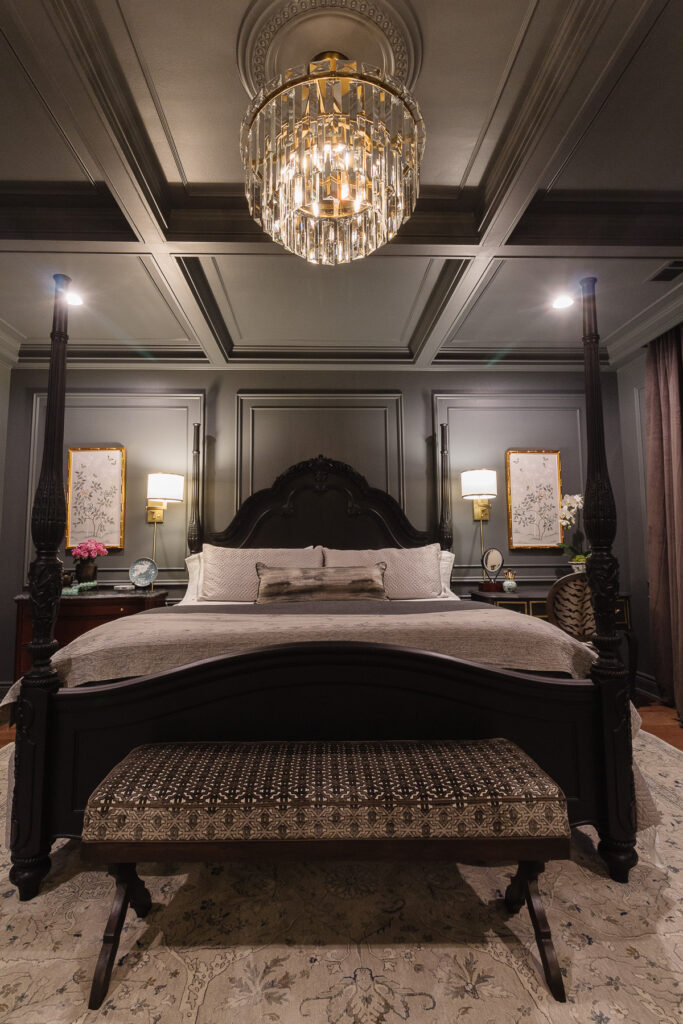 Let's start off with a little about the One Room Challenge in case you are not familiar with the event. It is a biannual event where designers and design enthusiasts worldwide are challenged to complete a room makeover in 6-8 weeks! It's incredible to see this community come together each season and cheer each other on! Many thanks to Linda for having the vision to create such a transformative and communal event that is so exciting to watch and participate in.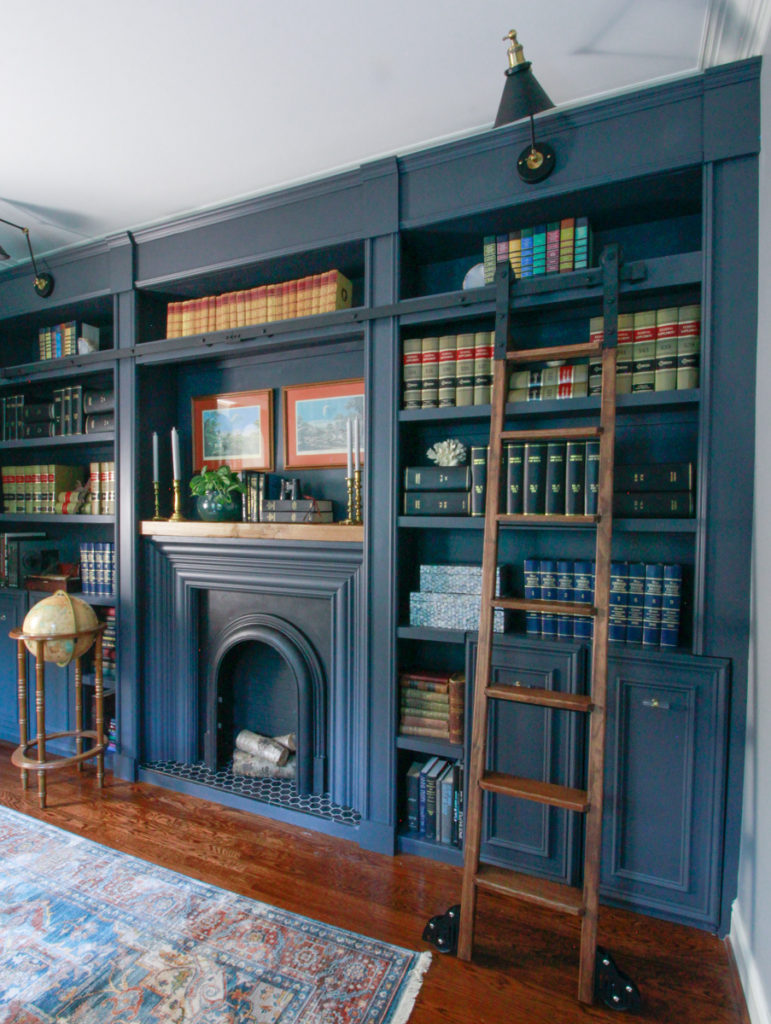 If you are new around here, I am Leslie and am an interior designer and renovation consultant. I started blogging about home interiors and DIY in 2011 and have participated in and completed 11 One Room Challenges and transformed more than 13 rooms. (If that math seems a little off to you, it is because in my 8th season, I was honored to be a Featured Designer and I tackled our living room, dining and foyer.) To say this bi-annual event has changed our homes and my life is not an understatement.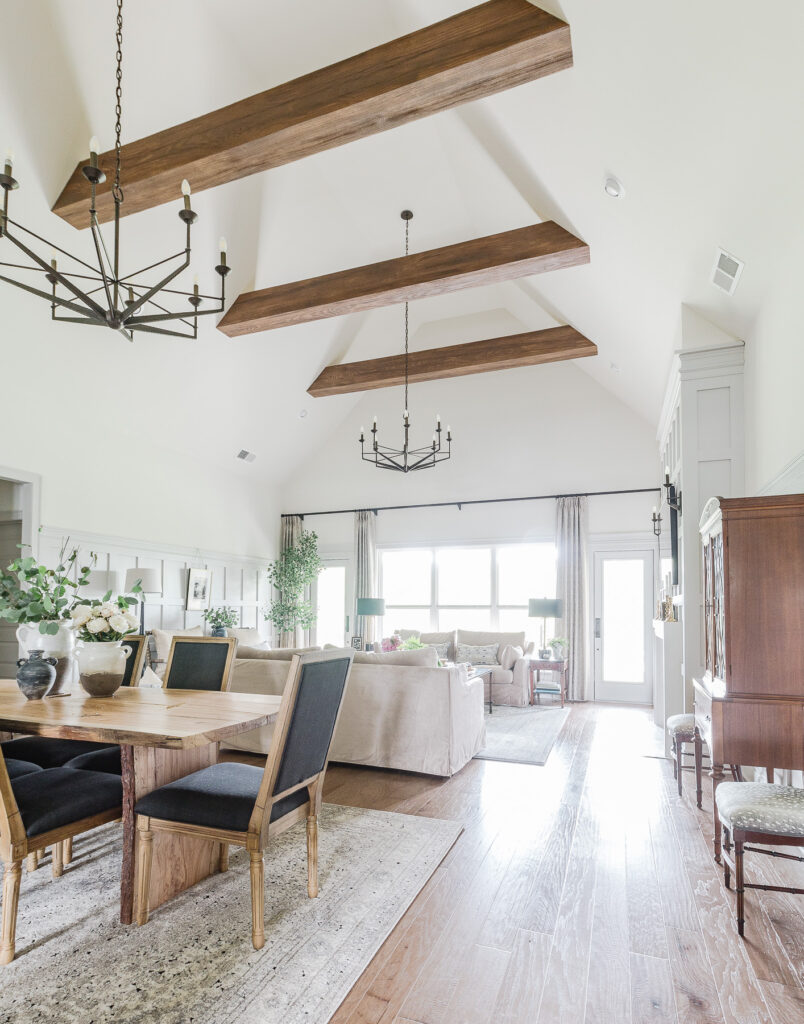 You can track back through each of the weekly updates of the challenges and the full reveals here.
What is a listening room?
It is a room created with the purpose of listening to and appreciating music. Special attention is dedicated to setting up an audio system that is very high quality, reduces echo and is soundproofed. This ensures the listener is listening to the music in as close to a perfect experience as possible. They are the ultimate musical experience for an audiophile.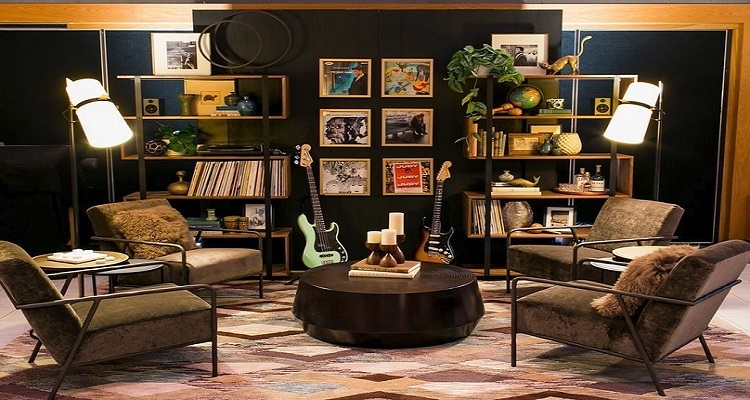 Listening rooms are on the rise as homeowners find ways to create specialized spaces that are just for leisure at home. So much so, Architectural Digest wrote an on Trend article called, "Why 'Listening Rooms' Are the Next Big Thing in Interiors" this March.
Given the attention to comfort and acoustics, this room will also be great for movie viewing. But they believe that more than 70% of the time will be devoted solely to listening to music.
Inspiration
Since I have yet to find a room that truly incorporates the design of a listening room in the same way I envision this room, I have only images of rooms with the same mood or vibe we are seeking.
I love the warm leather on a darker teal wall. The design of this season's room will be decidedly more modern than this space.
These two are fine examples of a dark and moody library, but replace the books for albums and you've got a good feeling for the design direction.
Before
Let's take a look at the room just a few days ago and you can see a few of the design challenges.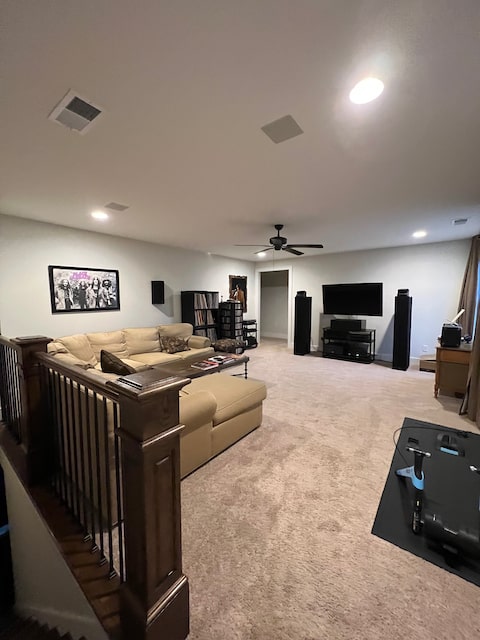 As you can see, this is a bonus room at the top of the stairs. This setup is very common in our neighborhood. When they built the house, I advised our friends to enclose the long wall the sofa and print are on during construction. The original floor plan was designed with this room to be open to the living room below with a railing.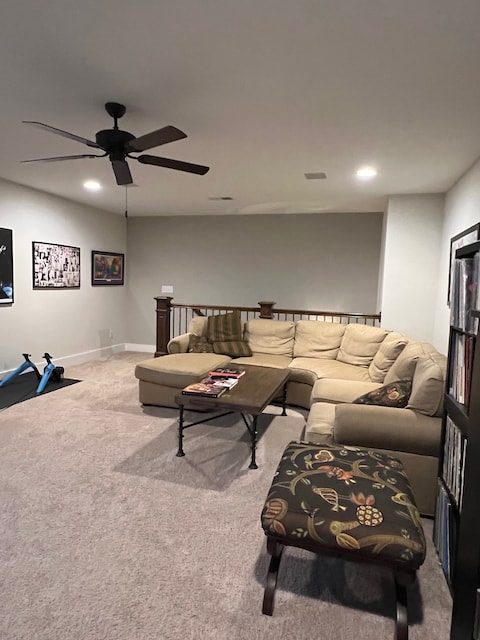 To enclose the space and achieve a true listening room experience, this stair rail wall will be closed up and a door added, and soundproofing insulation installed to keep the sound from traveling down the stairs.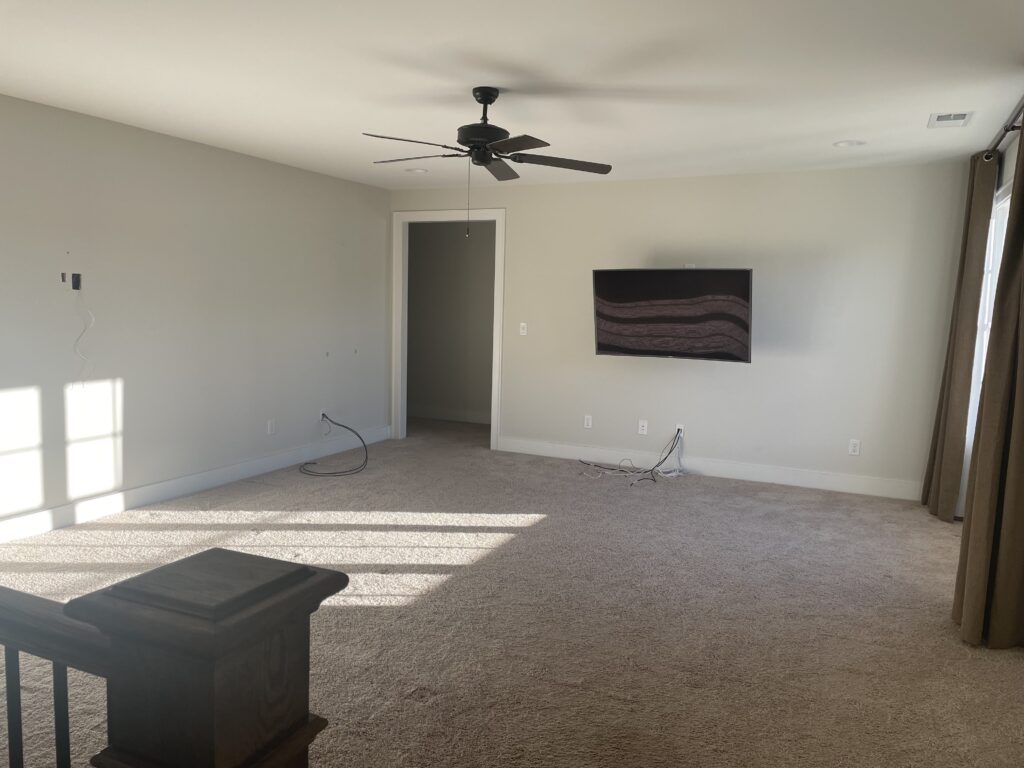 This is how the room looked today. Everything has been cleared out for the contractor to begin. The TV will move to the wall on the left. And as I mentioned, there will be a wall where I am standing to take this photo.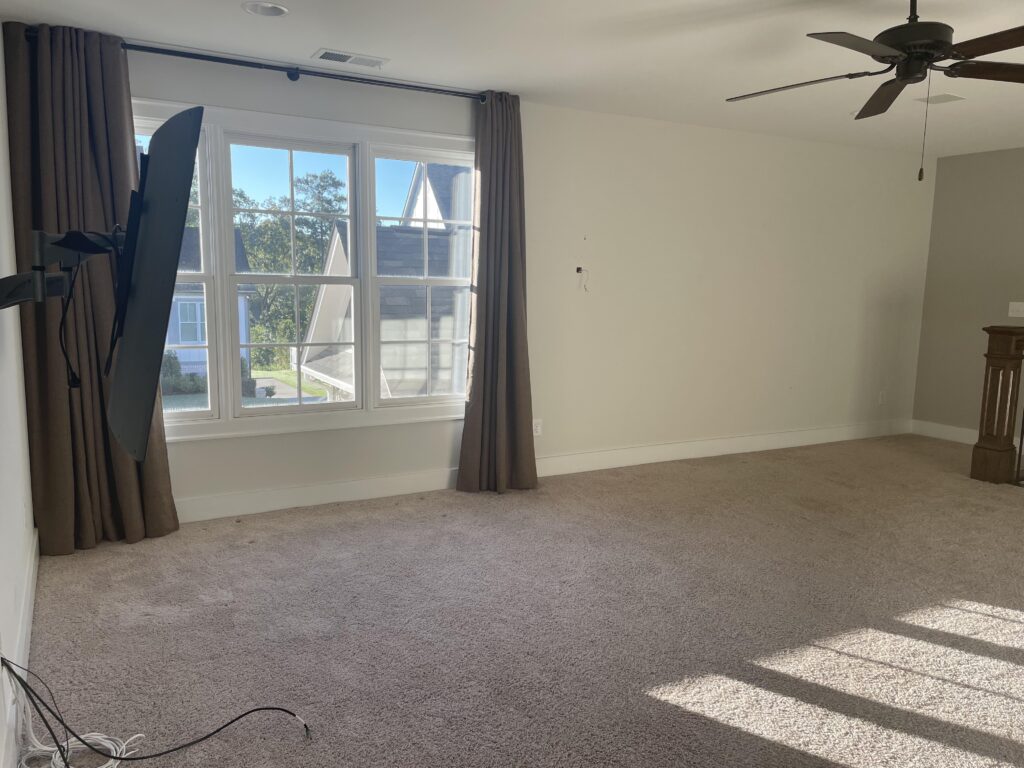 The carpet will stay as it offers the best sound dampening of any flooring. We will layer a beautiful rug on top to create a furniture grouping.
Construction begins tomorrow and with my trusty contractor on the job, this room will be dramatically transformed quickly. I will likely only show you bits and pieces moving forward, as the bulk of the work will be done by the time I write the next blog post.
Next week, I will share a full design plan and how I plan to corral all of the equipment and speakers while still maintaining optimal acoustics.
I can't wait to share this makeover with you and tell you all about the products from the amazing sponsors I am securing! There are such good things in the works!!
For more behind the scenes each week, follow me on Instagram or Facebook.
But the most fun part of this event is tracking along with the other amazing designers and DIY'ers as they tackle their rooms in just 8 weeks.
You can check them all out here. It's the 10th Anniversary of the Fall Season of the One Room Challenge!