A few months ago, I shared that my husband was going to start working from home. His new office took over the "study" in the front of the house, which was referred to as the "home for mismatched furniture". Of course, that wouldn't do now that it was going to have a purpose. To give us a bit of direction and a goal to work toward, I created a design board for the room.
I'm sure when I shared this image previously, you wondered why there was a seemingly random photograph of Abraham Lincoln?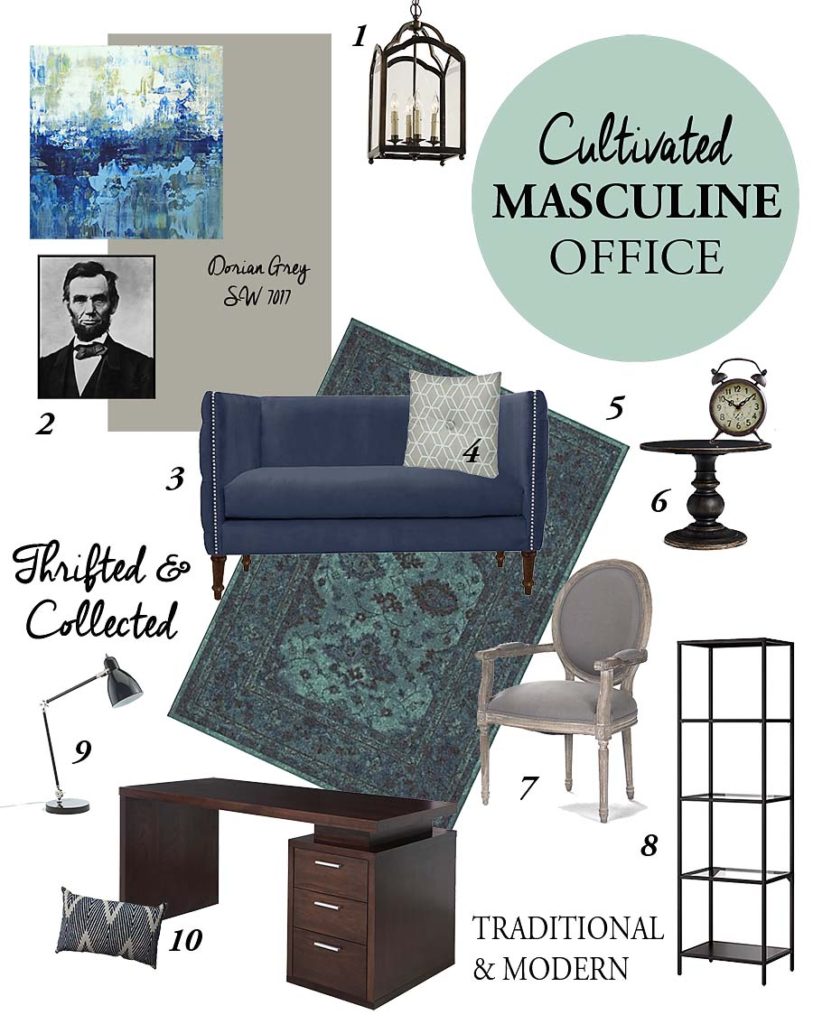 Today, you get to see what was in my head and where I was going with that little hint of Abe.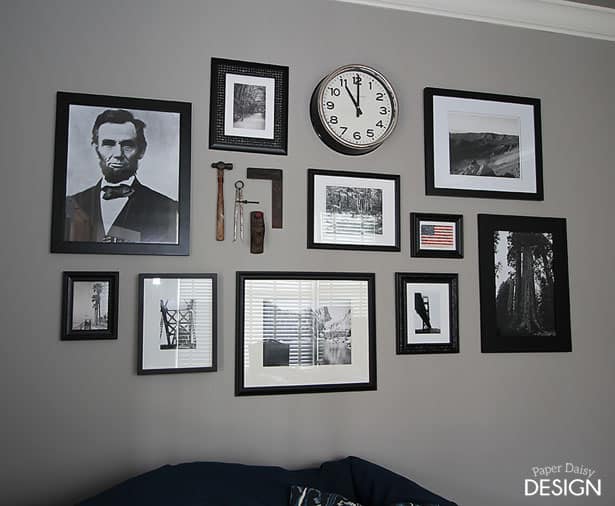 In his previous office at work, he had a huge print of the Lincoln Memorial with an inspirational quote about leadership.  While it was very nice, it screamed "office art".  Because his new office is at the front of the house, I wanted to create surroundings that were both professional looking and discretely personal, inspirational and patriotic. This "Americana" gallery wall is the result.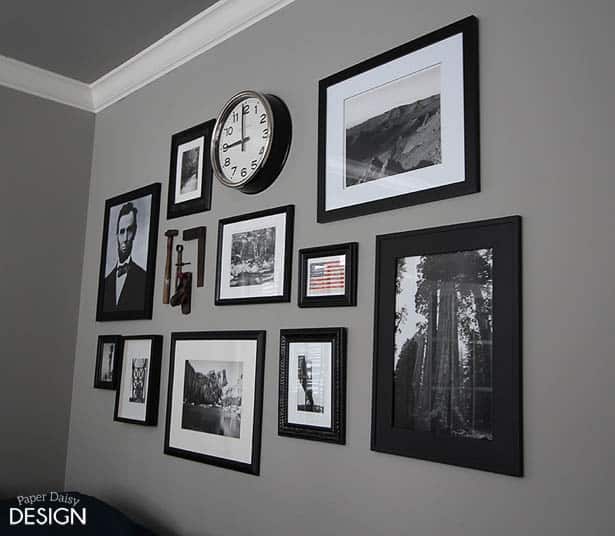 The art, other than Abe, are collected photographs I've taken across America. Some are vacation destinations. Others are special iconic images of places dear to our hearts, a bridge from our home town, a trail that we loved.
And those tools aren't just any old, rusty antiques.  I've had these tools tucked away in a small trunk that belonged to his father.  I'm so happy they have a special place to be displayed now. A nod to our past and the hardest working generation of Americans.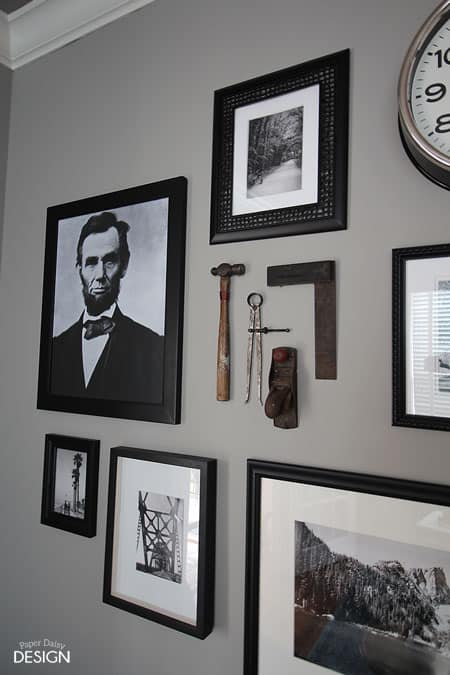 The American flag art is a vintage postcard I found online. The one splash of color.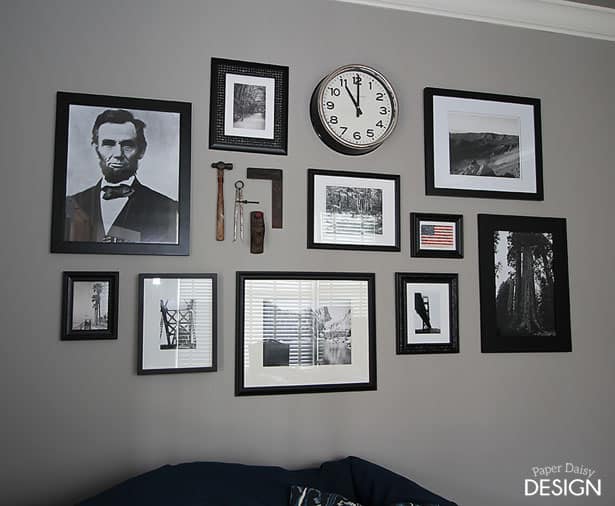 To plan the gallery, I did create a rough sketch of the sizes of frames I currently owned with a description of the photos.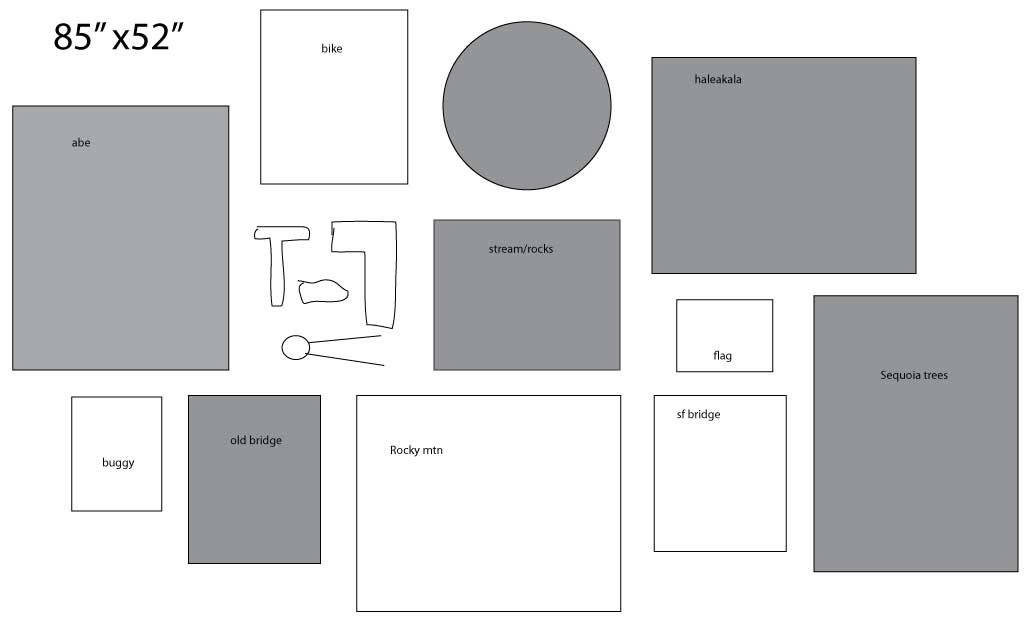 For the most part I stuck to the sketch.  For spacing, I just eyeballed everything.  Don't let fear and perfectionizm paralyze you especially when your frames have different widths and are varied size. I tend to work very organically on a gallery wall.  This was the first time I have actually sketched out a gallery and I only did so because I didn't have the space to spread the frames out on the floor nearby.    I also didn't do a great deal of measuring once I got to actually hanging the frames on the wall.  I think there's only two extra holes behind all those photographs.
The rest of the room is coming along slowly.  It is functional, but there is still a good deal of upholstery work to be done. Unfortunately there are just too many projects in the cue. But I can't wait until the day comes when I can give you a complete tour! Stay tuned and follow me on your favorite social media so you don't miss a post!