Two years ago, when we moved to our house in Alabama, we gained an extra space/room we call the loft. After much debate on how to best use this space, we decided it would be a great space for overflow guest sleeping or a separate place teenagers can hang out and created these palette day beds.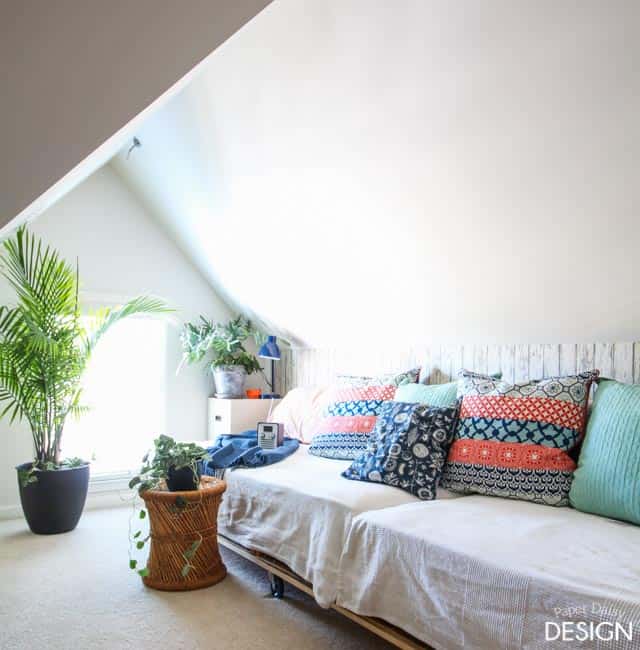 Not wanting to spend a great deal of money and loving the idea of creating a casual, bohemian vibe for the space we went on a hunt for some free palettes.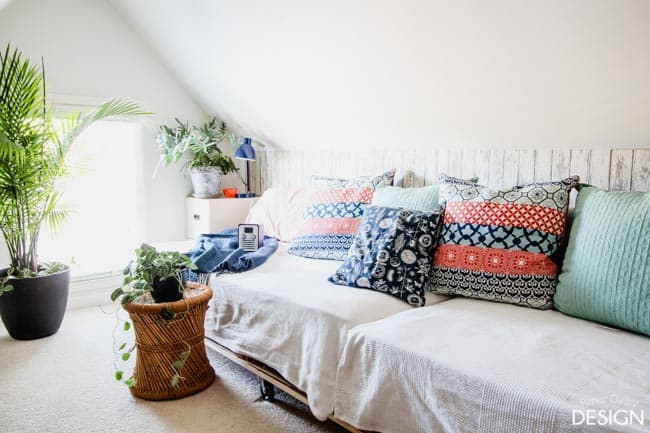 One of the most important aspects of using palette wood, in my mind, is safety.  Many palettes are treated with chemicals and you want to be sure to do a little research, especially before you make a bed out of palettes for children or for extended use.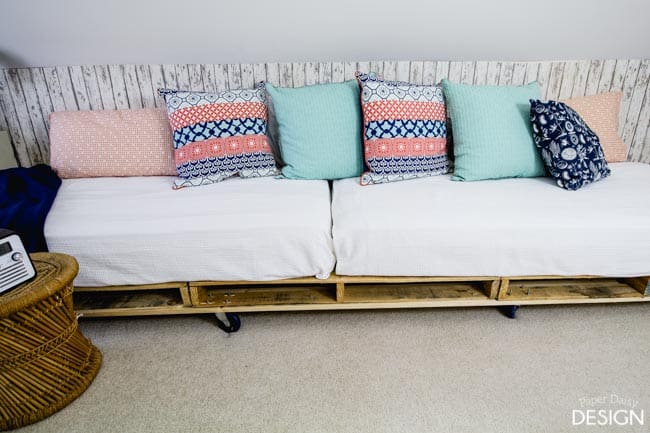 We cleaned ours very well with bleach solution, allowed it to dry in the sun.  Then we sanded the tops smooth so that the mattress would not be torn up by the rough wood. (Be sure to wear a respirator while sanding.)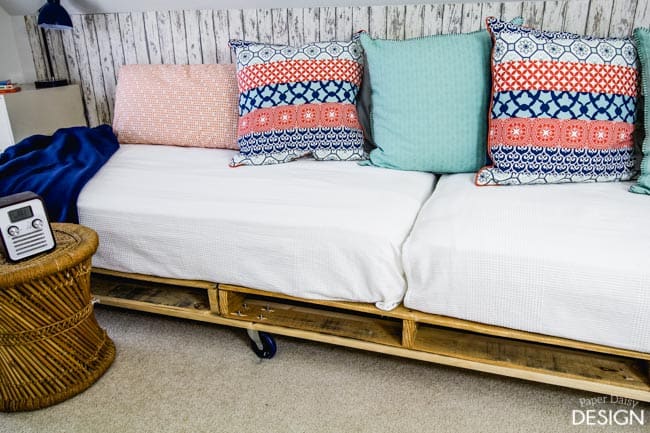 Then we sealed the wood with a brush-on poly.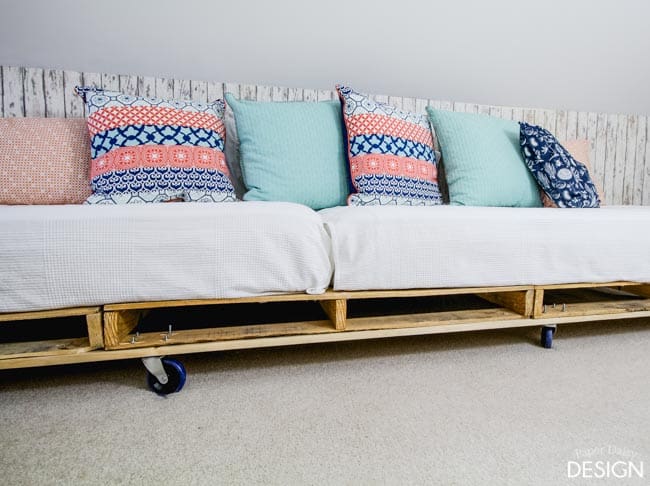 This post contains affiliate links for your convenience.
To assemble the palette beds we used:
3 Palettes
8 caster wheels
2 (1x6x12) pine boards
machine screws and nuts
The steps for construction this sturdy base out of palettes are very simple.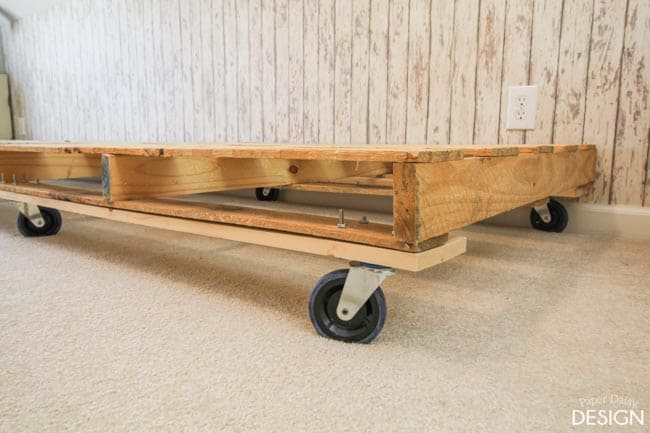 Turn the palettes upside down so that the sanded side, what will become the top, is on the ground.  Drill holes for the screws to go through both the pine boards and the palettes.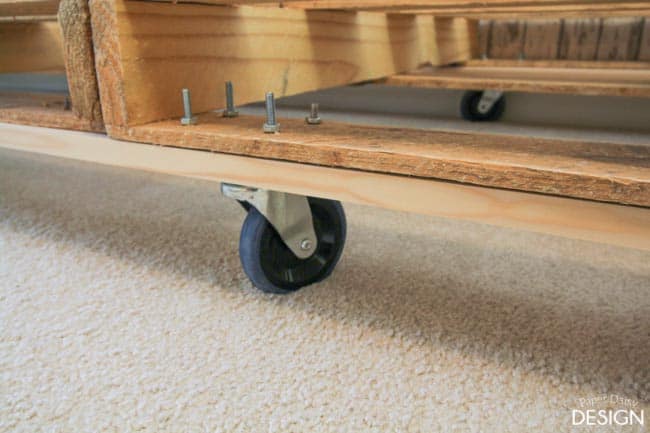 Thread the screws through the caster wheels and the pre-drilled holes. Secure with the nuts tightly.
Turn the frame upside down and place your mattress on top!
It's really just that simple!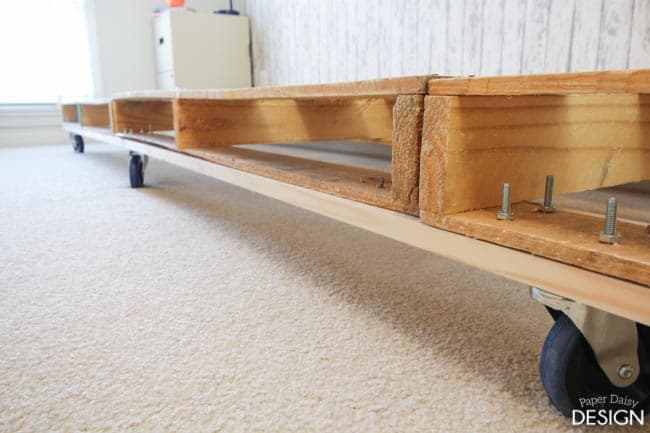 The caster wheels do a nice job of getting the palettes off the floor so that the beds are not uncomfortably low to the ground. Here is a link to similar casters to the ones I used. Obviously, you could use  larger casters to get the beds up even higher.  I recently sourced these super cool casters for my Industrial Cart Craft Table.
Here's a link to the large industrial metal casters. If you wanted to spend a little more these would look awesome!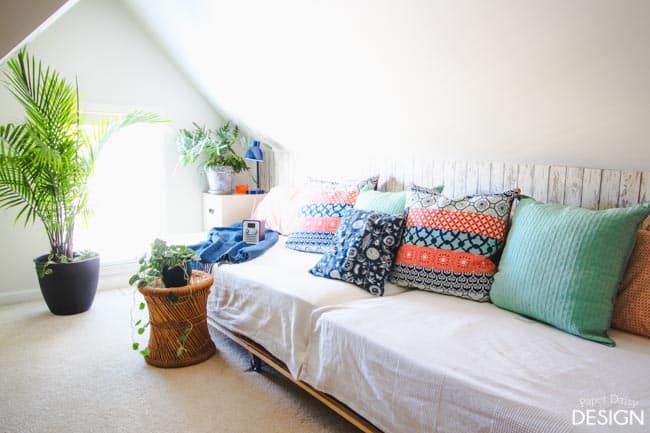 These daybeds have come in handy on numerous guest's stays! Because palettes are created to carry a heavy load they provide ample support for these very comfortable mattresses, whether for sleeping or just lounging.
Want to see more great palette projects? Check this link-up below.