Wow! It's with some very mixed emotions that I write about back to school this year. We had such a great summer. I really didn't want it to end.
Loved the slow pace. Having the kids home. Not doing much or having a schedule. Just hanging out. We had some wonderful vacations. It was really a great summer.
Here's our traditional by the front door, first day of school photo. (They have to stand in the shadow of this column because the door faces due east.)
The thing that I most noted this year with Emily's back to school preparation included a lot more primping and planning before school.
She chose to wear a skirt.
She painted her nails, with the super fashionable hot pink and white crackle finish.
She straightened her hair.
For Emily, that's a new level of detail to fashion and grooming. That's not to say she was ever poorly groomed, it just that in previous years, she would be okay with wearing her hair in a ponytail on the first day, just like any other. 🙂
Miles was… focused on getting his breakfast and making a bee line for the door.
And rightly so. He drove himself and Emily to school today in Richard's truck. (Her Middle school is just around the corner form his High School.)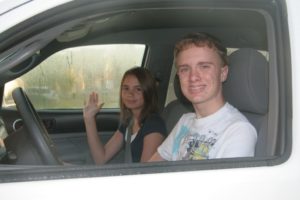 Yes, Miles put on his seat belt before he left the driveway, but that photo wasn't as good as this one.
Wow, when you contrast the above photo to this one below… the last time they rode in the same vehicle to school. My heart breaks, just a little.
This was seven years ago. They were going to the same elementary school.
Funny how in both photos, Miles definitely has the proud, big brother smile. I love that.
SO sweet!! I miss these little guys. They still are this sweet now, but only on the inside and only sometimes. 😉
Now, it's quiet in the house. That's where the mixed feelings come in.
I'm sad summer is over, but I'm hoping with the school schedule I can get back to regular posting here and enjoy the sound of quiet productivity.
I have LOADS to share. We have been very busy this summer with projects and I still have some great things to share from our vacations.
Off to get some scrapbook projects done! Due dates loom. I think I'm doing a back to school page. That seems appropriate. Don't you think? Until tomorrow!!
Thank you for subscribing to Paper Daisy Designs. Please continue reading on the blog. I appreciate having you as a reader.