Next week is the big reveal! There is no denying my office/studio has been transformed! My husband, Richard literally walked into the room last night and said, "Wow!"
If you've been following along, this is week 5 of the One Room Challenge. If you are just checking in, our host Linda from Calling it Home inspires hundreds of bloggers and designers to makeover a room in 6 weeks! Here are my previous posts about this makeover.
week 1-before ||  week 2-design plan  ||   week 3- plant shelf || week 4 – storage from tool chest
This week I can finally share a mini-reveal of the wallpaper side of the room styled for Target and Devine Color.  The modern global look featured in Target's spring collection is a perfect fit for this room. Seriously, I have had to force myself to leave room in my basket for the groceries I actually went to Target for recently.  The struggle is real my friends.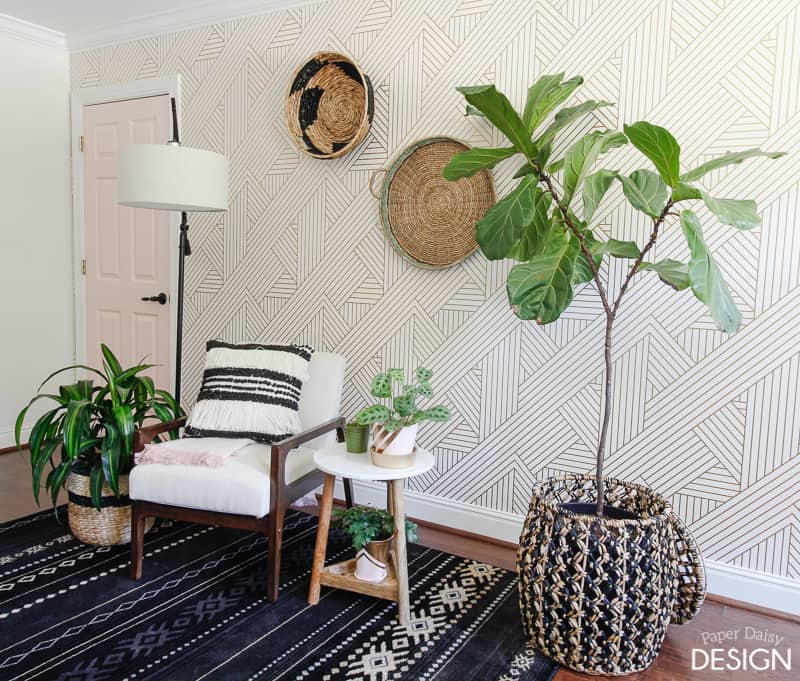 I'm pretty certain just about everything in this look is staying, except sadly this amazing mid-century chair.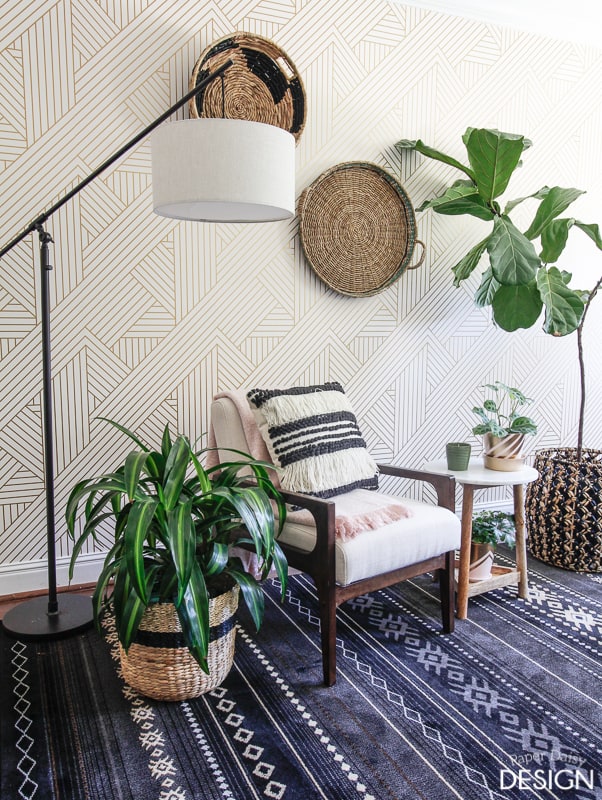 I mean, it's gorgeous! And the price point for the chair is amazingly affordable too.
But I wanted to have the option to host one more overnight guest if necessary in my studio so a futon style sofa will take the place of the chair next week! Just wait until next week, y'all! It's good, not at all like the futons of our college days.
I share more photos and the super easy tutorial I created for how to hang this removable wallpaper from Devine Color at Target. You'll be amazed how doable this project is especially with my one unbelievably simple tip! click here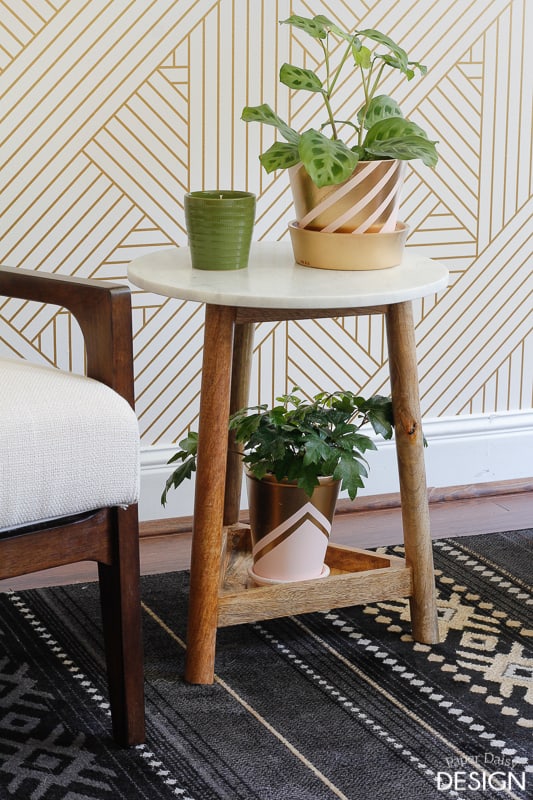 I also share how I transformed ordinary terracotta pots with the best gold spray paint I have ever used!  Like for real. The best gold spray paint.  Click here.
Here's how to get this style!
Affiliate links for your convenience.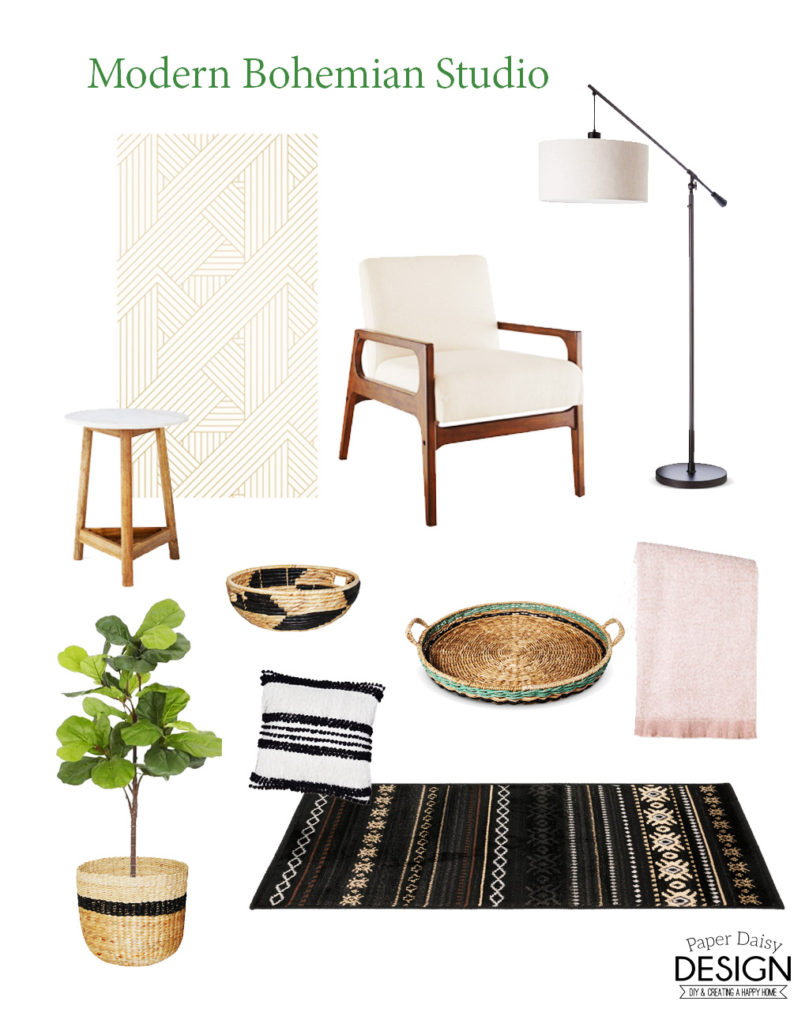 mid-century chair ||  fringe pillow  ||  pink throw blanket ||  marble table   ||  water hyacinth bowl  ||
 Ribbons Wallpaper  || Pendant Floor Lamp  ||  Rattan Tray  || Black Zuni Rug ||  Devine Paint-Pirouette
And now, for my most favorite furniture makeover! Well, maybe that's a stretch because I often feel this way, but seriously I think it will be a favorite for a long time!
Do you remember last week I shared this photo of a bed I picked up over a year ago?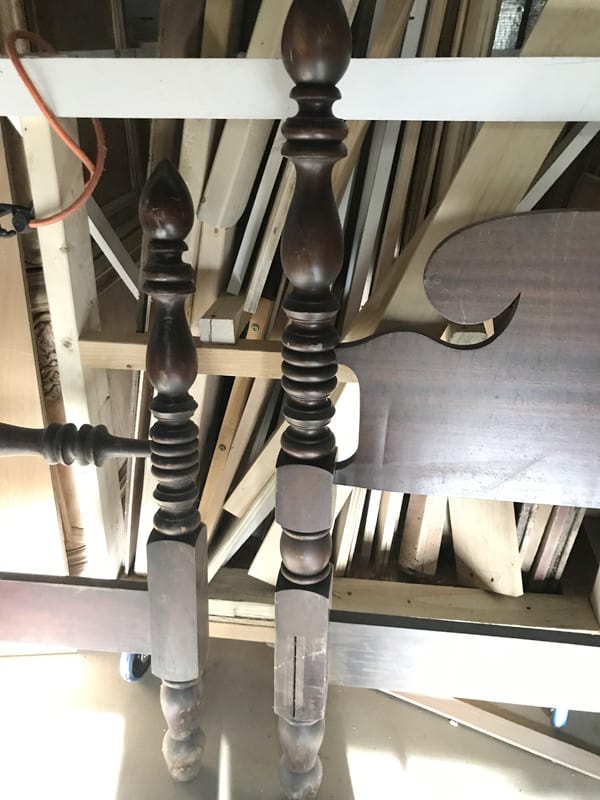 Well, I have long dreamed of a beautifully turned leg desk, but the prices! Gah! Everything I found was ridiculously expensive. But then I found this antique bed frame and figured there had to be a way to make the bed posts into legs!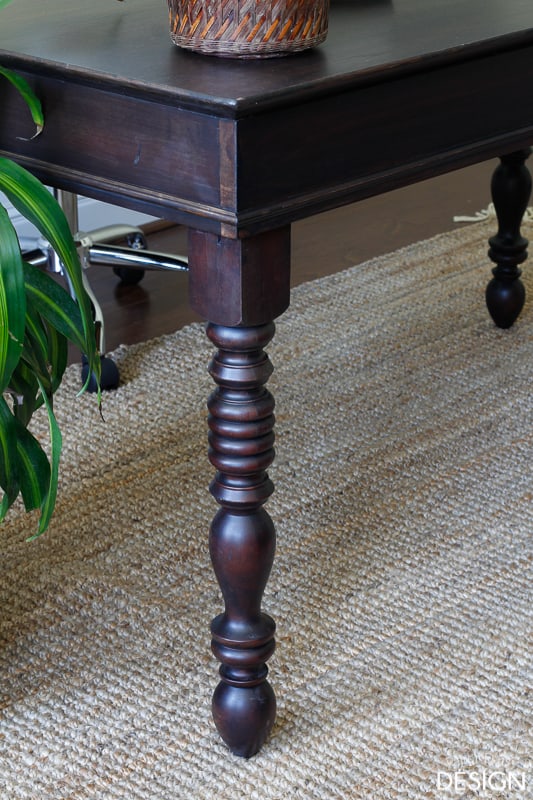 I'll be writing a full tutorial soon because it's easy to find an old bed to transform or maybe you have one in your attic?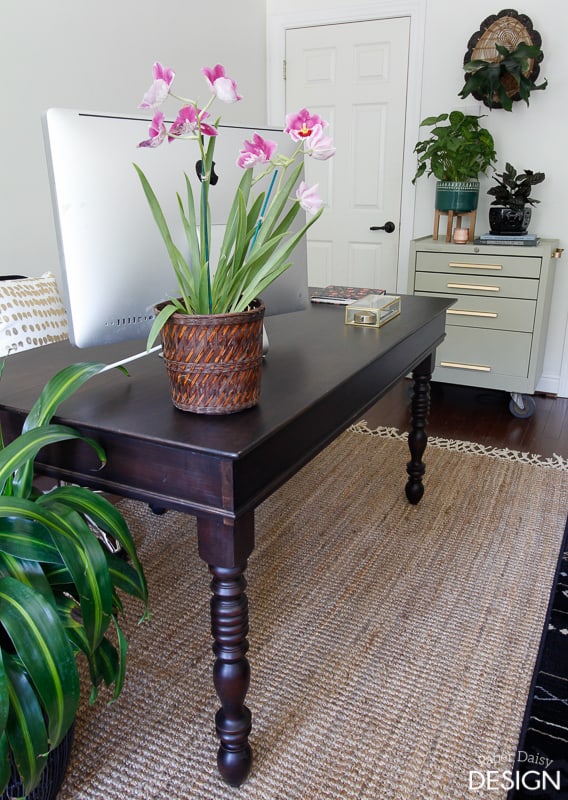 Happily, the desk turned out exactly as I had long envisioned. I couldn't be more pleased with the way I was able to marry the different woods with a custom finish. More on that to come too!
Equally as exciting, I finally have a work surface to write while also having room for essentials like a day planner. The "temporary" desk I had been using was only 19 inches deep. Way too small!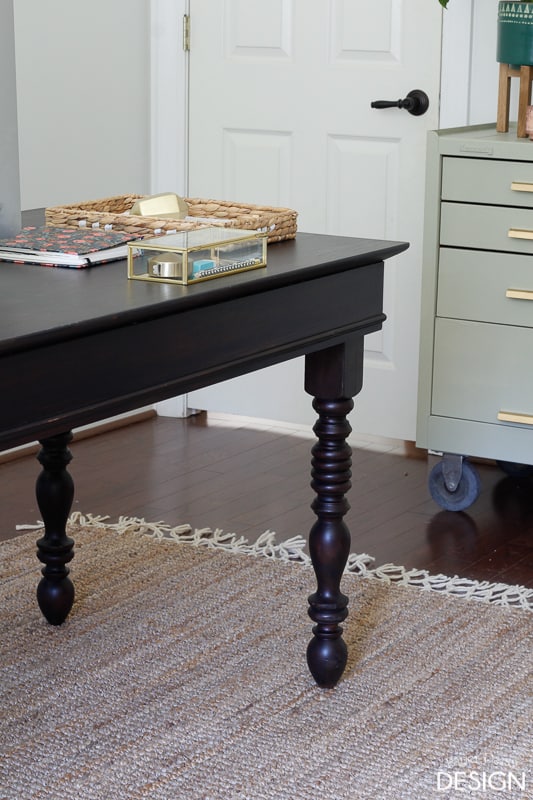 I will be adding a desktop grommet for the cords to go through, but I wanted to work at the desk for a couple days to decide exactly where to place the hole in relation to the computer. Because once the hole is there, there's no going back!
And did you catch a glimpse of the awesome rug provided by Rugs USA? That fringe is everything!
This week I have a few small projects to finish up and I'm waiting for a few more items to arrive.  Here's the list from a few weeks ago.
Hang wallpaper
Paint attic door, can you guess what color?
Hang shelf over windows
Remove and replace shutters
Hang custom macrame plant hangers
Paint industrial tool chest
Build desk, you'll never guess what I'm using to build it!
Embellish and hang new light fixture
Organize craft supplies and craft closet
Build frame for and hang commissioned art
Style bookshelves to be attractive and functional
I've done pretty well with the list.  Except for organizing the craft closet.  I did move a few things around so I could shove more stuff in, but I'm sure that doesn't count.
For the full look at the room styled for Target and Devine Paint, and those tutorials click here. click here
A very special thanks to my sponsors and contributors to this One Room Challenge makeover!