Are you excited and ready to start prepping and primping for the holidays? With all the crazy remodeling nearing completion at our house, I'll be eager to deck the halls with some holiday cheer.  And what better way to display our stockings than on a stocking post?
This adorable project will be a featured DIY free workshop at The Home Depot!   What I love most about this project is your stockings don't have to be hung on a mantle!  Maybe you don't have a mantle, or maybe you are like me and you cover your mantle with so much garland it makes it difficult to squeeze in the stockings. Holiday decorating is not a time to show restraint. Right?
The stocking post workshop will be held on Saturday, November 19th at 10am.  To sign up for this workshop click here and enter your zip code for the nearest The Home Depot store location offering the stocking post workshop.
The Home Depot offers workshops at all of their locations for do-it-yourselfers of all ages and experience levels: Do-It-Yourself (DIY), Do-It-Herself (DIH) and Kids.  Learn how to build decor projects, how to make easy home repairs and how to operate tools through demonstrations and step-by-step instructions.  Visit 
http://workshops.homedepot.com
 to learn more.
 I've been asked by one of my blogging friends, Jamie at
This is my Letter
,  to join in on a virtual party whereby we will all be sharing our custom versions of the stocking post along with 20+ other diy bloggers next Monday.  I can't wait to see how everyone customizes their stocking post and share mine too!!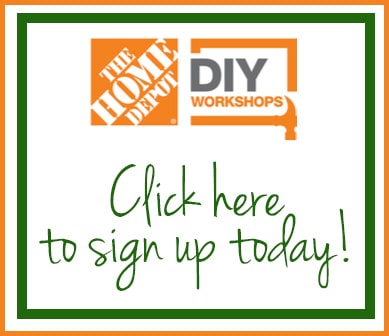 Follow me on social media for project sneak peeks!
*The Home Depot partners with bloggers such as me for DIY & DIH Workshop program.  As part of this program, I received compensation for my time.  They did not tell me what to purchase or what to say about any product mentioned in these posts. The Home Depot believes that consumers and bloggers are to form their own opinions and share them in their own words. The Home Depot's policies align with WOMMA Ethics Code, FTC guidelines and social media engagement recommendations.