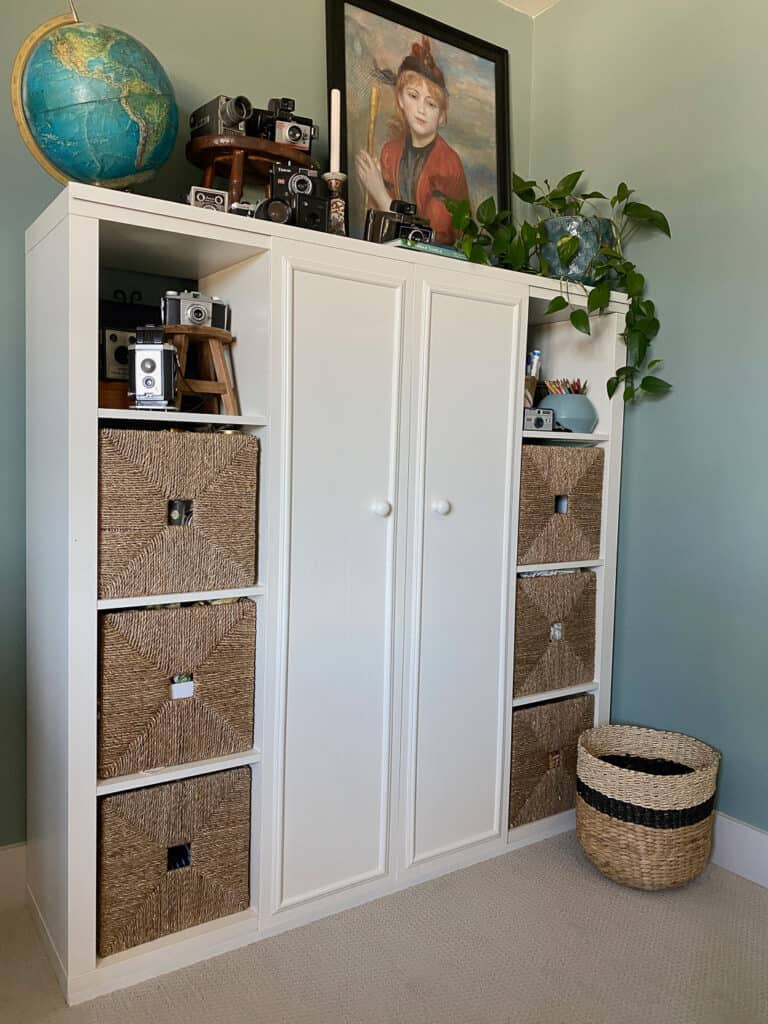 My next New Again project, is simple way to add sliding doors to an existing bookshelf or IKEA Kallax. (This bookshelf is actually the Expedite which was replaced with the Kallax several years ago.)
New Again is an ongoing series shared by some of my best, most talented blogging friends. Each month we make over an existing or tired piece and give it new life. It's so inspirational to see all the different amazing ideas they come up with! Check the link-up below to not miss their projects.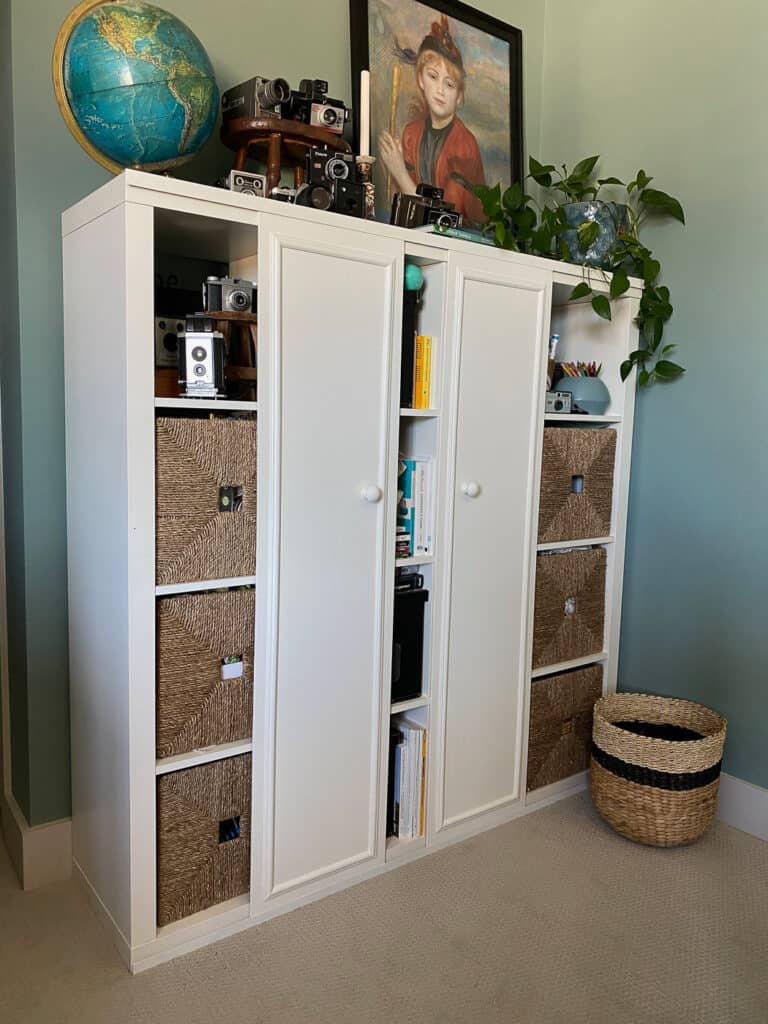 Why add doors to a bookshelf?
In my case, the items I needed to store were not attractive. In my new studio space upstairs I don't have a closet. There were a slew of craft supplies and items I needed to store that didn't fit anywhere else.
Here's what the Kallax bookcase looked like styled in my previous home.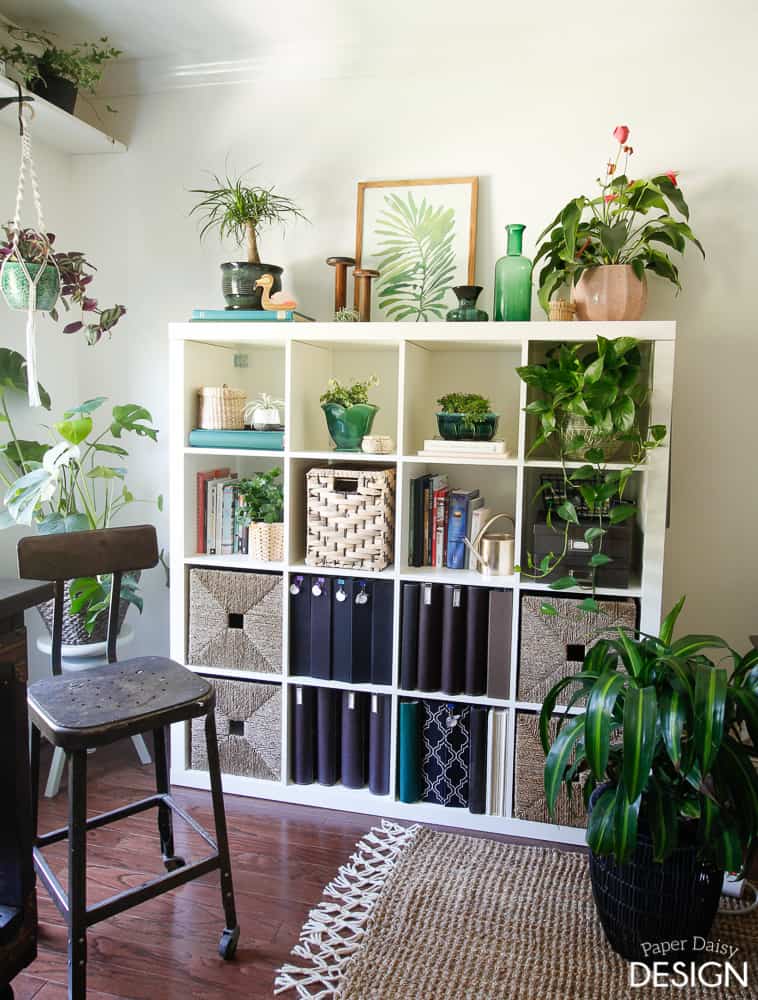 This was acceptable in my mind. I found a closet downstairs to store the albums, but all the extras needed a place to go.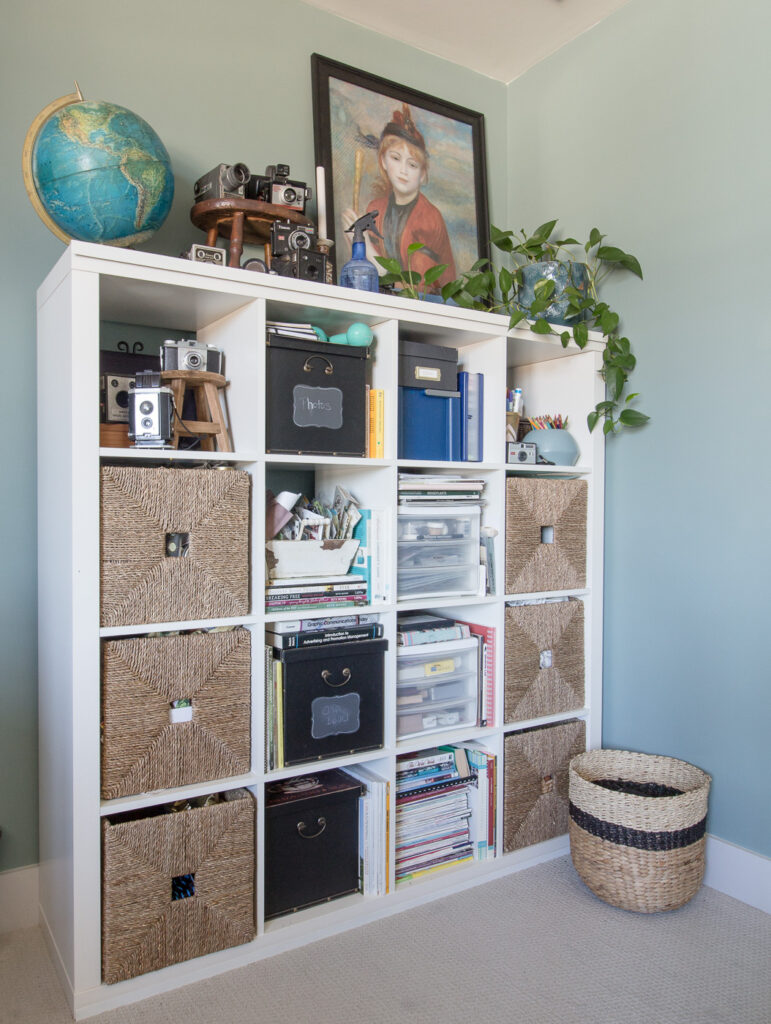 By adding the doors, I could maximize what I stored on each shelf. Instead of arranging the baskets along the bottom, I could have them on the sides and fill them up with craft supplies.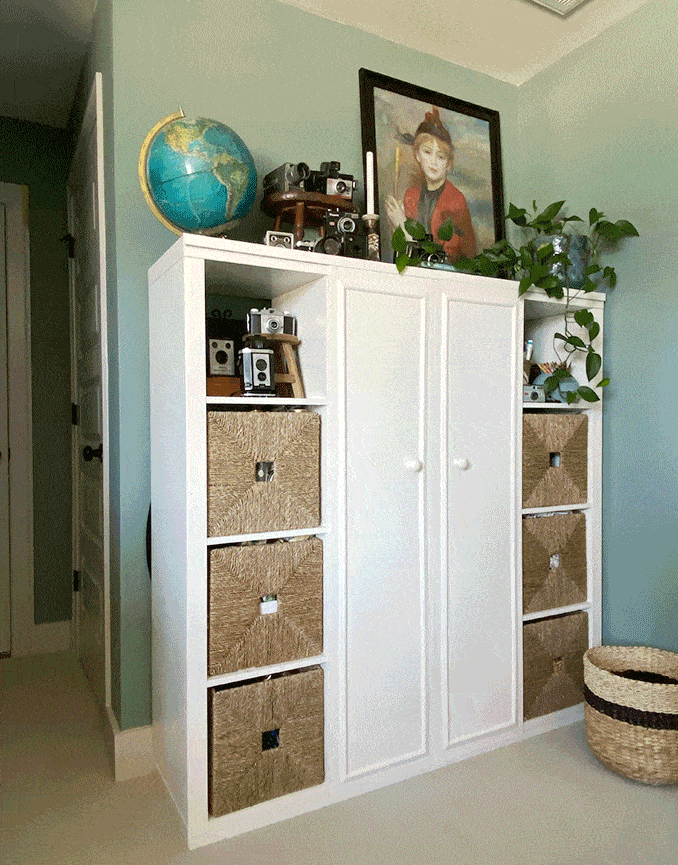 How to add sliding doors to a bookshelf.
This project is best for a situation where you do not need to access the items inside everyday. While it works perfectly fine for what I needed I will offer a few suggestions for how you could adapt this tutorial to be a bit more durable.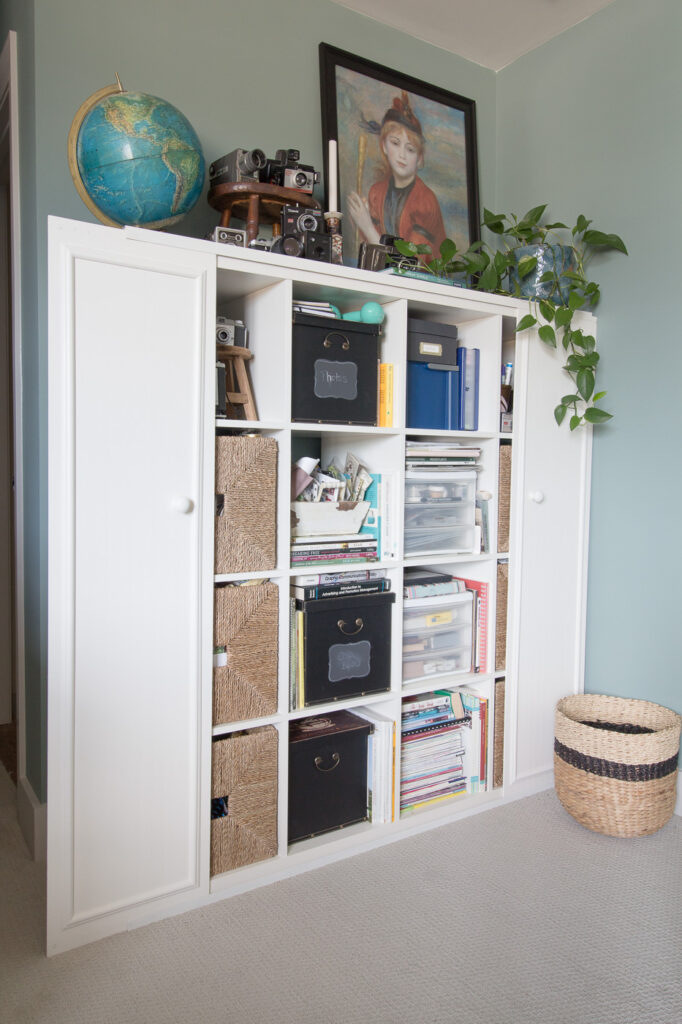 YOU WILL NEED
Aluminum Angle Bar 3/4″
Small Nails (We used siding nails.)
Drill Bit & Drill
Hack saw
Clamps
Hammer
Paint to match your bookshelf (I'll share more about matching my Kallax below.)
Wooden Knobs
Trim (optional)
1/4″ cabinet grade plywood, we used a thinner luan
Denatured Alcohol
DIRECTIONS
Begin by cutting the angle bar to the width of your shelving unit. Cut 2, one for the top and one for the bottom.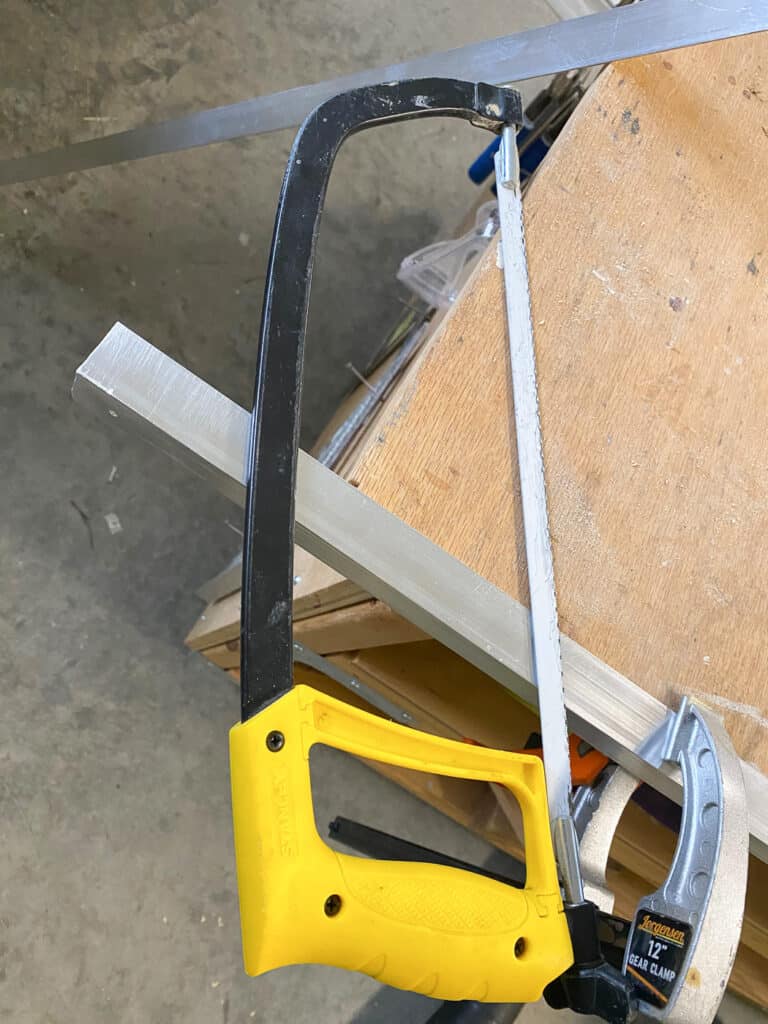 2. Pre-drill holes every couple of inches for the nails to go through.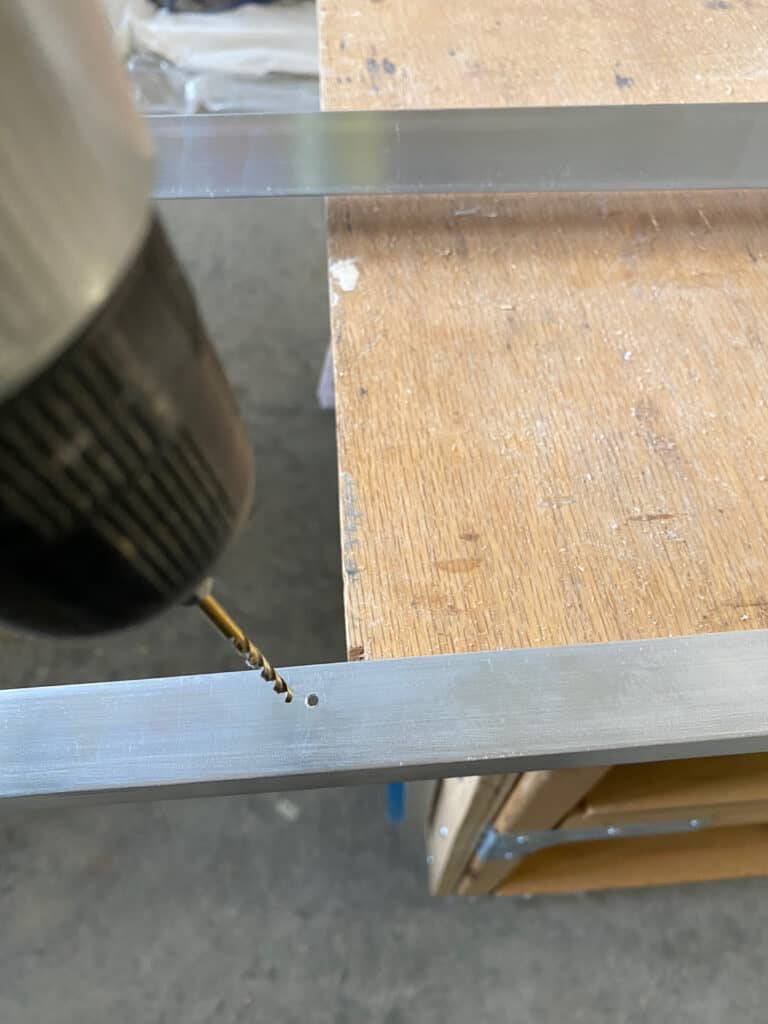 3. Sand holes lightly to create a smooth finish.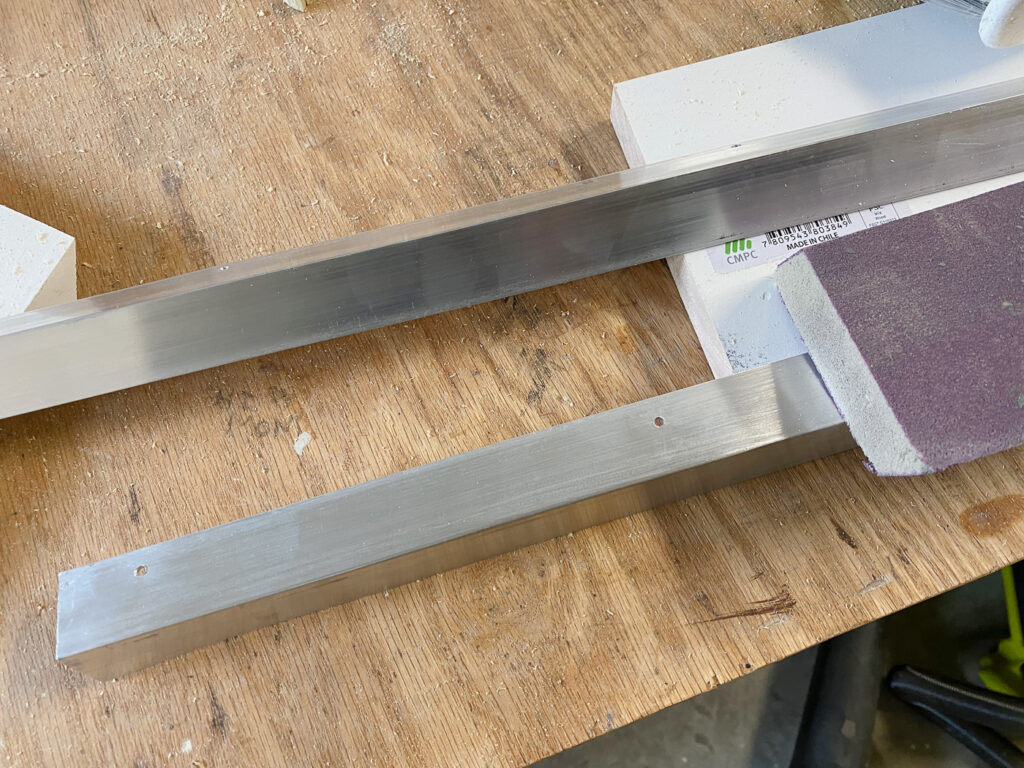 4. Clean aluminum with denatured alcohol to remove black grime. Be sure to clean both sides.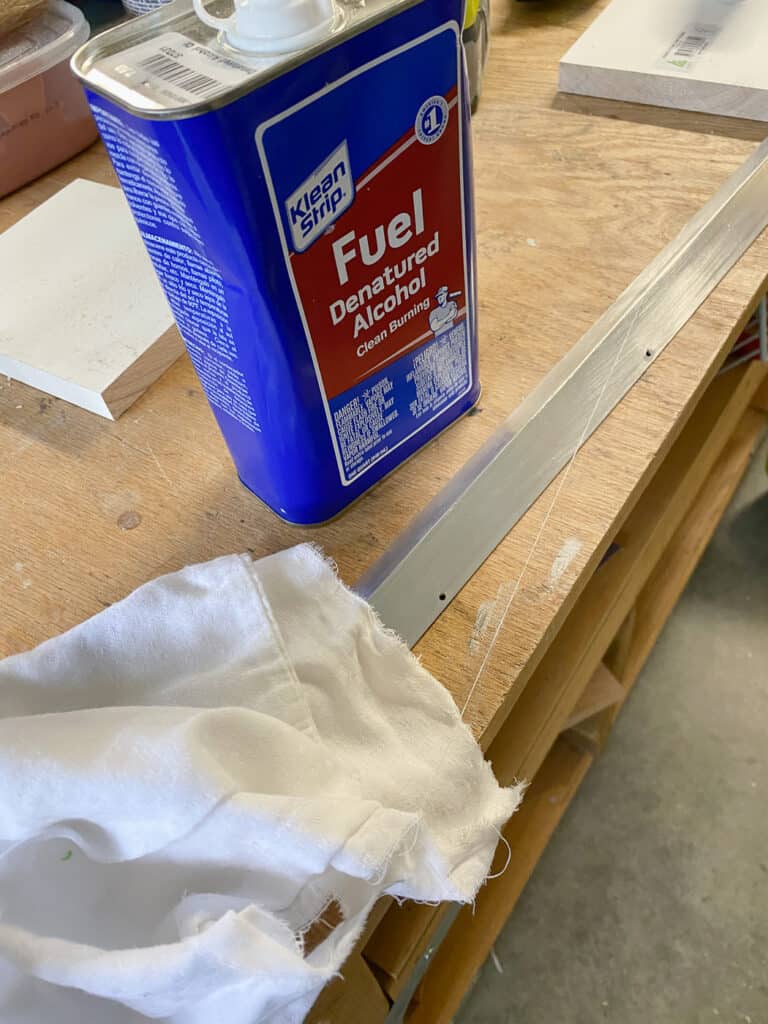 5. Cut 1/4 plywood to cover the portion of shelves you want to cover.
I covered just the center shelves, so that when I slid the doors out to access the area in the middle, the angle bar would support the door.
Each door is 58.5″ x 14″ on this Ikea shelf. You can also have your plywood cut at Home Depot or Lowes.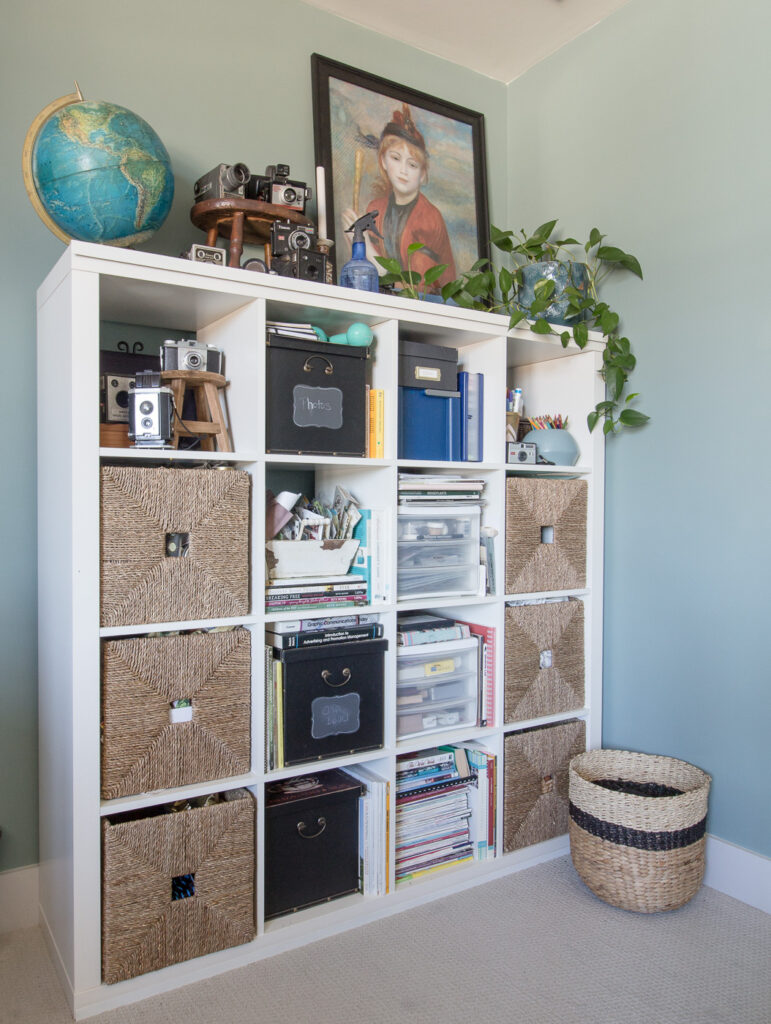 6. Apply decorative trim to the doors if desired. I used this door/cabinet trim similar to these from Home Depot.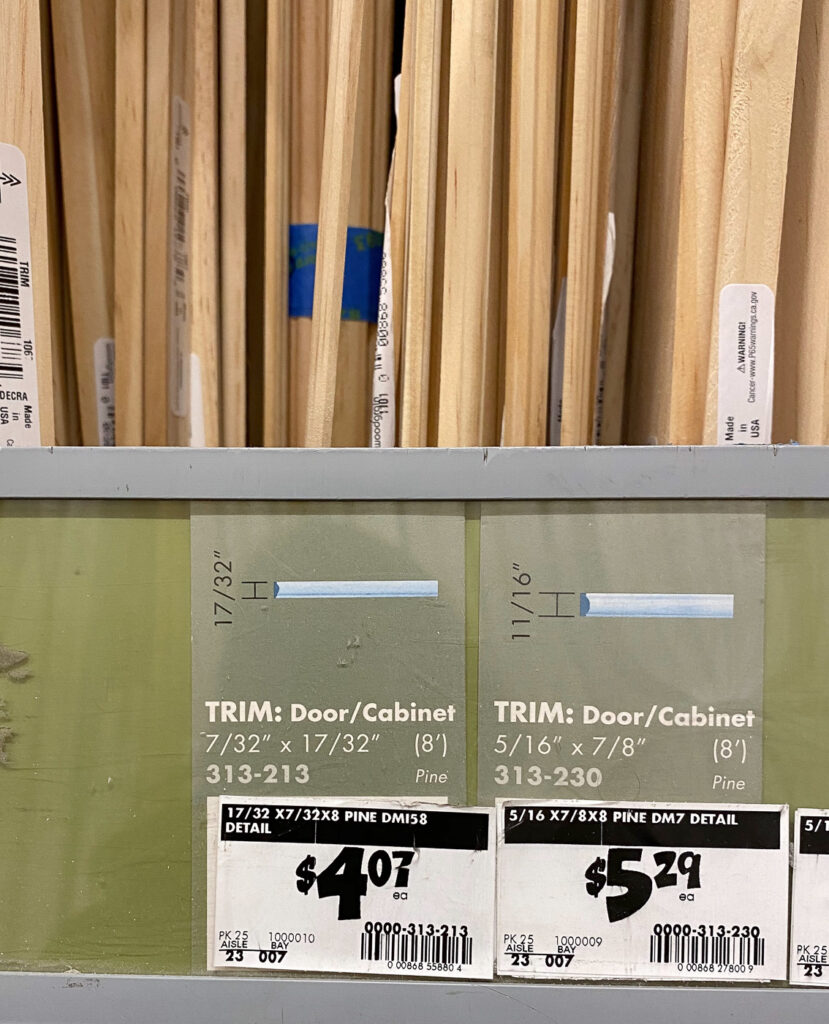 Be sure to allow for space for the door to slide into the angle bar. The finished outside dimensions of the panel detail was 54.5″ x 12″.
I used a pin nailer to nail the trim and wood glue. The pin nailer makes very small holes that can be filled almost completely with paint. I used the smallest nail possible, 3/4″. Because I used a very thin luan, the nails came out of the back. That is also why I recommend using at least 1/4″ plywood.
To remedy the nail situation, once the glue was dry, I pulled the pin nails out from the back. Any nail that extends will scratch the bookcase.
7. Prime and paint angle bars, doors and trim.
What paint to matches an Ikea Kallax?
I was going to use a color match I found on Pinterest at my local Sherwin Williams. But when I got there, the salesman told me that old formulas no longer work for ProClassic paints.
So I quickly Googled it and found that Acadia White is a good match. It is a Benjamin Moore color but my Sherwin Williams had the formula. It was a little risky for me to do it like this but it matches very well.
Since my bookshelf was several years old and already assembled there was no way for me to bring in a piece to color match.
I recommend painting the angle bars with at least the primer and one coat before installation. That way you can cover the nail heads with the final top coat.
8. Using clamps on either end, attach angle bar to the bottom and nail the bar in place.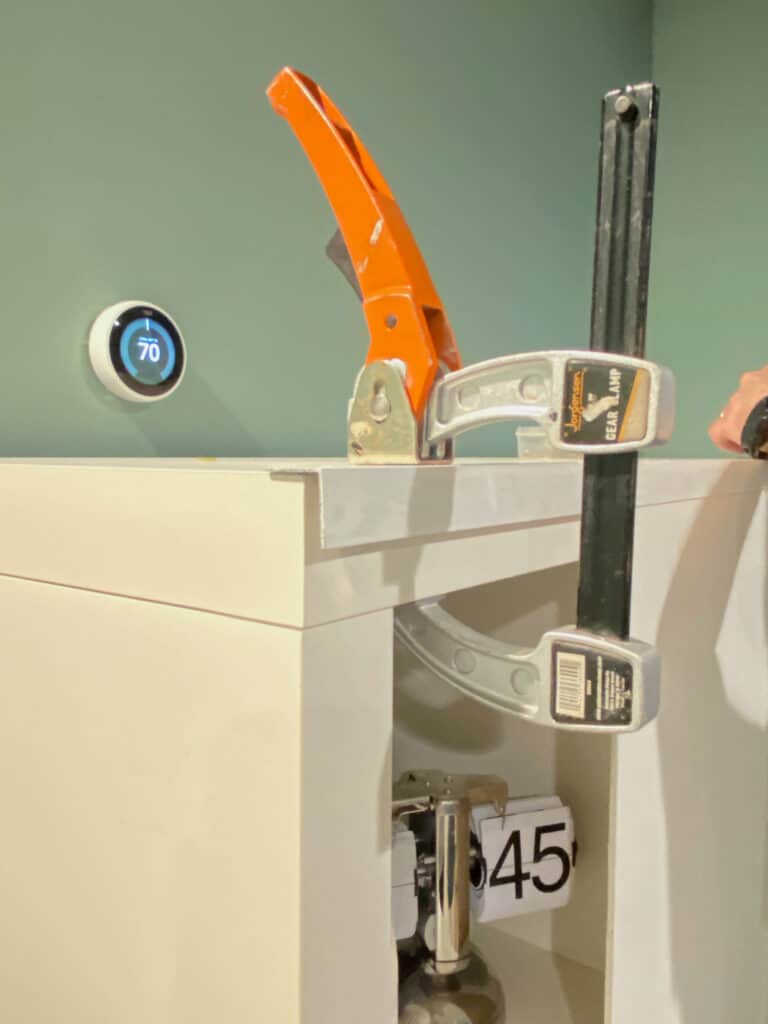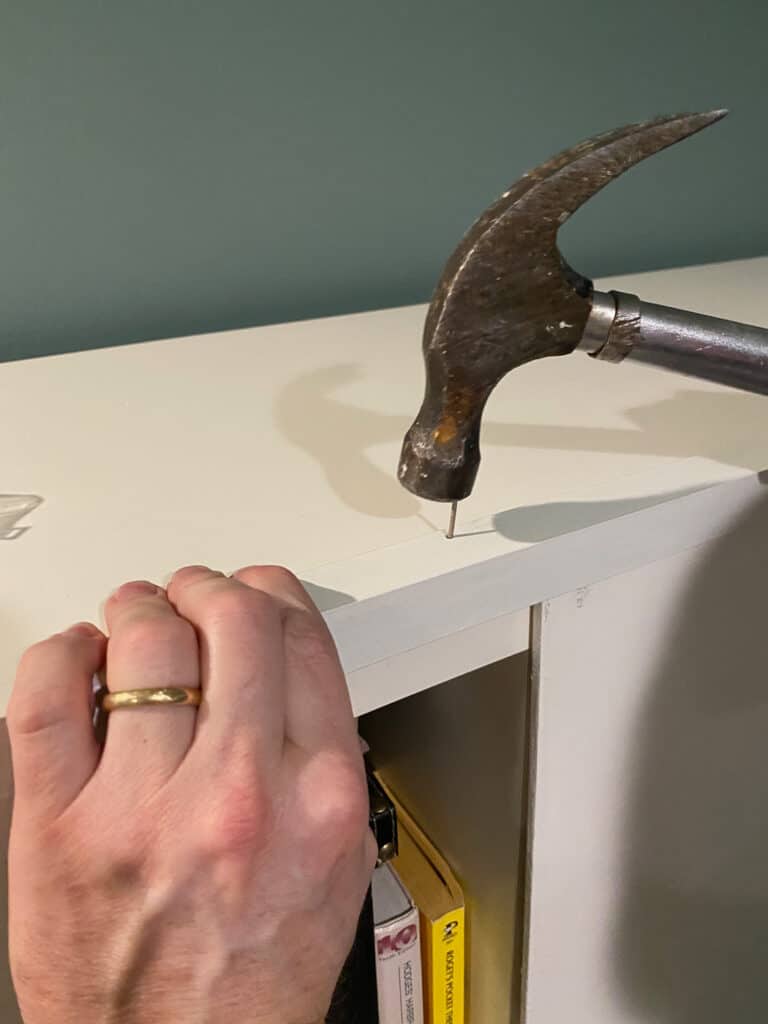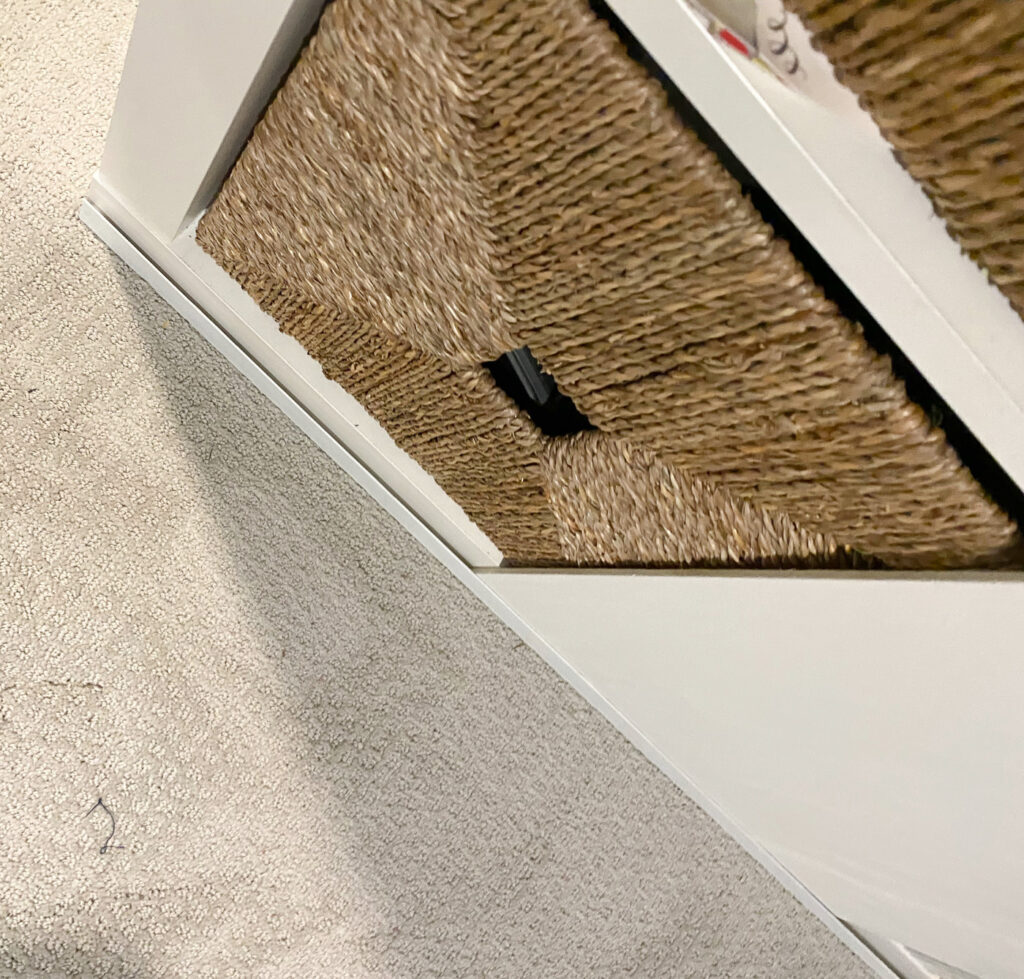 Repeat this process for the top.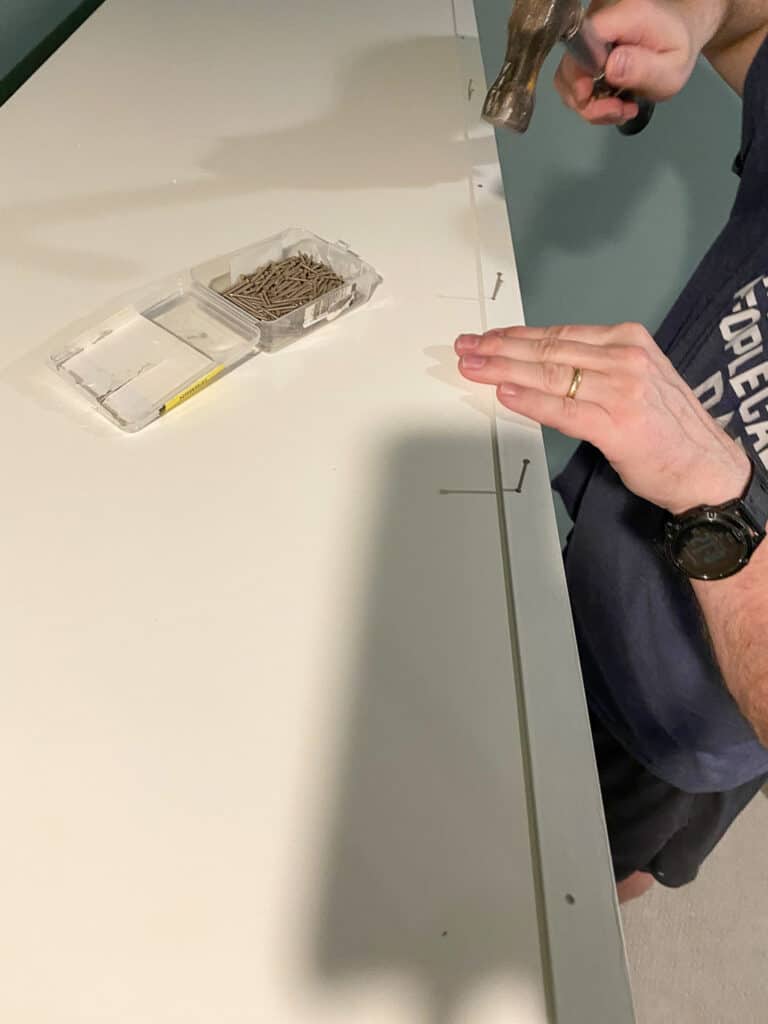 9. Attach knobs with wood glue and pin nails. Paint knobs.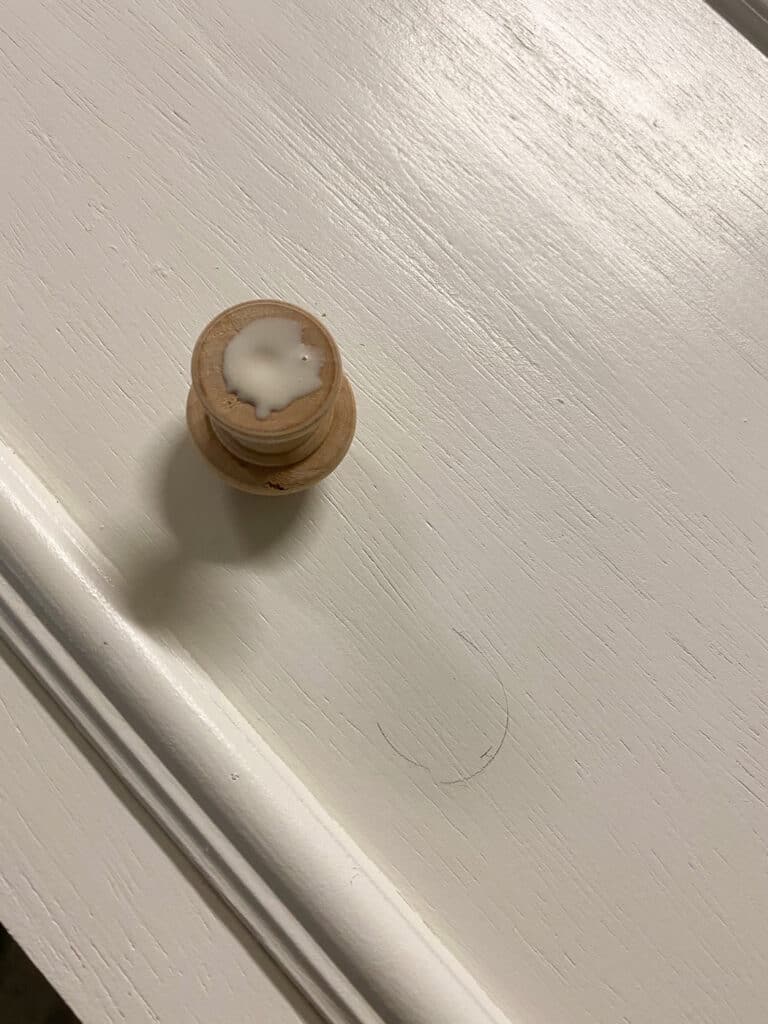 I wanted the doors in place before I decided on the placement. I also chose wood knobs so that I could nail them. A screw on the back of a ordinary knob would rub on the cabinet.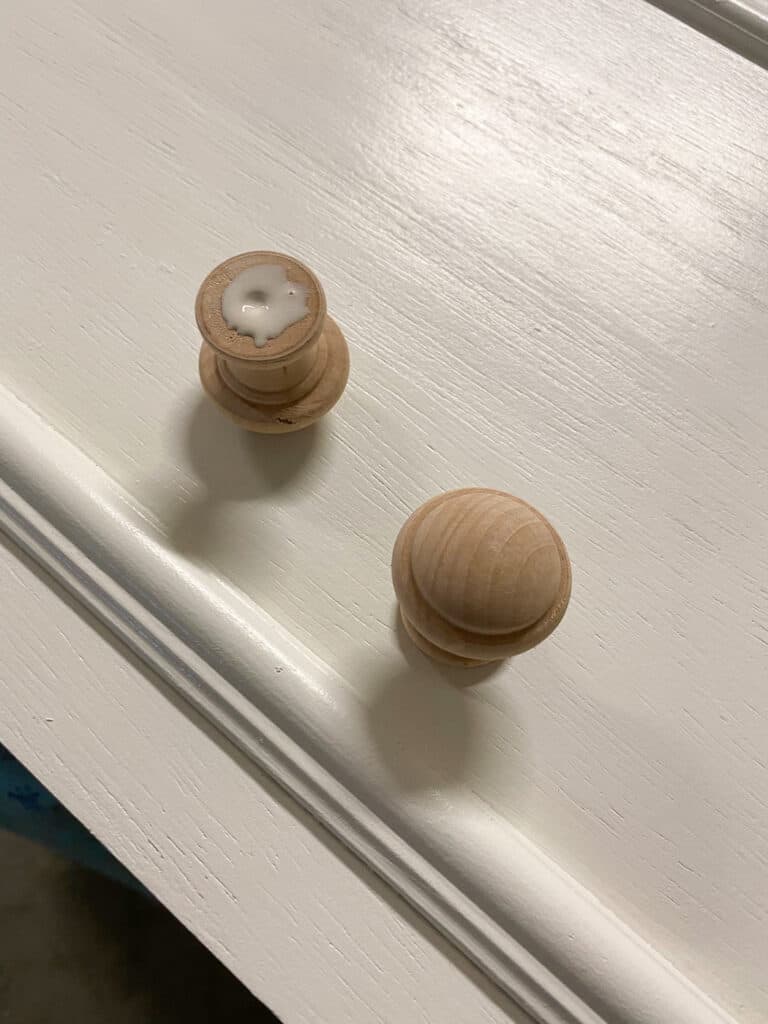 I added two nails on the front.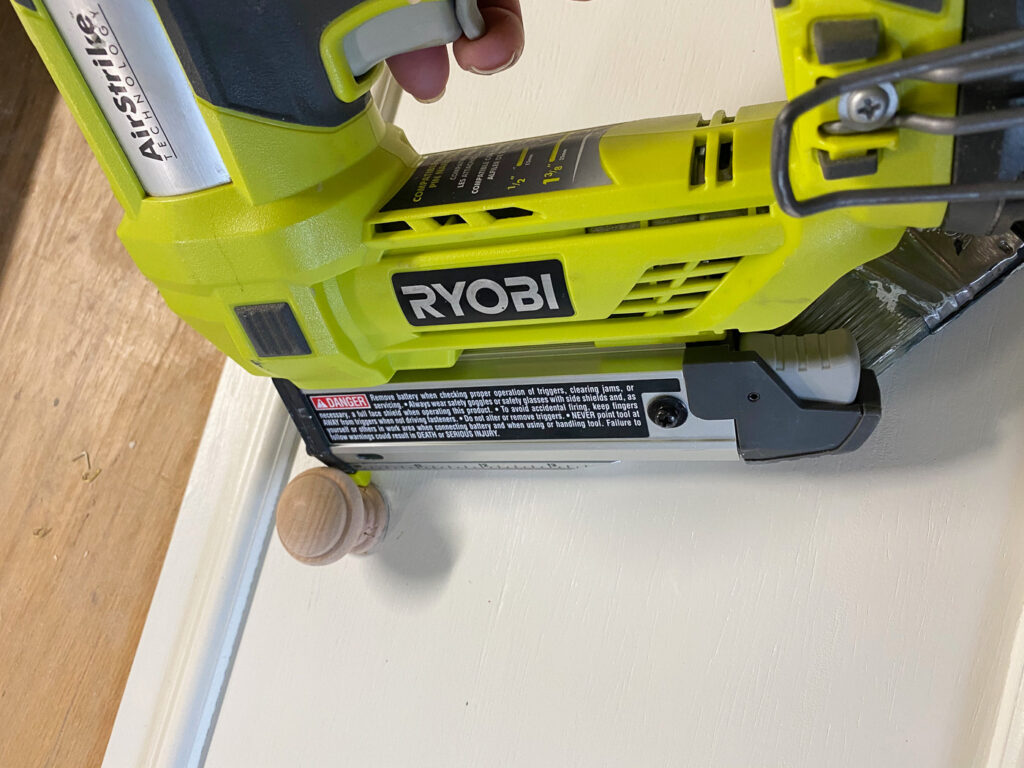 As well as, two nails on the back.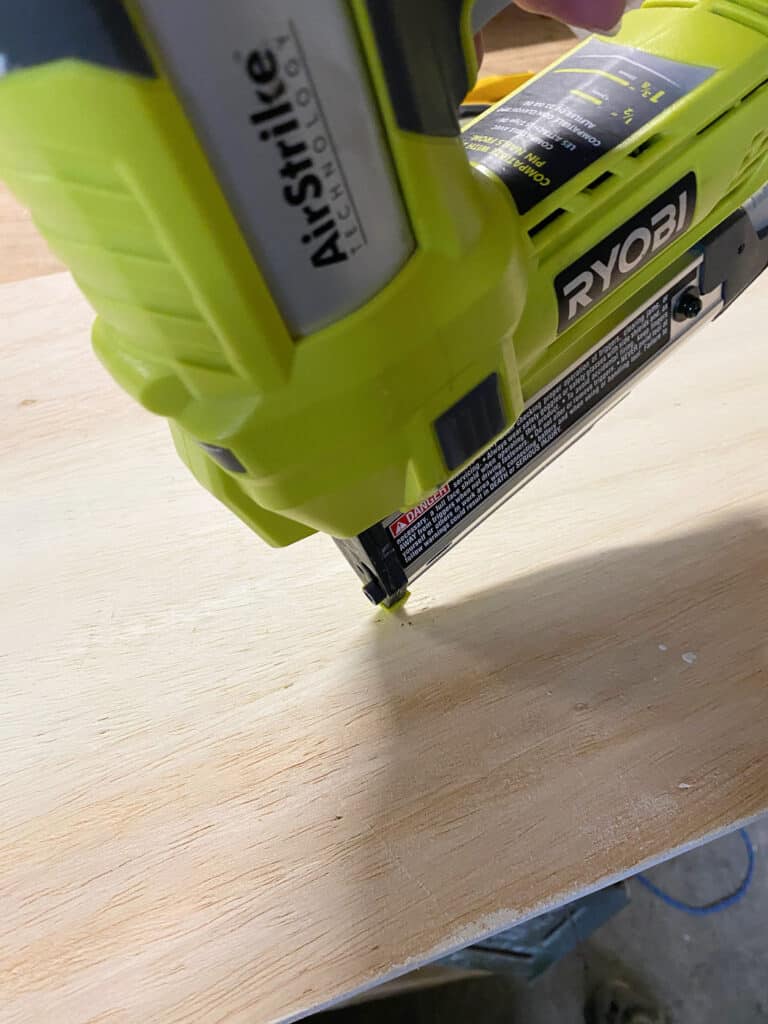 Be careful to nail directly into the knob.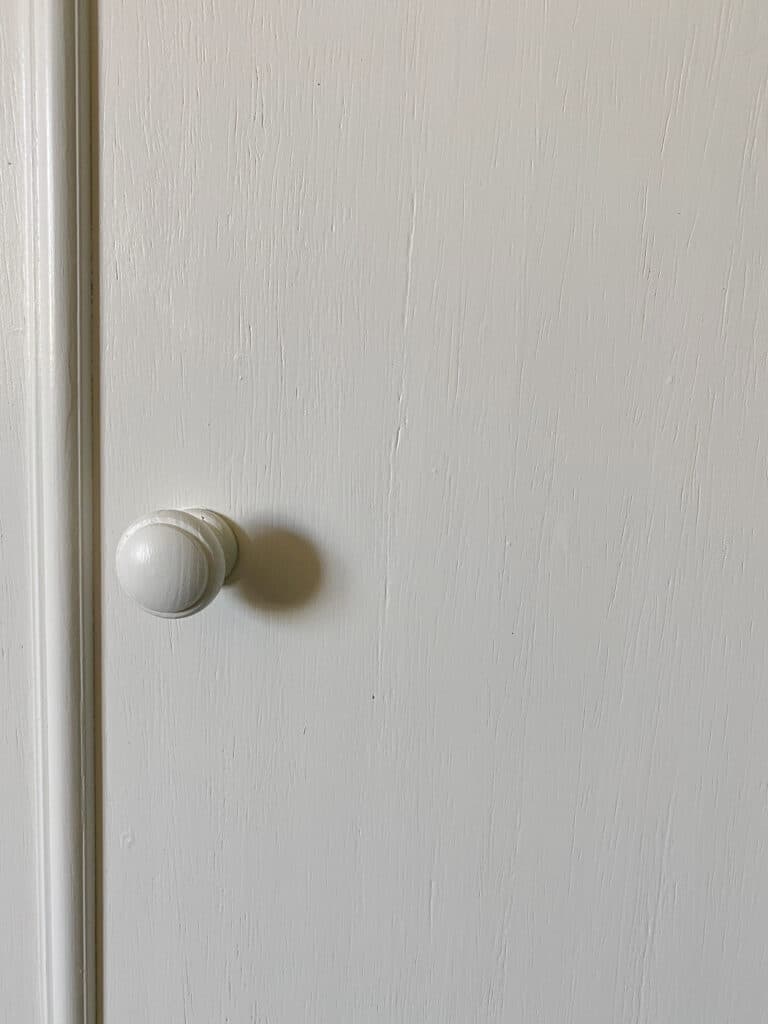 10. Then slide your doors into the track. When I open and close them, I tend to use the handle with one hand and the open side with the other. They slide very nicely.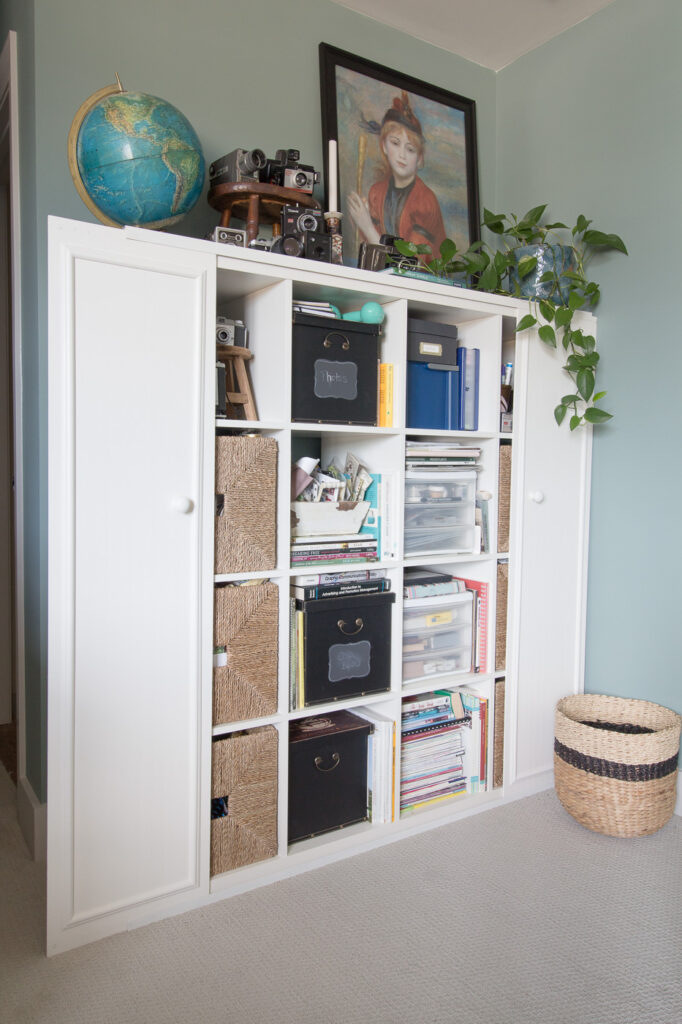 If you were to use heavier, thicker wood I would recommend using a larger angle bar and very small wheels at least at the bottom.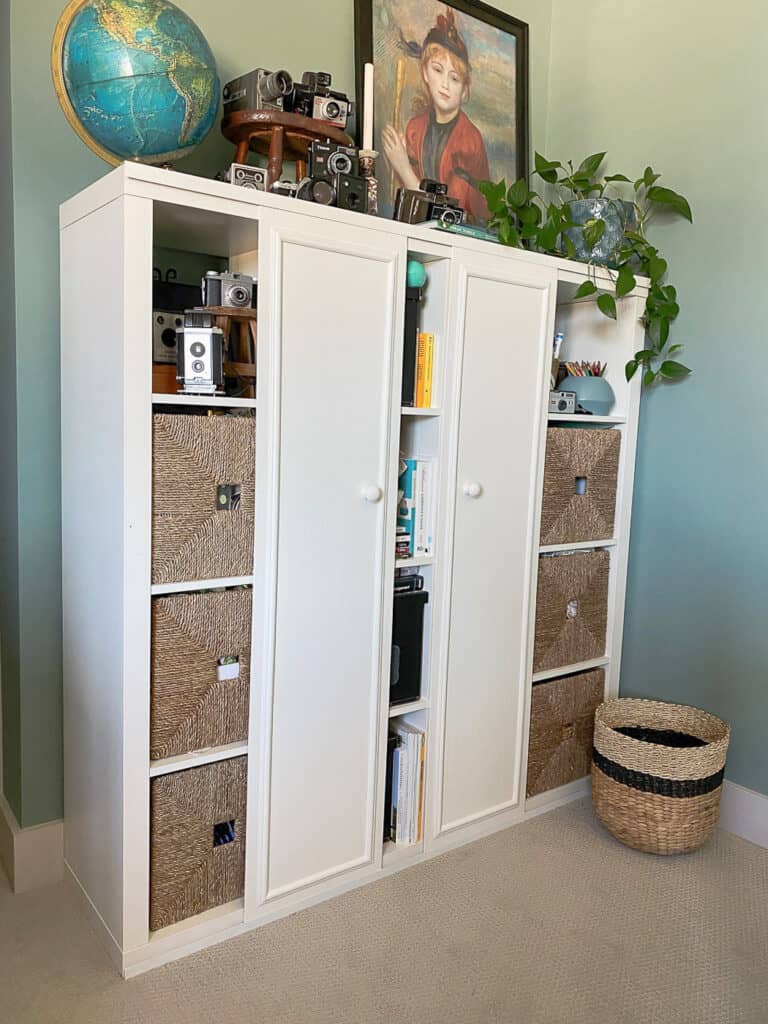 I like that the knobs are not quite centered on the panel, but that is definitely a personal preference.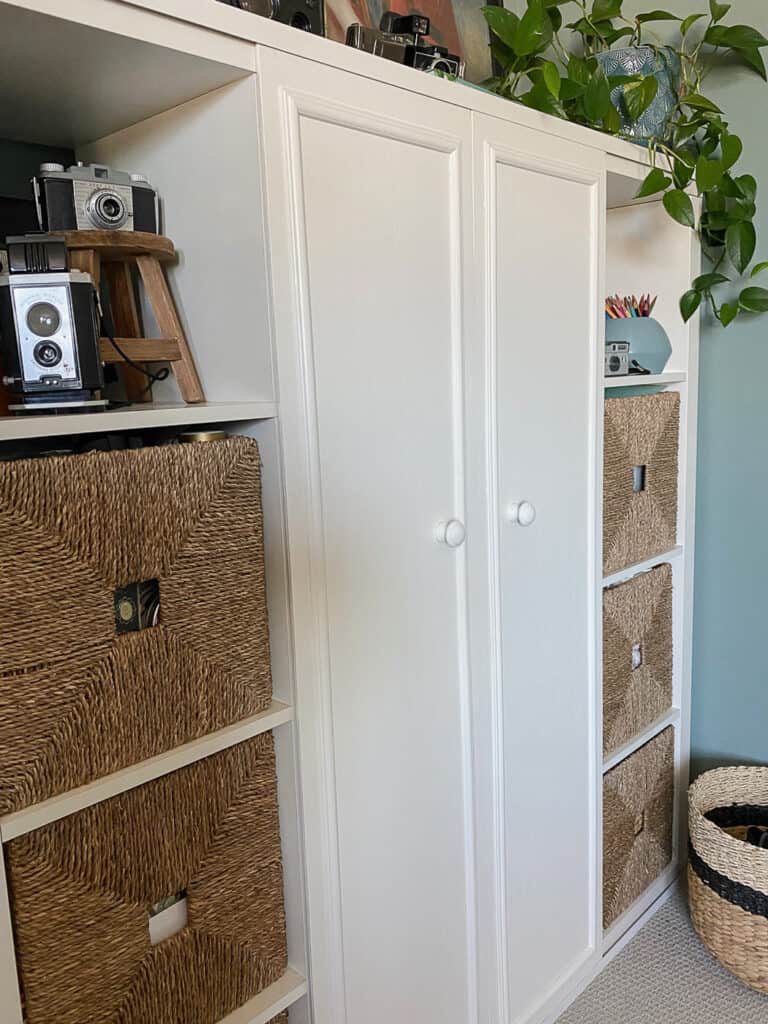 The doors do exactly what I needed them to do, hide all of the supplies I didn't want exposed.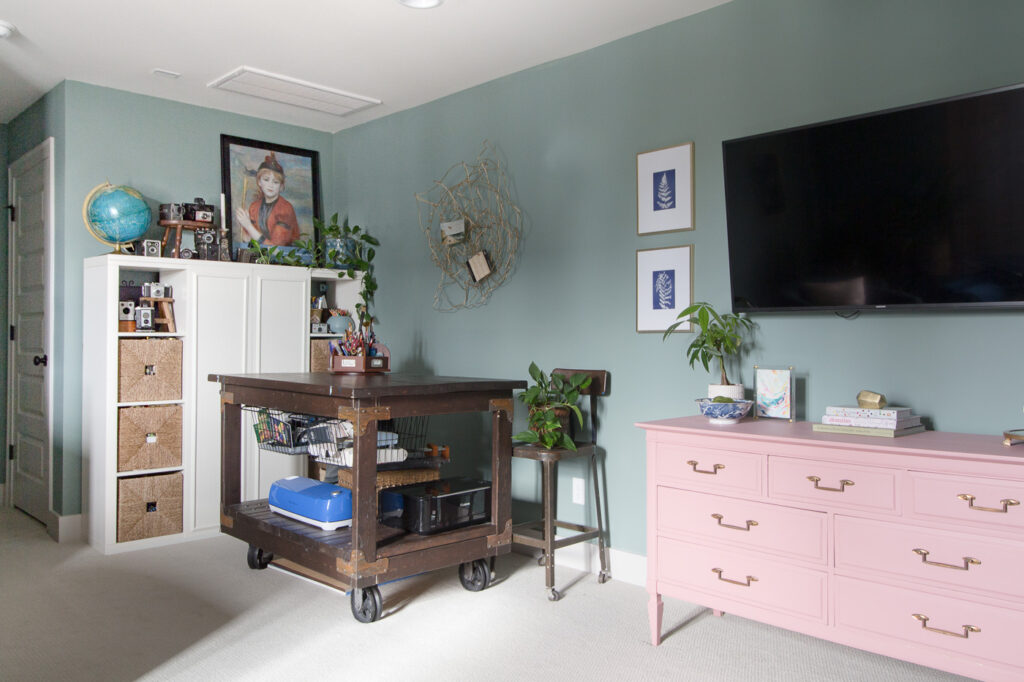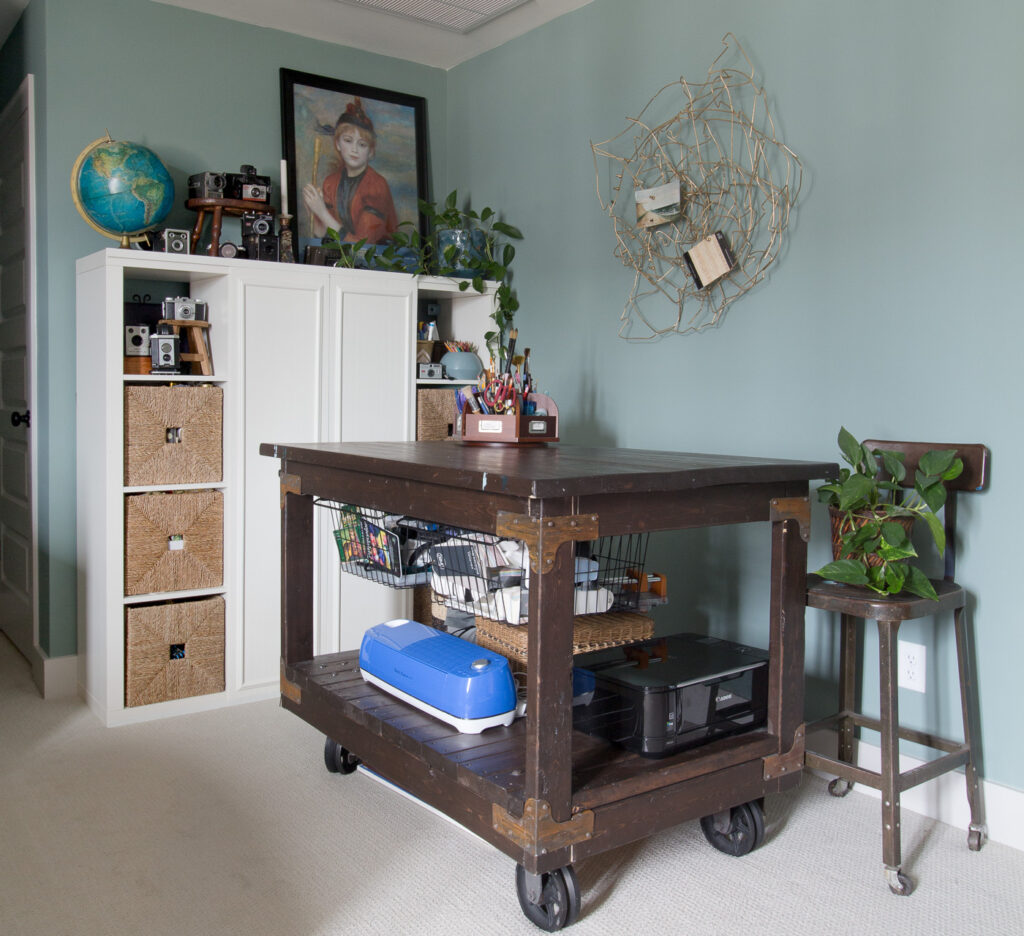 I think this is a simple project just about any DIY'er can do. If you build your own doors for a Ikea Kallax or any other bookshelf, be sure to let me see your finished project!
Be sure to check out my blogger friends and their New Again Projects!!
Don't forget to Pin it to Pinterest!!