This post, the kitchen design plan for the Lake Ridge House, is the third in a series of Design Plan posts for our new construction build. The exterior plan for this modified modern Tudor can be found here.
In the previous Interior Design post, I outlined the floor plan and the changes we made to make the most of our lot and view of the lake ridge. I also covered the main selections for flooring, paint colors and the overall vision for this new build.
This post contains affiliate links for your convenience. I make a small commission on purchases made from clicks, at no cost to you.
Thoughts on new construction.
Before we go any further, I wanted to take a moment to share a few thoughts on new builds. With new construction that is not a custom build, but rather a production home, there is a finite number of options for each type of building material.
Conversely, there are host of opportunities for upgrades. It is very easy to dramatically increase the final cost of a home by simply choosing upgrades here and there. But don't let their willingness to allow you to upgrade create a misunderstanding that you are building a custom-like home. Every change you make, and a heightened attention to detail that comes with that mindset, will only bring frustration.
With our previous renovations, I was accustomed to choosing any material within my budget. I took pride in choosing materials that looked expensive even if they weren't. I realize now this was a freedom I took for granted. I also served as my own contractor and expected excellence from any subcontractor hired.
From what I have observed, people seem to feel like it is the ultimate American dream to build a new home. I am here to tell you that the satisfaction of a well-designed, well-executed renovation of a home you love can be infinitely greater. If you are local and would like making that dream a reality, I would love to help!
Kitchen Design Selections
When I began to consider cabinet color selections from the builder's options, nothing felt right. There were a handful of grey options that were nice. But once I saw one of the lighting options, I knew that a black and white kitchen would need to be repeated. I also love that this essentially colorless choice allows me to alter the mood of the kitchen with just a few substitutions of colorful dishes and accessories. Or I can keep it clean and crisp with the simple palette of black and white.
So, white cabinets and a black island became my final selection.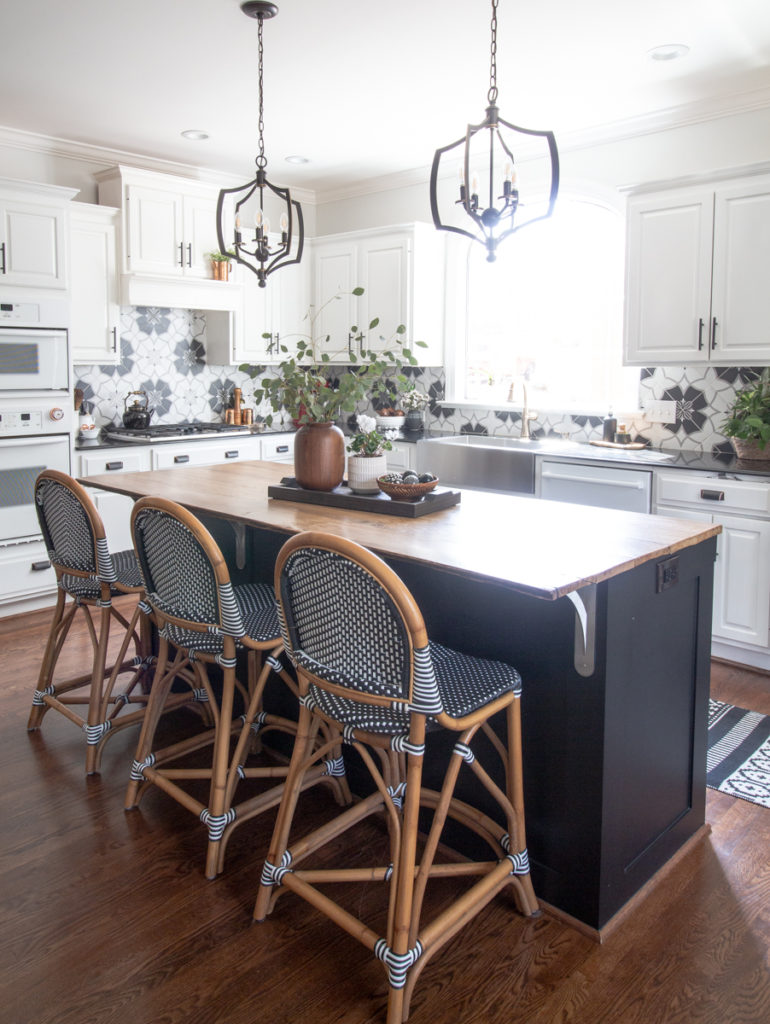 The island in our current home was painted a teal color, until last year, when I embraced the all black and white scheme. I am eager to continue to "play" with this palette in a new and fresh way. The look is timeless and yet bold in a extremely classic way.
Kitchen Design Mood Board
Shop the Style

In the image below, you can see the white and black cabinet samples set on top of the light hickory floors that will run throughout almost all of the house (Gallatain Honey Glow by Shaw). I had selected white subway tile (not in this beveled pattern) but have since opted to not have the builder install a tile backsplash at all.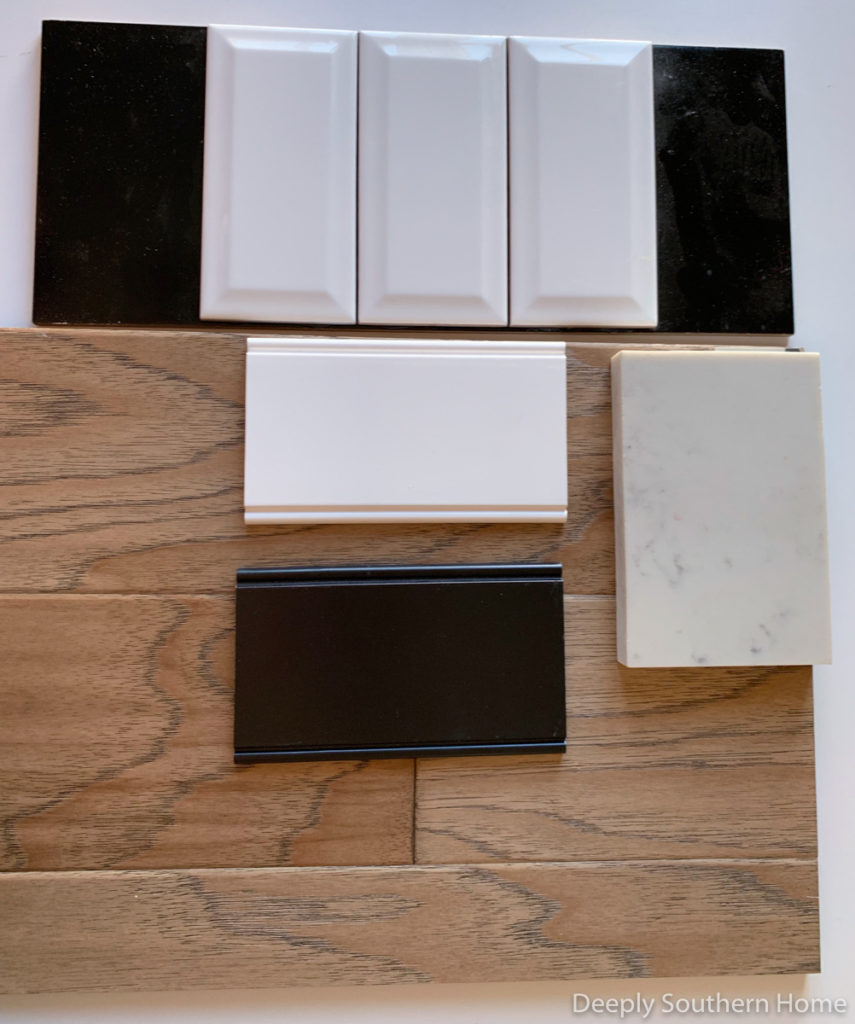 Not that I have anything against subway tile. I love the classic look and with the new larger sizes, subway tile can still be a modern take on a timeless look. I just decided that a backsplash would be the best place to add my own unique touch to the kitchen later.
I am very happy with the quartz choice. It's a beautiful, grey-undertoned marble-like quartz. (In the builder's selection book it is called Venetian Grigio. I will see if I can determine the manufacturer and share.)
Here is that quartz installed in another home. The extremely unfortunate part of this feature is the way the install it. They seam the counter at the faucet if you choose a farmhouse sink. I have been so aggreviated that they think this is an acceptable design or installation. I even considered nixing the farmhouse style sink all together, but now it is too late in the process to change. The cabinets have been ordered and I am stuck with a feature I have previously fought a contractor on during my client's remodel. But that time I won thank goodness!
This quartz is similar in tone to the quartz we installed at our Hill House. You can see that remodeled kitchen here.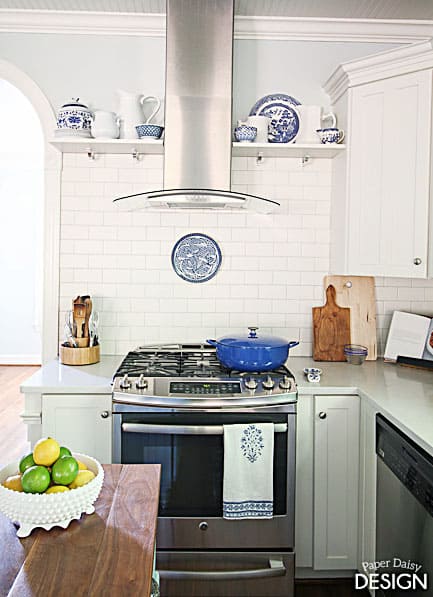 Kitchen Cabinet Plan & Layout
While the kitchen has a modest 15'x15′ footprint there is plenty of storage and countertop area. I like how the kitchen is set in a cased opening. It is open enough to the dining and living area without actually being immediately in sight.
Here is the basic floor plan that demonstrated the flow of the kitchen. The only change we made was to make the island bigger.
Kitchen Design Tip: If you are willing to give up a wall oven, you gain a great deal of counter space in return. That's an investment I am willing to make in order to maximize the amount of prep and counter space!
Below is a rendering of the original cabinet layout of the kitchen.
After studying the rendering for a while, I saw an opportunity to remove a few cabinets in exchange for open shelves. I love them for the styling opportunities and the openness it creates in a kitchen.
Right about now you might be thinking, "She's crazy for giving up cabinets!" But hold on a minute. I did a quick count of the number of upper cabinets we have in our current kitchen. I discovered I could remove the entire section of cabinets around the window, including the undesirable bumped up corner cabinet, and still have more uppers in the new house. With that realization, the decision to remove them and opt for open shelves was a no brainer!
Here is the revised kitchen cabinet plan with those cabinets removed.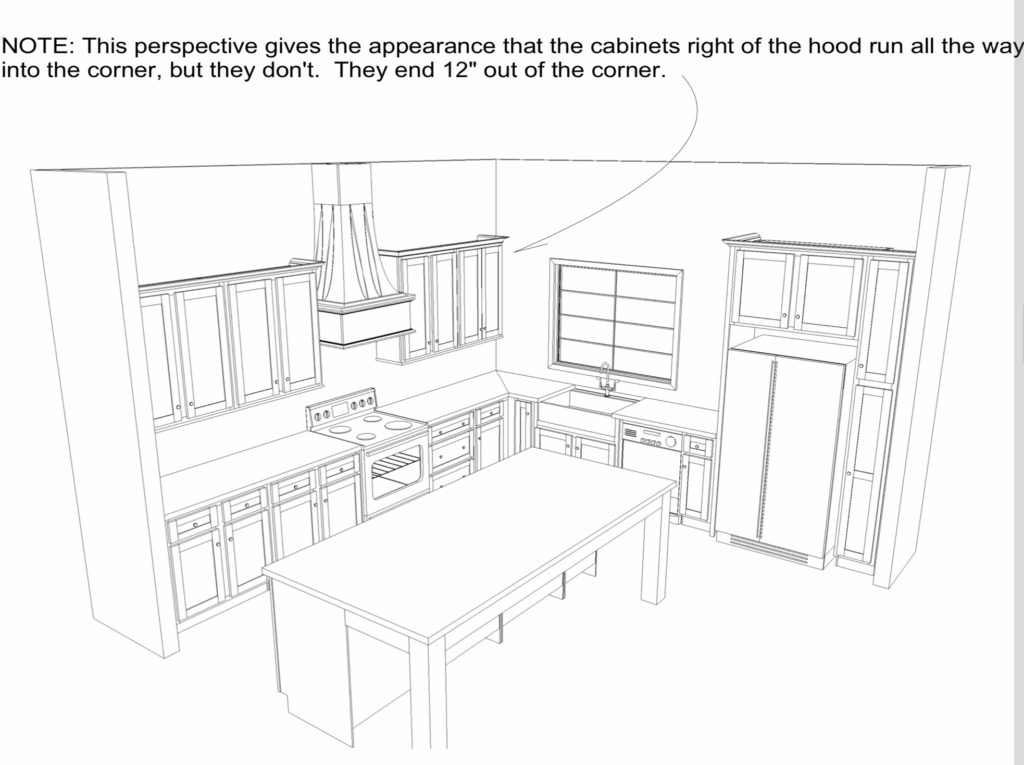 From this rendering, I hope you can begin to visualize beautiful wood floating shelves and eventually, a wall of tile.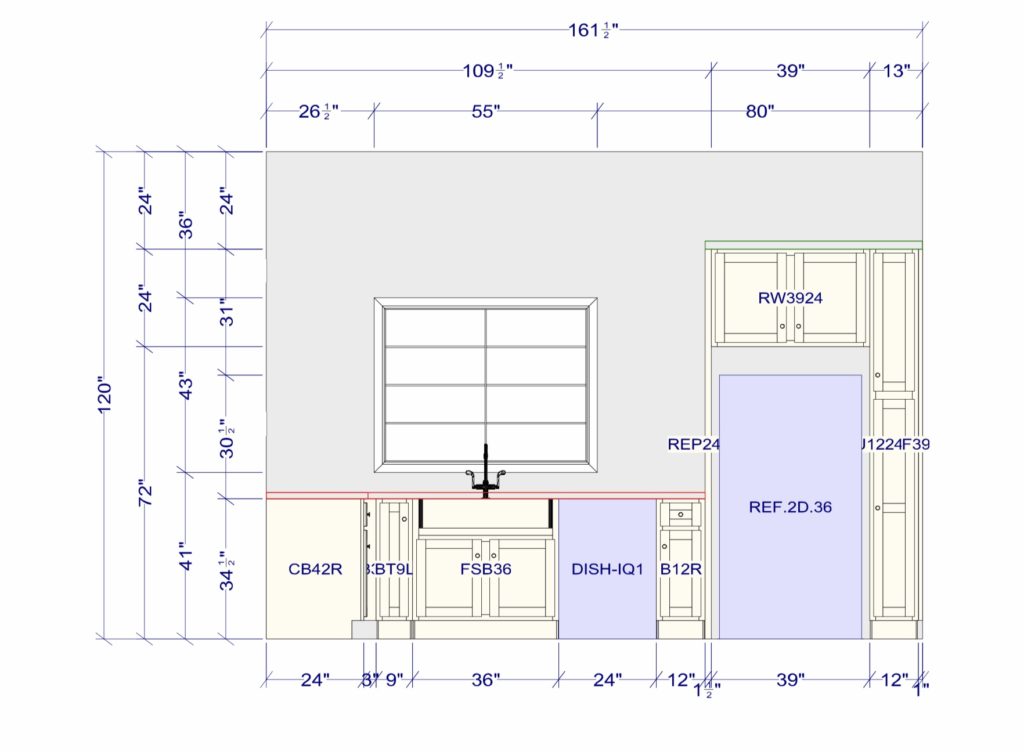 The next unfortunate thing I realized is that we were allowed to make the island too big. Their rendering fails to show the pantry wall and I didn't initially realize how much the extended island encroaches on the cased opening. It may look fine, but my gut tells me it won't.
After much back and forth, my only option became to move the island back, much closer to the dishwasher and sink than what has become the new standard.
To tile or not to tile, the backsplash
Paying a considerable up-charge to a builder to tile the entire wall behind the sink, when I am fully capable of doing it myself, made the choice to DIY the backsplash at a later date was an easy one. Another benefit? I can choose any tile I want, not just the small selection of builder materials.
I currently toying with two design directions. One is a 6″x6″ square marble tile backsplash like this.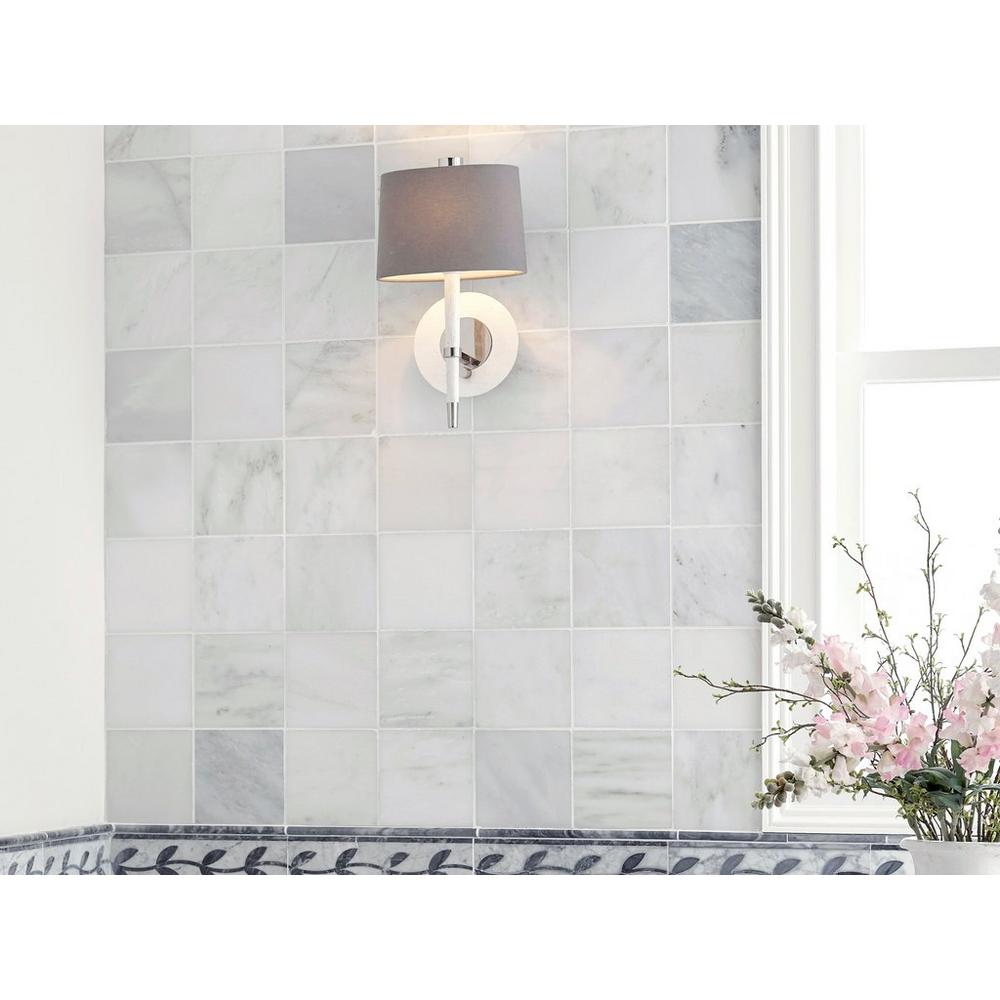 Or a brick tile with a white wash or painted white finish. The exterior wall around the window is brick, it feels very appropriate to capitalize on the organic texture of brick in the kitchen as well as the way brick is used in a Tudor style home.
Interestingly enough, since deciding not to have the builder install a tile backsplash, I find myself wanting to experiment with no backsplash at all. The builder required a wrap-around quartz backsplash to be installed once I removed the tile option. That will give the walls the protection from moisture and allow me to play around with some different ideas.
The faucet and cabinet knobs will be a basic chrome. Again, the options for upgrades were not what I would choose on my own and those are easy enhancements to make to a home at a later date.
Adding soul to new construction
In an effort to bring in a bit of character to this builder kitchen, I have been on the hunt for an old, possibly antique, door to use as a sliding door for the pantry.
Practically speaking, replacing the out-swing door with a sliding door so that it doesn't interfere with the island barstools is a smart move.
Adding a piece of history here would instantly inject a bit of soul into this brand new home.

In the next post I will be sharing the plans for the master bathroom! Keep up to date on all the happenings by subscribing to receive my blog posts to your inbox! Click here to never miss a post!