As you might recall, we made the decision to downsize from our current home this spring. After an unsuccessful search and numerous showings of listings in our area, we landed on new construction. Most of the homes available either needed too much work or had too much yard. I share more about how we came to the decision to downsize in this post.
If you follow me on Instagram Stories, then I have done my fair share of opinion seeking and maybe even a little crowd sourcing for the deisign of this new house.
After sleepless nights planning and dreaming what this home could and should look like, we finally signed off on all of our decisions. The only selection that hasn't been set in stone is the interior paint colors. I'll talk more about in another post.
The Exterior- Modern Brick Tudor
Let's start with the exterior. This is a rendering based off what we were provided by the builder and I quickly Photoshopped to closely resemble what our version of this plan will look like.
Originally, the house had traditional Tudor style half timber boards at the top of two of the peaks and over the garage. I liked the look, but we never imagined living in a Tudor style home. I think growing up in the deep south, Tudor style homes are not very common and just felt foreign to us both.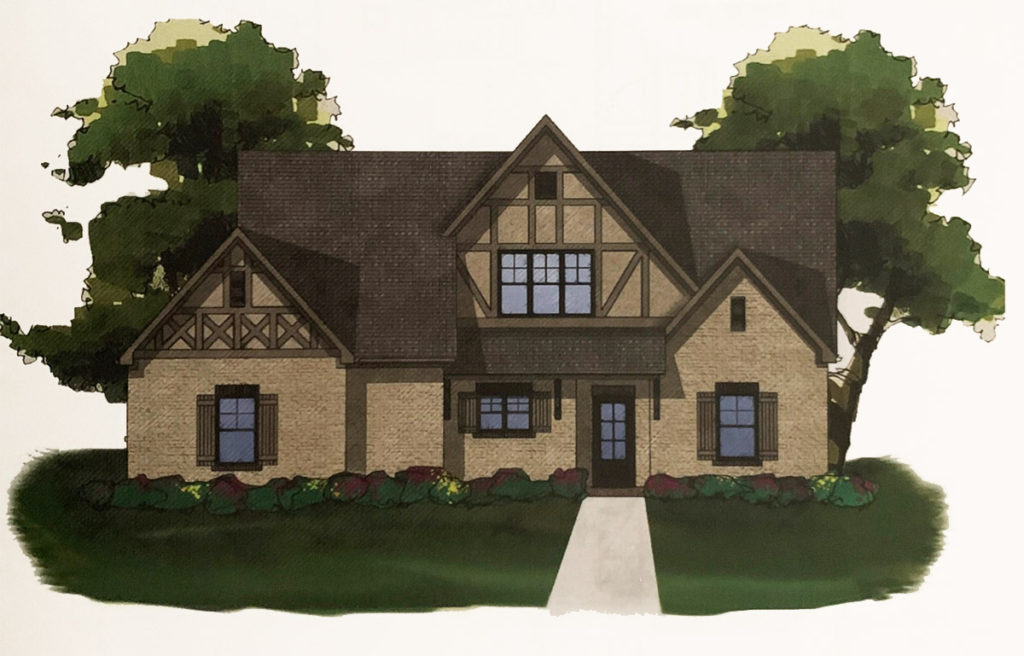 While I am on the subject of visions, my dream home would look a lot like another home we lived in for several years in Louisiana. We both have a long standing passion for the Acadian style home. Like this photo of one of our house below, they are most often characterized by a deep porch with cypress columns and French Doors.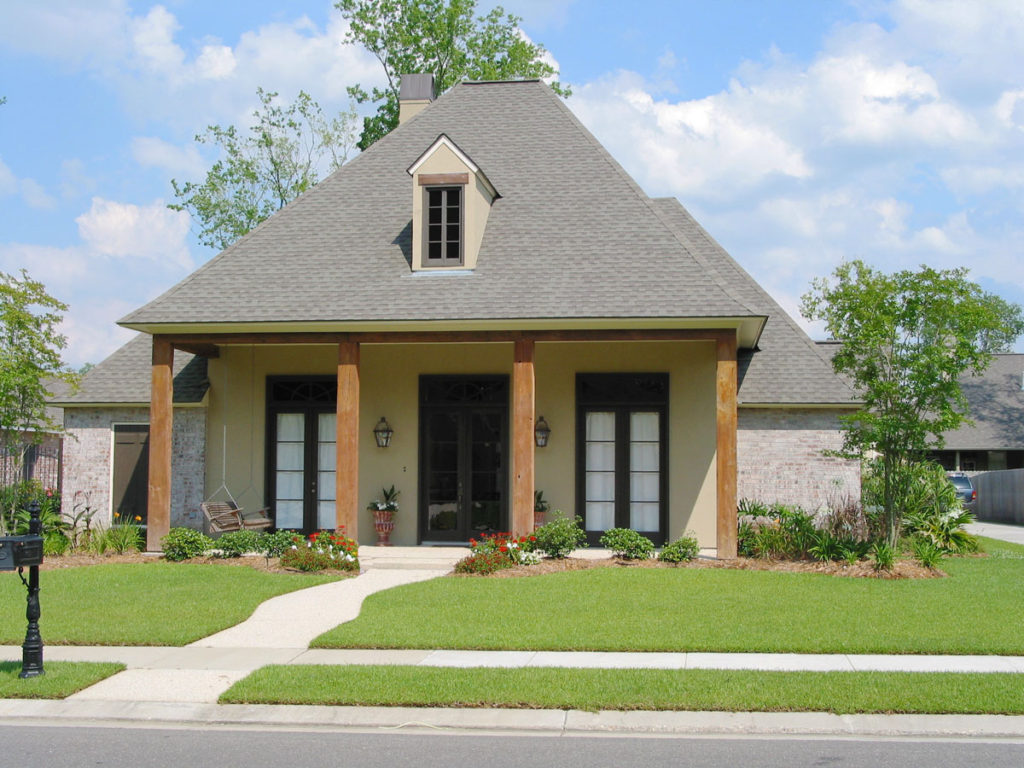 Honestly, we loved this house and truly hated to leave it. I also loved the combination of the smeared brick and stucco. After a little reminiscing about the floor plan of this house, I realized it actually would be perfect for us now too. The yard was small, but it had a lovely, slate covered courtyard with a beautiful little bronze fountain. While our hearts and preferred design esthetic will always be rooted in South Louisiana, we have come to love living in Birmingham, Alabama.
After that dreamy southern-style side trail, let's get back to the design of the Lake Ridge House.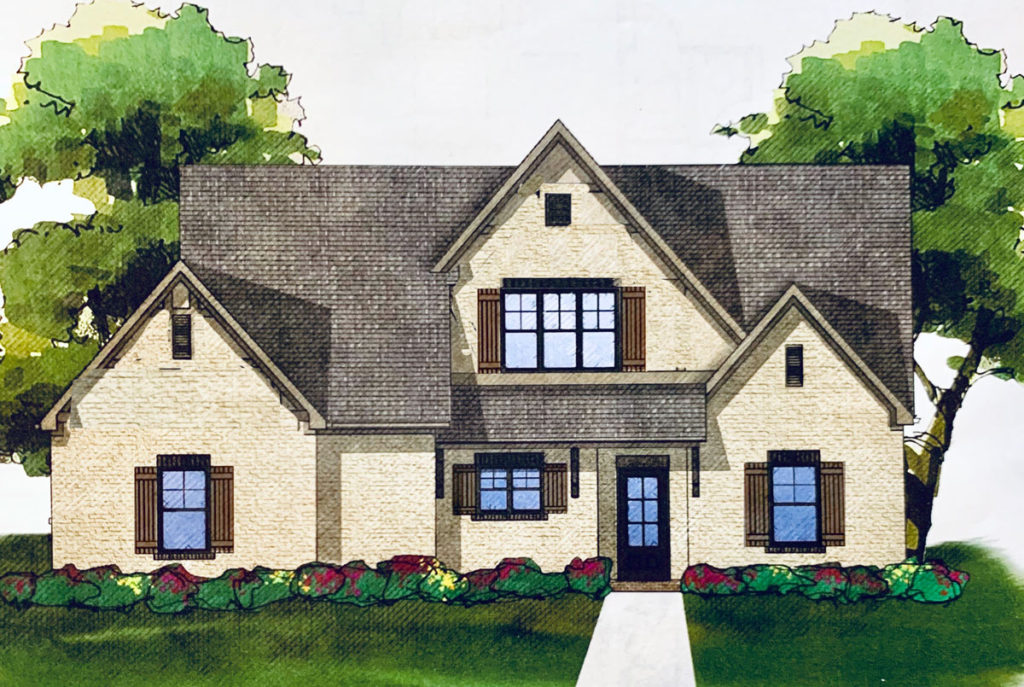 As you can see from the rendering the full brick exterior will be painted Shoji White by Sherwin Williams. The shutters, front door and wood accents will be stained with 2 coats of English Walnut.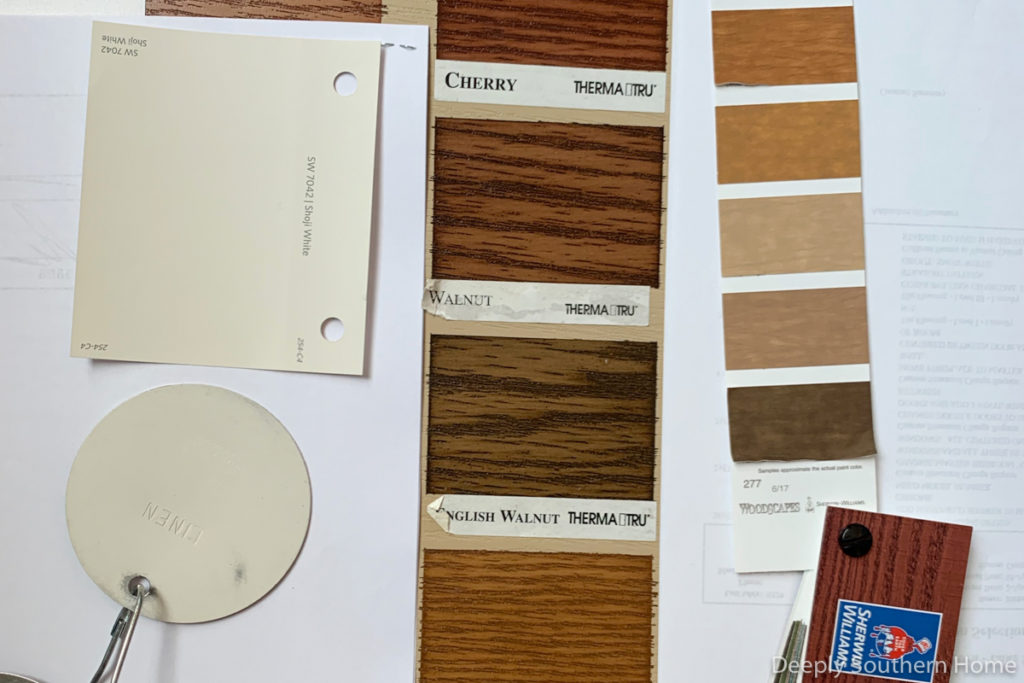 The gutters will be the "linen" circle sample you see above.
During the inspirational phase of the design process I set up a new board on Pinterest. I still love to the process of gathering my favorite images and designs that would be foundation for the look of this home on Pinterest. It is a fairly large board with several distinct sections. In one section I have collected every imaginable combination of painted white brick houses, window trim and gutter options. You can see and follow that Pinterest board here.
In that board, you will find homes that look a lot like this.
And this.
Paint Color
I have always loved a white brick house. After much consideration, it seemed that the right white for us was Shoji White. I prefer a white exterior with a bit of warmness, a slight yellow-grey undertone. My hope is that it doesn't read cream but even if it does, I would prefer that over an odd undertone of some other color.
If you choose a white with any other undertone, in the shade or when the sun is behind the house, the undertones are very evident. For instance, if you choose a white with a green undertone you can see that undertone once the sun is behind the house or in the shade of trees.
I am also not a fan of a house that is too white. In bright sunlight it can be almost blinding. I would rather a house that reads a little more off-white in the shade than be too stark white. In the bright sunlight, this model home is almost blinding.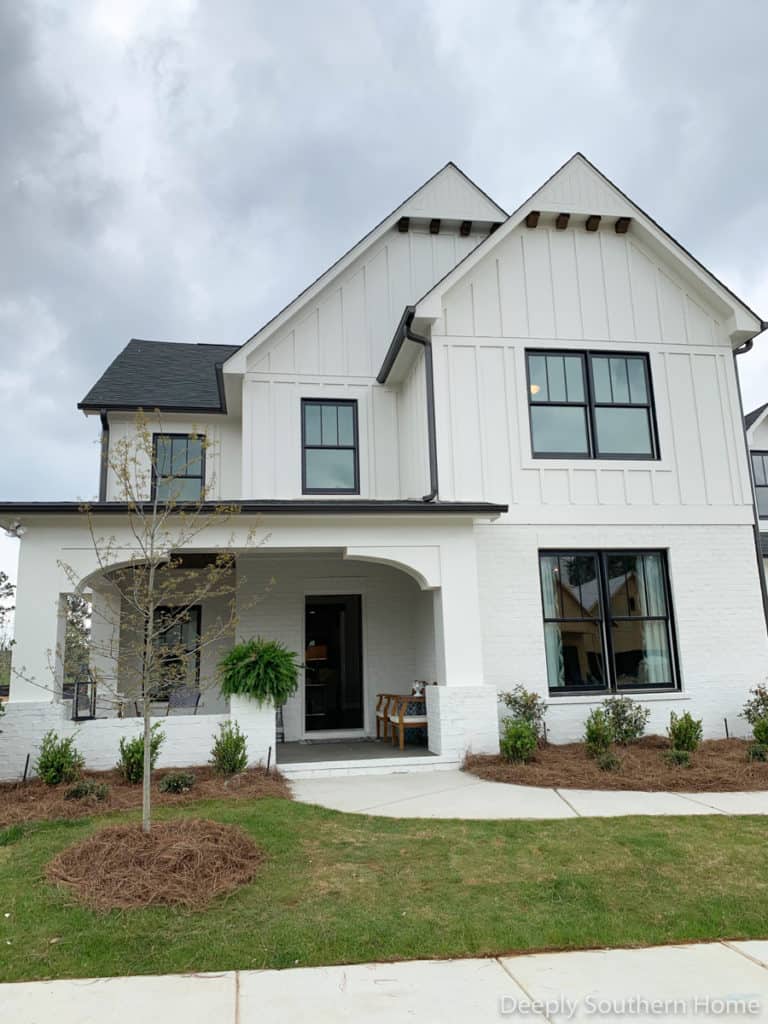 You may be wondering why we are building a brand new house and paying a considerable up-charge to paint the brick?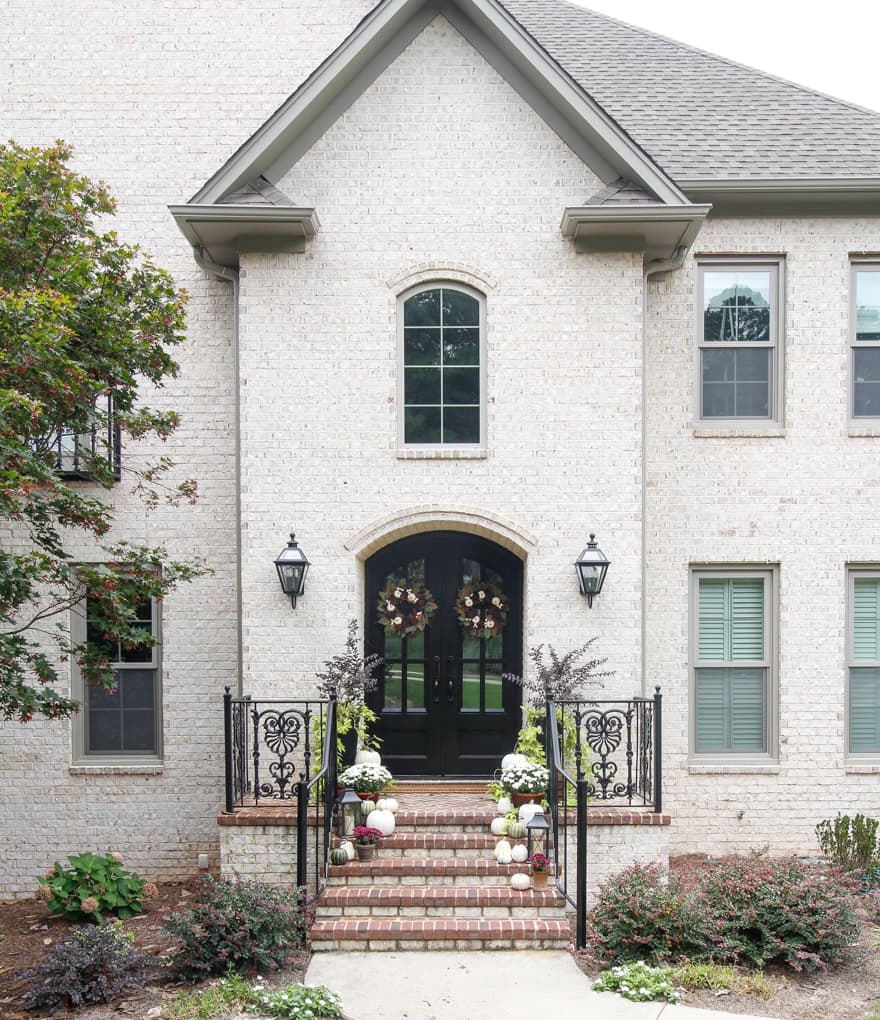 We love the look of our remodeled exterior of our current home. It's a powder-coated, cream color brick. Once it was combined with an ivory colored mortar it almost looks like slightly worn painted brick.
How we chose this particular brick for our remodel is actually a funny story.
We sought out one of the very best masons in town to brick our house. (It was previously Dryvit. You can read about the transformative process here.) It would not be an understatement to say he was a bit of a temperamental character, definitely a matter of fact kind of guy. I told him I wanted to paint the brick once he finished. He was disgusted that I would even consider defacing perfectly good brick. My husband and I quickly dropped that notion for fear of losing him as our mason.
Windows
I have to admit, I had a real internal struggle with the window choice. I scoured the web for different versions of white exteriors and window options. I eventually found that I was most drawn to a window with contrast, but with softer tones like a bronze. While bronze windows are not trending like black windows, I have never been known to make my choices based upon trends. My drum beats loudly for what is pleasing to me and my eye.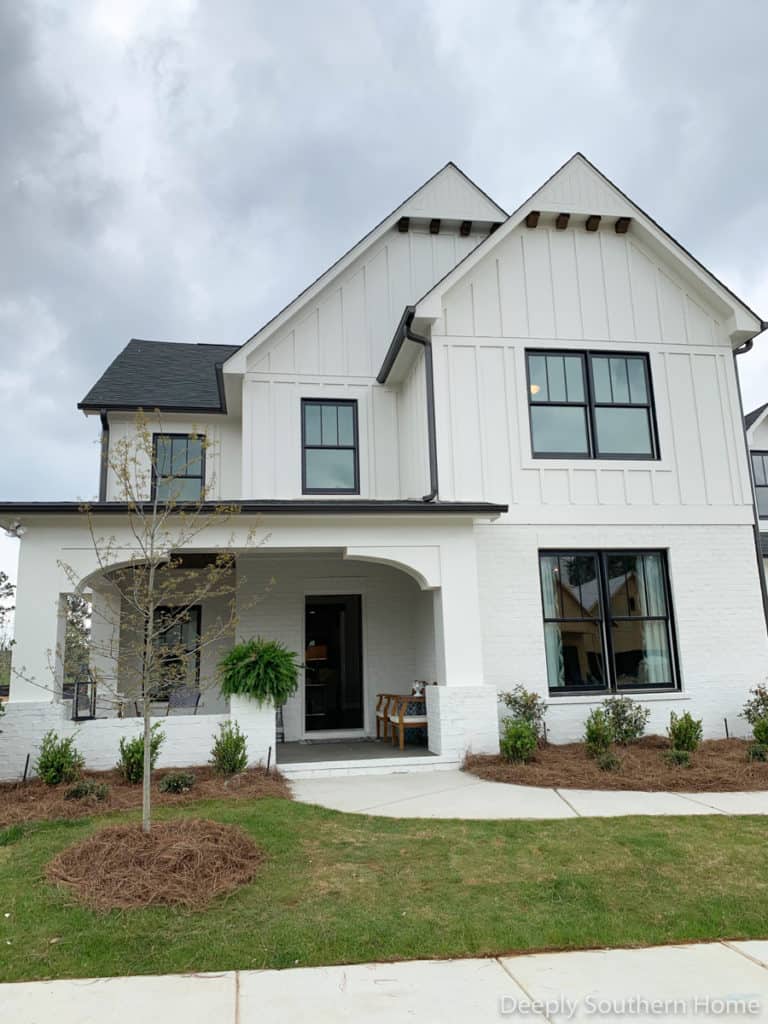 I find the black windows on this model in our new neighborhood to be especially harsh. The black windows in our development are very much a true black.
I couldn't be happier with the choice, at least right now! 😉
Shutters and Gutters
Stained wood elements are commonly featured on Modern Tudor homes. I decided to stain the shutters to further accentuate the wooden supports of the cantilevered overhang over the front door and kitchen window.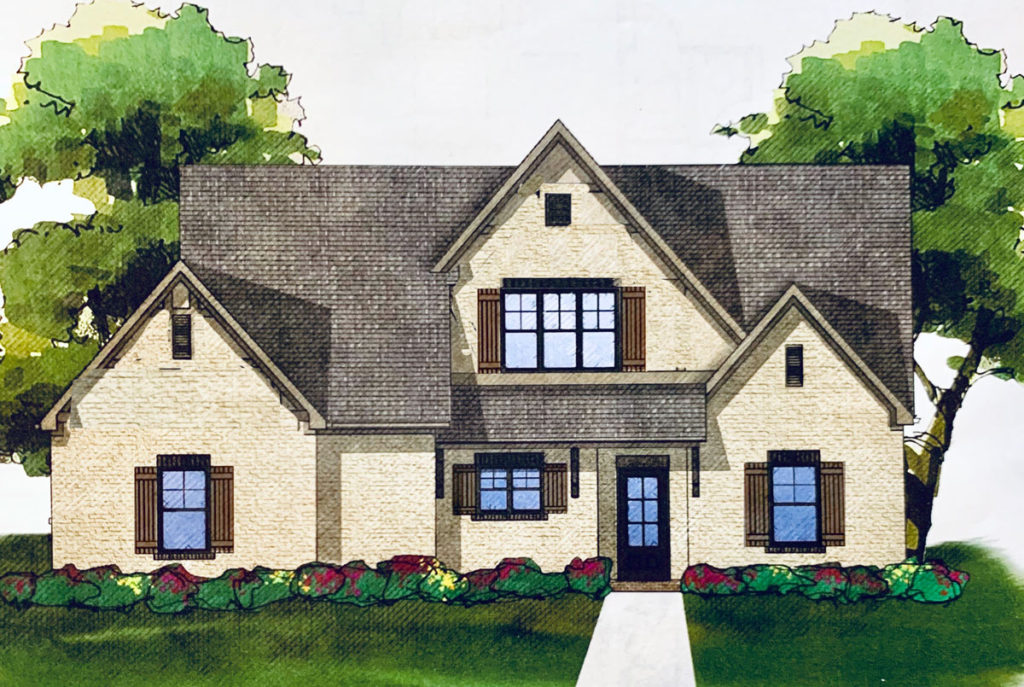 While the shutters might not remain stained forever, it seemed fitting to start with them stained. As they weather, we will have the opportunity to consider keeping them stained or paint them a color.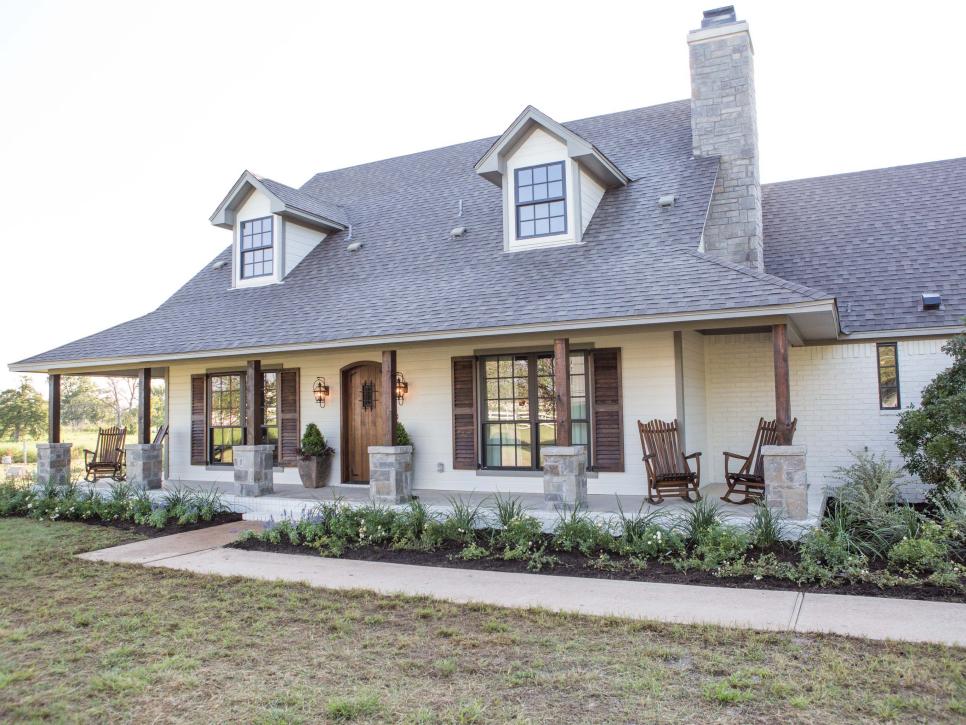 As for the gutters, choosing a finish that matched the color of the house was a two-fold decision. My husband and I did not see eye to eye on the look of a high contrast gutter. I believe they can accent a home beautifully, if done correctly. That fact, that they be the perfect finish to a Modern Tudor if done correctly became the second reason to not choose a high-contrast gutter. Based upon the renderings we were given, it was extremely hard to know where the gutters and down pipes are going to be placed. I was not willing to risk them looking bad, nor did we want to pay extra for fancy designer gutters.
However, the gutters are a stunning design element on this house and proof that the contrasting gutter can be the perfect choice.
One last point about the exterior. I would be remiss to not say that we know already that our favorite part of our new home is what is outside these windows.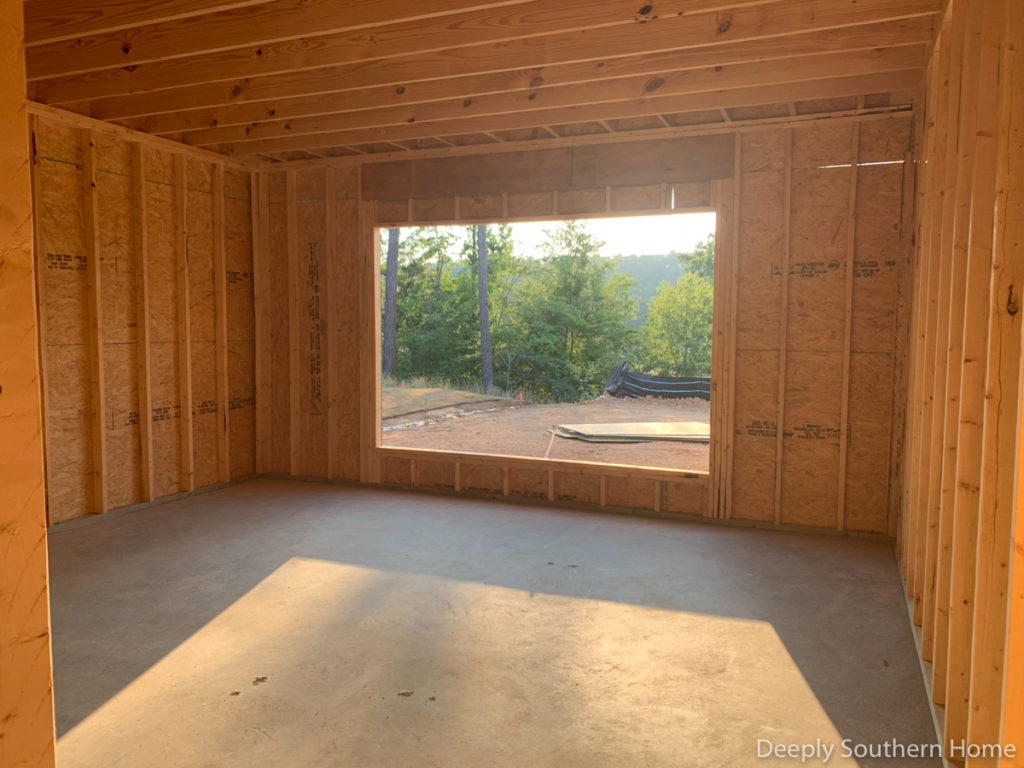 Our lot is on a ridge that overlooks a lake! Right now you can't see the lake for the trees, but we are allowed to thin trees under 3″ in diameter. This winter we will take that opportunity, so that in the spring and summer we can see the beautiful, natural lake below the ridge.
Because of this we invested a significant amount of money in upgrading the windows along the back side of the house.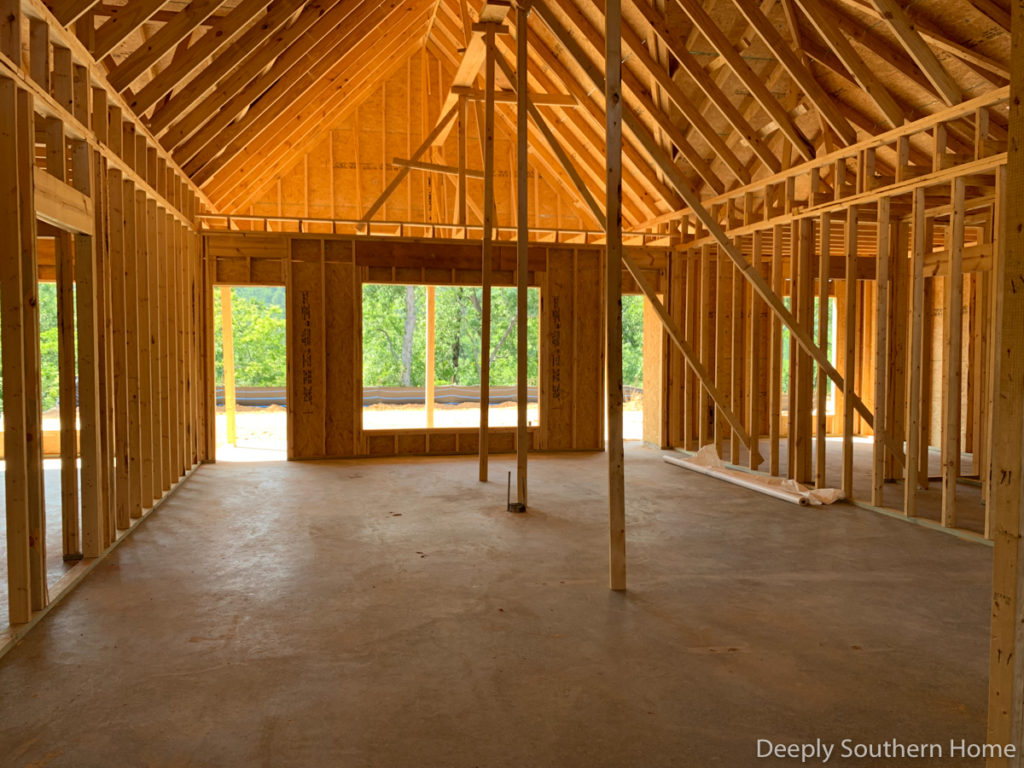 I will be diving into more about the interior selections of our new home in an upcoming post. Be sure to subscribe to the blog if you don't already! There's a box to fill out at the bottom of this page!
I am so happy you are with us on this journey!! Obviously, this is just the beginning. I hope to continue to inspire you as we take this builder grade house and make it feel more custom and uniquely our home.