The weather has been so rainy here in the Midwest. Of course, I'm very thankful we haven't gotten the tornadoes, but man alive, have we gotten rain. The past two nights of stormy weather have made for some amazing sun sets.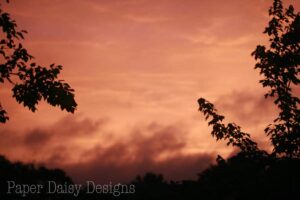 But with nearly a week of rain, off and on, low lying areas around town are flooded. It's been so bad, that I've received flash flood warnings from Accuweather every day for the last few days. If you want to stay abreast of potentially troubling weather conditions this is a great thing to sign up for. I used to be afraid I was going to miss a tornado warning.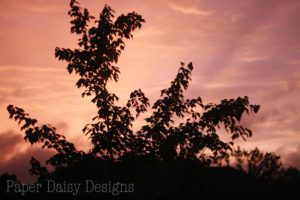 After telling my family, "Look at the sky now!" a dozen times, I finally grabbed my camera.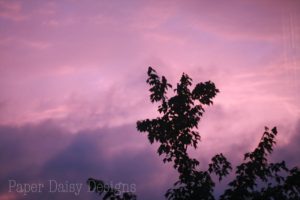 I just wished I would have thought to do so sooner.
No rain left in the forecast today, but it's very wet and cloudy. At this point, I'll take that.
Still keeping the people in Moore, OK in my prayers. So glad Richard, who works for an insurance company and went to Moore as part of a "react team", won't have to go back, at least at this point.
Thank you for subscribing to Paper Daisy Designs. Please continue reading on the blog. I appreciate having you as a reader.