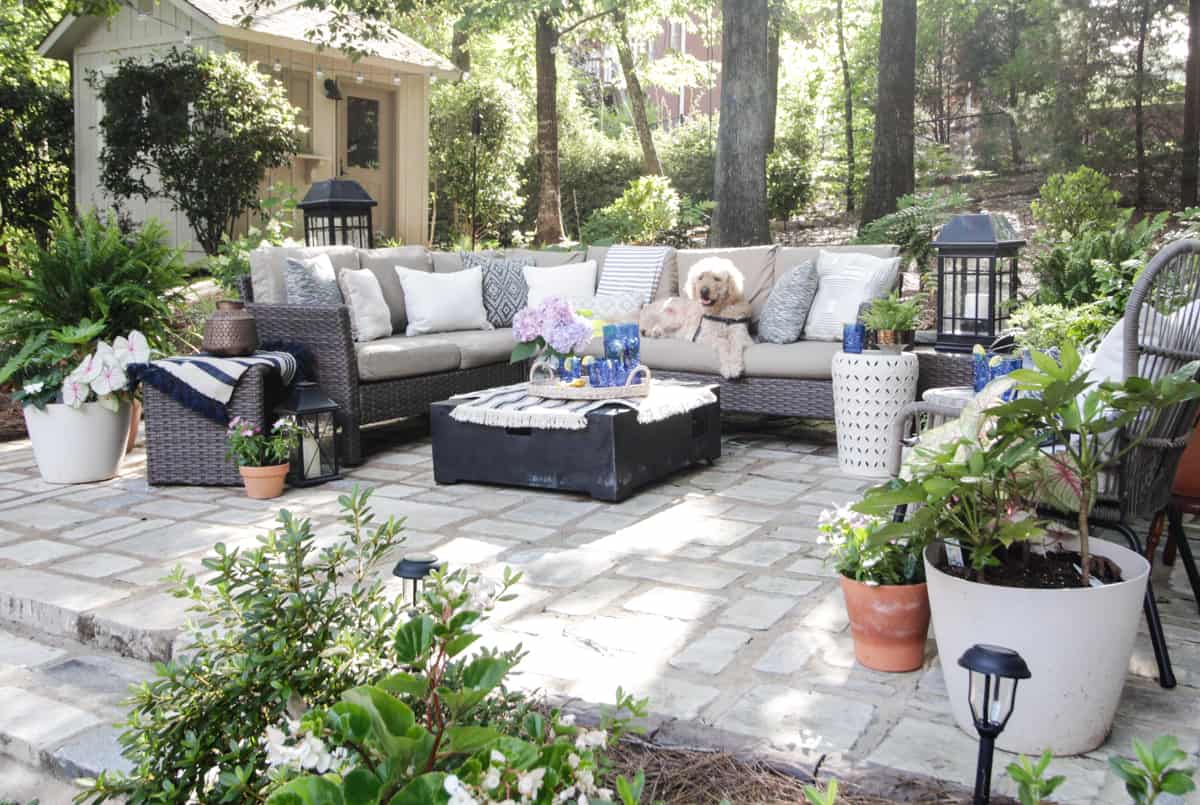 Hello Summer! Today I am sharing our patio refreshed for summer as part of the Seasonal Simplicity Patio Blog hop! Be sure not to miss all the inspirational links below.
This post contains affiliate links. At no cost to you, I make a small commission on purchases.
It's been hot and sticky and if I'm being totally honest I won't do much other than looking at our patio from afar for the next few months. But if there is some miraculous cool front that brings zero humidity, then I promise you I will be inviting our friends over to enjoy this space in a heartbeat!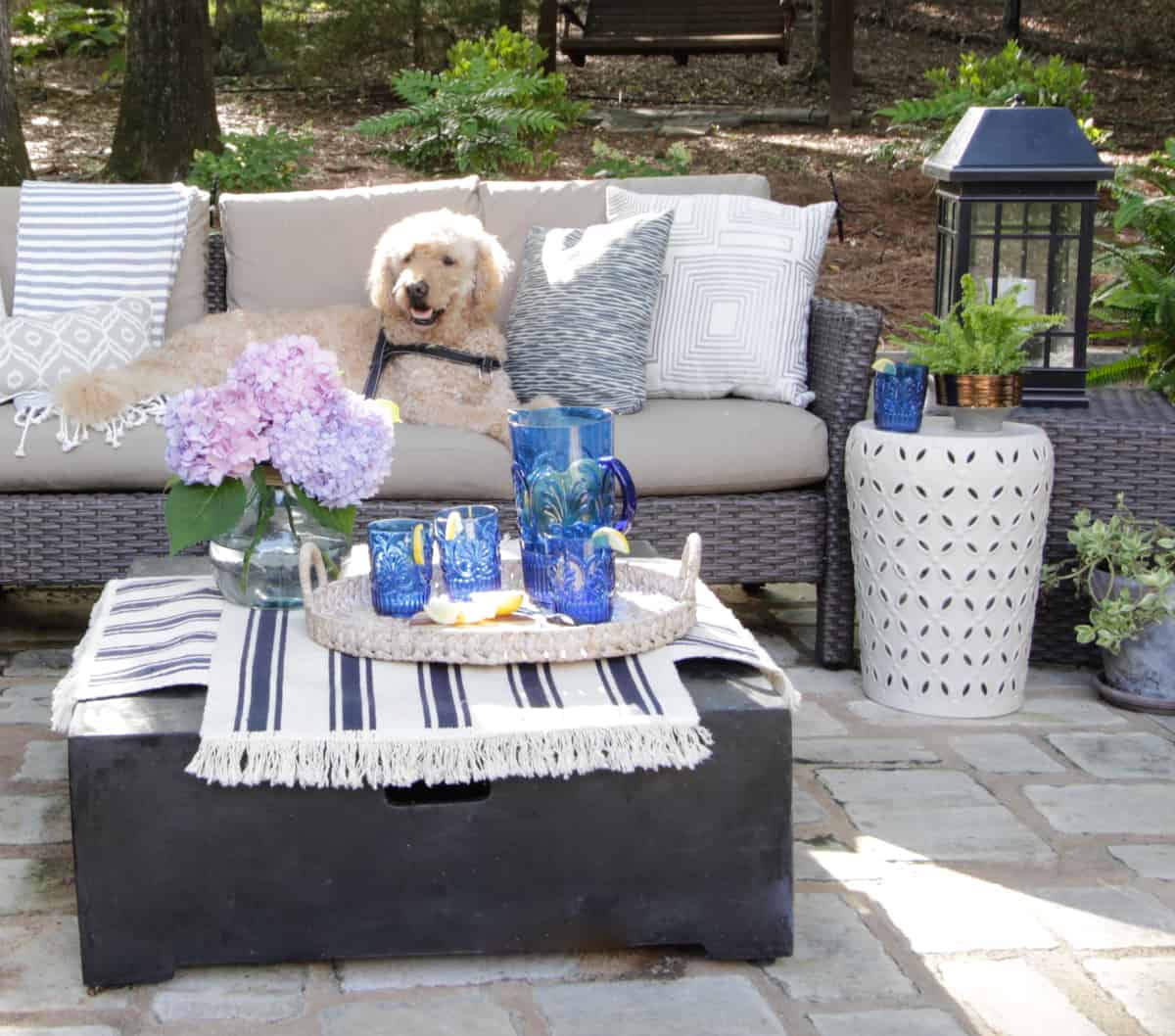 The one thing I can guarantee, is come early fall this is going to be the best seat in the house, or more appropriately the yard.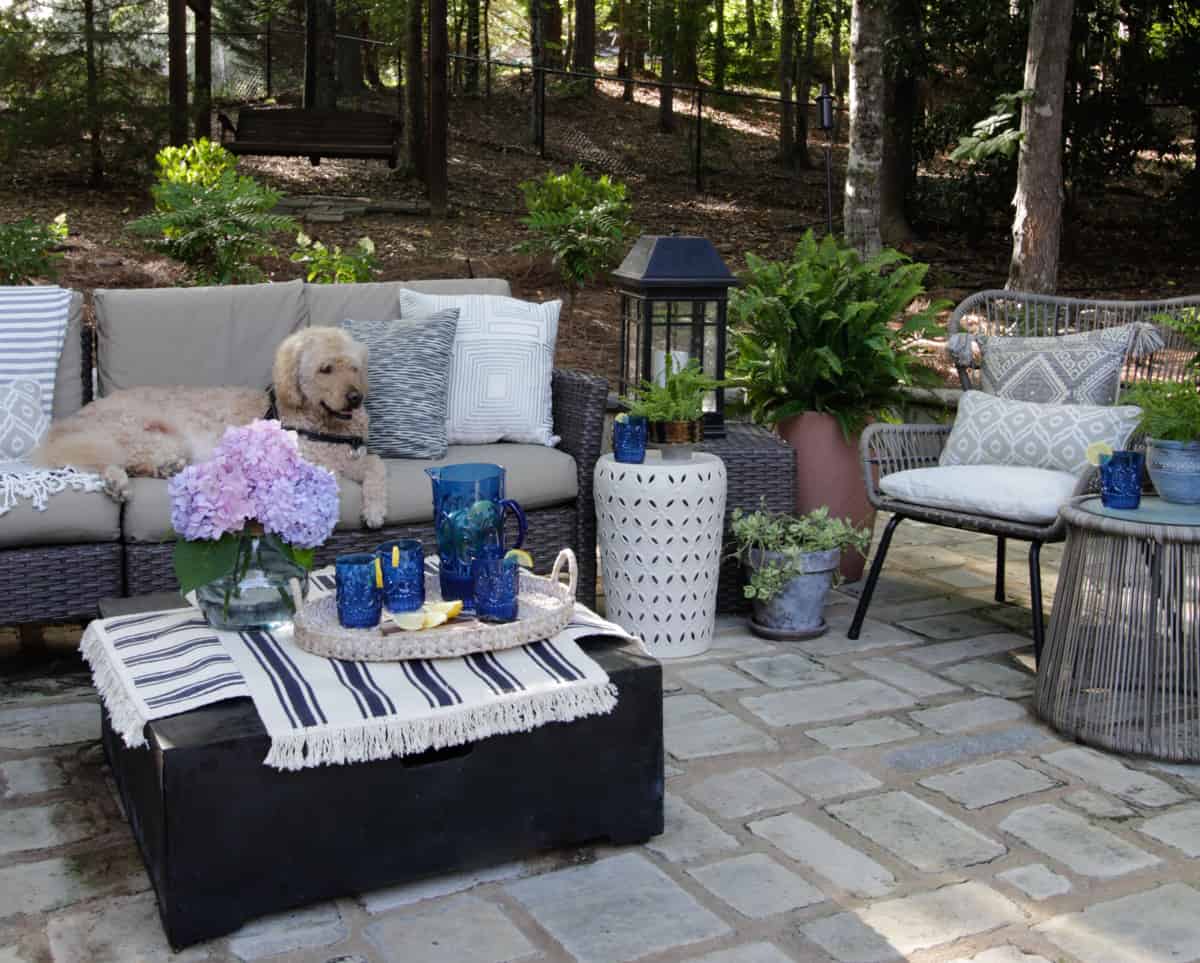 I did not intend for our goldendoodle, Tucker to be in every single photo. He made himself extremely comfortable and I didn't have the heart to make him move.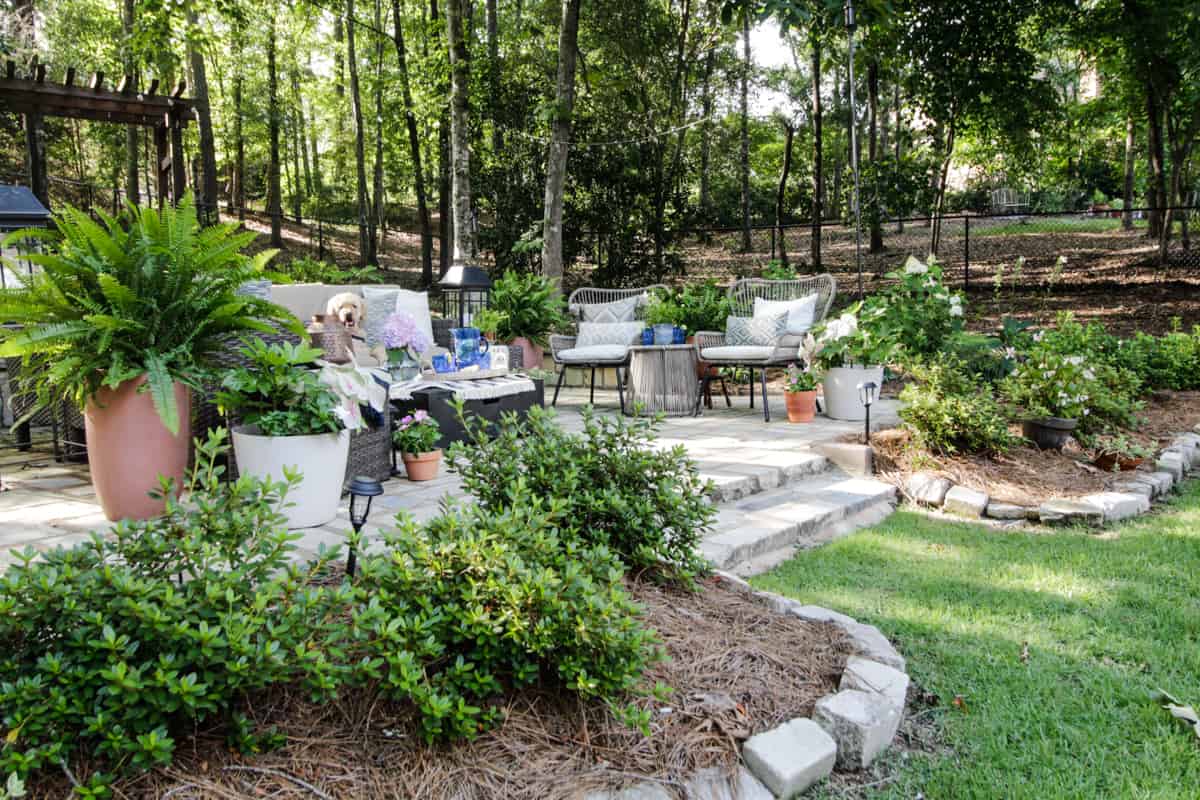 I did tell him the least he could do was look at the camera when he was in the shot. He obeyed, mostly.
Shop the look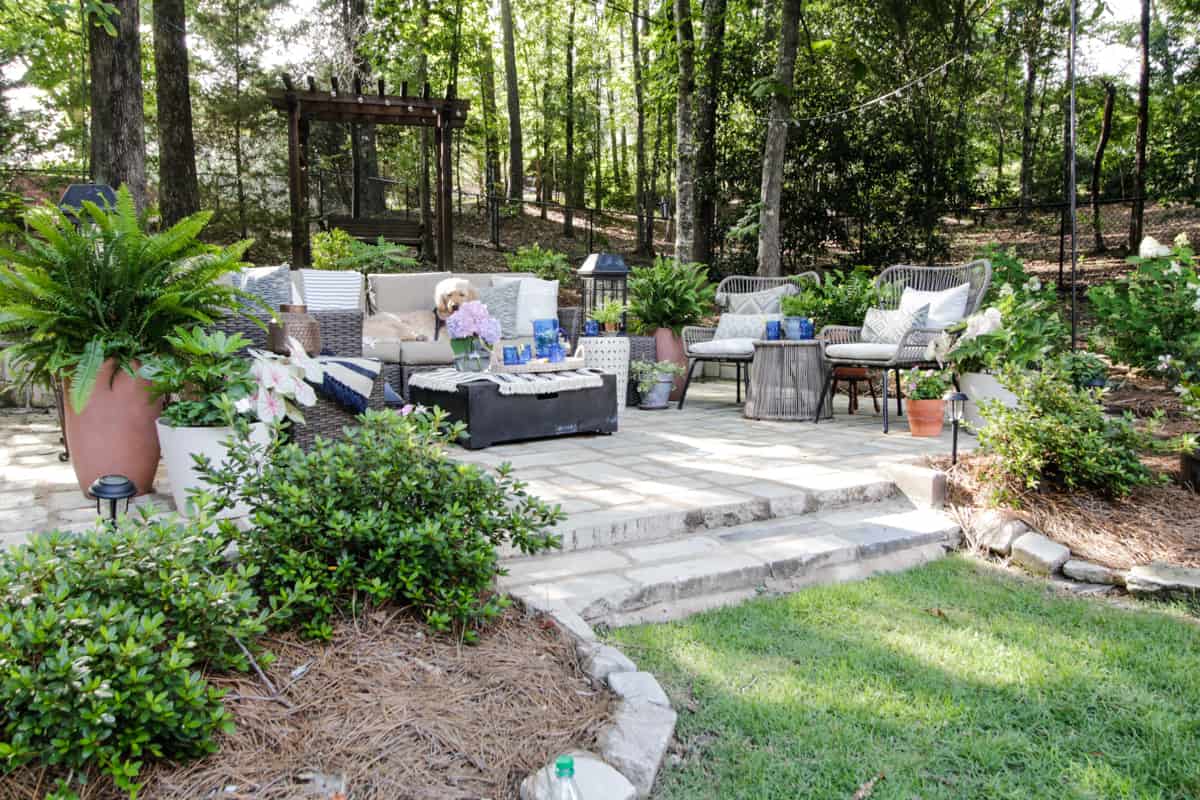 You may recall this patio was a new addition to our backyard last year as well as the furniture for it which we got from Leasure Made. The stones were recycled material from the front of our house. You can read more about that here.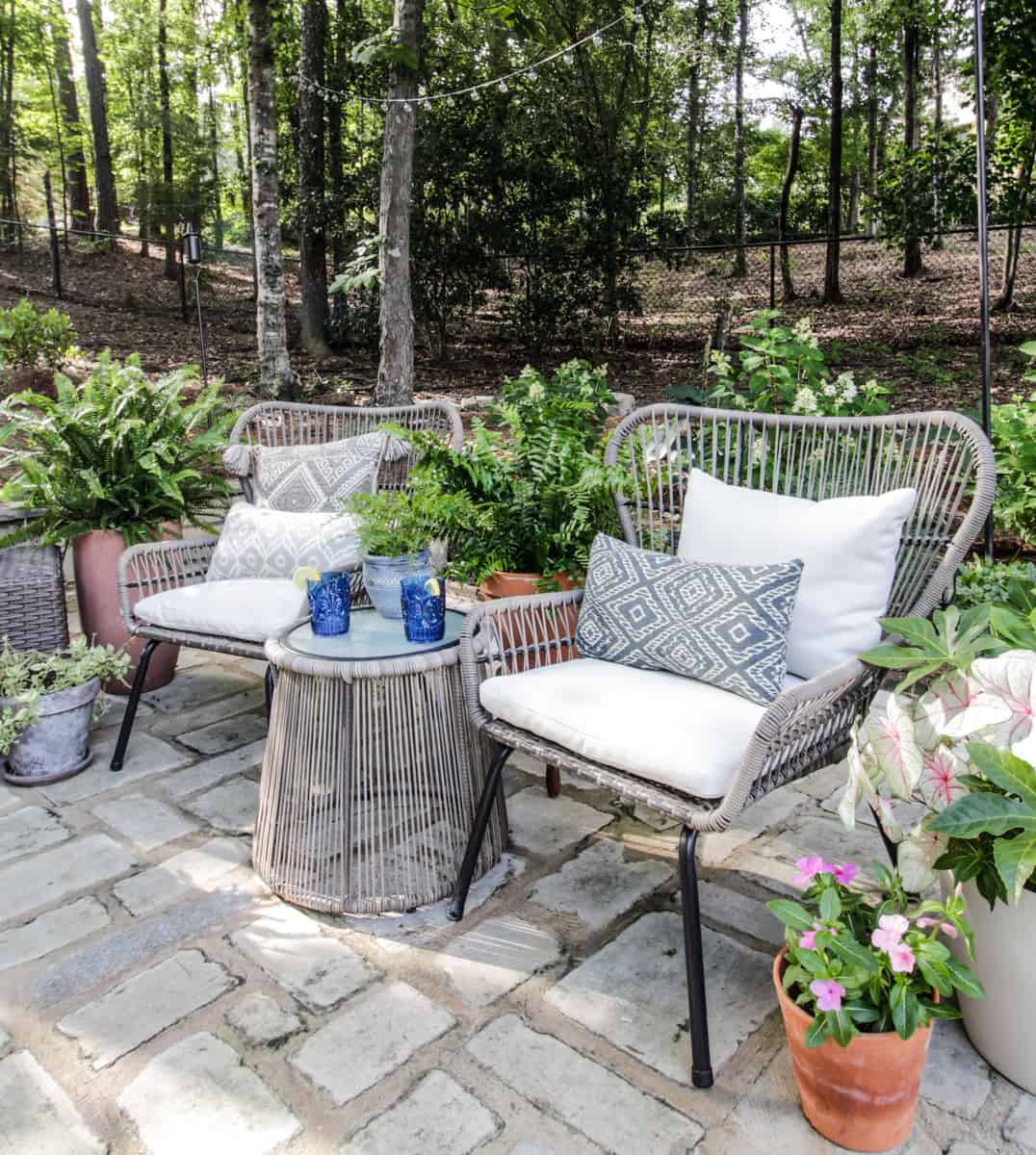 What I am most excited about this year is how much the surrounding garden has grown.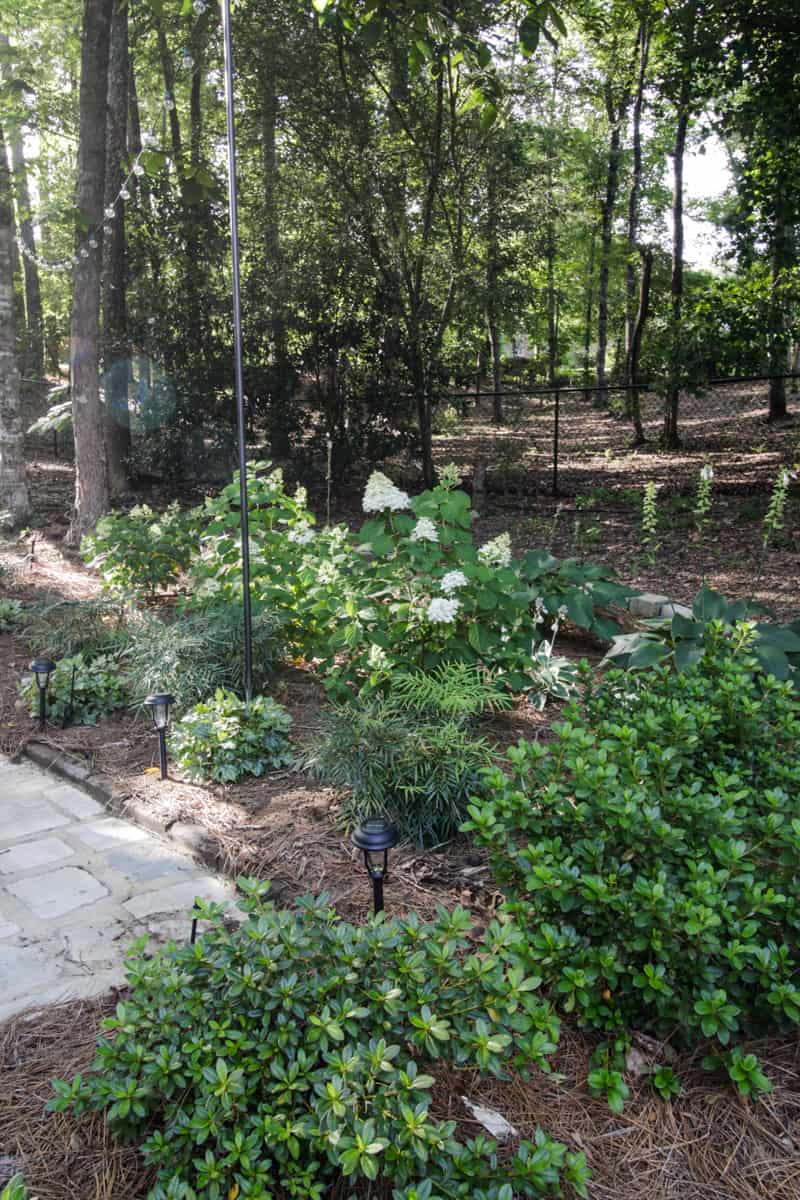 In comparison, below is a shot from last September when I partnered with Southern Living Plants to help transform this blank spot into a shaded oasis. The Encore azaleas have bloomed once already this year and I expect they will bloom again this fall as well.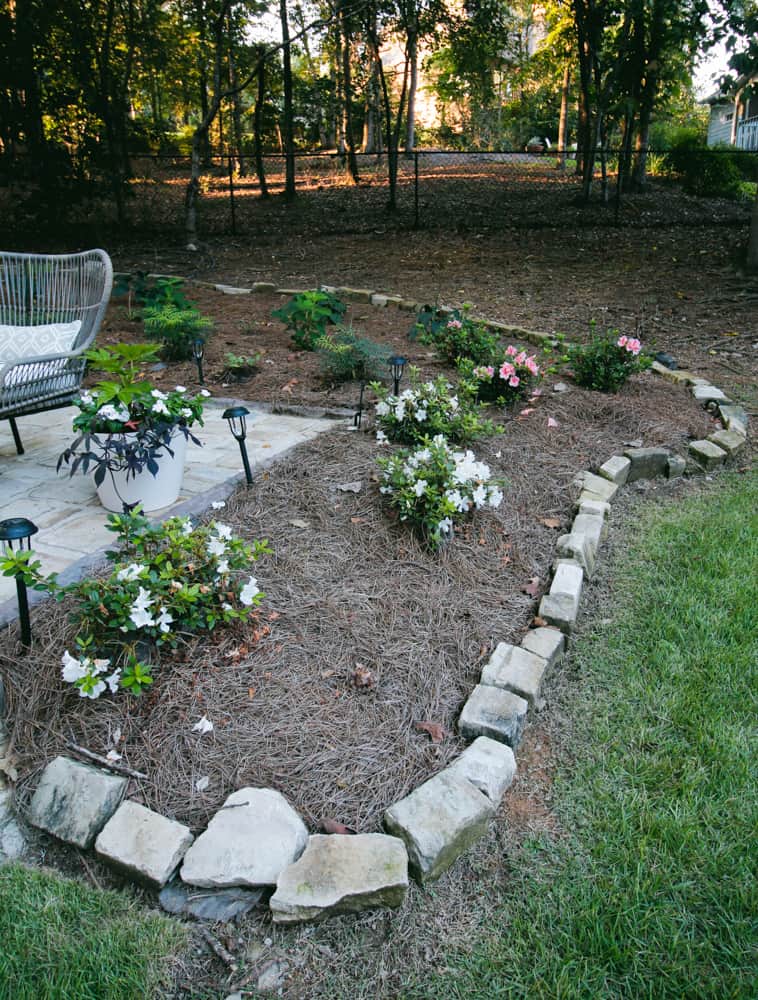 Unlike the hydrangeas in the front yard, these White Wedding hydrangeas are summer bloomers and are really just getting started. But I am happy to see that my vision for a patio engulfed in blooms and foliage is taking shape.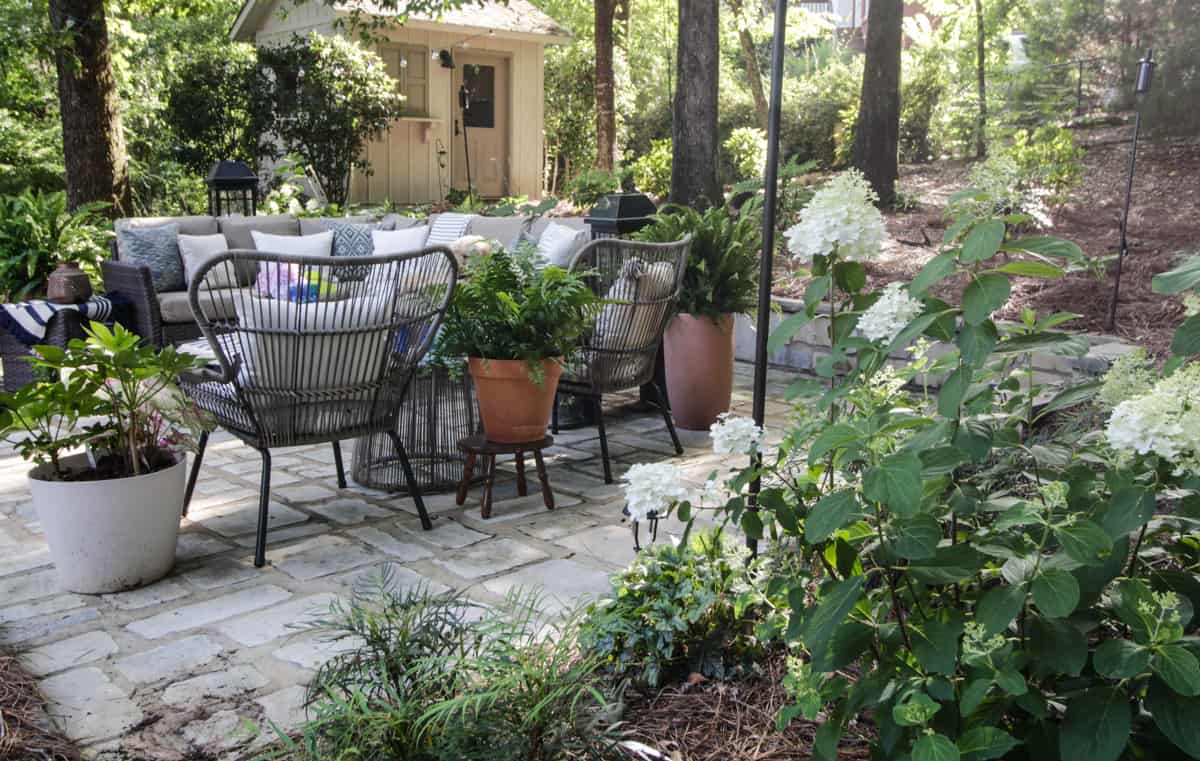 For the decor this year, I did not purchase anything new, except for flowers and season plants. I actually recycled outdoor pillow covers from several years ago. Because they were sewn with zipper closures I did not have to store a a bunch of pillows. I just neatly folded the covers and tucked them away. They were put away so well, I actually had to really go on a hunting to find them!
Shop the look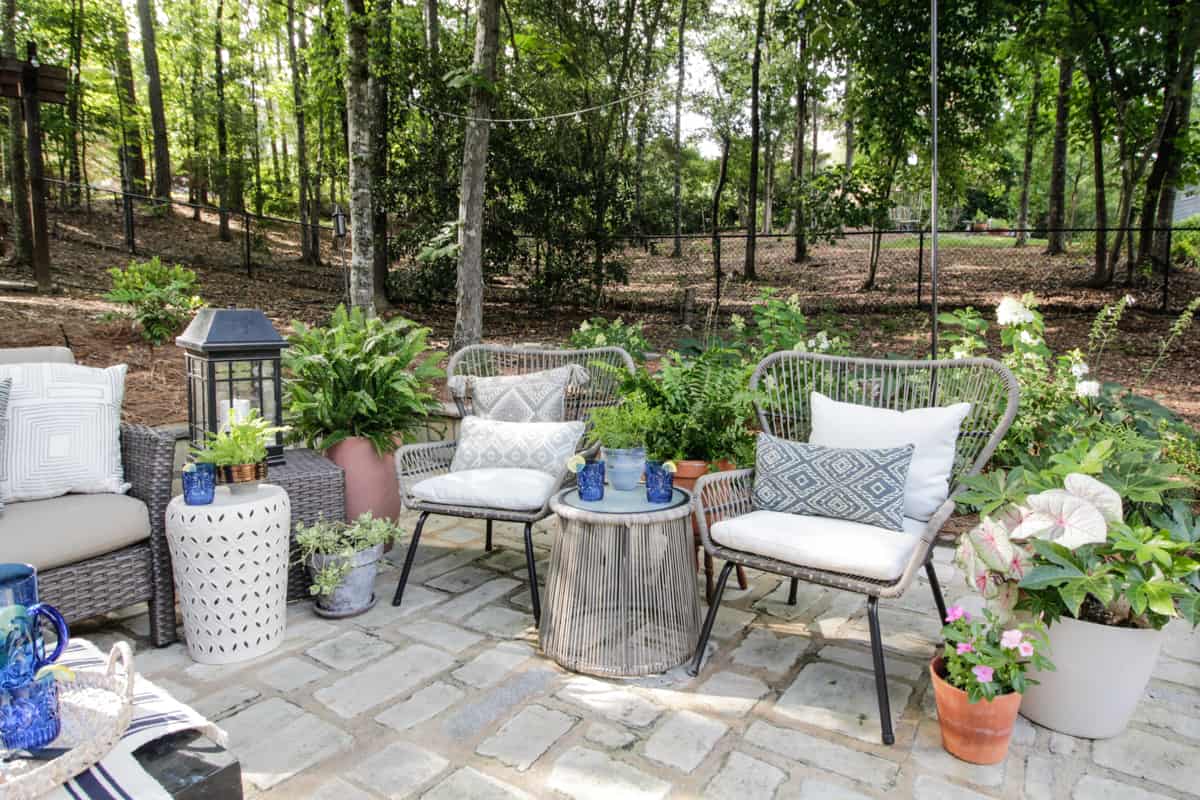 What I was once tired of now feels fresh and new in a completely different setting. This is one instance I am quite happy I didn't get rid of something just because I was ready for a new look.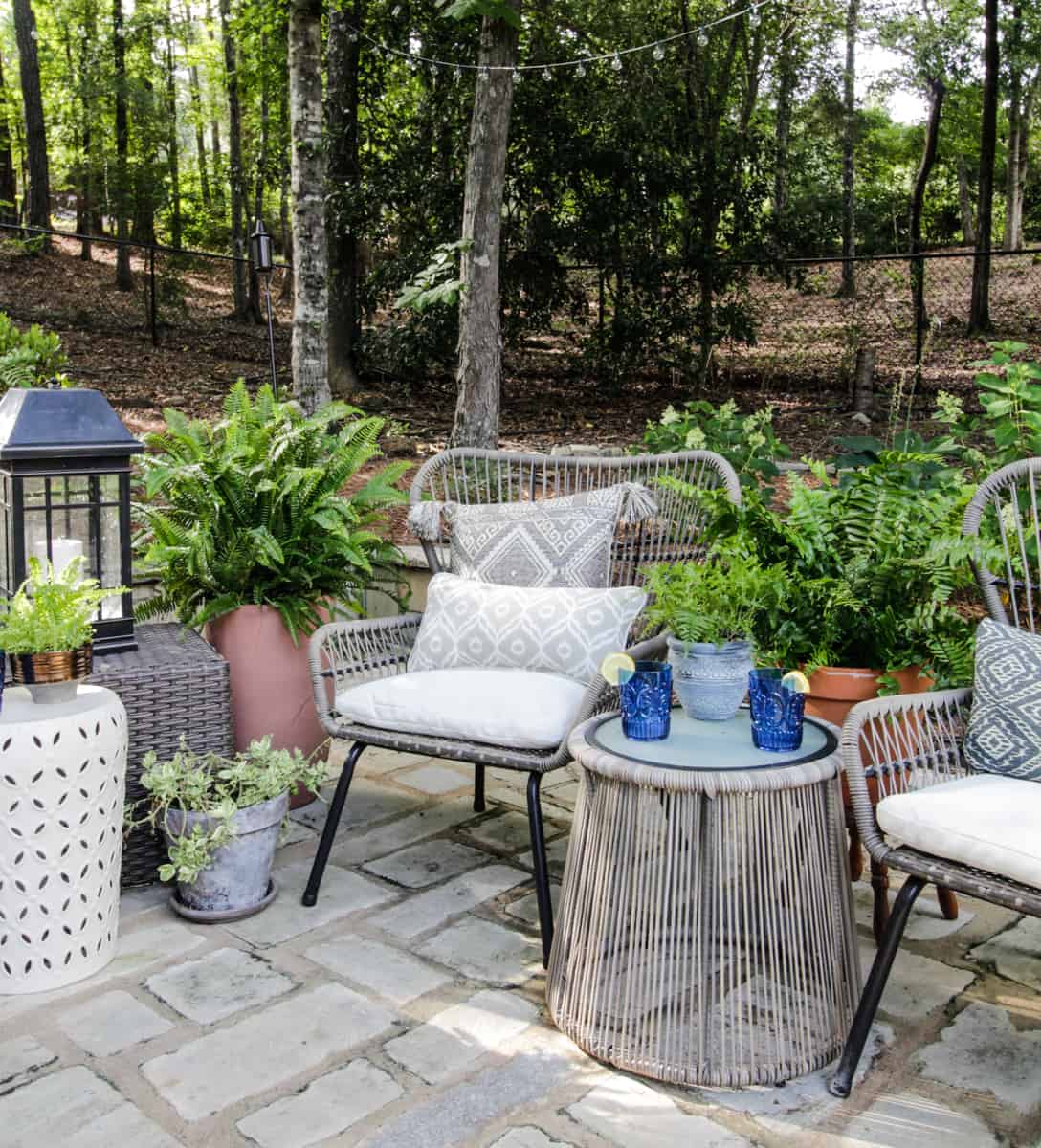 My best tip for styling a patio or a porch is to bring in all the potted plants!! Layer upon layer of plants and blooming flowers not only feels inviting but most importantly softens all of the hard edges of outdoor furniture.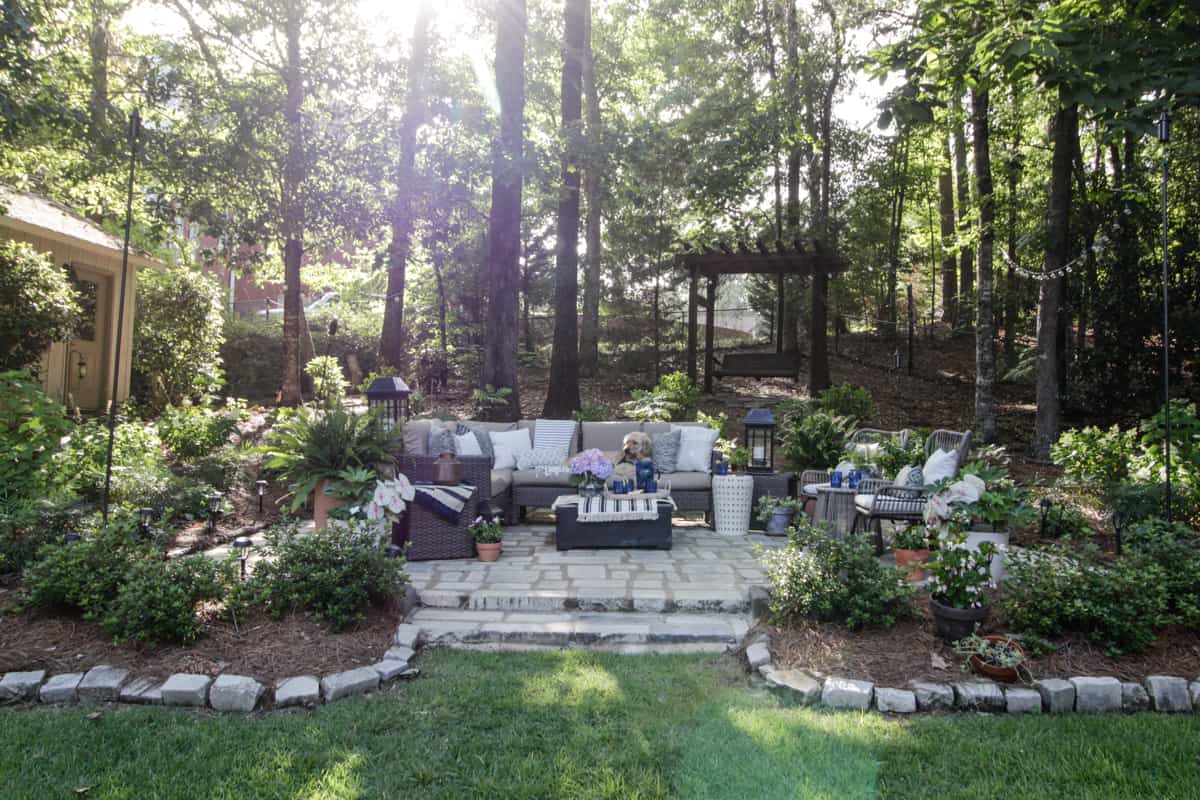 Did you notice my coffee table in the center of the space?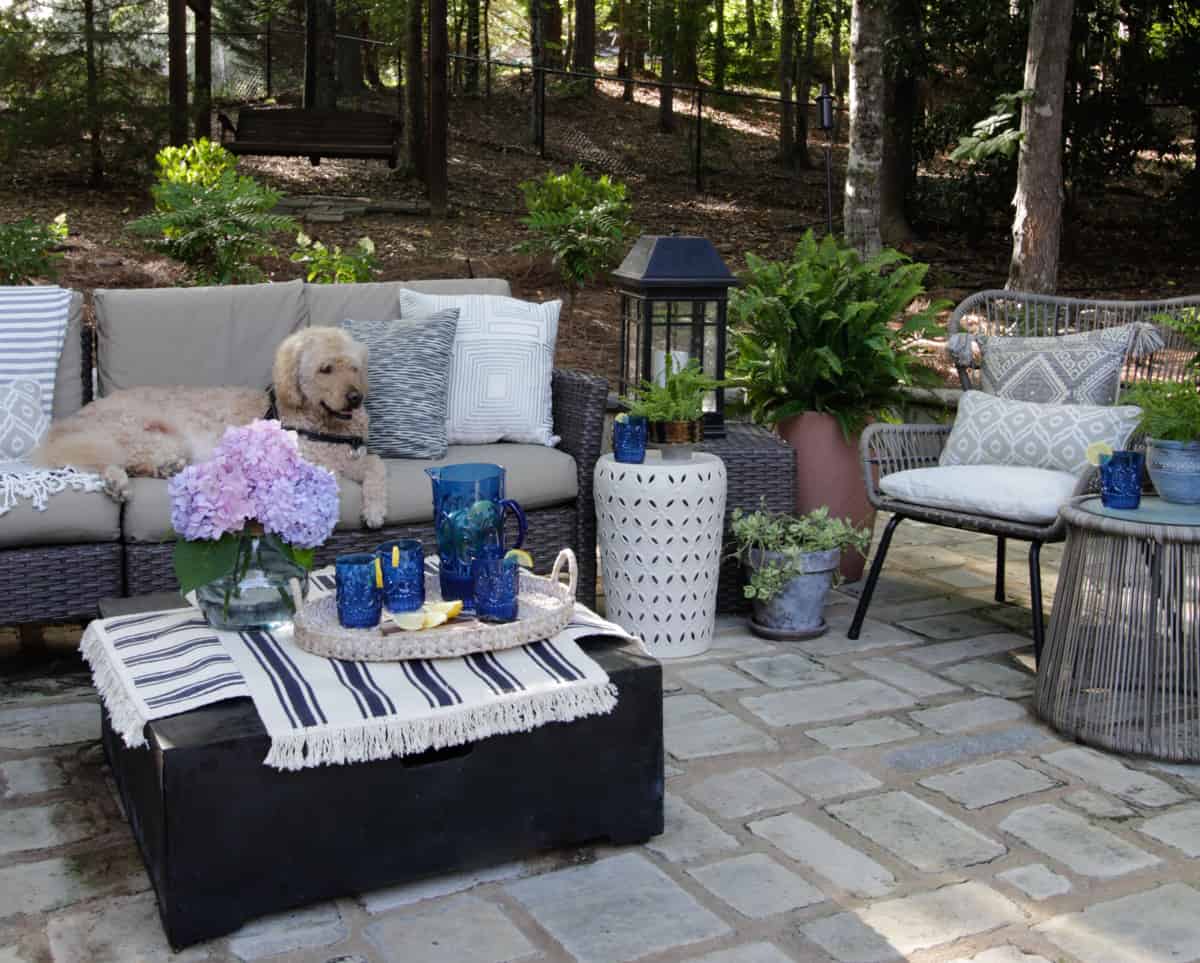 It is actually our fire pit with the rocks covered in plywood and then layered with super inexpensive throw rugs from Ikea, but bargain stores like Five Below are a great resource. Why not make a fire pit functional during the day time?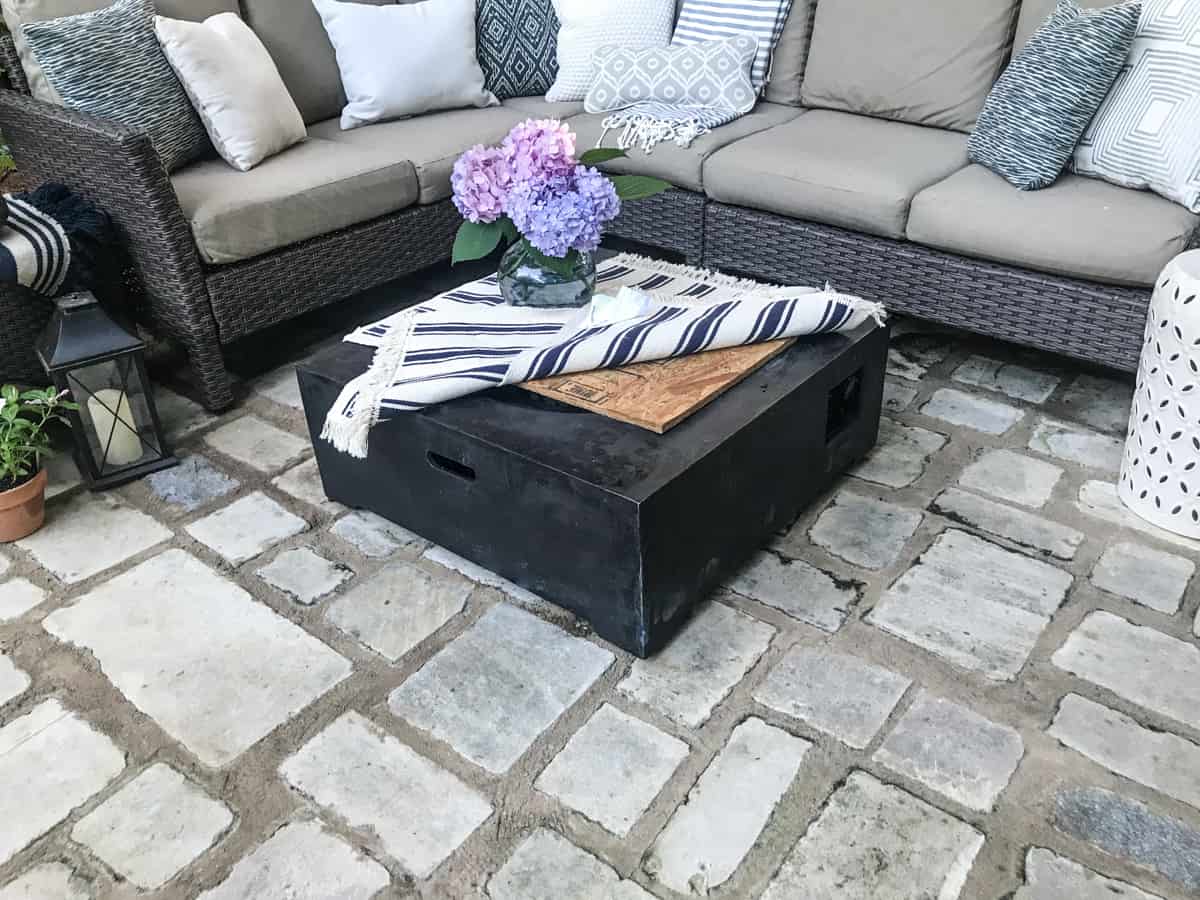 The plywood trick was actually a bit of an accidental discovery. The flimsy cover included with the fire pit dipped in the center and held water after a rain. I added the plywood to keep the water from collecting and then I realized it made a great tabletop!
As the sun began to set it was time to light up the sky and bring out the s'mores!
Collecting all of the ingredients in a tray or basket makes for an easy tote out to the patio. Don't forget extra napkins!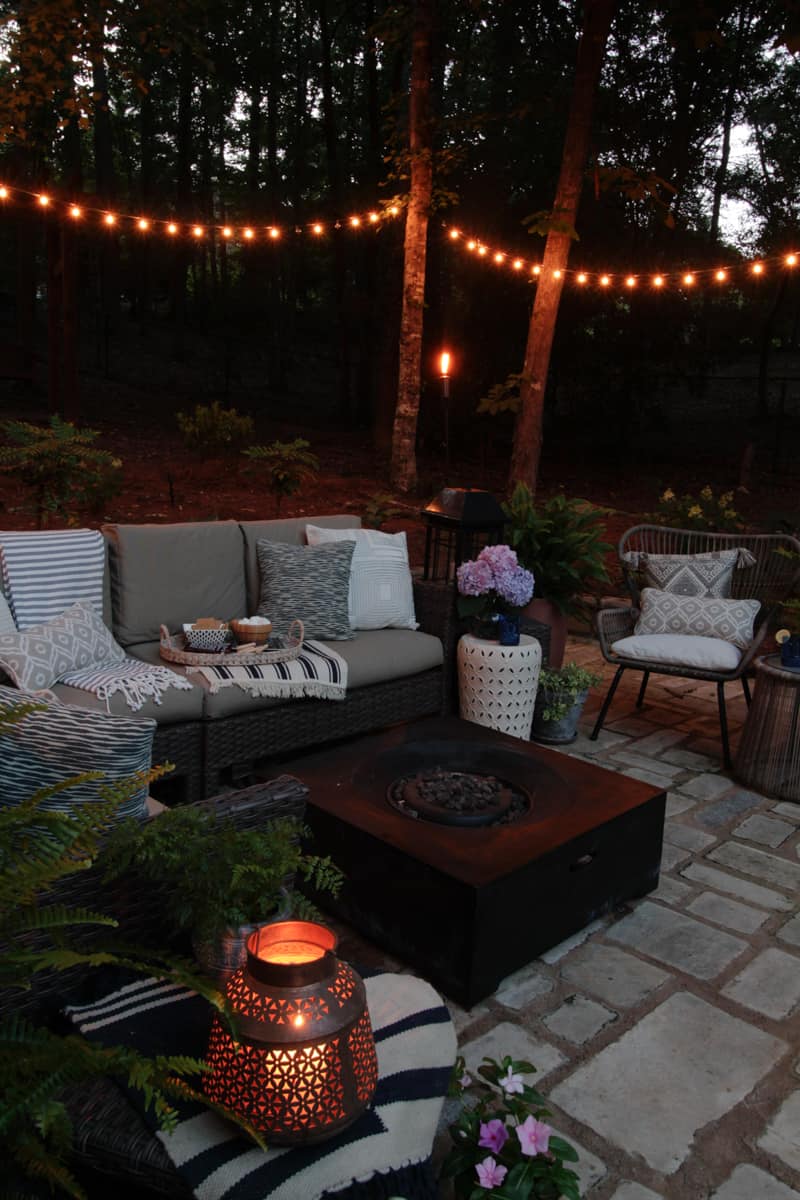 I recently purchased the absolute best set of telescoping skewers for roasting marshmallow or hot-dogs.
Shop the look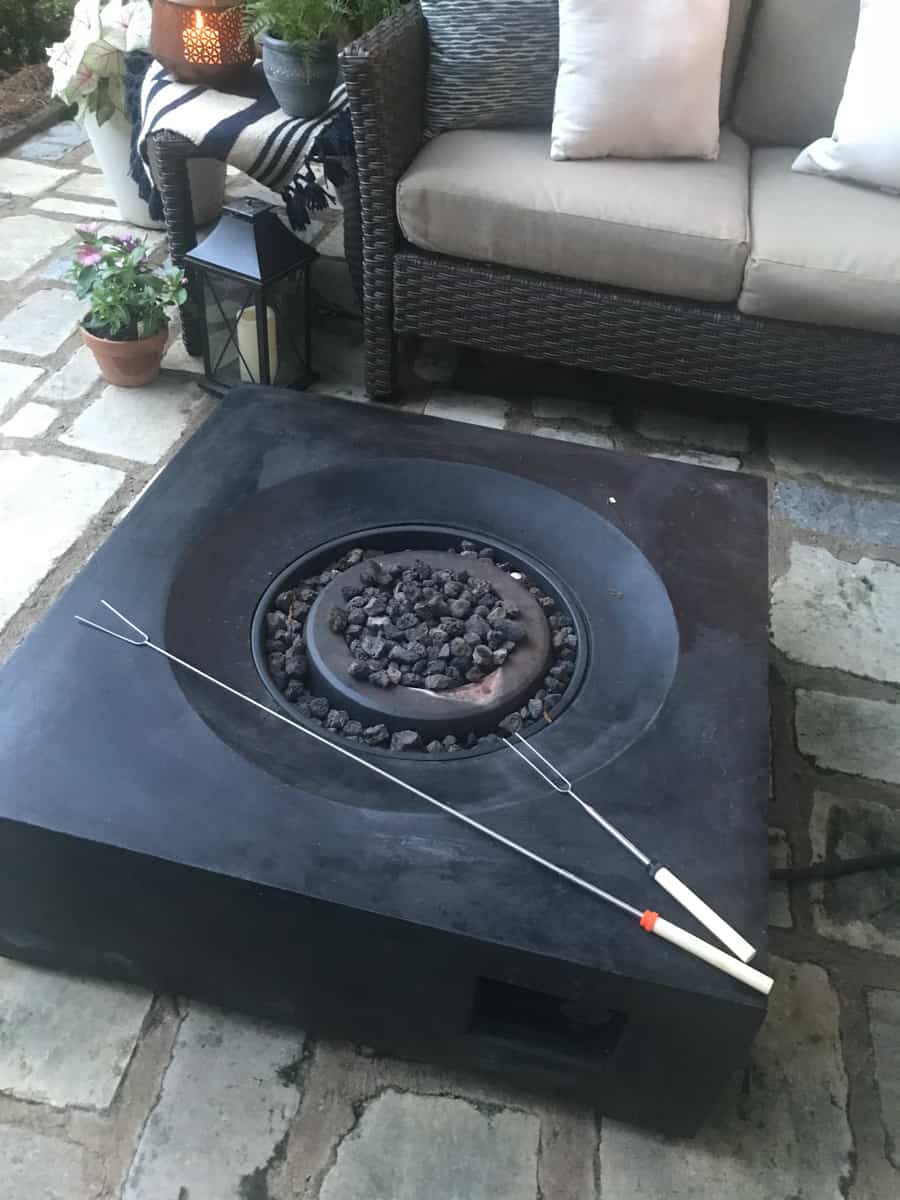 It comes with a set of 8 and once collapsed down to the smallest size, stores in a super compact zippered pouch! If you camp or have a fire-pit you really need these! The link is above.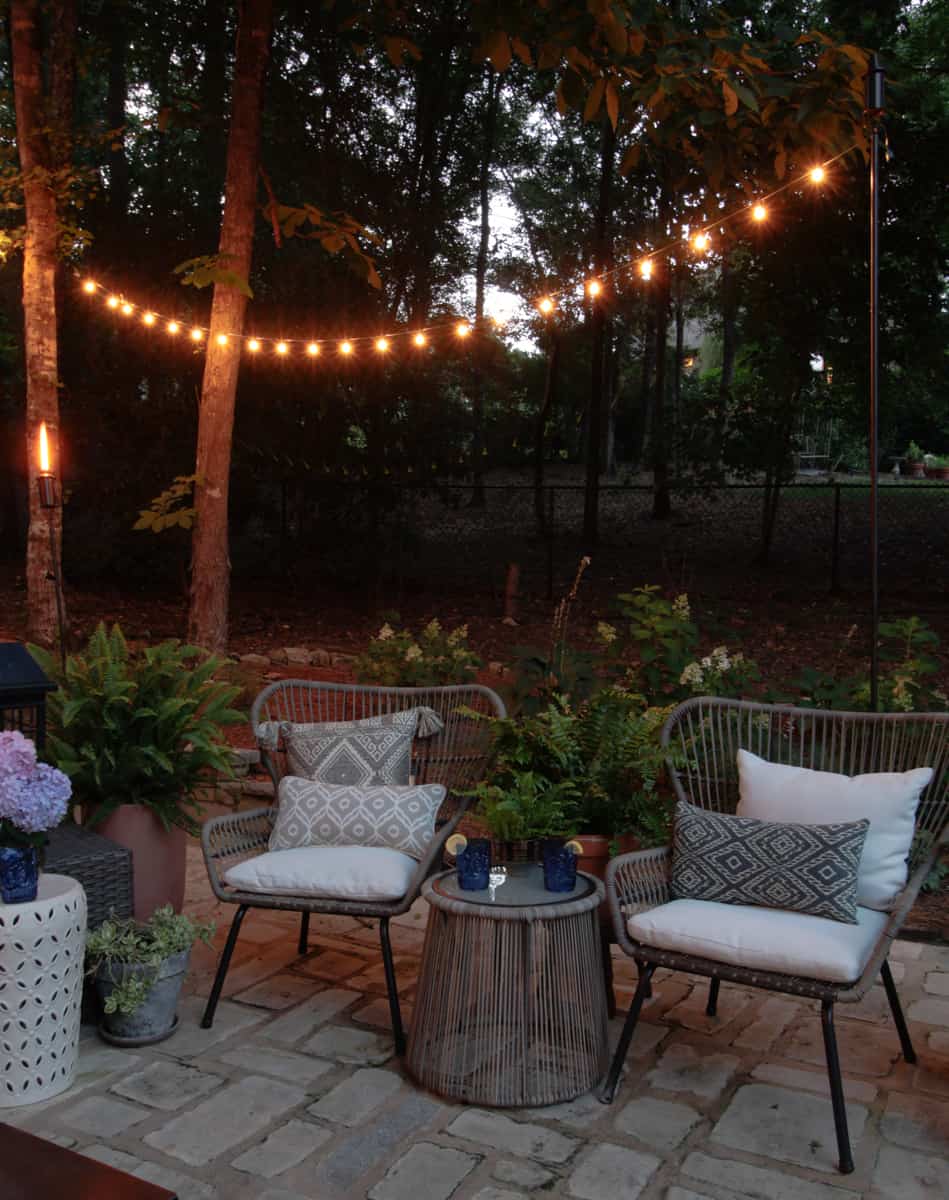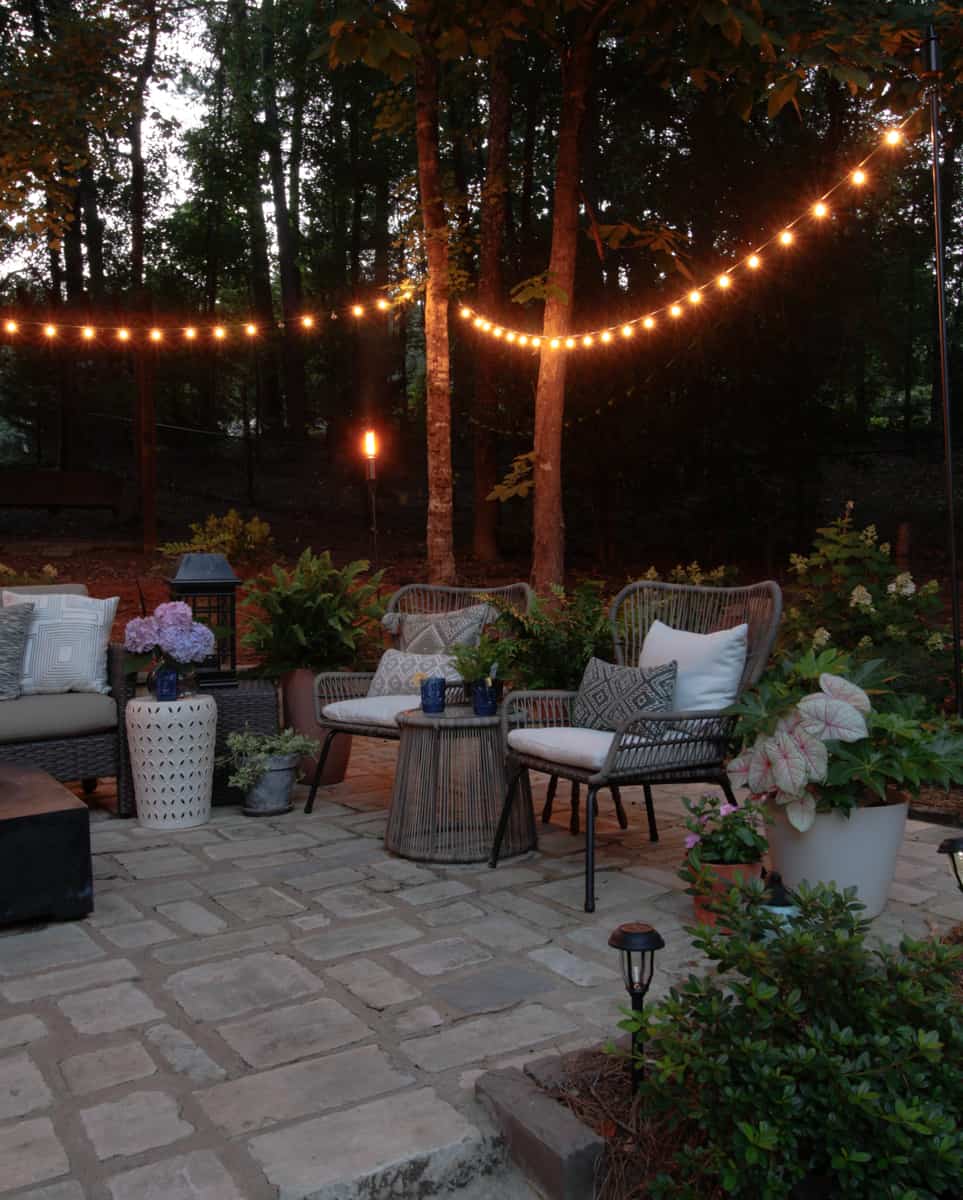 Even when the string lights are not lit up, these oversized solar lanterns add a beautiful ambiance to the patio. (They aren't lit in several of the photos because they have very good sensors and there was too much light in the sky.)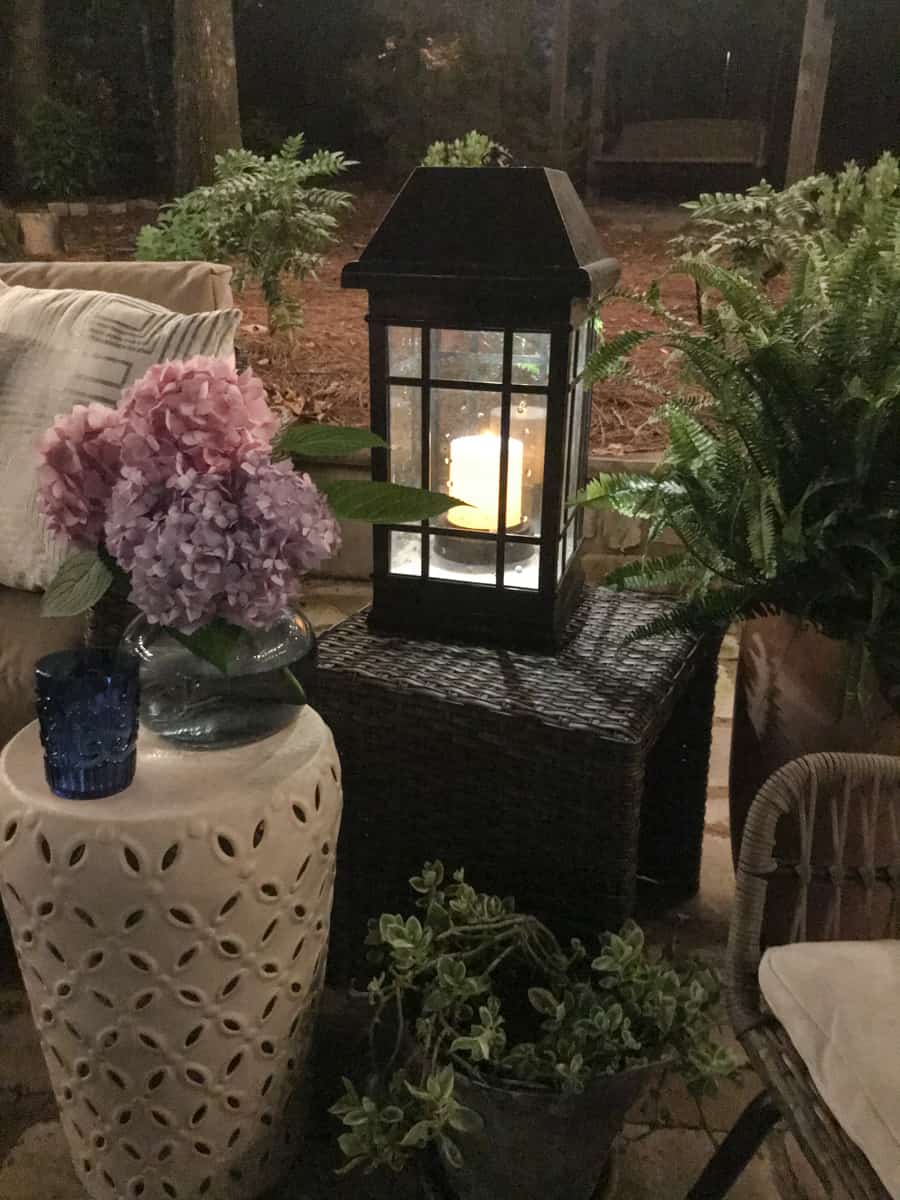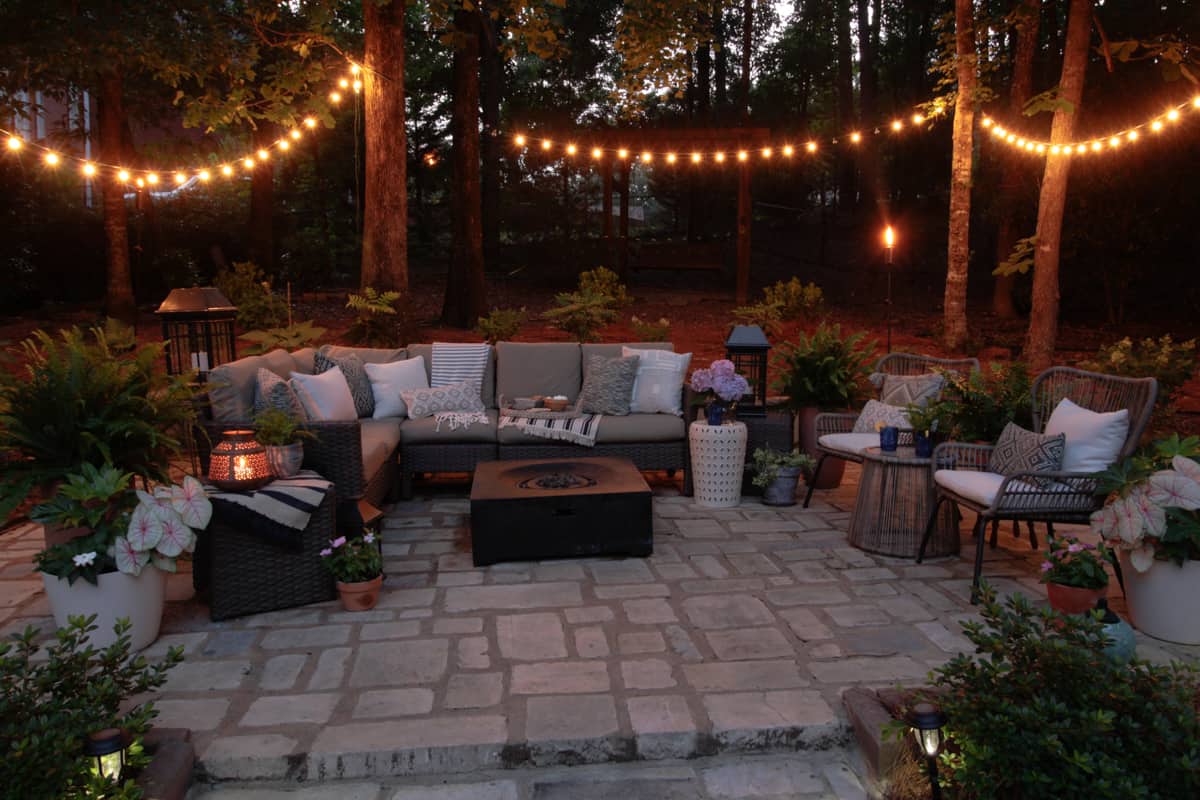 While this shade covered spot is an oasis in our backyard, it becomes an intimate room at night!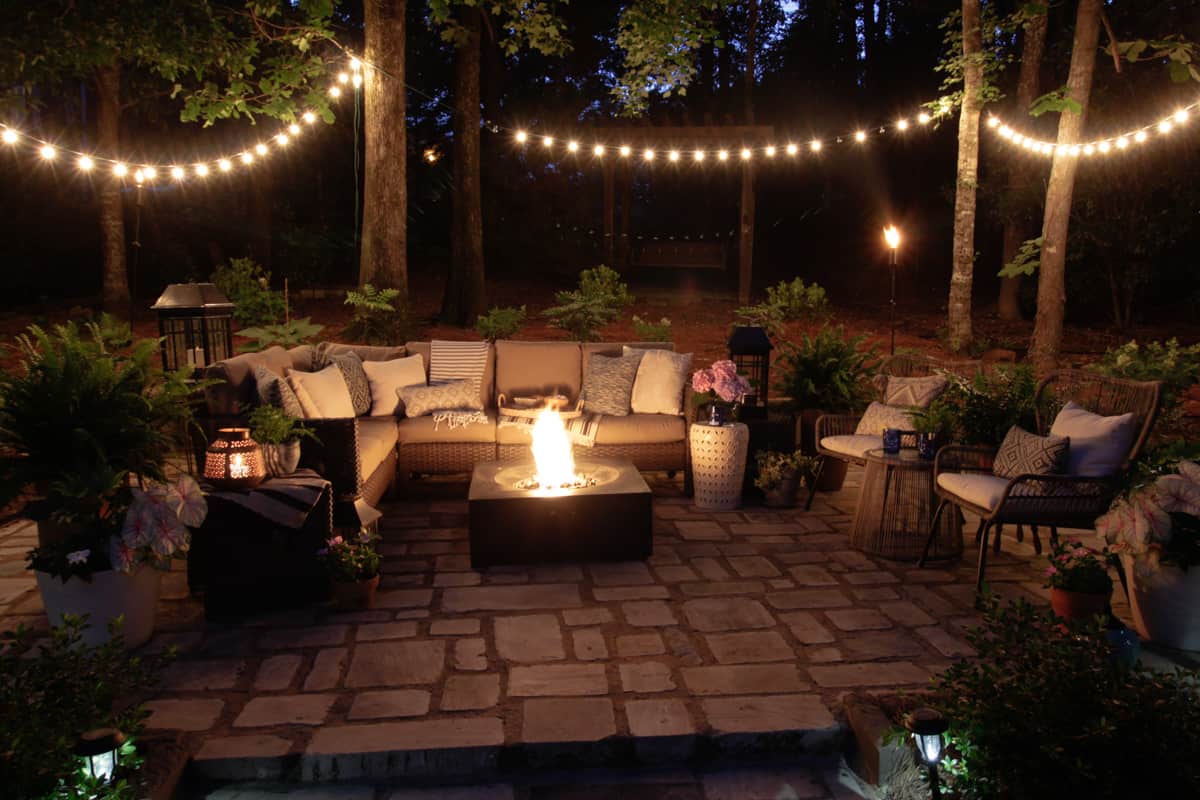 My husband recently ran an outdoor outlet from the shed to the back of one of the big trees so we could have lights out here. The added ambiance alone makes it worth the effort!
I look forward to many great nights out here, but probably not until it is cooler!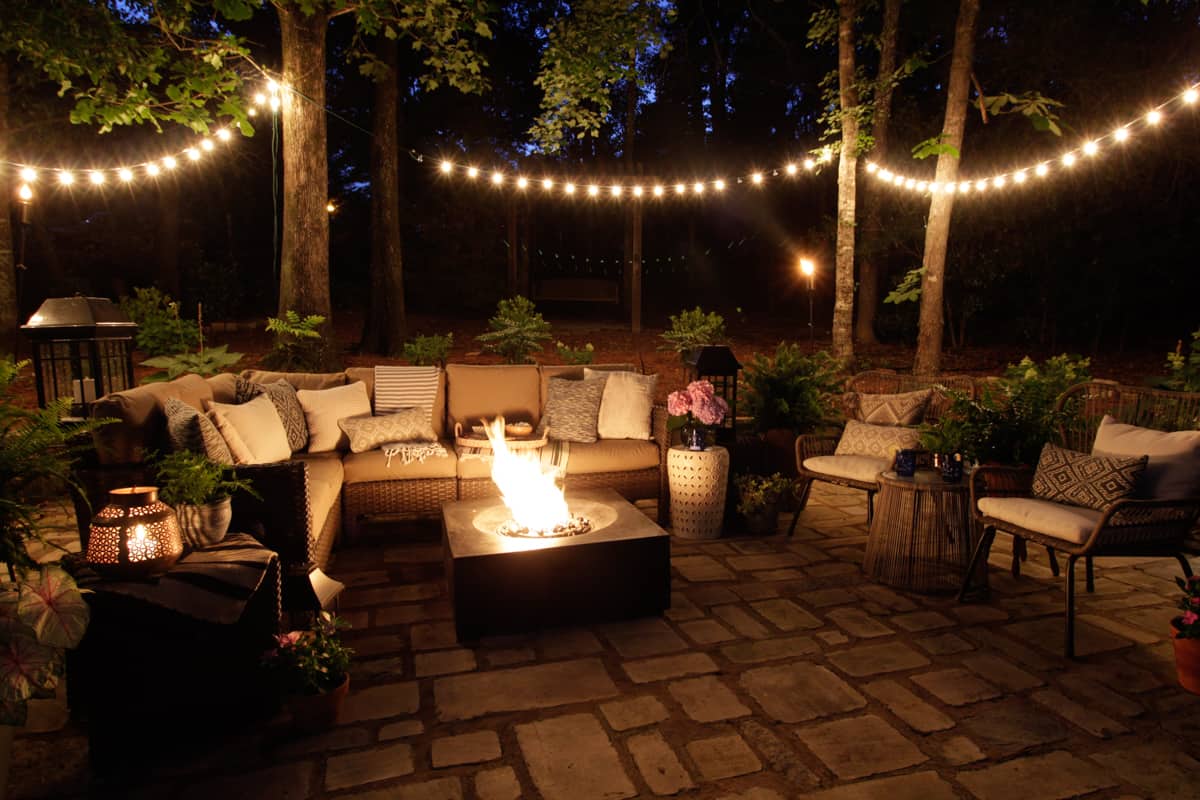 Want more inspiration to transform your patio into a welcoming retreat?
The Seasonal Simplicity Summer series is back today; and this time we're all about simple summer decor in our outdoor spaces! Patios, decks, backyards… bring them on! I can't wait to take in all the gorgeous outdoor inspiration being shared today…
The Happy Housie / Inspiration for Moms / Rooms for Rent / Bless'er House
Shabbyfufu / Summer Adams / Making it in the Moutains / TIDBITS
Confessions of a Serial DIYer / Clean and Scentsible / Just a Girl and Her Blog / Stacy Risenmay
Zevy Joy / Finding Silver Pennies / Deeply Southern Home / A Pretty Life
Southern State of Mind / Amber Tysl / Newly Woodwards