This our first Christmas here at the Lake Ridge House and the first time I've given a home tour on the blog since the move. With all the work we put into the kitchen that first 6 weeks after moving in, we are just now feeling settled. And it sure feels good.
For a comparison of where we started to now, I shared an empty house tour on IGTV in early October. Here is a link to that video on Instagram TV.
As much as this new house is starting to feel like our home, nothing makes a house feel cozier and more welcoming than a little Christmas cheer!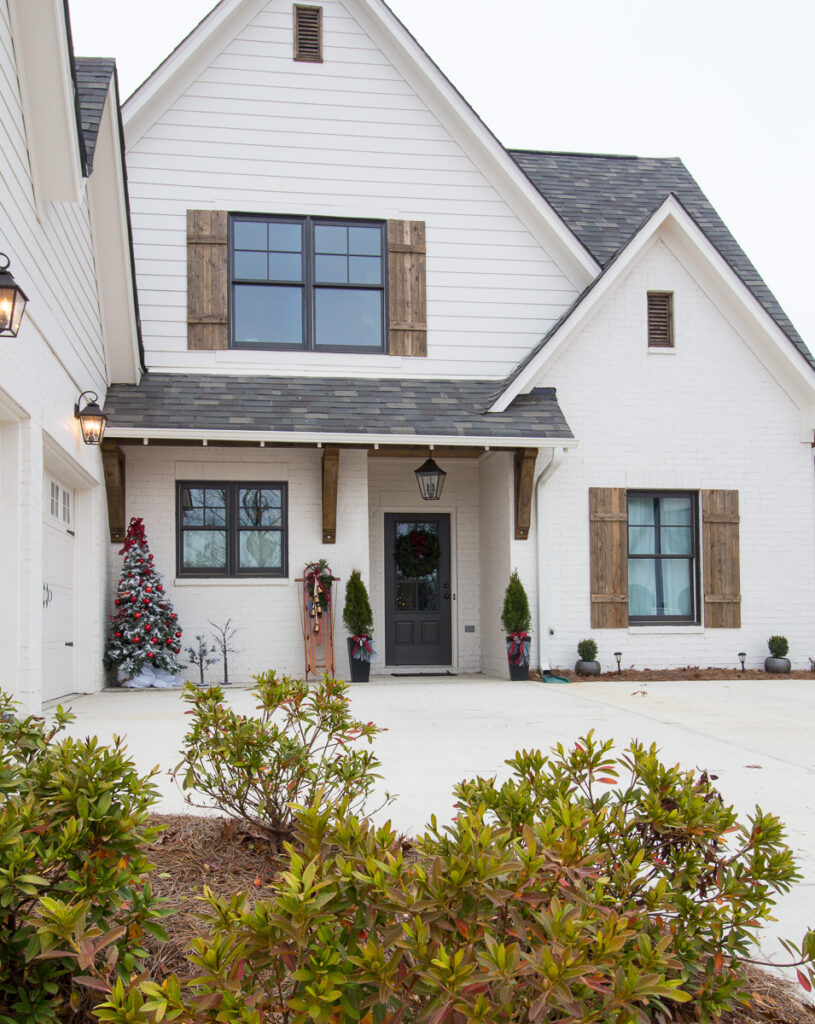 I started small outside this year with just decorating the front entry. With a late Thanksgiving, and moving just this fall, everything has felt very rushed.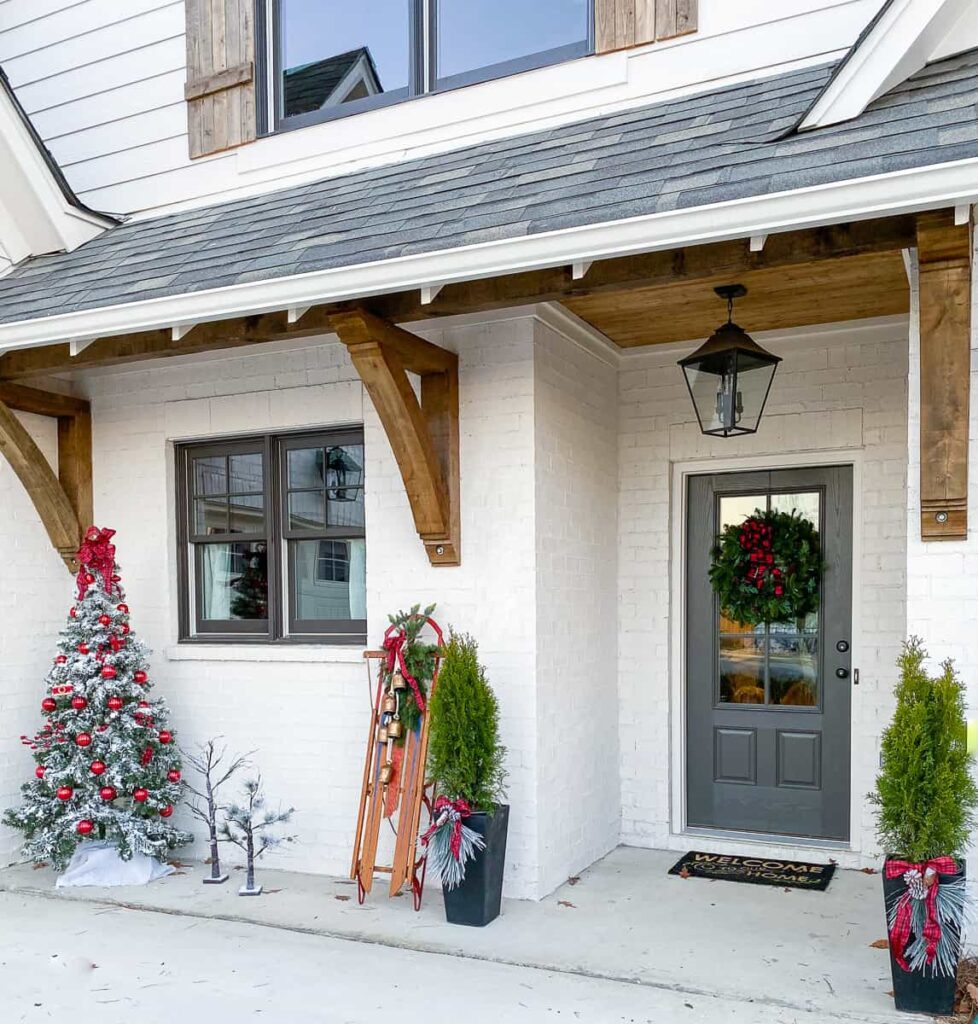 The flocked tree from the basement found a home on the porch and I love it here! I used simple, unbreakable ornaments that should weather the elements well.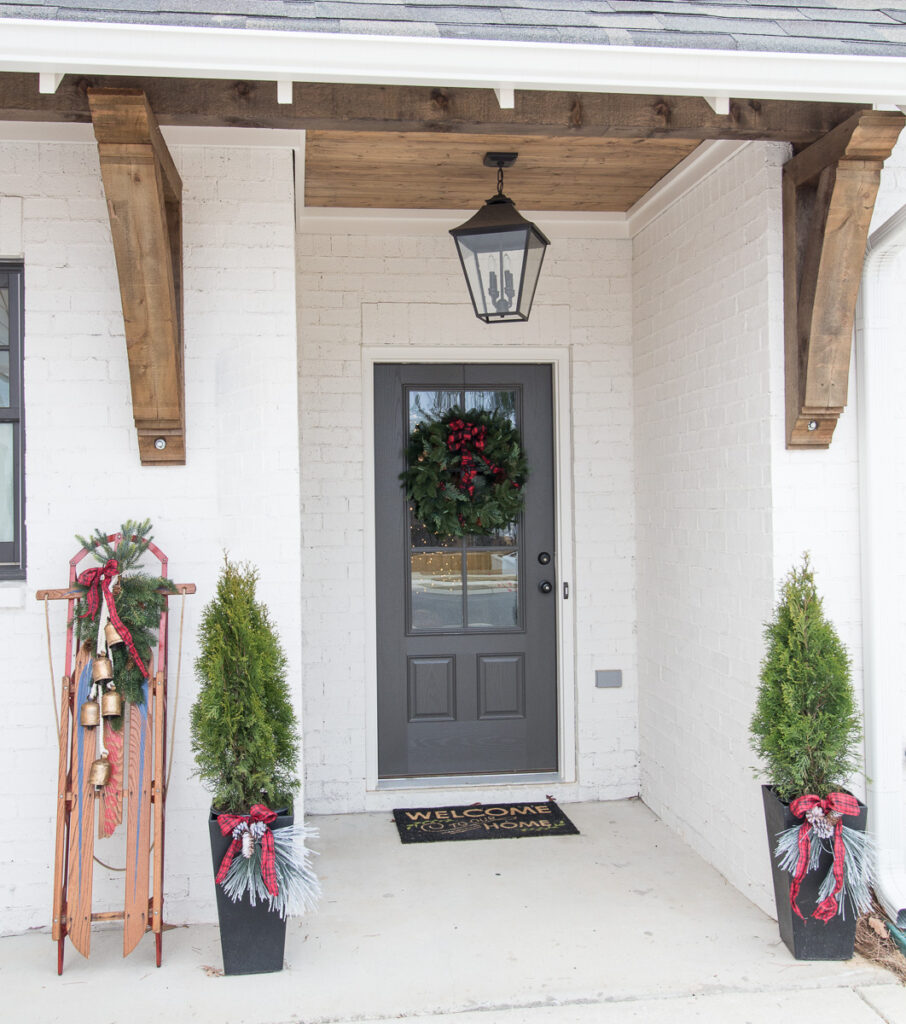 The antique sled belonged to my dear friend's mother. I am sure it too will be a seasonal favorite at the entry of our Lake Ridge House.
If this is your first time visiting, I welcome you into our home! I would love for you to subscribe to the blog and give us a follow on your favorite social media for the many projects and plans we have in the coming year. We are truly just getting started here at the Lake Ridge House.
Since moving to Brimingham almost 6 years ago and have now lived in 3 houses, I took to giving our houses hashtags and this house is the #LakeRidgeHouse Might be kind of silly but it keeps it easier for me to talk about our houses.:)
The foyer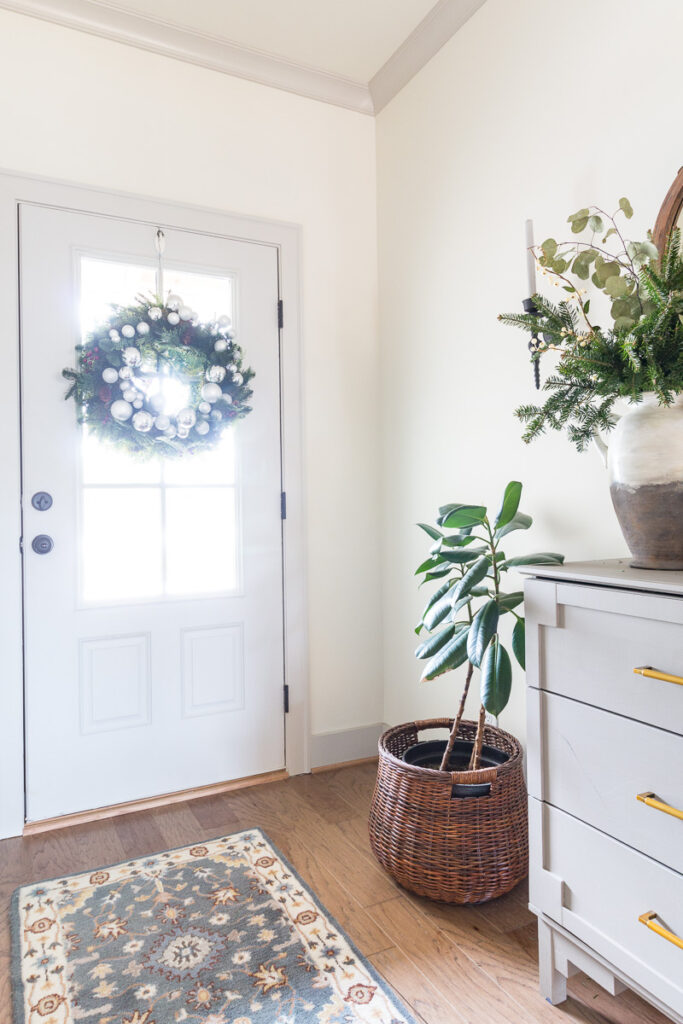 Inside the front door, I added a matching wreath in exactly the same spot as the exterior. If you have a glass door this is a great way to avoid the awkward look of seeing the backside of a wreath. I had two identical wreaths from the Trail House, which had a set of double iron doors. Made perfect sense to me to hang them like this! Then I wondered why I had never done that before?
But don't feel like they have to be decorated the same! On the inside, I added silver balls attached to wire and then stuck into the wreath. If you noticed the outside has a simple red and black checkered bow. If I really had my act together I would have a beautiful grey velvet ribbon covering the wire and the Command Hook I used to hang both of the wreaths! I have some in my stash somewhere but all my boxes got put away before I could remember to pull it out. Oops!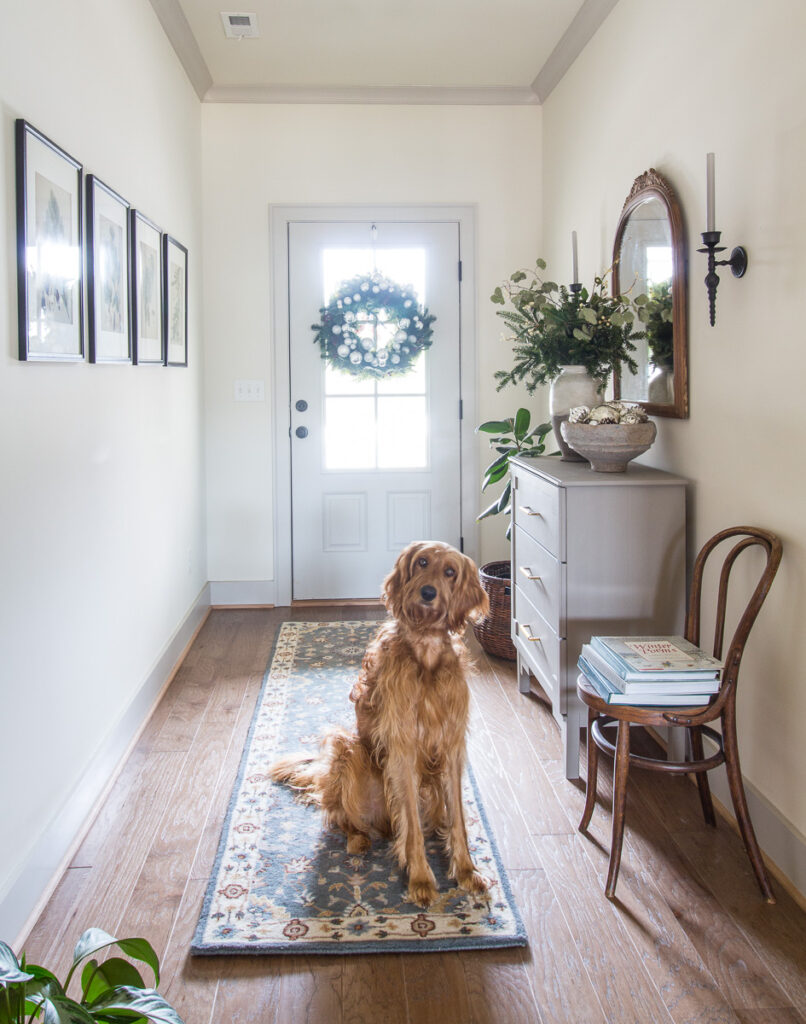 Don't let this sweet, calm face fool you. If you were actually here, you would be greeted by the boisterous, but lovable and still very much a puppy, Freddie! (You can also follow his antics on Instagram @readyfreddiedoodle)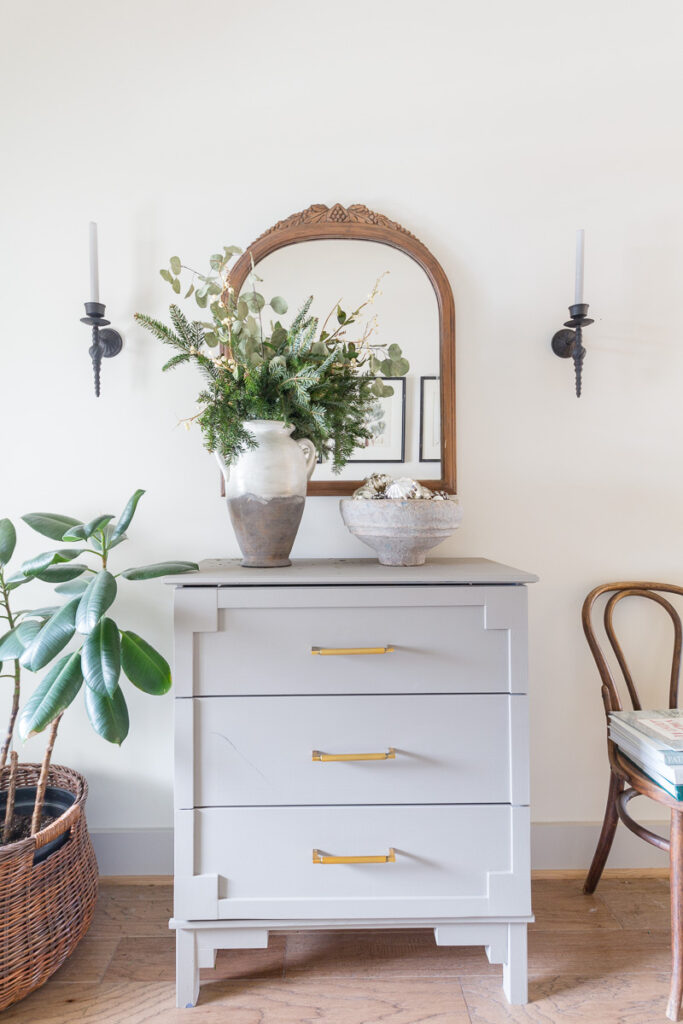 Just as in the fall, I kept this area simple. This versatile chest and antique mirror work well in here for now. A large vase filled with free Christmas tree trimmings, a few dried eucalyptus and white berries are a perfect addition next to a bowl of mercury glass ornaments.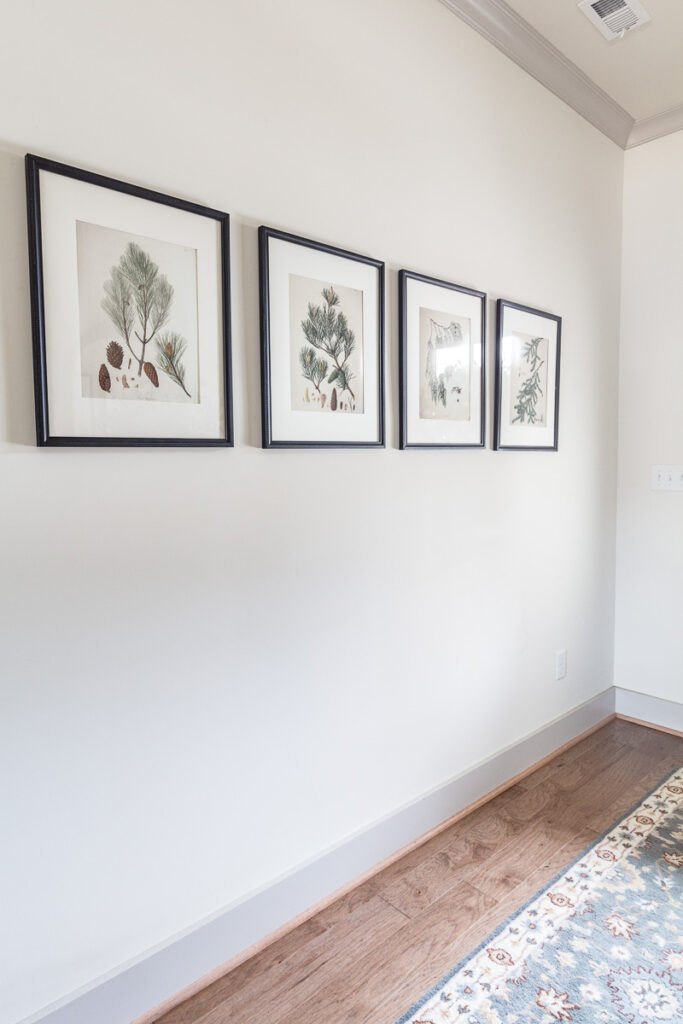 My fall seasonal printables were swapped out with pine botanicals. You can find similar ones to these to print for your home on my friend, Jen's blog, Noting Grace.
The dining room area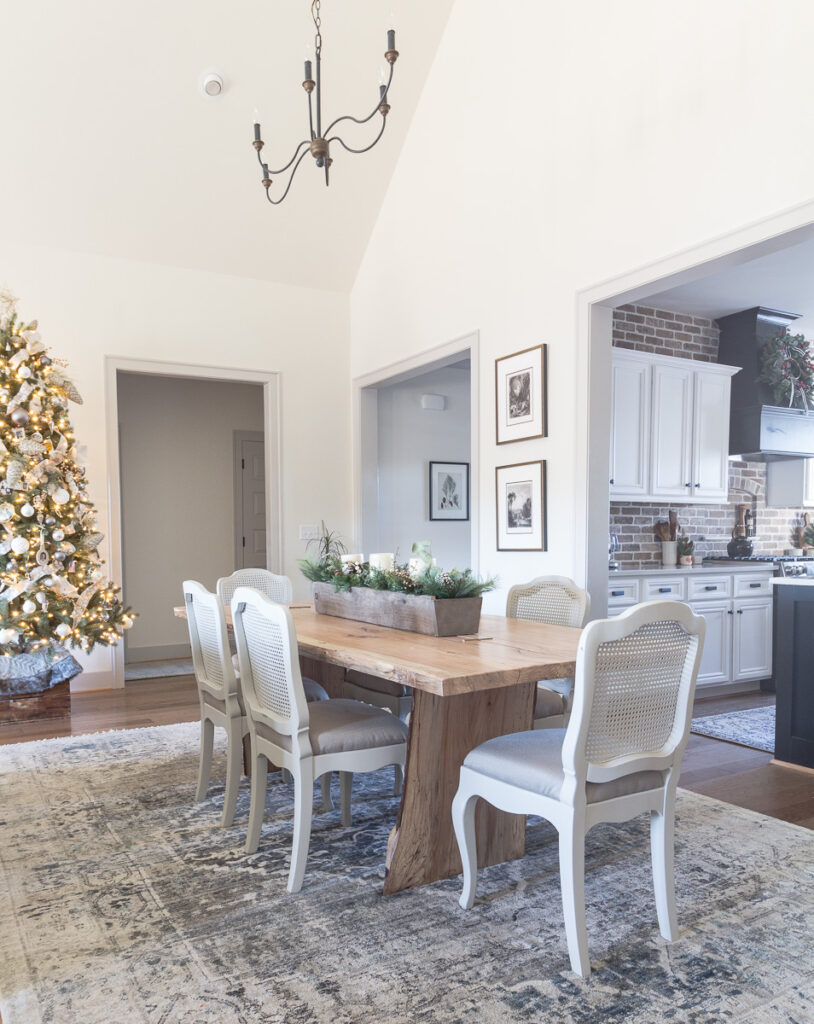 From the front door, you see our Christmas Tree and the dining room.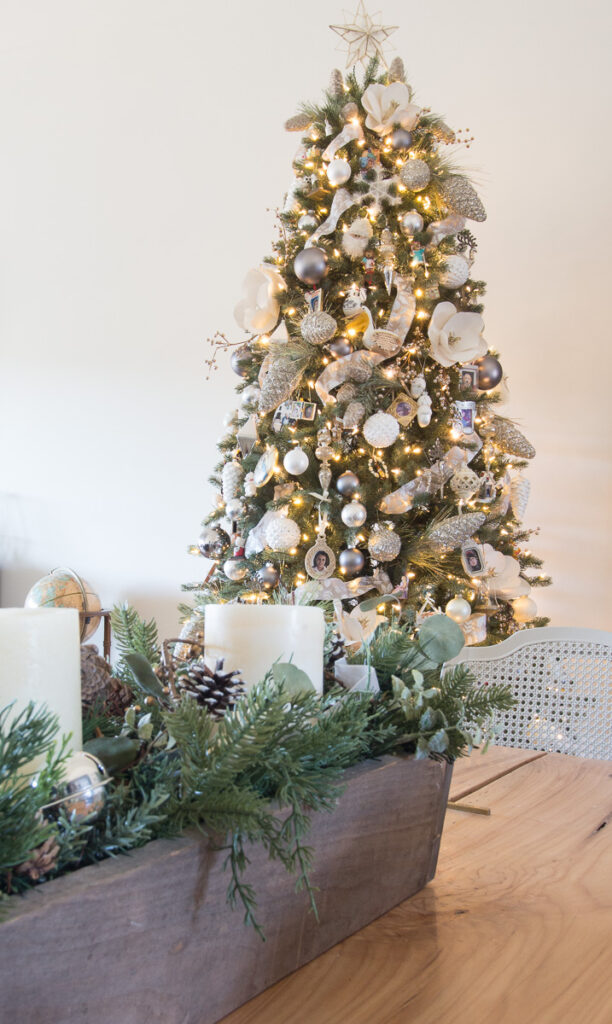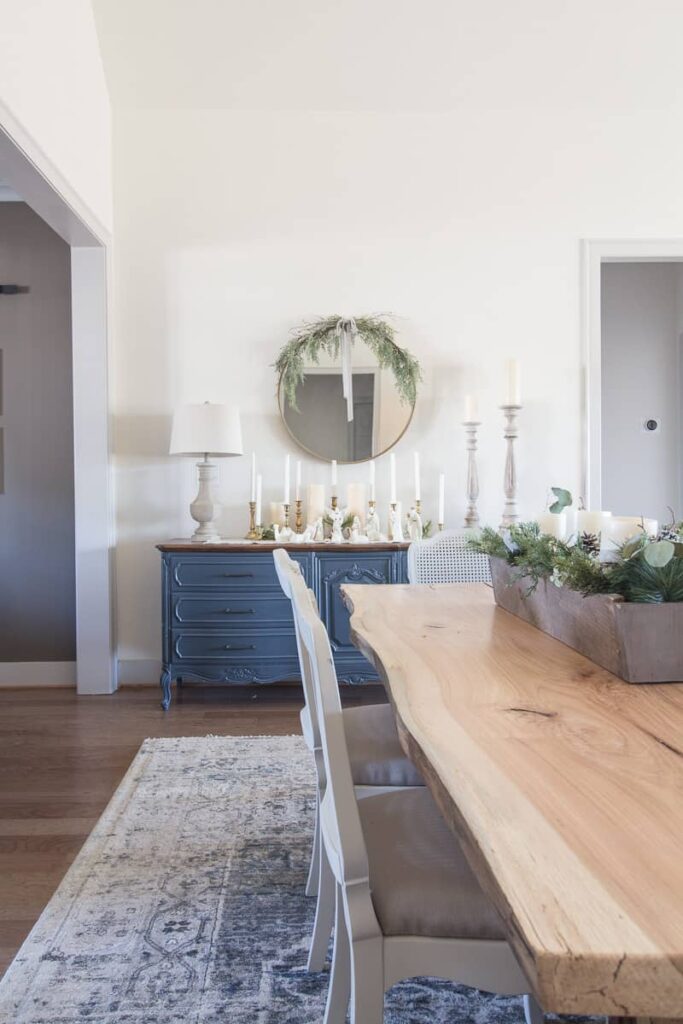 I truly love how this buffet turned out with the combination of vintage brass candlesticks and all white nativity. This special set was a gift from my mother years ago. When she was here last week, we talked about how it is one of our favorite Christmas heirlooms.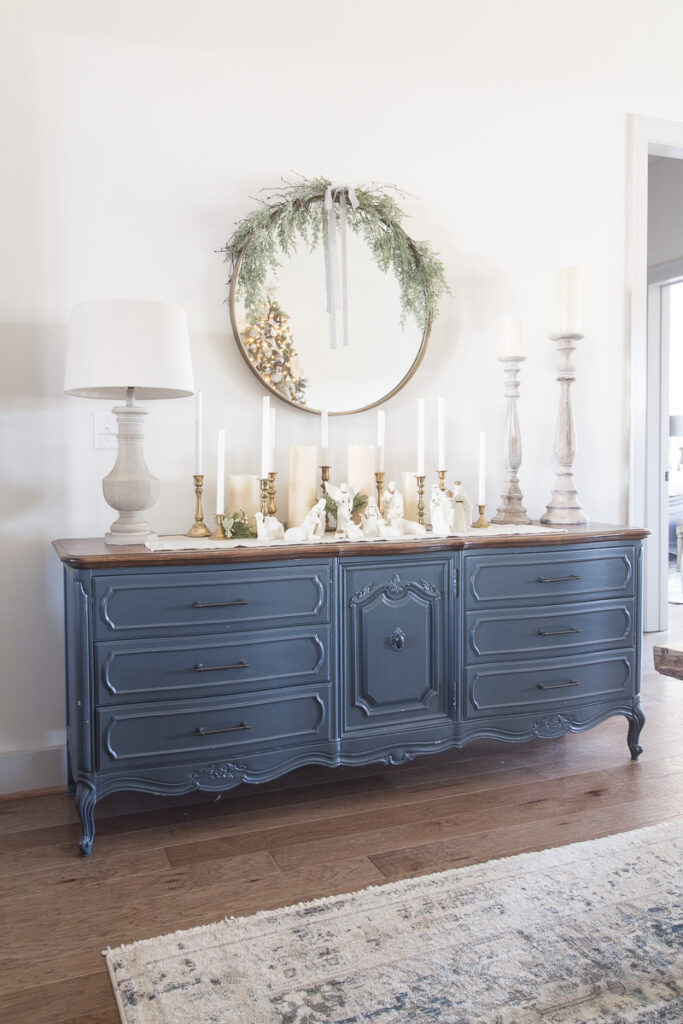 This year our tree is decorated in white ornaments and paper magnolias, silver balls and all the glittery pinecones! I always incorporate our traditional ornaments into our tree, no matter what the "theme" is for the year. I love a sentimental tree and happily sacrifice the look of a perfect tree, over reliving the cherished memories of our collected ornaments.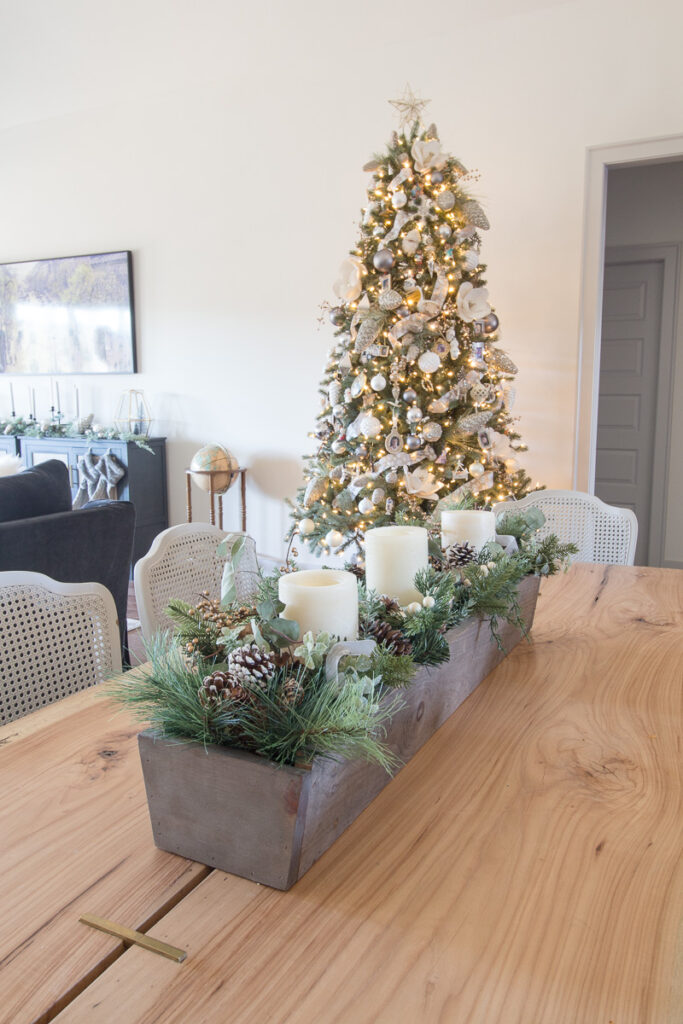 In our downsized, open floor plan, the living room is adjacent to the dining room.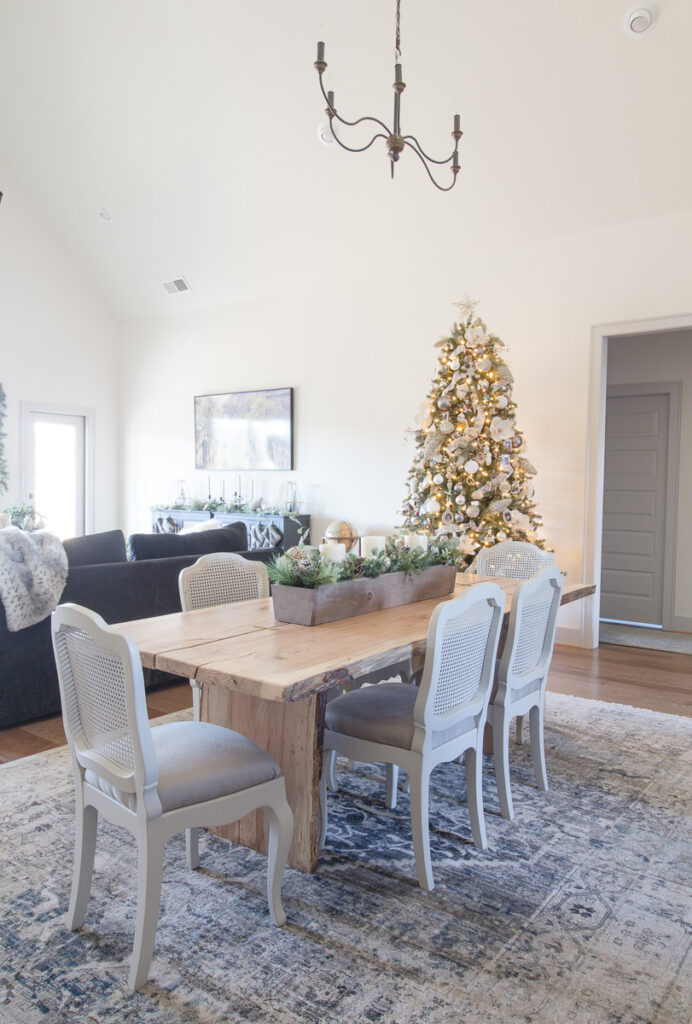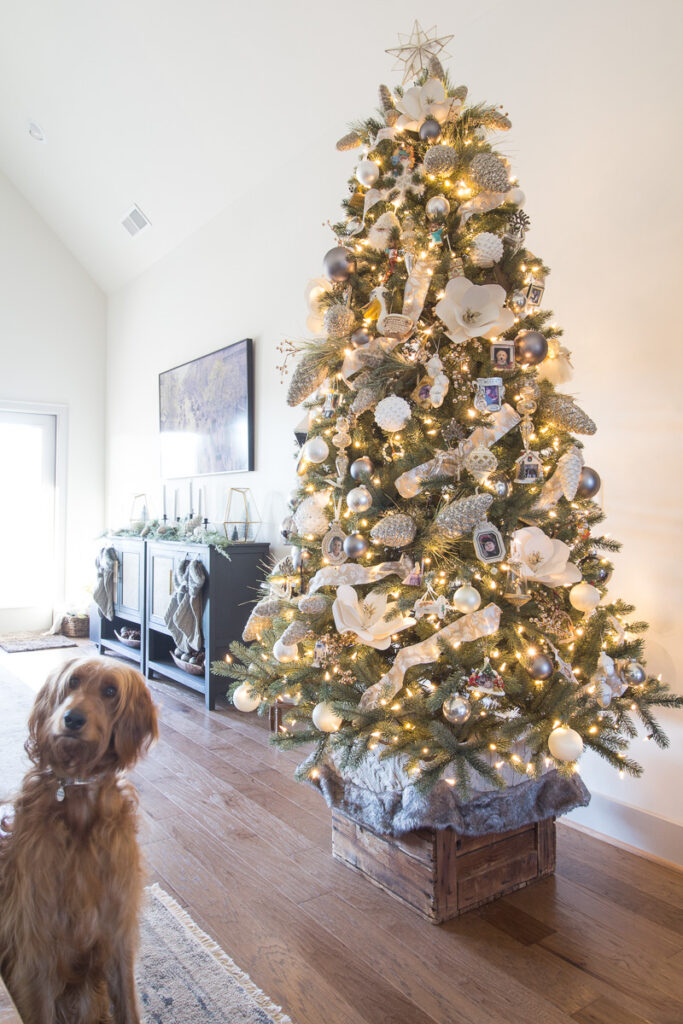 The living room area
The living room will see some significant changes in 2020 but this furniture arrangement is perfect for hosting family and friends.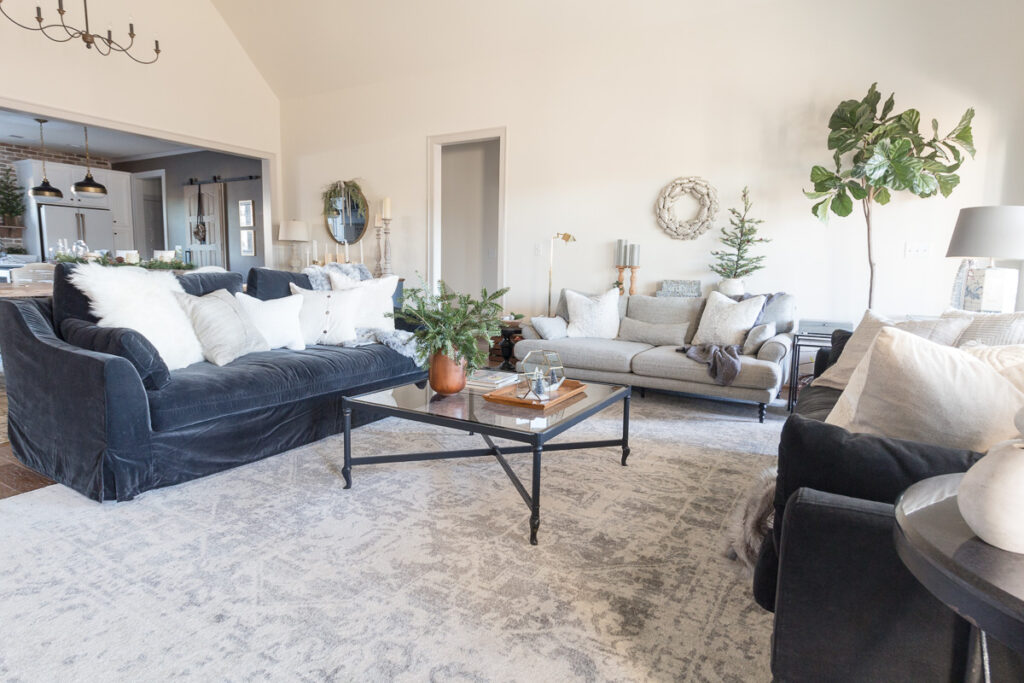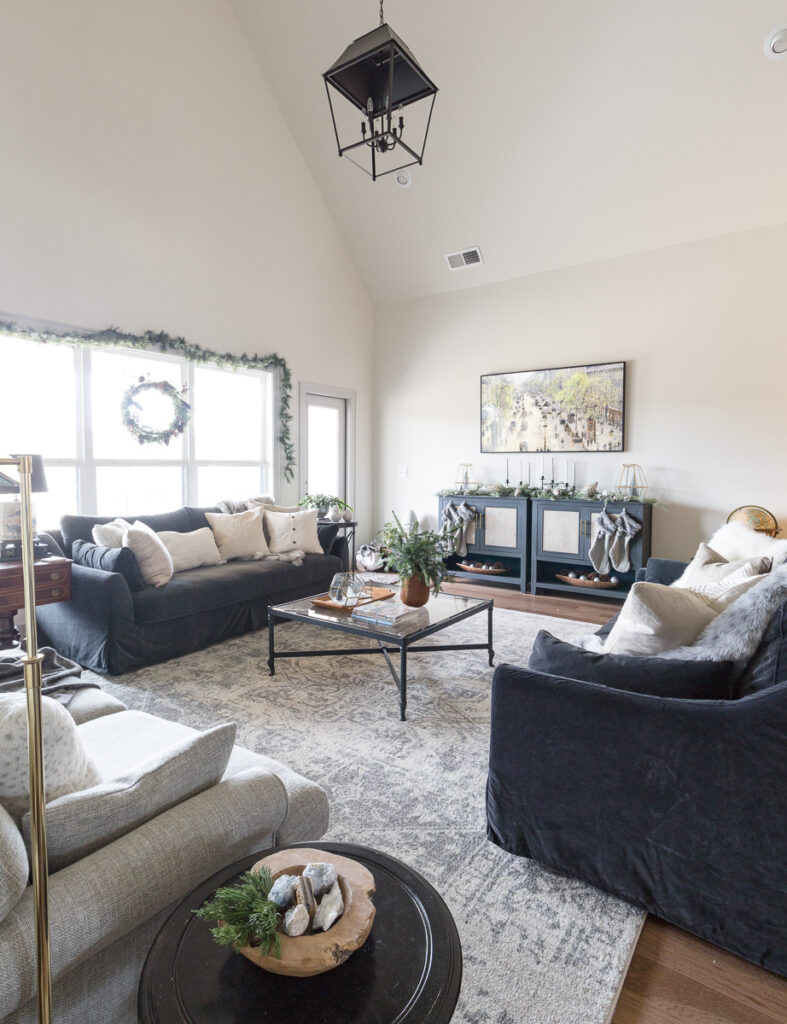 If you've followed my Stories on Instagram or Facebook then you know I've been working towards giving these pair of console cabinets a mini makeover.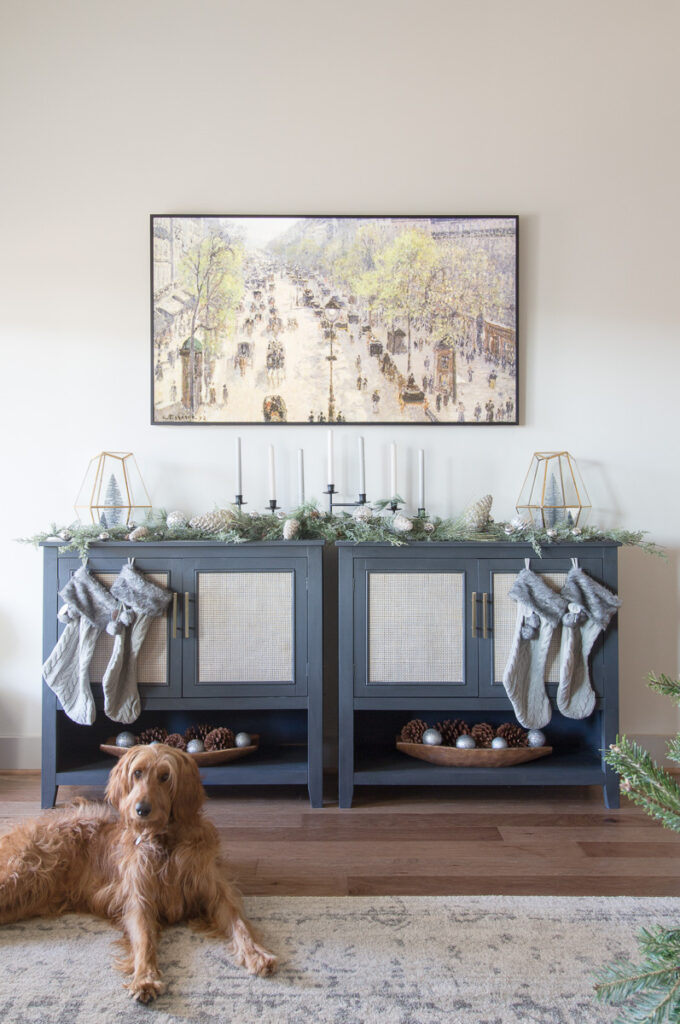 A fresh coat of grey paint, Graphite from Annie Sloan, adding a basket weave caning and molding to the unadorned doors were the perfect way to give them a fresh look. The grey and beige tones blend with the new quieter, whole house color palette. As much as I love a bold, moody room it is hard to achieve that look in an open floor plan.
As for Freddie, he's still learning how to be included in home tour photos. Basically, if he was going to photo bomb my images, I made him sit and look at the camera. Our beloved Tucker could have shown him the ropes. He was a pro!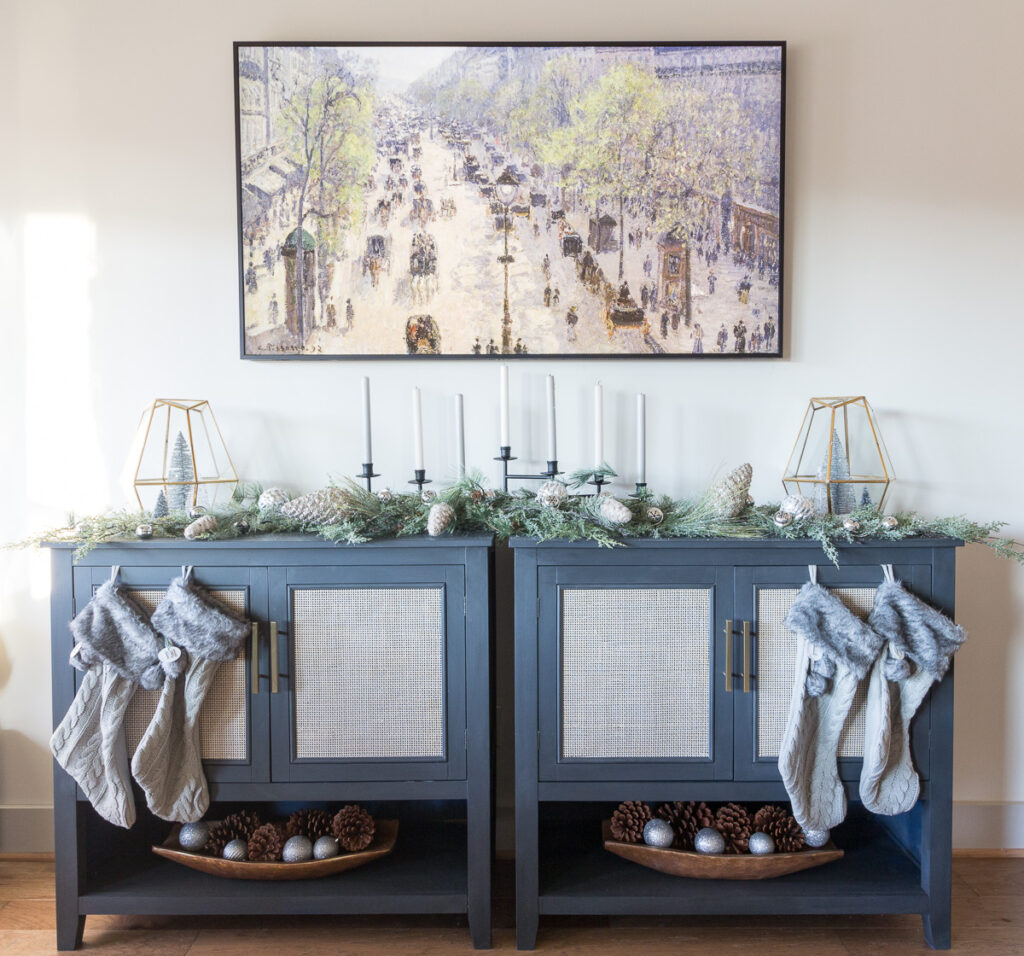 I have to say, I am extremely pleased with how they turned out. While they were meant to be temporary solutions for storage and grounding the TV, I think I will need to find a new home for them somewhere!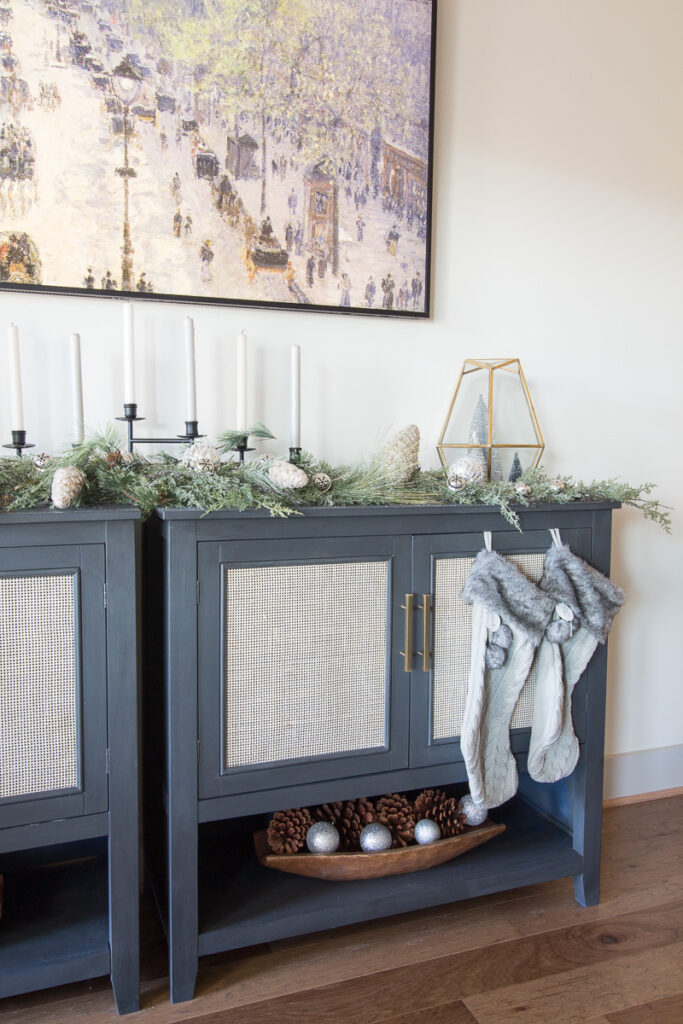 Until a fireplace is here, these consoles also make a great place to hang our stockings. I knew that I wouldn't feel at home unless their was a place to hang our stockings! I just tucked the stocking hangers into the cabinet doors because the paint was still a little fresh and I worried a removable hanger would ruin the finish.
A few years ago I built a stocking post, perfect for hanging stockings. I decided to give it away during our move for lack of storage. Here's a link to a simple tutorial to build one. Stocking Post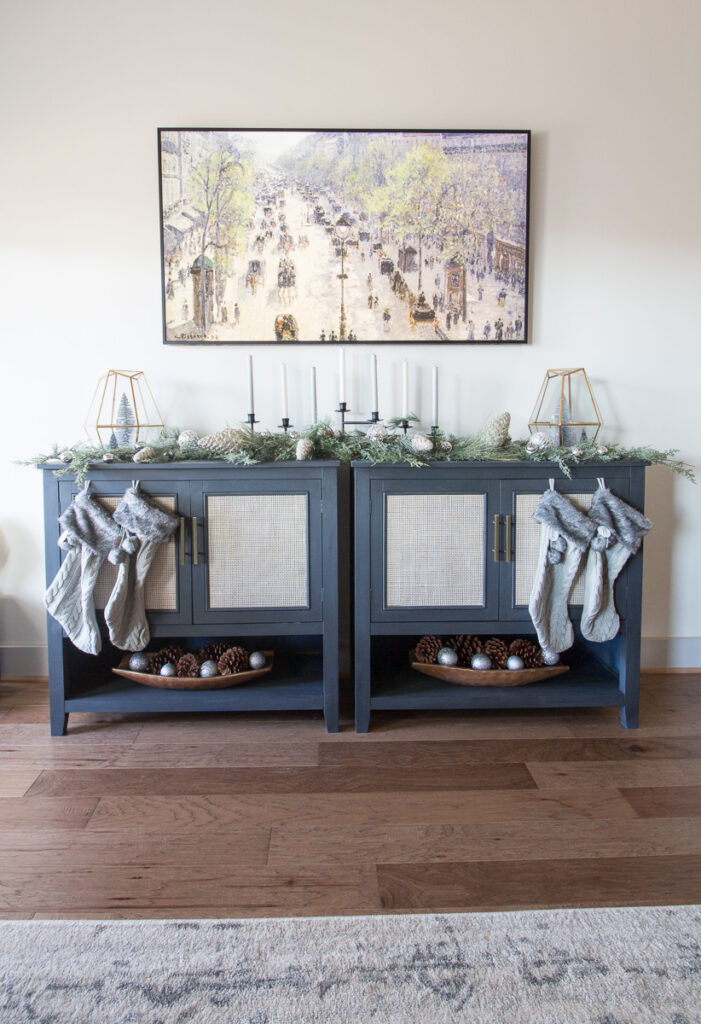 On Black Friday, we splurged and treated ourselves to the new Frame TV from Samsung. My husband wanted a new, larger TV for Christmas and generally I have put up a great deal of resistance to the idea. But I quickly said I could agree, if he would consider the Frame TV. He agreed and we are both thrilled. I love the clean, flush mount art feature and he loves his new, very big, smart tv!! It was truly a win, win!
We opted not to add one of the bezel frames to our TV purchase. I am sure we will DIY a frame of our own for much less. I love that there are options for this though!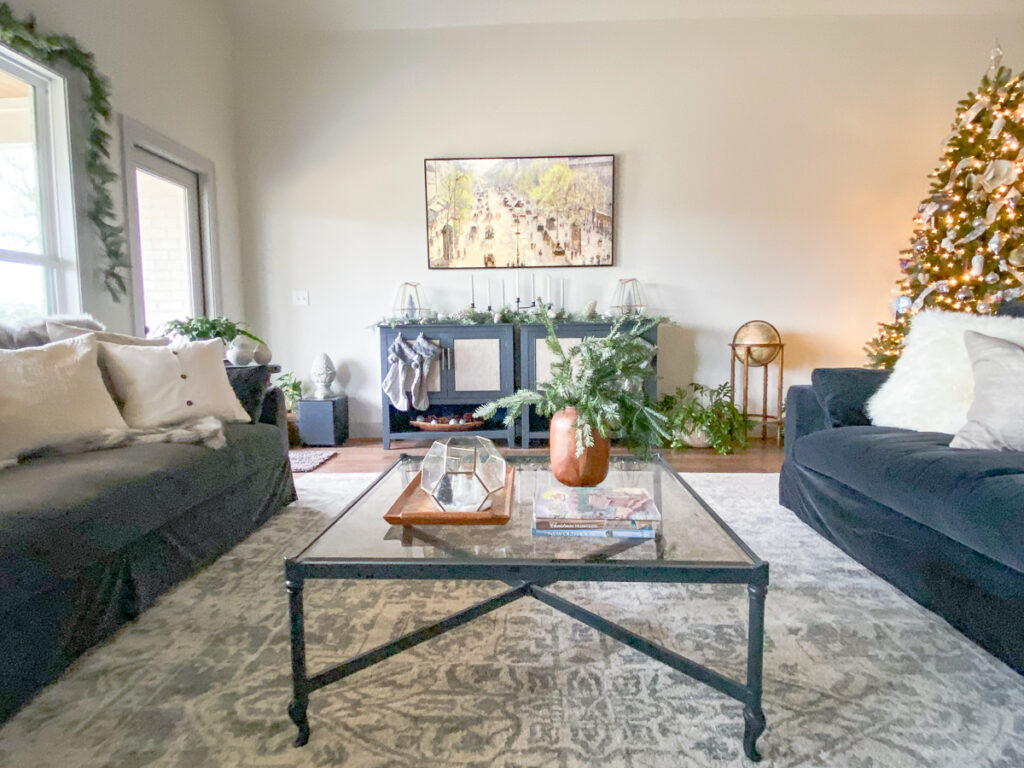 It's been a bit of a struggle to keep Freddie from stealing them or the pinecones in the dough bowls on the lower shelf. But he's learning.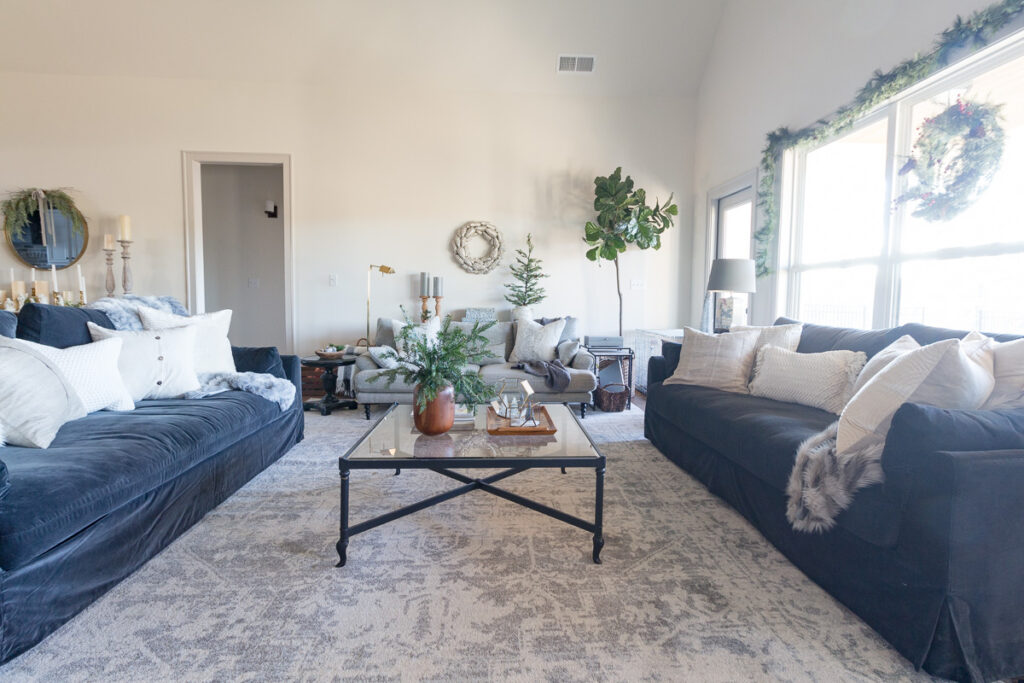 Little touches of greenery around the window and a complimentary glittery wreath over the smaller grey loveseat serve to tie the subtle silver and grey theme around the open floor plan.
Freddie made this vignette even more cozy looking. Apparently, home photography is either extremely tiring or boring.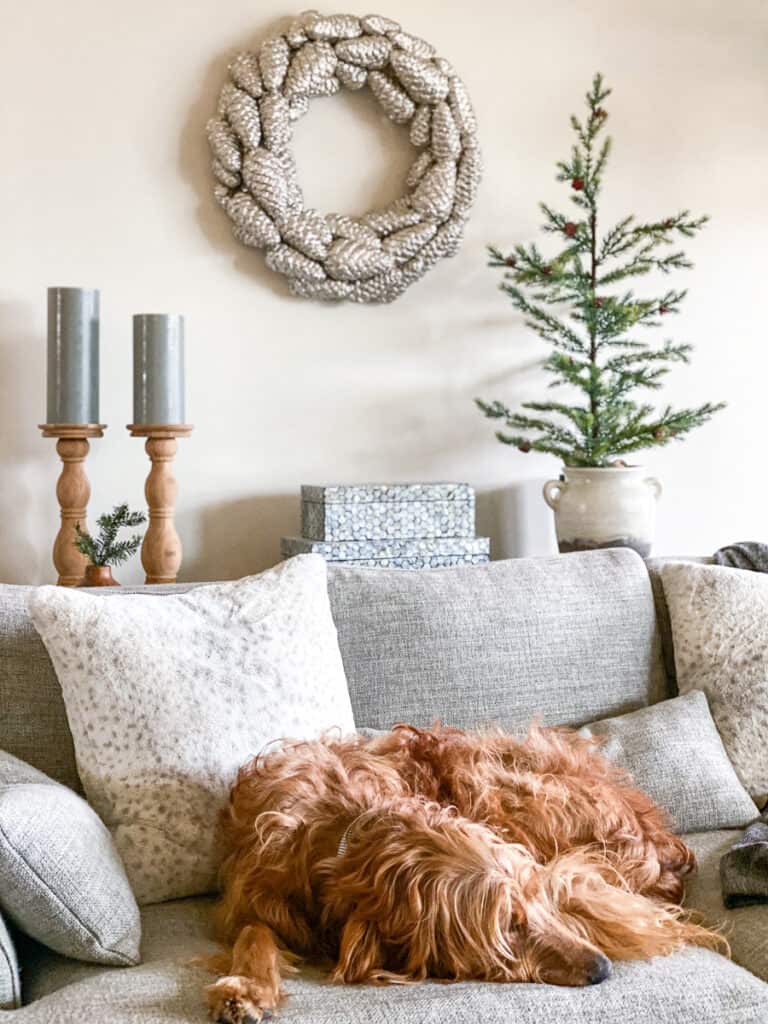 The Master Bedroom
Just to finish off the tour, I thought I'd share this peek into at our bedroom now. A simple switch in the rug and bench and new curtains to cover the wall of windows is all we've done in here for now.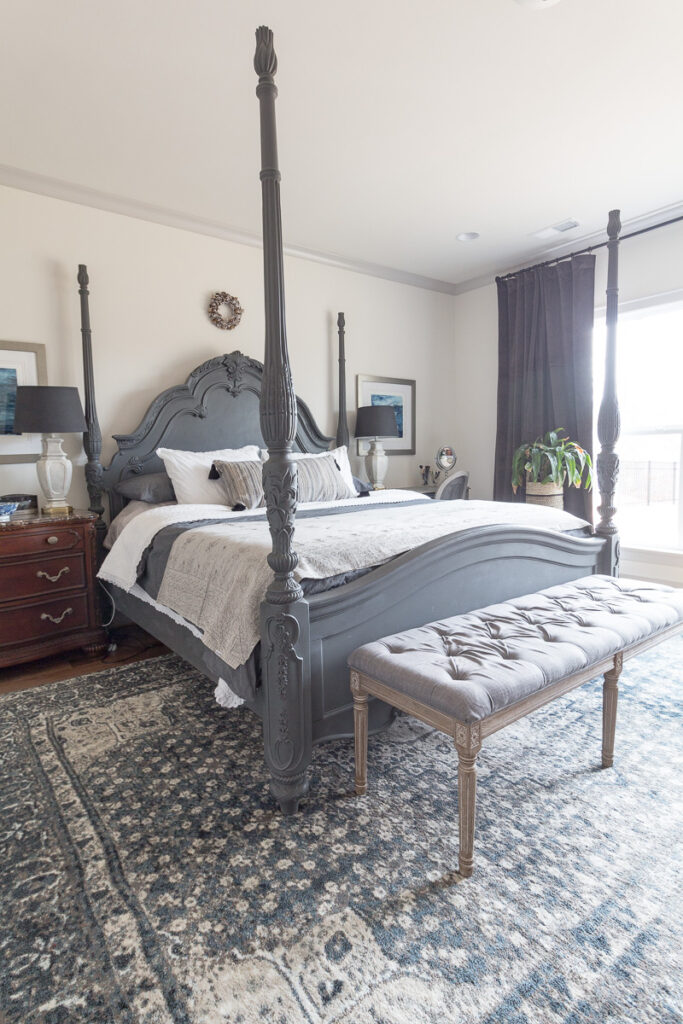 For the first time this Christmas I added a little tree to our bedroom. This tinsel tree had always found a spot in the teal dining room of our Trail House.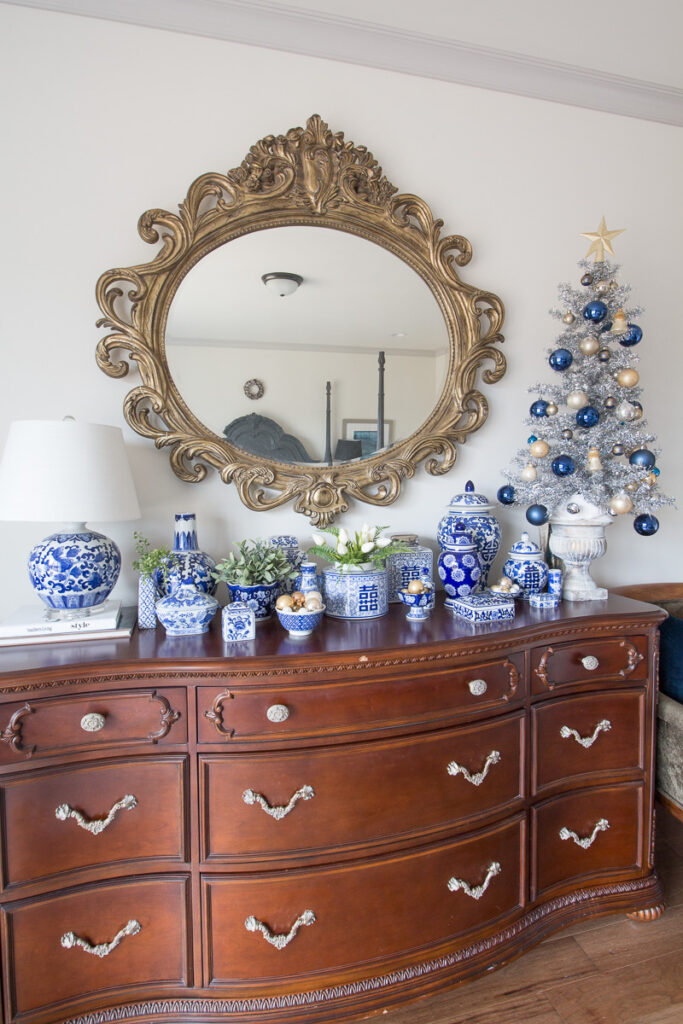 But combined with my collection of blue and white pottery and adorned with blue and silver ornaments it makes a beautiful addition, even if it is a little extra shiny and bright.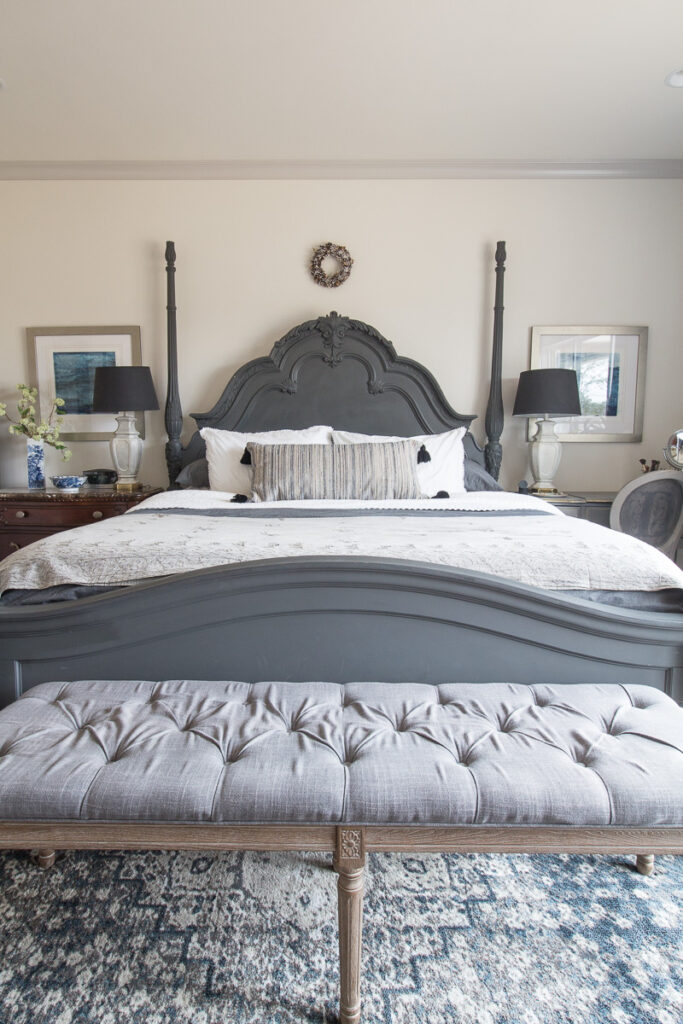 You might have noticed I've left off the kitchen. Here's a little peek from the dining room.
I shared a full Christmas in the Kitchen tour in a separate blog post. The kitchen has always been one of my favorite spaces to decorate for Christmas. It also is the first room to be officially "finished" here at the Lake Ridge House, so I thought it was worth giving it it's own blog post.
You can see that tour here and download your own free vintage poinsettia printable!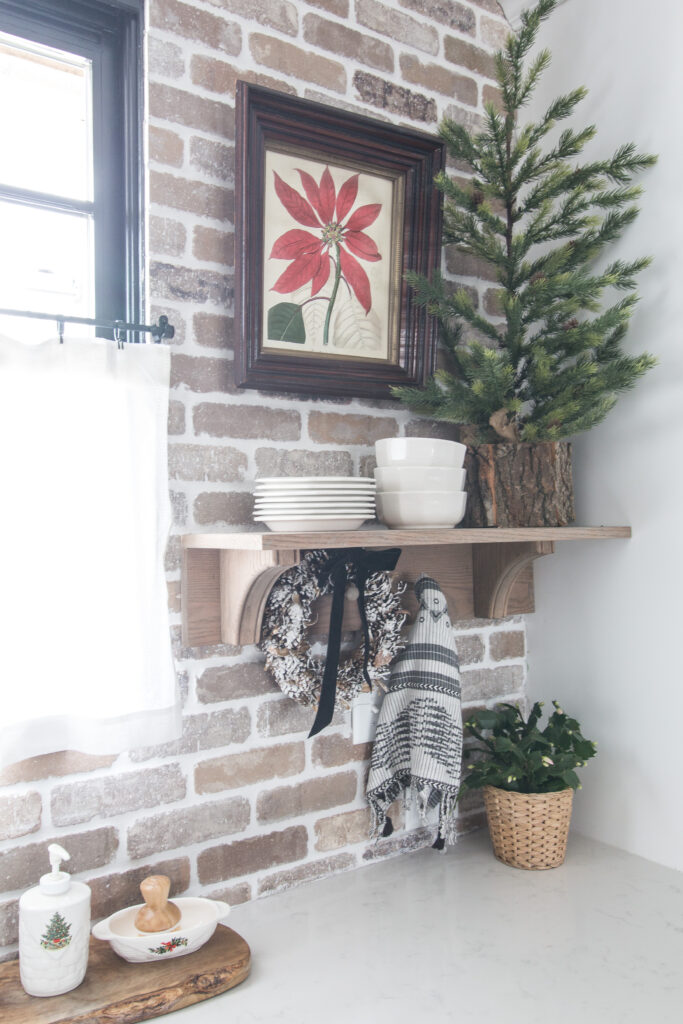 Thank you for joining me on the inaugural Christmas tour or our new home! I hope you picked up little bits to inspire you this Christmas!
I'd love to have you follow me on your favorite social media as well as subscribe to the blog. I regularly share behind the scenes and processes to my projects and room makeovers on Instagram, Instagram Stories and Facebook. I would love to have you join me there too!
From my family to yours, I wish you the merriest, happiest Christmas and a very blessed New Year!
If you would like to stroll through our past Christmas home tours, I'll add a few links below.
More Christmas Home Tours